SUBARU Group's Six Priority Areas for CSR TOPIC: Resonance and Coexistence
Basic Concepts, KPIs, and Relevant SDGs
Basic Concepts
KPIs
Relevant SDGs
SUBARU will become a company that is trusted by, and resonates and coexists with, both individual customers and society as a whole by engaging seriously with their voices through greater person-to-person communication.

Continue satisfaction surveys. (Improve customer satisfaction.)
Enhance connection with customers through the Internet of Things (IoT).
(MySubaru, the next-generation system, telematics)
Why It Is Important to Us
At SUBARU, when it comes to our business activities, we regard customers and local communities as some of our most important stakeholders.
Over the years, SUBARU has been sustained not only by our own efforts to put the customer first but also by the efforts of many people in the communities where we do business.
SUBARU will form communities of resonance and coexistence to secure our sustainable growth as a company through routine communication, ensuring that our products and services resonate with and are trusted by our customers, and that SUBARU's corporate activities resonate with and are trusted by the local communities in which they take place.
Activities in the Six Priority Areas for CSR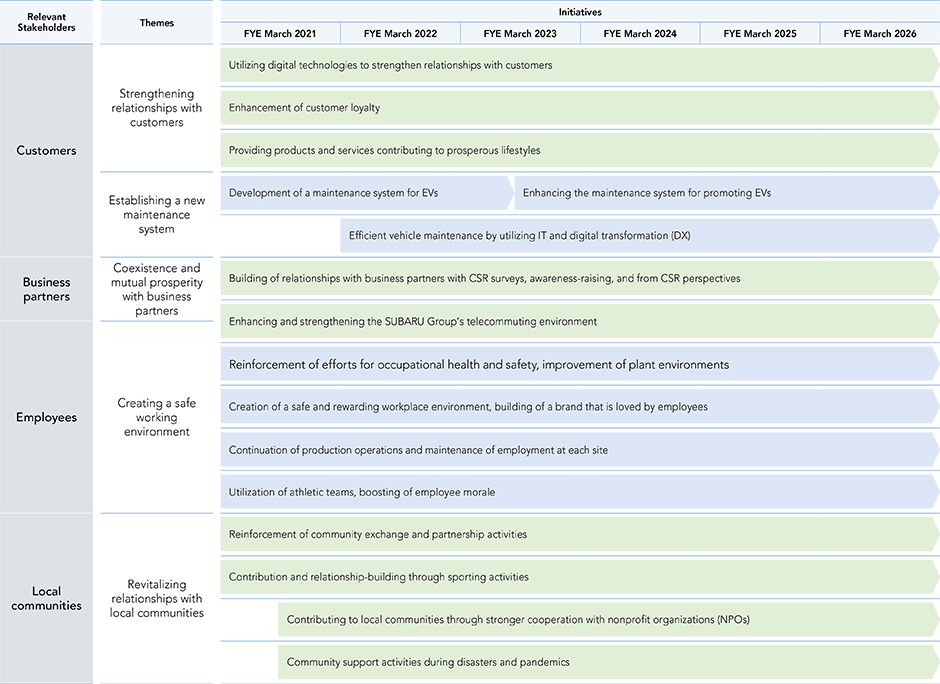 TOPICS
Contributing to the creation of a sustainable society with local communities
As a corporate group that is trusted by, resonates with, and walks alongside society
Enhancing collaboration with local communities and local governments for co-creating new social value
SUBARU believes in conducting heartfelt activities rooted in a corporate culture of community engagement, with a focus on revitalizing connections with local communities and forming communities centered on resonance and coexistence. It is only with the understanding and cooperation of the local communities where our offices and plants are located that we can continue to realize business activities embodying the SUBARU Difference. To remain a transport equipment manufacturer that is trusted by and resonates with local communities, we have identified four fields for community engagement that ought to be addressed—activity in the community, environment, road traffic safety, and sports and culture. We are actively promoting initiatives in each of these fields.
In the context of activity in the community, we engage in various initiatives within each of our office in Japan aimed at building stronger relationships with the local community. Particularly at the Gunma Plant, we hold monthly meetings with representatives from local administrative districts adjacent to plants and company housing to explain the current status of SUBARU and our efforts related to the environment, emphasizing opportunities for communication. In cases where concerns such as noise and vibrations from construction may affect people living nearby, we prioritize advance notification, including visiting residents to provide explanations. We genuinely address the feedback from the local community, fostering trust and resonance.
In addition, in FYE March 2023, the Yajima Plant within the Gunma Plant played host to the Happy Smiley Project, a projection mapping event lighting up the walls of the plant. About 50 employees volunteered to participate in the planning and operation of the event, which brought smiles and excitement to many visitors by projecting pictures drawn that same day by local children.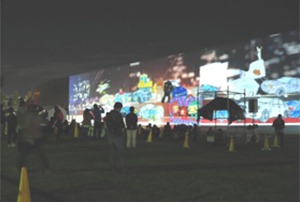 The SUBARU Group aims to achieve a balance between building a sustainable society and the sustainable growth of the Group, working towards our vision of delivering happiness to all. Coexistence with local communities is one of our crucial business themes. Over the years, SUBARU has been sustained not only by our own efforts to put the customer first but also by the efforts of many people in the communities where we do business. Going forward, we will continue to respond to the needs of society by engaging in community-oriented corporate activities and contributing to local communities. Through these efforts, we aim to create a corporate group that not only resonates with society but also walks alongside it.
Responding sincerely to stakeholder feedback and advancing global CSR initiatives
SUBARU, as a global company with a presence around the world, actively engages in community contribution activities abroad as well. A prominent example of this is the Subaru Love Promise, which Subaru of America, Inc. (SOA) pursues alongside SUBARU retailers across the United States and various charitable organizations, aiming to make the world a better place.
The Five Promises





SOA, recognizing that nurturing love and respect for stakeholders in its business and products contributes to the sustainability of society and SUBARU, formulated the Subaru Love Promise centered on five loves—Loves the Earth, Loves to Care, Loves to Help, Loves Learning, and Loves Pets. This promise aims to put these concepts into practice through the activities of SOA and the SOA Foundation. Specifically, SOA donates US$250 for each new SUBARU vehicle purchased or leased at retailers participating in the Share the Love Event to charitable organizations. Over the past 15 years, SOA has donated more than US$256 million to charities through this initiative. SOA conducts other ongoing activities, including supporting youth skill development through collaboration with the local nonprofit organization Hopeworks and offering programs to empower women through its partnership with Girls, Inc.
SOA has made a commitment to being More Than a Car Company, striving to transcend the role of an automotive manufacturer to make the world a better place. Its aim is to be a positive force in the communities where we live and work not merely through donations but through actions that set the example for others to emulate. In recognition of SOA's philosophy and initiatives, it won three awards related to community engagement in FYE March 2023. SOA was honored with the 2023 Gold Halo Award for Best Education Initiative in recognition of its commitment to supporting education through the Subaru Love Promise program and its partnership with AdoptAClassroom.org, a nonprofit organization offering educational support. The Halo Awards celebrate companies that have made a significant impact on society through social impact programs. As part of its collaboration with AdoptAClassroom.org, SOA provides support to schools and teachers in need. In 2022, US$3.3 million was donated to 652 schools and 5,699 teachers, helping alleviate financial burden. In addition to donations, SOA's initiatives include in-person events where SUBARU retailers deliver supplies to local schools year after year. SOA was also recognized as a Civic 50 Honoree for the third consecutive year. This award highlights the 50 most community-minded companies in the United States, and reaffirms SOA's dedication to making a positive difference. SOA was also ranked among the top three automakers and sixteenth overall on the 2023 Axios Harris Poll 100 Reputation Rankings, a measure of companies that resonate most with the American public. The high placement of SUBARU on this list underscores our strong reputation among U.S. consumers and the high trust we have earned. SOA will remain committed to conducting activities that make the world a better place based on its vision, Subaru Love Promise.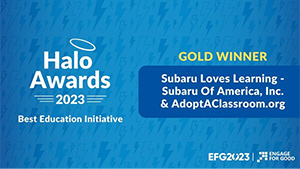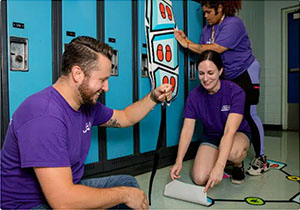 Subaru of Indiana Automotive, Inc. (SIA) sponsored National Engineers Day, held at The Children's Museum of Indianapolis. Hands-on workshops aimed at problem-solving through science and engineering were held on the day of the event. SIA also dispatched employee volunteers to encourage interest in and provide learning opportunities related to science and engineering, which served to revitalize connections with the local community. SIA has also been conducting blood donation activities twice a year since 1991. In FYE March 2023, it donated a total of 799 units of blood, potentially saving the lives of around 2,400 individuals.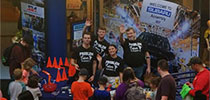 Engineers Day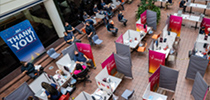 Employees making a blood donation
SUBARU Group's community engagement activities such as these have earned the brand significant recognition. In April 2023, Forbes, the U.S. economic magazine, released its Best Brands for Social Impact ranking, where SUBARU was ranked first in the automotive category and second among the top 300 brands. This demonstrates that SUBARU not only produces excellent vehicles, but that it has earned significant trust from general consumers through a wide range of activities on both a national and local scale aimed at ensuring the wholesome development of society. SUBARU will continue to aim for sustainable growth as a true global company and contribute to the creation of a joyful and sustainable society.