SUBARU Group's Six Priority Areas for CSR TOPIC: Peace of Mind
Basic Concepts, KPIs, and Relevant SDGs
Basic Concepts
KPIs
Relevant SDGs
SUBARU will become a company that provides all stakeholders with the utmost peace of mind.

Achieve a goal of zero fatal traffic accidents in 2030.*
Improve impact energy absorption ability to 1.4 times.
*

Zero fatal road accidents among occupants of SUBARU vehicles and people involved in collisions with SUBARU vehicles, including pedestrians and cyclists.
Why It Is Important to Us
SUBARU will deliver the peace of mind that cars must offer by manufacturing vehicles and providing associated services.
SUBARU will tirelessly review all quality-related processes in our aim to be the No. 1 company for quality, whose products customers can rely on for a long period. Attaching particular importance to protecting lives, SUBARU will work to achieve the goal of zero fatal traffic accidents* in 2030. In addition, we must ensure that the local communities where our plants are based know that they can rely on SUBARU to offer peace of mind in our manufacturing operations. Creating safe workplace environments that offer all SUBARU Group workers peace of mind is also essential. Furthermore, SUBARU will contribute to resolving the problem of traffic accidents and other social issues associated with cars.
SUBARU will aspire to become a company that provides customers, local communities, employees, and all other stakeholders with the utmost peace of mind.
*

Zero fatal road accidents among occupants of SUBARU vehicles and people involved in collisions with SUBARU vehicles, including pedestrians and cyclists.
Activities in the Six Priority Areas for CSR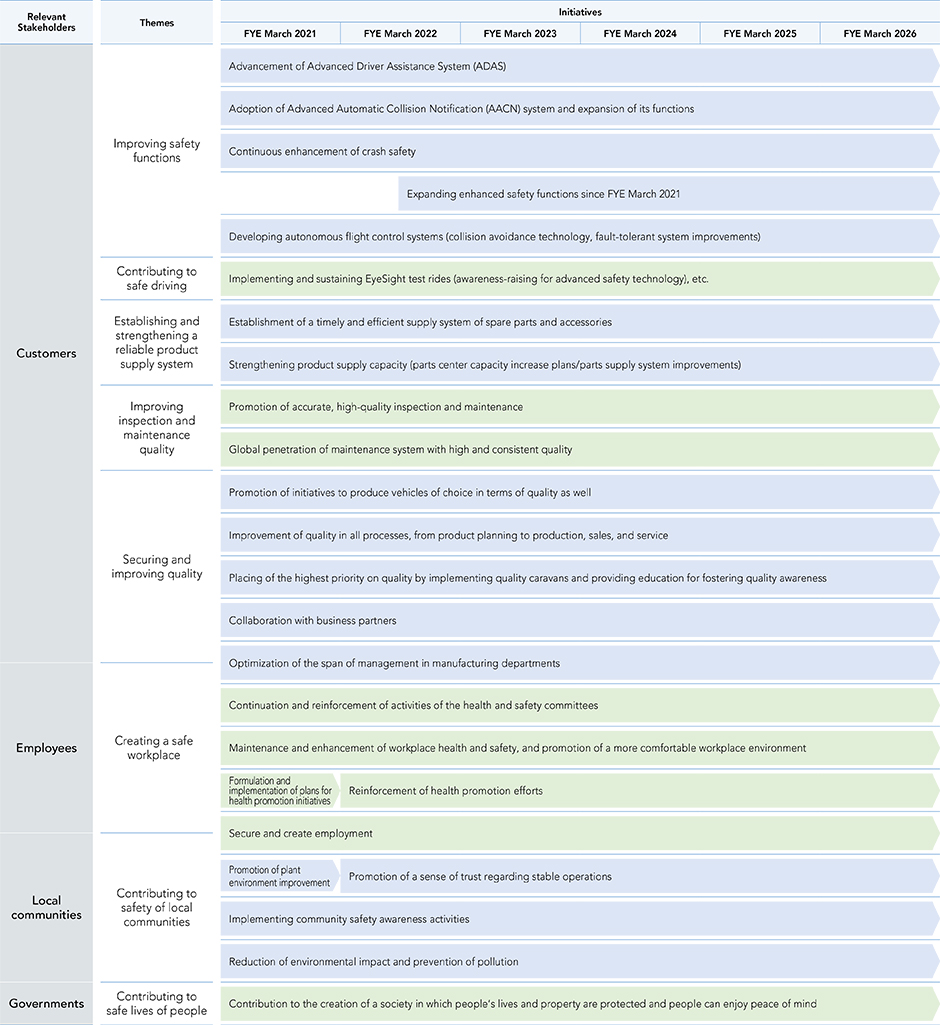 TOPICS
Delivering utmost peace of mind and enjoyment by executing quality enhancement and improving safety performance levels
Creating a future with zero fatal traffic accidents with SUBARU's unique technologies and quality
Further evolve preventive and passive safety performance
SUBARU is constantly evolving its preventive and passive safety performance in order to deliver utmost peace of mind. We have set the goal of zero fatal traffic accidents in 2030*1 and are undertaking multifaceted efforts to develop technologies with this objective in mind.
In the pursuit of preventive safety performance, we have further evolved SUBARU's unique EyeSight driving support system, which prevents accidents before they happen. The next-generation EyeSight released in 2020 further evolves the conventional recognition and control using stereo cameras, providing more advanced driving assistance in all situations. These stereo cameras always monitor the situation ahead, and can measure distance in the same way as the human eye. They can also distinguish between cars, pedestrians, and road lines. The system boasts high recognition performance with its wide viewing angle and viewing distance as well as color recognition capable of recognizing brake lights. The software, which functions as the "brain" of the system, takes this information and the state of the vehicle's operation to determine the necessary controls, enabling the execution of these in a manner that fits the situation like the "hands and feet" of each vehicle unit. Moreover, by leveraging the Quasi-Zenith Satellite System known as Michibiki, GPS, and 3D high-precision map data, our advanced safety technology EyeSight X, with enhanced driver assist technology, has significantly accelerated our progress toward the goal of zero fatal traffic accidents in the future. In 2022, we introduced a new wide-angle single-lens camera, where the information recognized by each camera is processed in a coordinated manner to help avoid collisions with crossing cyclists and pedestrians.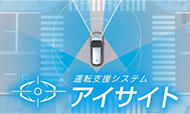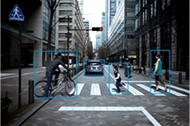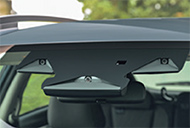 Moreover, SUBARU's world-class passive safety performance is also integrated within a single vehicle. The SUBARU Global Platform has brought about driving dynamics lending enjoyment to operating its vehicles. This has been achieved by top-class passive safety performance as well as driving quality achieving new levels of comfort and maneuverability and top-class vibration reduction thanks to stability, as well as low noise. The new high-rigidity Ring-Shaped Reinforcement Frame provides high collision absorption performance against impacts from any direction. Dual SRS airbags, in combination with seat belts, mitigate harm to those in the front seats. In addition, SUBARU vehicles feature SRS side airbags and SRS curtain airbags to guard against side impacts. SUBARU's passive safety performance, which considers not only the driver and passengers but also pedestrians, has earned high evaluations around the world. The Solterra released in 2022 is based on the e-SUBARU Global Platform, a newly designed EV-dedicated platform inspired by the philosophy of the SUBARU Global Platform featuring a symmetrical chassis layout. This platform incorporates SUBARU's expertise into various components such as suspension and electric power steering. The result is an agile and comfortable driving experience that encapsulates the SUBARU Difference, offering enjoyment and peace of mind from the moment the vehicle begins to move, even for EVs.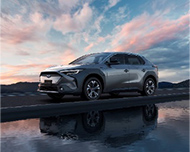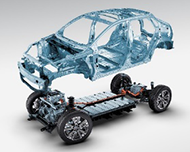 This preventive and passive safety performance unique to SUBARU has been highly acclaimed by external organizations. In the U.S.-based IIHS's*2 2023 publication of vehicle safety information, the 2023 Ascent, Outback, and Solterra (all U.S.-specification models) received the TOP SAFETY PICK+ (TSP+) Award, the highest rating. In addition, the 2023 Legacy and Forester (both U.S.-specification models) received the TOP SAFETY PICK (TSP) Award. IIHS modified the requirements for its TSP and TSP+ awards for 2023. The biggest change to the criteria for both awards was the addition of the updated side crash test launched in 2021. With the updated test, the crash produces 82% more energy than the original test. The Ascent, Outback, and Solterra earned the highest "Good" rating in the new test. Since the introduction of TSP+ in 2013, which further strengthened the requirements for TSP, SUBARU has received a cumulative total of 69 TSP+ awards, which is more than any U.S. brand*3 *4. In Europe, the Solterra (European-specification model) was awarded the maximum five star rating*5 in the 2022 European New Car Assessment Programme (Euro NCAP) safety performance test*6. This is SUBARU's 10th top rating in the Euro NCAP safety performance tests following the five star rating won by the Outback in 2021.
SUBARU believes that the enjoyment of a car is supported by the peace of mind it offers, and that a safe and reliable car allows customers to experience the joy of driving, transportation, and life with a car itself. Going forward, we aim to achieve zero fatal traffic accidents*1 in 2030 while pursuing the world's highest standard of safety and peace of mind in all situations by integrating advanced sensing technologies, the judgment capability of AI, and connected safety.
*1

Zero fatal road accidents among occupants of SUBARU vehicles and people involved in collisions with SUBARU vehicles, including pedestrians and cyclists.
*2

IIHS: Insurance Institute for Highway Safety
*3

Claim applies to U.S.-specification vehicles based on the results of surveys conducted by Subaru of America, Inc. and Subaru Canada, Inc.
*4

As of February 2023
*5

The jointly developed Toyota bZ4X (European-specification model) was used as the test vehicle.
*6

A safety performance evaluation program conducted since 1997 by an independent agency composed of European motoring and consumer organizations.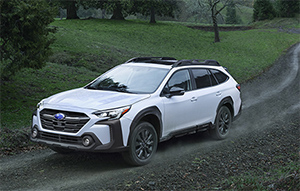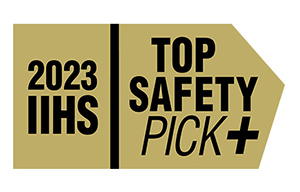 A Trifecta of Quality Enhancement Approaches
High quality is a key element at the root of the SUBARU brand, and is a source of added value. We are therefore pursuing efforts for quality enhancement. We are promoting quality enhancement in a trifecta of approaches, the first of which is thorough implementation of a "Quality-First" mindset and reinforcement of organizational efforts and structure. By redefining our goals through reviewing our Quality Policy and revamping our quality manual, and by implementing awareness activities SUBARU Group-wide, we are encouraging our employees to alter their quality mindset. The second is "Execution Quality" enhancement, with the goal of preventing defects reaching the general public. In these reforms, in order to quickly resolve any defects that may have occurred in the market, we launched the quality improvement team, FAST,*7 to strengthen our quality assurance system in the key market of North America. Furthermore, in Japan, we established two new final vehicle inspection plants, which started operation in August 2022 and August 2023, respectively. By conducting rigorous inspections in a well-organized environment, we aim to deliver products that customers can use with peace of mind. We have also established the Quality Assurance (QA) Lab with the aim of enhancing our investigative capabilities regarding defects. In the event of a defect, development and manufacturing departments collaborate to determine causes and implement solutions. In cases where pinpointing the cause is especially difficult, the Quality Assurance Division expedites defect resolution by conducting independent analysis and investigation of defective parts in the QA Lab. We are also working on strengthening part traceability to improve the speed of our quality improvement efforts. The third is "Innate Quality" enhancement, reforming processes from product planning and research to development and design. The objective is to strengthen the authority of development leaders and ensure quality throughout the entire process, including in production and logistics.
*7

Fast Action & Solution Team
These activities are still at the halfway stage. However, we are pursuing initiatives in this phase where we can show results from our quality enhancement initiatives, including adapting to new technologies. As an example, the new Crosstrek can be described as incorporating the three quality enhancement approaches. This vehicle is a crossover SUV that achieves versatility with capability spanning from urban to more adventurous settings by combining a compact body, SUBARU's unique Symmetrical All-Wheel Drive (AWD) system for authentic SUV performance, and a rugged yet sporty design. The distinctive design of its predecessor has been further enhanced and the driving dynamics have been refined. It also contains the next-generation EyeSight along with a wide-angle single-lens camera, adopted for the first time in Japanese specification, to achieve exceptional safety performance.
Looking ahead, by continuing to pursue quality in our vehicles so that our customers can use them with peace of mind for many years to come, we will work to realize a safe and happy car society toward the SUBARU Group's goal of delivering happiness to all.