Our Approach
The SUBARU Group has developed its social contribution policy in the hope of ingraining the practice of social contribution into corporate culture and to foster sincere commitment to such practice. In accordance with the policy, we promote social contribution activities in the four fields—activity in the community, environment, road traffic safety, and sports and culture—which we have selected as befitting a socially responsible transportation equipment manufacturer.
In FYE March 2020, we established a community engagement Vision for 2025, in addition to a set of 2025 visions for the Group's Six Priority Areas for CSR. Aiming at this vision, we will pursue social contribution initiatives based on the decision to become a company "delivering happiness to all," as described in the mid-term management vision "STEP."
We recognize that among the issues we currently face is the need to further raise awareness of community engagement among our employees. By strengthening employee participation initiatives and collaborating with Group companies, we will strive to raise awareness throughout the SUBARU Group.
Pandemics, such as the one brought about by COVID-19, also present a risk to our community engagement efforts. In situations like these, we will be collaborative and dynamic in order to put participant safety first, including adapting initiative content and carrying out infection prevention measures.
Social Contribution Policy
We contribute to the development of science and technology and automobile culture and to the promotion of road safety.
We contribute to the fostering of human resources who understand the pleasure, importance and preciousness of creative manufacturing.
We contribute to the development of the communities in which we operate.
We support each other in contributing to society as good citizens.
The Four Fields of Community Engagement Initiatives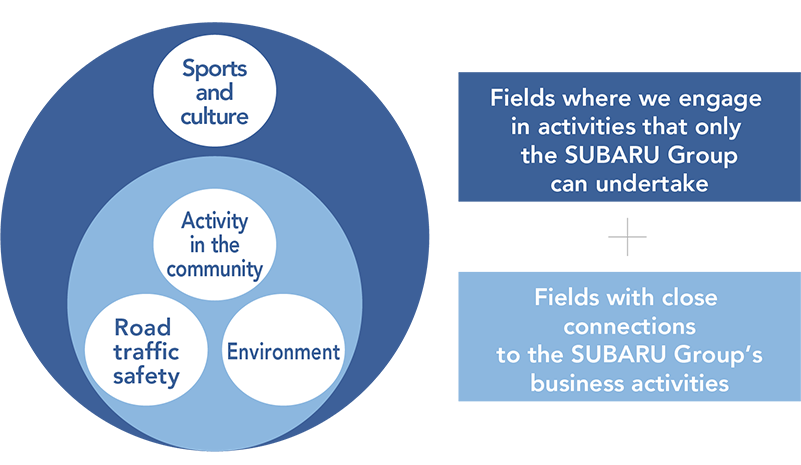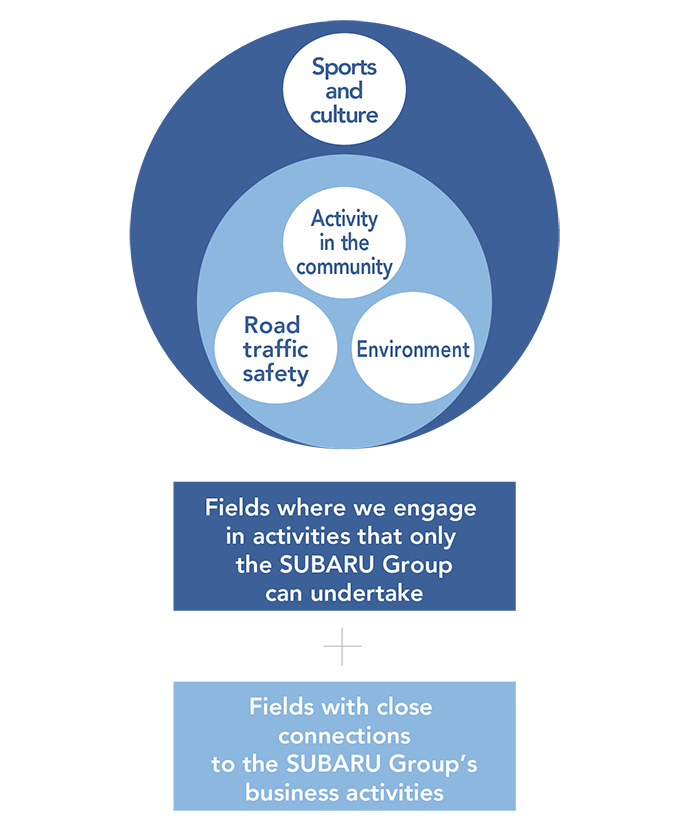 Vision for 2025
The background and reasons that the four fields were selected for social contribution initiatives are fully understood and ingrained across the SUBARU Group.
The SUBARU Group is developing activities in consideration of the four fields.
The SUBARU Group's entire workforce is fully aware of the importance of community engagement.
Management System
SUBARU has established the Social Contribution Committee to advance community engagement activities with the aim of making these activities an integral part of the SUBARU Group's corporate culture and becoming a company that is trusted by stakeholders. With participation of business site directors, the committee works to advance community engagement initiatives. Under the committee, the cross-organizational Planning Subcommittee has been created to discuss issues related to company-wide activities, ranging from planning and preparation to implementation, evaluation, and review. The committee meets every six months to compile reported activity results and issues for the SUBARU Group, and discuss improvement plans to invigorate efforts.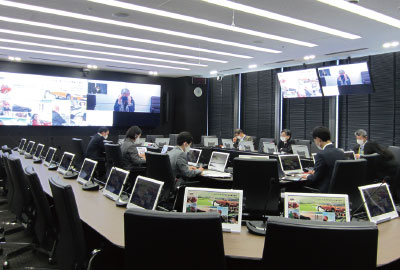 Social Contribution Committee: Organization chart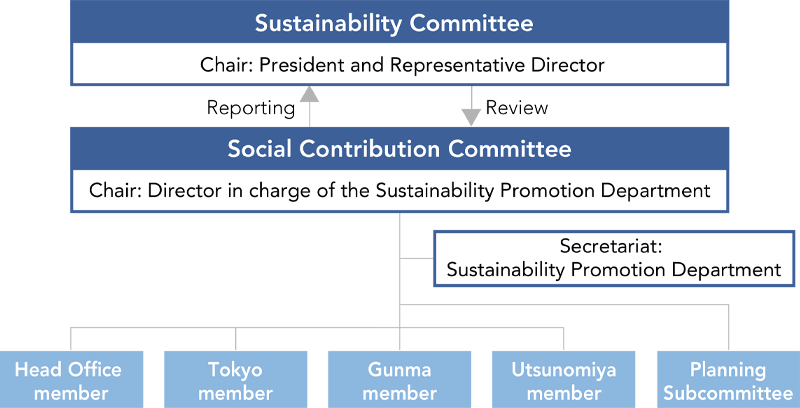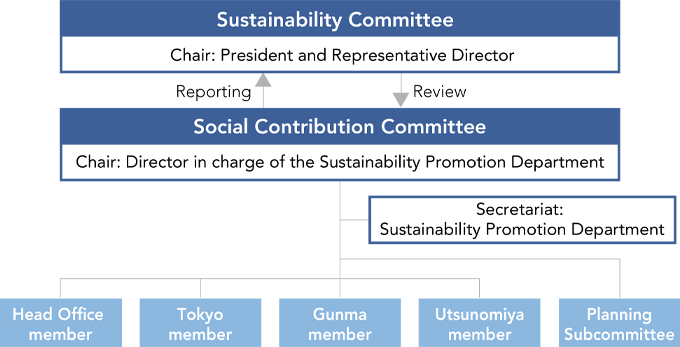 Initiatives
Activity in the Community: in Japan
Communication with Local Residents (Gunma Plant, Utsunomiya Plant)
SUBARU strives to communicate with people living in districts where its offices, plants, and company housing facilities are located, aiming to become a corporate citizen open to the community.
At the Gunma Plant, we send representatives to town council member homes every month to exchange information and explain the Company's current situation and its environmental activities. Our annual factory tours for local residents were canceled in FYE March 2023 to help prevent the spread of COVID-19. In the event of potential noise or vibration caused by construction work, we work to make neighbors aware of the situation in advance, visiting their homes to provide explanations and issuing postings in the area. We also make regular visits during the construction period and check up on the situation.
The Utsunomiya Plant organizes community events in a bid to increase communication with local residents. In addition, when conducting construction work that may generate noise and vibration, we visit the relevant community associations in advance to explain and ask for understanding from local residents. We also distribute related information directly, as appropriate, to the individual households concerned.
Factory Tours (Gunma Plant, Utsunomiya Plant)
Gunma Plant
The Gunma Plant welcomes general visitors to factory tours, and also hosts elementary school field trip programs. From November 2020, visits were limited to remote tours to prevent the spread of COVID-19. Beginning in FYE March 2023, we have resumed site tours for elementary schools located within Gunma Prefecture. Since this resumption, 11,979 students participated in remote tours and 4,918 students participated in site tours. These tours have been well-received not only by visiting students but also by their teachers, who are able to see how SUBARU makes its cars, as well as its factory facilities.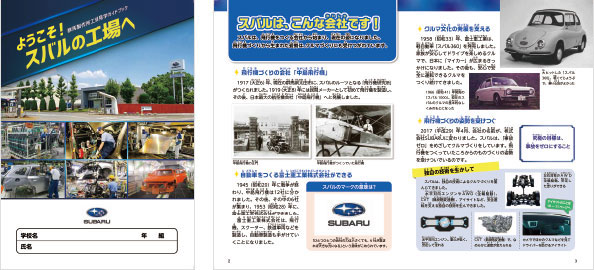 Factory tour leaflet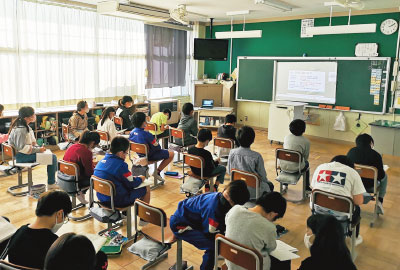 Online factory tour
Utsunomiya Plant
We participate in the Town Exploration program conducted by neighboring elementary schools as part of their social studies curriculum, hosting approximately 15 students each year. The program creates opportunities for children to grow their interest in society by talking to them about aircraft during a tour of our exhibition models, as well as by introducing the plant's environmental initiatives, such as the promotion of recycling and technologies for fuel-efficient manufacturing.
Instructor Dispatch to Educational Institutions (Gunma Plant, Utsunomiya Plant)
Gunma Plant
Since FYE March 2023, we have been dispatching instructors to neighboring elementary, middle, and high schools. At lessons, students listened attentively as lecturers presented on SUBARU's businesses, how it works to be a company "delivering happiness to all," and how they came to be in their current jobs.

Instructor Dispatch Project
Utsunomiya Plant
Since FYE March 2022, we have been supporting the Instructor Dispatch Project sponsored by the Tochigi Association of Corporate Executives. In FYE March 2023, the Chief General Manager of the Utsunomiya Plant was dispatched as an instructor to a local school, Utsunomiya City Younan Junior High School. He introduced the plant's business activities to students, and also discussed important points for the work they do there. In addition, nine employees were dispatched as interview committee members for the selection examination for newly hired public school teachers in Tochigi Prefecture.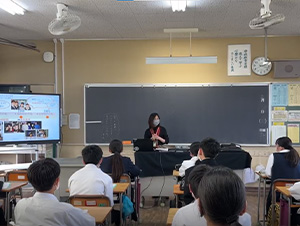 Community Cleanup Activities (Gunma Plant, Tokyo Office, Utsunomiya Plant)
As part of its community engagement initiatives, SUBARU carries out cleanup activities on a regular basis in districts where its offices and plants are located. In FYE March 2023, while events were canceled or scaled back after due consideration to the spread of COVID-19, the Utsunomiya Plant conducted volunteer cleaning activities inside the Kanseki Stadium Tochigi, the main venue for the National Sports Festival. As a responsible community member, we will continue with these beautification activities to help conserve local environments.

Employees engaged in cleanup activities (Utsunomiya Plant)
Advancing the SDGs Alongside Communities (Utsunomiya Plant)
In March 2021, the Utsunomiya Plant registered for Tochigi Prefecture's Tochigi SDGs Promotion Company Registration System. In this system, the prefectural government maintains a registry of declarations made by companies doing business in the prefecture on the topics of the environment, society, and economy. This system is designed to promote independent company actions toward the achievement of the SDGs. Going forward, we will be proactive in our actions here, linking growth at our business sites with growth of the region.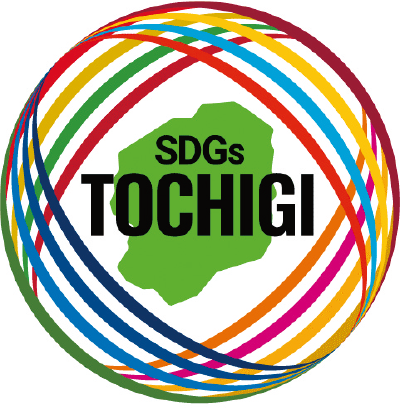 Local Community Events (Gunma Plant, Tokyo Office, Utsunomiya Plant)
In order to build a better relationship with the local communities adjacent to our business sites, SUBARU invites local residents to join events or exhibitions it holds on its premises or at local public facilities. In FYE March 2023, while paying utmost attention to the spread of COVID-19, we were proactive in holding events deemed feasible with the understanding of the local community.
・Holding a Projection Mapping Event (Gunma Plant)
The Yajima Plant within the Gunma Plant played host to the Happy Smiley Project, a projection mapping event lighting up the walls of the plant. About 50 employees volunteered to participate in the planning and operation of the event, which brought smiles and excitement to many visitors by projecting pictures drawn that same day by local children.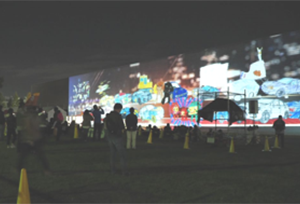 ・Monozukuri Classes (Tokyo Office)
In cooperation with Subaru Techno Corporation, SUBARU holds Subaru Monozukuri Classes for elementary school students in Mitaka City, where SUBARU has an office. These classes teach students how SUBARU makes its vehicles, offering them the opportunity to model and run their own cars. Participants get hands-on experience, learning things like the differences between two-wheel drive (2WD) and four-wheel drive (AWD) vehicles, such as their design and handling. Each year, we receive more applications than slots available for this very popular event. In FYE March 2023, and with infection control measures in place, these classes were held for the first time after a three-year gap due to the spread of COVID-19. We will continue our activities to bring the joy and importance of manufacturing to as many children as possible.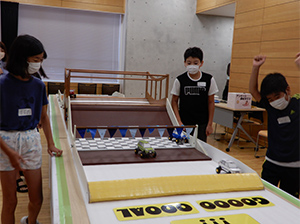 ・Holding the SUBARU Summer Festival (Utsunomiya Plant)
The SUBARU Summer Festival was held at Yonan 2nd Park in Utsunomiya City for the first time in three years, attracting approximately 2,500 visitors, including local residents, employees' families, and former employees. In FYE March 2023, a number of infection control measures were taken to help make the event one that visitors could enjoy with peace of mind, such as antigen testing of all visitors, banning alcohol consumption, and shortening event hours.

The SUBARU Summer Festival
・Exhibiting at the Ebisu Cultural Festival (Head Office)
To further deepen our connection with the local community, we have been exhibiting at the Ebisu Cultural Festival* starting in 2019. Our teams work hard to come up with fun programs to exhibit each year, including crafting musical instruments from thinned wood harvested in SUBARU's forest conservation campaigns, workshops to experience the difference in driving style between 2WD and 4WD vehicles, and stargazing themed on environmental conservation activities and featuring SUBARU's star-studded brand logo. As a member of the local community, we will continue our efforts to revitalize the Ebisu area.
*

An event mainly held at Yebisu Garden Place and organized by people connected to Ebisu with the support of organizations and companies based there.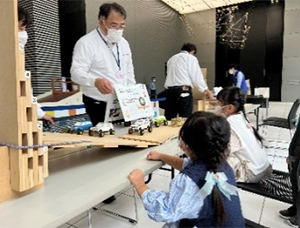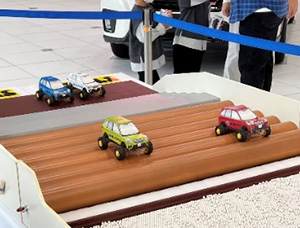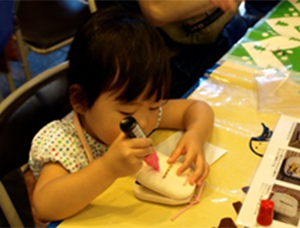 Donating Disposable Warming Pouches (Tokyo Office)
Of the disposable warming pouches stored as disaster supplies at the Tokyo Office, 2,640 that were about to expire were donated to Mitaka City Hall to be used by the Mitaka City Silver Human Resources Center and other organizations. For this effort, the Mayor of Mitaka City presented SUBARU with a letter of appreciation.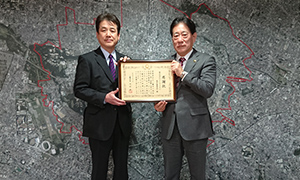 Donating Goods to the "Miyakko no Ibasho" Program (Utsunomiya Plant)
In support of Utsunomiya City's activities to create places for local children and support children in need in the "Miyakko no Ibasho" Program, we donated tables and chairs from our cafeteria that were scheduled to be disposed of to support organizations. (Total donations: 14 tables and 43 chairs to 5 organizations)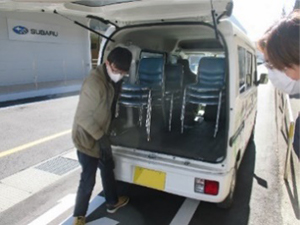 Presenting an Event Booth at the 2022 Japan Cup Cycle Road Race (Utsunomiya Plant)
For the 2022 Japan Cup Cycle Road Race, held in Utsunomiya City, SUBARU presented an event booth at one of its venues, Utsunomiya City Forest Park. As a local company, we exhibited panels about our business activities and CSR efforts, and presented a model of the new utility helicopter SUBARU BELL 412EPX, enlivening the event and providing an opportunity to show off our Aerospace Business activities.

The SUBARU event booth
Receiving a Letter of Appreciation from the Japan Self-Defense Force Tochigi Provincial Cooperation Office (Utsunomiya Plant)
SUBARU was awarded a letter of appreciation for its contribution to the stable expansion of the defense infrastructure by deepening mutual understanding of aircraft through exchanges of opinions with the Self-Defense Forces, as well as for contributing to Self-Defense Force missions by hosting training programs for its members.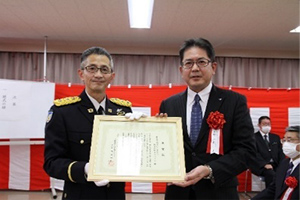 Disaster Response Countermeasures
・Providing Training Grounds (Tokyo Office)
For the comprehensive earthquake fire drill, which is held at all fire stations in the jurisdiction of the Tokyo Fire Department, we provided some facilities and locations in our Tokyo Office as a training site for the Mitaka and Musashino district fire stations. A letter of appreciation was awarded to SUBARU by the Tokyo Fire Department for our contributions to firefighting operations.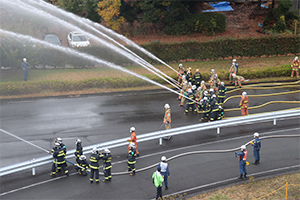 Fire drills
・Concluded a Disaster Preparedness Agreement with Utsunomiya City (Utsunomiya Plant)
In October 2021, we concluded an agreement with Utsunomiya City regarding the use of facilities in the event of a disaster. Under this agreement, in the event of wind or flooding damage in Utsunomiya City, the parking facilities of the Utsunomiya Plant will be temporarily opened as an evacuation site for vehicles owned by the city's citizens living in designated flooding zones. In June 2019, the plant was officially registered by the City of Utsunomiya as a Disaster Prevention Cooperation Office, one that will cooperate in local disaster prevention activities, including cooperation in providing human resources and goods support during disasters.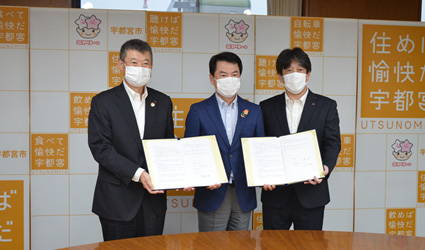 Activity in the Community: Overseas
Providing School Supplies to Educational Institutions (Subaru of America, Inc.)
In a partnership between Subaru of America, Inc. (SOA) and the NPO AdoptAClassroom.org, SUBARU retailers work to provide supplies to schools in need and students in difficult circumstances. In FYE March 2023, SOA provided support to seven public schools in its head office's city of Camden, New Jersey through AdoptAClassroom.org for the purchase of writing materials and other school supplies. SOA also held an event to assist in classroom maintenance for the new school year, sending 115 employee volunteers to 11 public schools.
2022 Corporate Impact Report "Subaru Loves Learning"
Subaru Loves Learning – Subaru

Supporting classroom maintenance
The Subaru Love Promise by Subaru of America, Inc.
Subaru of America, Inc. (SOA) views sustainability of society and of our SUBARU Group as showing love and respect to our stakeholders and acting accordingly. In its vision to achieve this, The Subaru Love Promise, SOA aims to become more than a car company. Here, SOA strives to earn the trust of its stakeholders by following through on its five promises, showing integrity and compassion with the goal of exceeding their expectations.
The Subaru Love Promise | More than a Car Company
Five Promises





Sponsoring National Engineers Day (Subaru of Indiana Automotive, Inc.)
Subaru of Indiana Automotive, Inc. (SIA) sponsored National Engineers Day, held at The Children's Museum of Indianapolis. SIA also dispatched employee volunteers to the event, which featured a hands-on class on solving problems through science and engineering.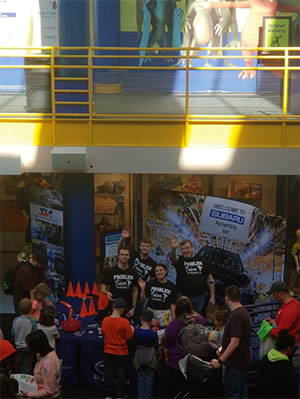 Sponsoring Boy Scouts of America Events (Subaru of Indiana Automotive, Inc.)
Subaru of Indiana Automotive, Inc. sponsored the Pinewood Derby races, a children's event organized by the Boys Scouts of America Sagamore Council. In this event, children built and raced model cars from kits containing wooden blocks and plastic wheels.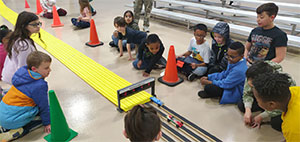 Environment: In Japan
SUBARU Forest Project
Since FYE March 2018, SUBARU has been working on the SUBARU Forest Project, an initiative that is directly linked to biodiversity conservation and embodies the idea of coexistence with nature included in the SUBARU Environmental Policies.
SUBARU is working with Bifuka Town in Hokkaido, Gunma Prefecture, and Utsunomiya City in Tochigi Prefecture, where SUBARU has close ties with local communities. We promote forest protection activities, such as for supporting forest management, tree planting and use of thinned wood obtained from forest management work. In our efforts with Bifuka Town, we have purchased J-Credits every year since FYE March 2022. In addition, SUBARU has been utilizing the corporate version of a hometown tax donation program—the government's tax incentive scheme to encourage companies to support regional revitalization—to donate six million yen to the Hokkaido government's Matsuyama Marsh* Forest Project over two donations of three million yen and over three years starting from FYE March 2020. The donations are used, among others, for boardwalk improvements in Matsuyama Marsh. The Governor of Hokkaido Prefecture presented SUBARU with a letter of appreciation in recognition of its many years of support for efforts to preserve the environment and improve the attractiveness of the Matsuyama Marsh, and for its significant contribution to regional development in Hokkaido.
*

Matsuyama Marsh (Bifuka Town): Japan's northernmost high-altitude wetland situated 797 meters above sea level. As the marsh is home to around 200 distinctive plant species, including ferns and mosses, the Ministry of the Environment has selected it as one of Japan's 500 most important wetlands.
SUBARU, Bifuka Town, and the Hokkaido Government Kamikawa General Subprefectural Bureau signed an agreement to promote conservation of the forest environment in Bifuka Town in 2019.
Biodiversity: SUBARU Forest Project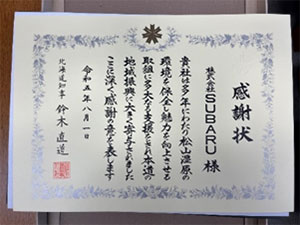 Donating Bike Racks Made of Thinned Wood (Gunma Plant)
In March 2022, the Gunma Plant donated bike racks made of thinned wood from the SUBARU Friendship Forest Akagi to Gunma Prefecture. The 10 donated bike racks have been installed mainly in forest parks in Gunma Prefecture for the benefit of cyclists visiting the parks.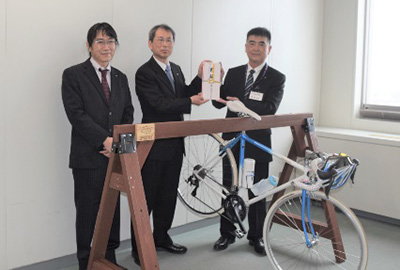 Donating bike racks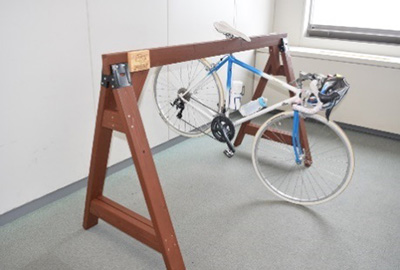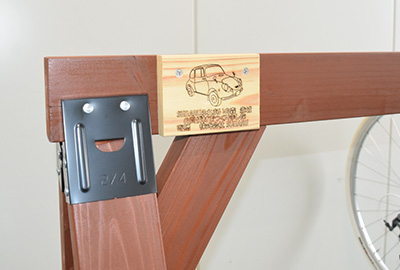 Donating Unwanted Shoes to an NPO (Gunma Plant)
At the Gunma Plant, we sponsor the Hachioji Hill Fun Trail in Ota running event. Event participants were asked to donate shoes that were still wearable but no longer worn, resulting in the collection of 71 pairs of shoes. The collected shoes were recycled and donated to an overseas NPO that supports children in need.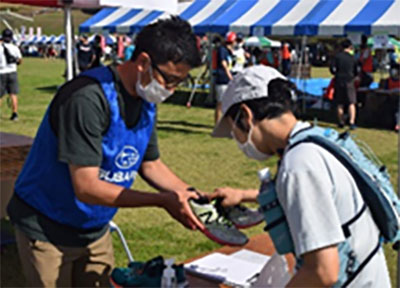 Collection of unwanted shoes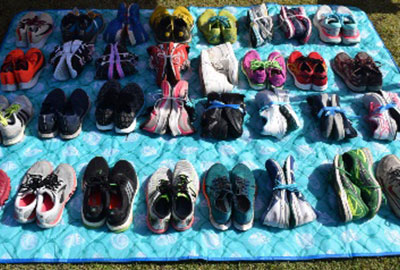 Teaching a School Class (Utsunomiya Plant)
Starting from FYE March 2007, the Utsunomiya Plant sends employees to local elementary and junior high schools to teach classes designed to increase children's interest in the field of aerospace and the environment, seeking to raise their environmental awareness and present a future career option.
Our programs contain lectures and experiments to learn about global warming, primarily major causes and the significance of stopping the phenomenon, as well as the principles of aircraft flight and enironmentally friendly car-making. In FYE March 2023, we once again made utmost efforts to refrain from school visits in the interest of the children's safety, and held programs online. Having taught 21,784 students in total at 334 schools in Utsunomiya and Handa districts over the years, this project has become an essential local community activity.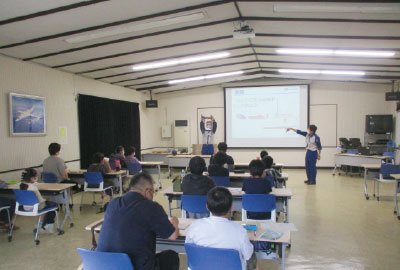 Teaching a school class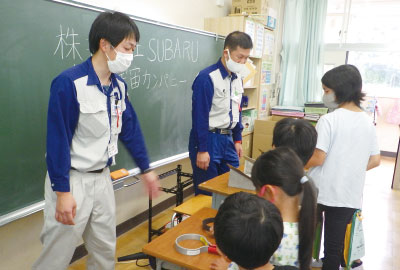 Teaching a school class
Environment: Overseas
Subaru Park Zero Landfill (Subaru of America, Inc.)
Since 2020, Subaru of America, Inc. has operated a partnership with Philadelphia Union, a team participating in Major League Soccer (MLS) in the U.S. The team's stadium, named Subaru Park, has become the first zero-landfill-waste MLS stadium. In one of the related sustainability initiatives, more than 70 volunteers participated in the Subaru Park Garden for Good organic cultivation program at the stadium in Chester, Pennsylvania. In 2022, the program donated around 2,000 pounds of fruit and vegetables, equivalent to 8,000 servings, to local foodbanks. It also keeps 357,480 pounds of trash out of landfills, half of which is recycled thanks to the help of fans.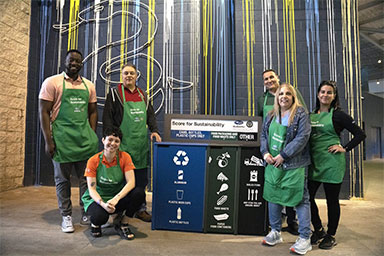 Road Traffic Safety
Traffic Safety Awareness Activities (Gunma Plant)
The Gunma Plant-based SUBARU baseball team, together with a professional basketball team based in Ota City and in conjunction with National Road Traffic Safety Week, conducted traffic safety awareness activities at Ota Station and Niragawa Station in Ota City with the cooperation of Tobu Railway and the Ota Police Station. Under the theme that walking while using a smartphone is dangerous, they greeted commuters at Station, distributing original tissues. In FYE March 2019, we also started an initiative to install traffic safety signs on utility poles on Ota City's school roads. As of April 2022, a total of 29 signboards have been installed in an effort to prevent traffic accidents for local residents.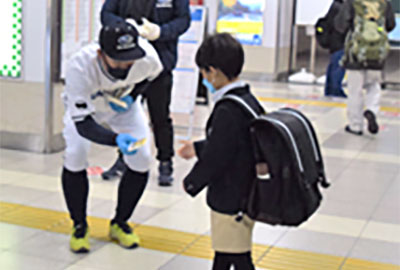 Traffic safety awareness activities at train stations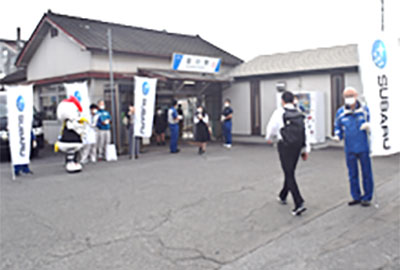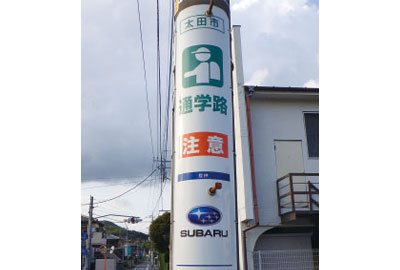 Installing Traffic Safety Signs
Activities of the Association of Driving Safety Supervisors (Utsunomiya Plant)
At the Utsunomiya Plant, SUBARU serves as the president of the southern Utsunomiya branch of the Tochigi Prefecture Association of Driving Safety Supervisors. We work with community associations located around the plant and the Utsunomiya Minami Police Department to promote local road traffic safety activities in order to raise awareness in the southern Utsunomiya district.
In March 2022, the Chief of the Utsunomiya Plant, Shoichiro Tozuka, received a letter of appreciation from the chief of the Utsunomiya Minami Police Department for his longtime efforts in safe driving management as the chairman of the Association of Driving Safety Supervisors in the Utsunomiya Minami district.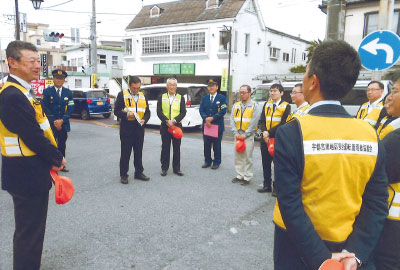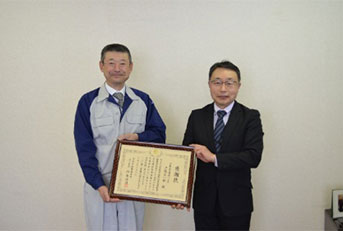 Certificate of commendation
Distributing Desk Pads Warning about Traffic Accidents (Fukushima SUBARU)
We supported an initiative sponsored by Fukushima Broadcasting Co., Ltd. to distribute desk pads to all new schoolchildren in Fukushima Prefecture to warn them about traffic accidents, and cooperated in local traffic safety activities.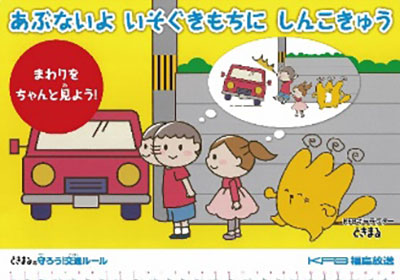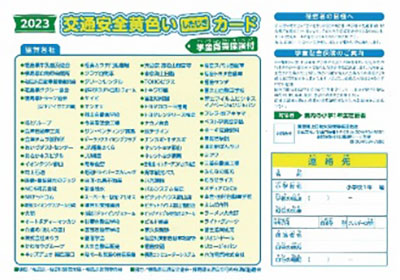 Sponsoring a Safe Driving Support Vehicle Experience Event for Elderly Drivers (Kanagawa SUBARU)
SUBARU sponsored a Safe Driving Support Vehicle Experience event, held by the Kanagawa Prefectural Police and a non-life insurance company at a driving school, and loaned a vehicle to the event. Two hands-on sessions were held for elderly adults in the community, with a total of about 50 participants. SUBARU presented driver assistance using actual vehicles and delivered lectures.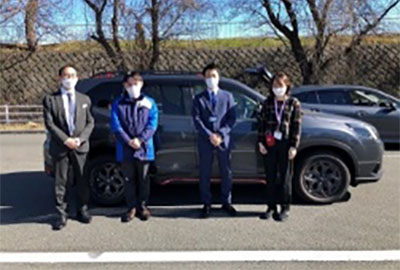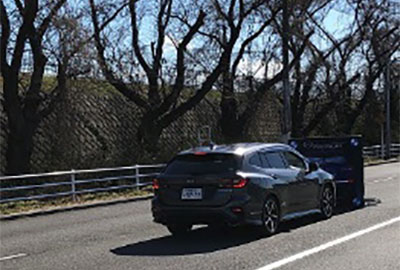 Sports and Culture: In Japan
SUBARU's Baseball Players and Track and Field Team Members Coach Children
The "How to Run Faster" Class was held by the Oizumi Town Sports Culture Promotion Foundation at the Subaru Sports Park in Oizumi Town, coached by five of SUBARU's track and field team members and one of its coaches. Around 40 local elementary school children learned basic movements in running and studied practical training methods.
In addition, the Gunma Prefectural High School Baseball Skills Training Course was held by the Gunma Prefecture High School Baseball Federation at the Shikishima Baseball Stadium, with players from SUBARU's baseball team serving as instructors. Instructors provided practical guidance on pitching, batting, and fielding to high school baseball club players in Gunma Prefecture, who showed sincere dedication to the course.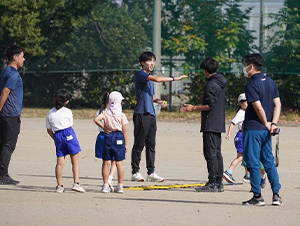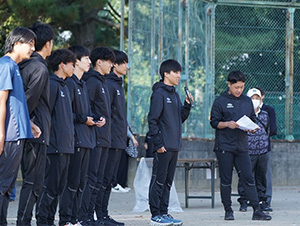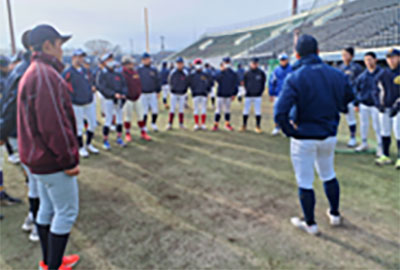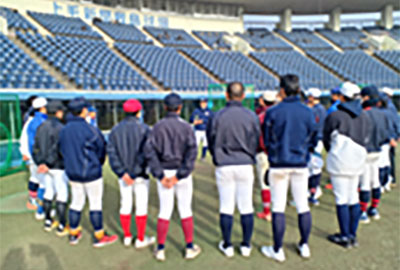 Providing "Lifesaving Cars" to the Japan Lifesaving Association
In supporting the JLA*1 in its goal of zero water accidents, SUBARU provides Subaru Lifesaving Cars, used for monitoring activities and transport of emergency rescue equipment at beaches. Starting with the provision of this service in Kanagawa, Chiba, and Shizuoka prefectures in FYE March 2021, the scope of this support has been expanded to beaches in 27 of Japan's prefectures in FYE March 2023. Here, 23 SUBARU dealerships*2 provided 29 vehicles in contribution to beach patrols and rescue and relief efforts during the summer. From FYE March 2023, we are expanding the scope of our support and activities as an official partner of JLA.
*1

The Japan Lifesaving Association
(link to website)
*2

Hokkaido Subaru Co., Ltd., Iwate Subaru Inc., Miyagi Subaru Inc., Yamagata Subaru Inc., Fukushima Subaru Inc., Niigata Subaru Inc., Hokuriku Subaru Inc., Chiba Subaru Inc., Tokyo Subaru Inc., Kanagawa Subaru Co., Ltd., Shizuoka Subaru Motor Co., Ltd., Nagoya Subaru Motor Inc., Kyoto Subaru Inc., Hyogo Subaru Inc., Hiroshima Subaru Inc., Sanin Subaru Inc., Okayama Subaru Inc., Yamaguchi Subaru Inc., Higashi Shikoku Subaru Inc., Fukuoka Subaru Inc., Oita Subaru Inc., Minami Kyushu Subaru Inc., Okinawa Subaru Inc.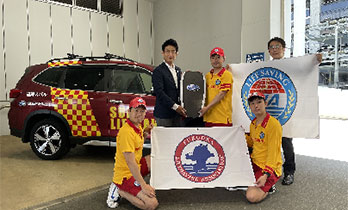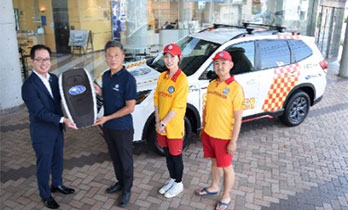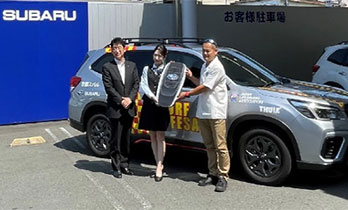 Supporting Sporting Organizations and Sporting Events
SUBARU supports the activities of the Ski Association of Japan, the Japan Canoe Federation, and the Japan Cycling Federation as an official sponsor, and also provides operational vehicles for sporting events such as the New Year Ekiden relay race and the Tokyo Marathon.
Support for the National Sports Festival in Tochigi (Utsunomiya Plant)
In order to produce hand towels for distribution at the National Sports Festival and the National Sports Festival for People with an Impairment, held in Tochigi Prefecture, we installed used clothing collection boxes at the Utsunomiya Plant and the SUBARU Research and Experiment Center, both of which are located in the prefecture. Approximately 54 kg of clothing was collected from employees over the course of a month and donated to Tochigi Prefecture.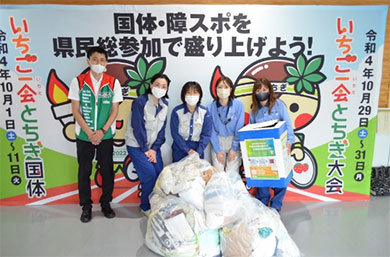 Sponsoring a Christmas Concert (Head Office)
The Takofes Christmas Concert was held by the Higashi Ebisu Store Association at the EBiS303 (Ebisu Subaru Building). This concert, celebrating its seventh year since launching in 2016, was held free of charge with the joint support of local residents and companies, including SUBARU as a local corporate sponsor. Like in previous years, the FYE March 2023 concert was held with rigorous measures taken to prevent COVID-19 infection. The 283 attendees enjoyed a powerful and splendorous performance from the professional orchestra.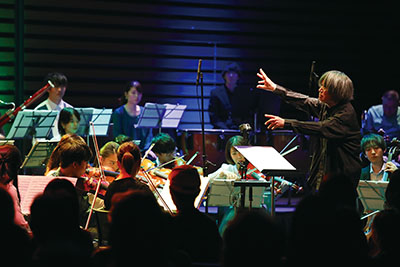 Holding the STI Circuit Drive (Subaru Tecnica International)
This annual event is held for owners of SUBARU vehicles, with the aim of linking the learning and growth gained through participatory motorsports to the joy of life. As a result of the online application process, approximately 100 cars and their owners gathered to not only experience the fun of driving but also to learn about driving etiquette and safety, such as proper driving position, eye contact, and pedal work on the accelerator and brake from professional drivers, invited as lecturers.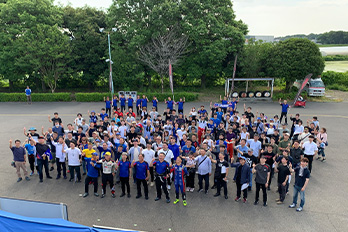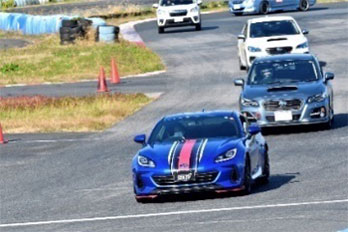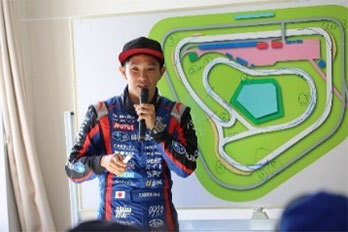 Sports and Culture: Overseas
Drive-in Movie Event (Subaru Canada, Inc.)
Subaru Canada, Inc. held a drive-in movie viewing for SUBARU owners. In FYE March 2023, viewers in approximately 200 cars enjoyed a drive-in cinematic experience. The event has been well received by participants as an opportunity to deepen exchanges among SUBARU drivers.

Response to the Spread of COVID-19
Donated a Droplet-Suppressing Vehicle for Transporting Infectious Patients (Gunma Plant)
In July 2022, SUBARU donated to the Ota City Fire Department a vehicle designed to suppress droplet circulation and transport infectious patients. This vehicle was developed by the Engineering Management Division of Gunma Plant. This transport vehicle's driver's seat and rear seats are separated by a special transparent film, and the driver's seat area is constantly pressurized in order to prevent secondary infection from the patient riding in a rear seat. We also used a 3D printer to create parts that allow the air conditioner in the driver's seat to blow air to the rear seats, making it possible to transport patients with peace of mind and comfort.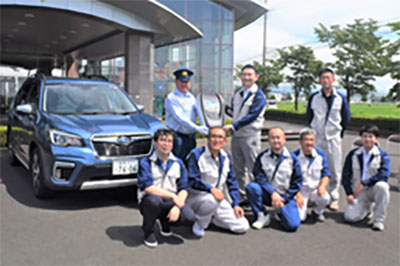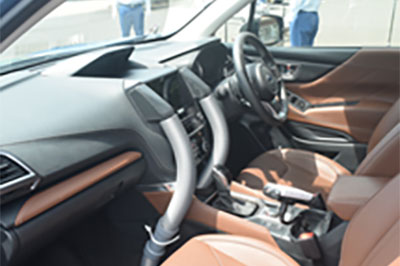 Conducting Workplace Vaccinations (Gunma Plant, Utsunomiya Plant, Head Office)
Two workplace vaccination courses were conducted against COVID-19 to reduce the vaccination burden on local medical institutions.
Creating and Donating Partitions Made from Surplus Materials to the Tochigi Prefectural Government and Medical Institutions (Utsunomiya Plant)
The partitions were made from lightweight and durable carbon materials and fiberglass left over from the manufacturing process. Continuing from FYE March 2022, a total of 48 sets were donated to the Tochigi prefectural government and medical institutions in Tochigi Prefecture. In July 2022, the Governor of Tochigi Prefecture awarded us a letter of appreciation for these activities.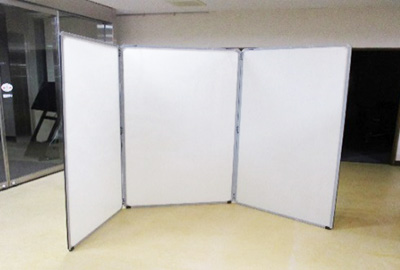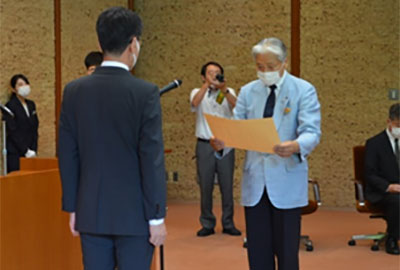 Donation, Volunteer Activities, etc.: In Japan
Employee Volunteer Award Program
Based on the concept of ingraining the practice of social contribution into corporate culture and to foster sincere commitment to such practice, we have established a volunteer award program to encourage each employee to participate in volunteer activities and to raise awareness of social contribution activities.
This award is given annually, and the Social Contribution Committee deliberates and selects winners from among the applicants. In FYE March 2023, the 18th year of the program, the award system was revised to make it easier for more employees to apply, and applications were received for a wide range of activities, including sports instructors, national volunteer activities, blood donation, and lifesaving. Award winners are engaged in their activities with the mindsets of wanting to do something to benefit the world and to inform more people about the activities they are engaged in.
Voluntary Employee Donation System
SUBARU has implemented a system where employees can easily use the company welfare program to donate to important causes. In the event of a disaster, we also offer easy donation through temporary special contact points to support the affected areas.
Supporting Areas Affected by the Earthquake in Southeastern Turkey
SUBARU has donated 100,000 euros in aid to the United Nations High Commissioner for Refugees (UNHCR) to support the areas affected by the earthquake that struck southeastern Turkey in February 2023. In addition, in order to provide a wider range of support, we have established the SUBARU Group Employee Web Donation Box for employees of Group companies in Japan and dealerships to make donations to Save the Children Japan, in addition to offering the company welfare program as a donation method. Furthermore, SUBARU matched all employee donations to the UNHCR, and provided additional donations as well.
Tohoku Reconstruction Support Festival (Head Office, Tokyo Office)
SUBARU participates in the Tohoku Reconstruction Support Festival organized by Keidanren (the Japan Business Federation) to support the recovery from the Great East Japan Earthquake. We hold events in-house with participation from the three prefectures of Iwate, Miyagi, and Fukushima, all of which were severely damaged by the earthquake. These events are held under the theme of direct employee action. In FYE March 2023, internal sales events were held at the Head Office and Tokyo Office, and in addition to helping with the sale of special products from each prefecture, these events also offered a place where they can provide information about recovery status and tourist attractions.
Furthermore, special dishes using ingredients from Tohoku were served at the company cafeterias of the Head Office, Tokyo Office, and Gunma Plant.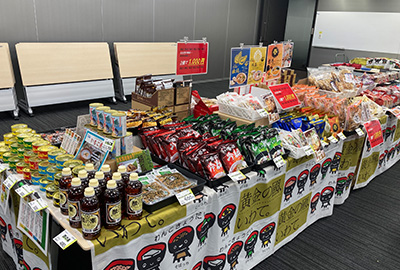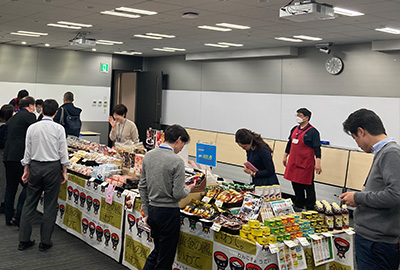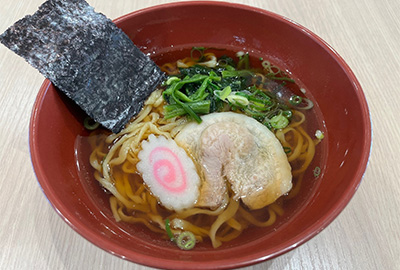 Donations to Charitable Organizations through Bazaars Utilizing Commercialization Rights (Tokyo Office, Utsunomiya Plant)
Since FYE March 2015, the Intellectual Property Department has been holding charity bazaars utilizing commercialization rights at local community events and in-house bazaars. At these bazaars, SUBARU sells free samples received from manufacturers selling its minicars. Proceeds from sale are donated to organizations supporting children orphaned by traffic accidents.
In FYE March 2023, the Utsunomiya Plant carried out two bazaars, while the Tokyo Office carried out one, with both donating the proceeds. In addition, in May 2023 we held a charity bazaar at a traffic safety event sponsored by the Utsunomiya Minami Police Department and others, donating the proceeds.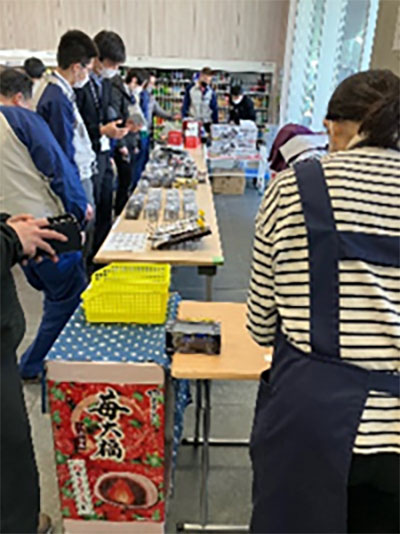 In-house charity bazaar
Providing an Occupational Health Lecture for Public Health Students (Utsunomiya Plant)
At the request of a university in Tochigi Prefecture, we gave a lecture on occupational health as part of the university's public health science occupational health practicum. In June 2022, we welcomed students from the Dokkyo Medical University School of Nursing, and in November 2022, students from the Jichi Medical University School of Nursing.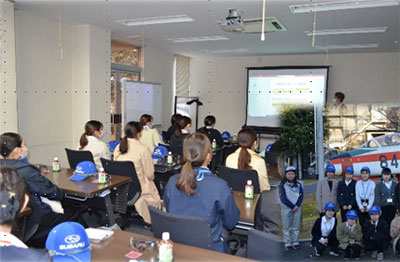 Course on occupational health
Donating an RPH-2 Unmanned Helicopter to Fukushima Robot Test Field (Utsunomiya Plant)
SUBARU donated an RPH-2, a large unmanned helicopter used for spraying agricultural chemicals and observing volcanoes, to Fukushima Prefecture for use in social education of local students. The RPH-2 was exhibited at the Fukushima Robot Test Field operated by the Fukushima Innovation Coast Promotion Organization.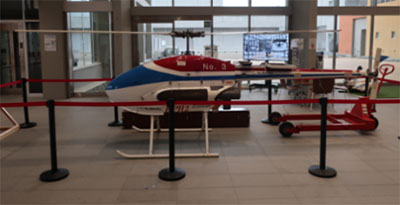 The RPH-2 unmanned helicopter
Donation, Volunteer Activities, etc.: Overseas
Conducting The Subaru Share the Love Event (Subaru of America, Inc.)
Each year, Subaru of America, Inc. holds The Subaru Share the Love Event, an initiative to donate U.S.$250 for every new SUBARU vehicle purchased or leased at a SUBARU retailer to NPOs. This activity has contributed more than U.S.$256 million over the past 15 years.
The Subaru Share the Love Event – Subaru
Blood Drive (Subaru of Indiana Automotive, Inc.)
Subaru of Indiana Automotive, Inc. (SIA) has been running a blood drive twice a year since 1991. In FYE March 2023, SIA donated 799 units of blood, helping to save approximately 2,400 lives. In the span of over three decades, SIA has provided approximately 16,000 units of blood to more than 80 hospitals in Indiana.

Donation of Recycled Clothing to Mountainous Areas (Subaru of China, Ltd.)
Subaru of China, Ltd. (SOC)'s labor union facilitated a donation program, sending unused clothing to people living in places needing support, such as mountainous areas. A total of 484 items of clothing were collected from 277 SOC employees and donated.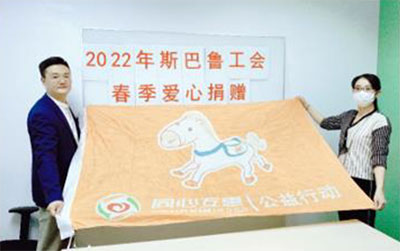 Donating clothing
Donation to the Japan Business Society of Detroit (SUBARU Research & Development, Inc.)
Since FYE March 2021, Subaru Research & Development, Inc. has made donations to the Japan Business Society of Detroit (JBSD), a Japanese business organization in the state of Michigan. Donations are used for scholarships and cultural activities. While Subaru Research & Development, Inc. had made four donations a year for a number of years, the company only donated three times in FYE March 2023 due to the impact from COVID-19.