Shareholder Returns Policy
The Company regards shareholder interests as an important management priority and applies a performance-linked approach based on continuous and stable dividend payment, by considering the business performance of each fiscal year, investment plans, and the business environment.
After comprehensively assessing the situation including the uncertain business environment led by the ongoing global pandemic of Covid-19 and our future needs of funds, we have decided to pay an interim dividend of 28 yen per share. Forecasts for year-end and annual dividends are 28 yen per share and 56 yen per share, respectively.
Dividend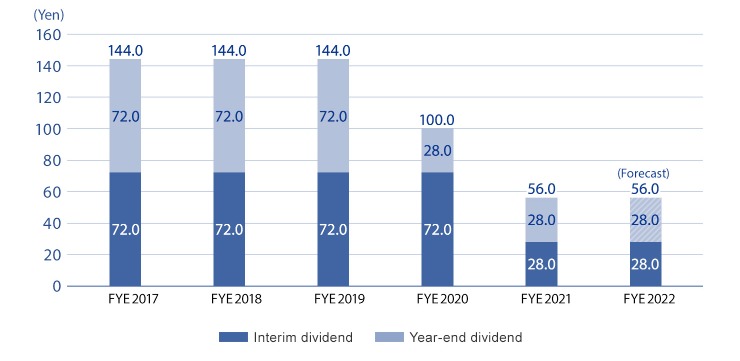 Forward-looking statements are based on the information available at the time of announcement (August 4, 2020) and are subject to various risks and uncertainties that could cause actual results to vary materially.
Dividend Payout Ratio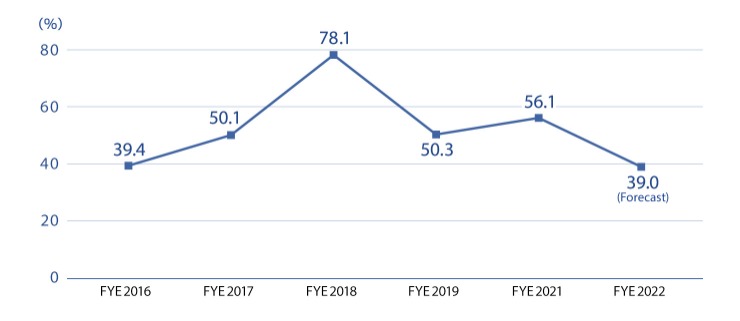 The Group has voluntarily adopted the IFRS from the fiscal year ended March 2020, and the Dividend Payout Ratio for the FYE 2019 have also been reclassified to the IFRS basis and presented. For years prior to the fiscal year ended March 2019, figures are presented in accordance with Japanese GAAP.
Dividend Yield