Stakeholder Engagement
The SUBARU Group's CSR initiatives place importance on the relationship with stakeholders. The SUBARU Group believes that disclosing information to stakeholders, engaging in dialogue with them, and reflecting their opinions and requests in the management of the business are all important. In order to realize its vision of becoming "a compelling company with a strong market presence" as stated in the management philosophy, the SUBARU Group will continue to make efforts to gain trust from its stakeholders, and to provide meaningful community engagement while at the same time increasing its corporate value.
SUBARU Group's Stakeholders and Their Relationship with the Six Priority Areas for CSR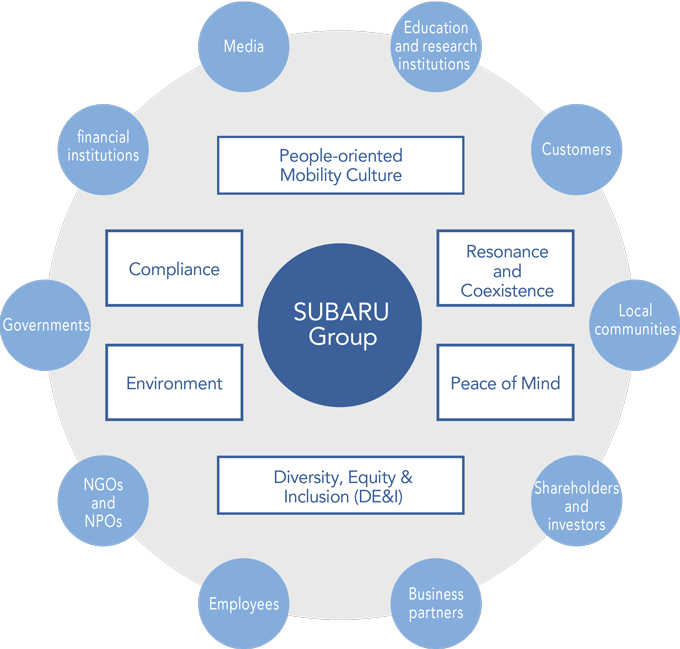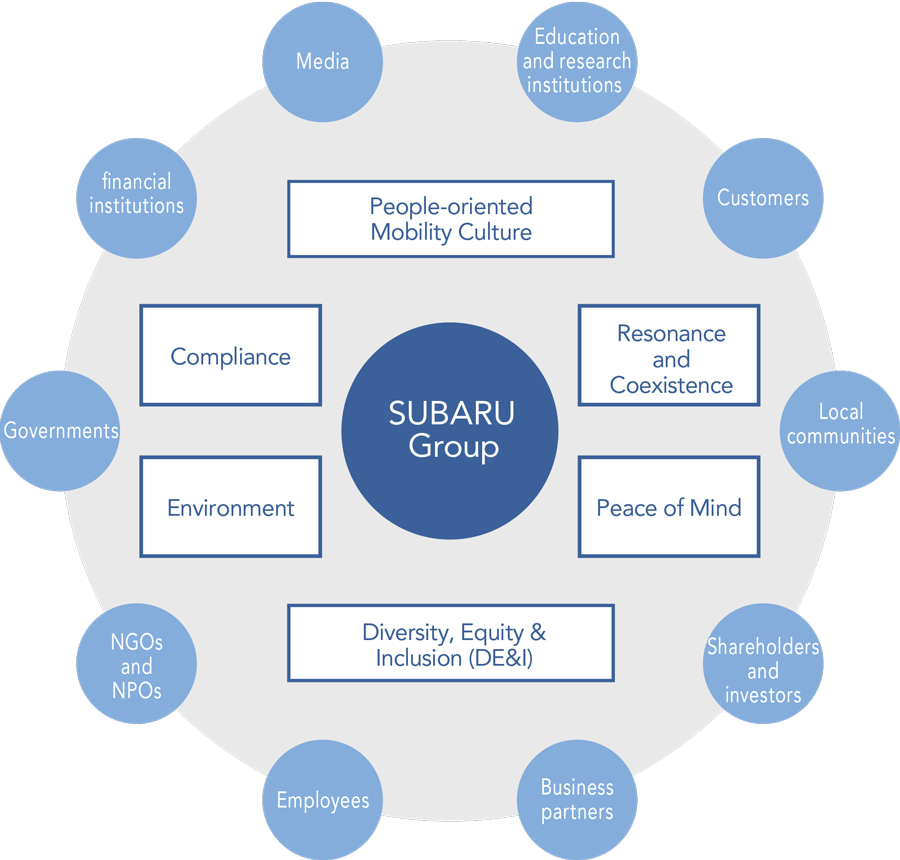 Methods to Communicate with Stakeholders at the SUBARU Group

| Stakeholders | Communication Method |
| --- | --- |
| Customers | Establish SUBARU Customer Center, implement satisfaction surveys, and hold events. |
| Local communities | Encourage traffic safety through safety workshops and traffic guidance. Schedule cleanup activities by employees and hold exchanges with local residents. |
| Shareholders and investors | Hold shareholder meetings (annually), issue reports, and publish information online. Hold interviews with institutional investors and investor briefings. Hold factory tours. |
| Business partners | Hold procurement policy briefings, practice regular exchange of information, and recognize business partners that are making major contributions in technology, quality, etc. |
| Employees | Hold labor–management consultations, carry out stress checks and the employee attitudes survey, and conduct educational training by profession and rank. |
| NGOs and NPOs | Respond to questionnaires and surveys, implement regional and local community engagement activities, and make donations to support shared philosophies. |
| Governments | Participate in economic and industry associations' conference bodies, and have discussions and exchanges with local governments. |
| Financial institutions | Publish information online, provide explanations at account settlement, and hold monthly discussions. |
| Media | Hold financial reporting briefings for media and analysts (quarterly), and publish information online. |
| Education and research institutions | Implement workplace visits, implement school visit projects at elementary and middle schools, and hold plant tours (about 90,000 visitors annually). |
Note:

Some activities were not held in FYE March 2023.