CSR Promotion System
The Subaru Group convenes its CSR Committee twice a year as a venue to discuss our CSR initiatives and confirms the status of PDCA operation of each related committee and division.
The membership of the CSR Committee, which is headed by the President and Representative Director, is composed of all executives. The Committee considers business issues from a social perspective and works to strengthen CSR efforts.
CSR Promotion System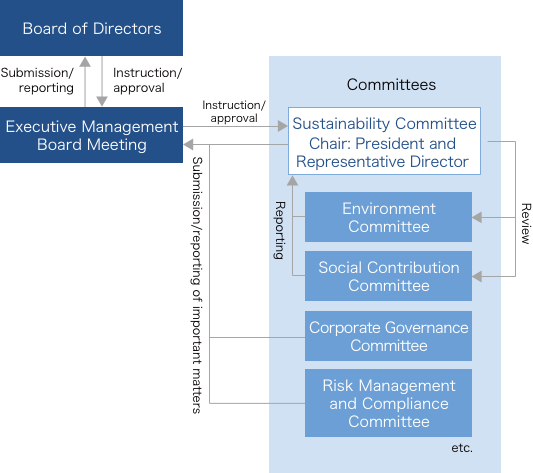 Initiative for Widespread Adoption of CSR
Creation of Rank-specific Opportunities to Deepen CSR Understanding
In FYE2019, the Subaru Group provided opportunities for executives and managers to think about CSR, hoping to give each of them a deeper understanding of CSR in order to promote CSR initiatives. In FYE2020, we introduced these opportunities into rank-specific education for new managers, associate managers, and new recruits. We therefore offered more opportunities for a greater number of employees to deepen their understanding of the Subaru Group's CSR.
Believing it important to face international challenges and act together with the global community as a global company, we invited Hidemi Tomita, director at Lloyd Register Japan K.K., to give a lecture on the Sustainable Development Goals (SDGs). We studied trends around the world from the perspective of SDGs and global issues Subaru should address through its business.
Study Groups held in FYE2020
Content
Month/Year
Intended participants
CSR
Apr 2019
New recruits
Jun 2019
New managers
Oct-Nov 2019
New associate managers
SDGs
Dec 2019
CSR Manager at each business division and administration staff at the head office
Jan 2020
All executives in Japan
Feb 2020
CSR managers and staff at each business division
Voice: Comments by Participants
CSR Study Group
I learned that it was important to consider what I could do within my current duties by incorporating a CSR perspective, rather than doing something new with CSR.
(Participated in the June 2019 session)
As a member of a business division, I would like to examine a mechanism to regularly check whether we are always aware of CSR in our operations.
(Participated in the June 2019 session)
Study Group on SDGs
It was so informative. By studying the 169 targets for the SDGs, I became aware of their relevance in connection with my own duties.
(Participated in the December 2019 session)
I will start by doing what I can. I felt that I need to act with my place in society in mind.
(Participated in the February 2020 session)