SUBARU Group's Six Priority Areas for CSR TOPIC: Environment
Basic Concepts, KPIs, and Relevant SDGs
Basic Concepts
KPIs
Relevant SDGs
In order to pass on "the earth, the sky and nature," SUBARU's fields of business, to future generations, we provide utmost care to the environment with our company-wide activities.

Reduce CO2 emissions by 60% regarding plants and offices (Scope 1 and 2) from FYE March 2017 levels by FYE March 2036 (total volume basis).
In 2030, aim for 50% of SUBARU global sales to be BEVs.
Apply electrification technologies to all SUBARU vehicles produced and sold worldwide by the first half of the 2030s.
Formulate a resource circulation strategy including secondary batteries.
Enhance recycling rates.
Why It Is Important to Us
In FYE March 2018, SUBARU revised its Environmental Policy, declaring that "the earth, the sky and nature" are SUBARU's fields of business, and made clear to strive for the coexistence with nature. These words encapsulate our desire to take the greatest possible care of "the earth, the sky and nature," since they are the fields in which our automotive and aerospace businesses—the pillars of our enterprise—operate. With the concept that sustainability of both society and SUBARU only becomes possible with the existence of a rich global environment, that is "the earth, the sky and nature," the entire SUBARU Group will make the greatest possible efforts to undertake global environmental conservation activities.
Activities in the Six Priority Areas for CSR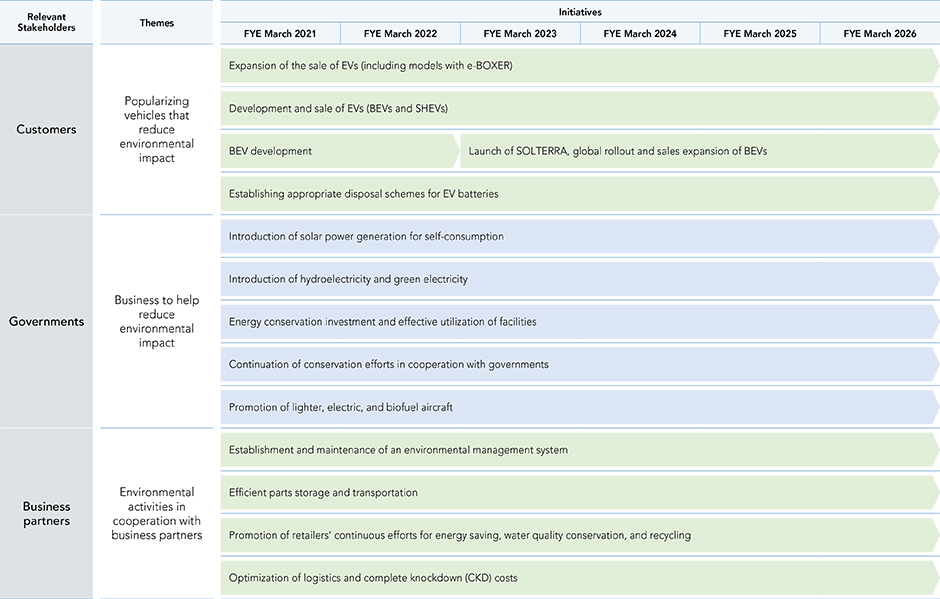 TOPICS
SUBARU's environmentally friendly car manufacturing
Accelerating initiatives based on the SUBARU Difference and technological innovation
Enhancing SUBARU's unique environmental value toward achieving a sustainable society
In order to pass on "the earth, the sky and nature" to future generations, SUBARU is pursuing the manufacture of environmentally friendly automobiles. This is not only in brainstorming how to address the environment but also how we contribute as a company to the realization of a sustainable society.
In the United States, one of SUBARU's major markets, our customers tend to have a strong sense of ownership with regard to the global environment and society, along with interest in the safety and reliability of SUBARU's vehicles. In addition, we have found that our customers do not perceive SUBARU's environmental value solely from the perspectives of fuel efficiency and emissions. Instead, they recognize this environmental value in a broader sense. They see it in our utility and AWD vehicles that enable versatile use with just one car, in our safety features that contribute to fewer accidents and less societal impact, and in our reliability and longevity, which ensure our vehicles remain useful over extended periods, reducing resource waste.
At SUBARU, we have established an environmental management system that spans the organizations within the Group, enabling us to oversee the entire value chain. With this structure in place, we are actively promoting initiatives across the board to further enhance our environmental value. As an example, in our approach to resource recycling, we work with our business partners to maintain zero landfill at production bases in Japan and abroad, ensure efficient resource recycling throughout the product lifecycle, and take the 3Rs—reduce, reuse, and recycle—to the next level. In biodiversity conservation, we collaborate with stakeholders, including local communities and government bodies, on such activities as forest maintenance and preservation at the Subaru Research and Experiment Center in Hokkaido and responsible raw material sourcing, considering ecosystem integrity.
We, along with our stakeholders who perceive SUBARU's value as encompassing broader environmental value, are committed to the pursuit of environmentally friendly car manufacturing infused with the SUBARU Difference in technology. Through a variety of initiatives that contribute to the environment, we aim to help realize an enjoyable and sustainable society.


Introducing BEVs with the SUBARU Difference, driving "monozukuri innovation" and "value creation" in the full-fledged era of the electric car
Among our various environmental initiatives, we recognize that CO2 reduction for mitigating climate change risks is a critical priority for SUBARU as we pursue environmentally friendly car manufacturing.
SUBARU aims to achieve carbon neutrality around 2050. Toward this goal, we have set a long-term target of reducing the well-to-wheel*1 CO2 emissions from new vehicles (in operation) by 90% or more*2 compared to 2010 levels by 2050. As milestones on our journey, we initially set the medium-term targets of making at least 40% of global sales EVs and HEVs in 2030 and applying electrification technologies*3 to all SUBARU vehicles*4 produced and sold by the first half of the 2030s. These milestones are designed with the understanding that updates may be made to accommodate a rapidly changing and unpredictable business environment. In August 2023, we raised our target and now aim for 50% of SUBARU global sales to be BEVs*5 in 2030 and are actively working toward achieving this goal. In addition, since FYE March 2022, we established dedicated departments responsible for the five key areas of "product use," "materials and components," "transportation," "disposal," and "manufacturing." We have started initiatives aimed at reducing CO2 emissions across the life cycle of our business activities to contribute to the realization of a decarbonized society.
With these goals firmly in mind, in 2022, we launched the Solterra, our first global BEV, as another step toward the full-fledged era of the electric car. This model adopts the e-SUBARU Global Platform, an EV-dedicated platform developed in collaboration with Toyota Motor Corporation ("Toyota"). In this development, the two companies combine their respective strengths, with SUBARU contributing its extensive experience in all-wheel-drive (AWD) technology and Toyota providing exceptional vehicle electrification expertise. This synergy efficiently harnesses the accumulated development investments and achievements from both companies.
*1

Well-to-Wheel: Approach to calculating CO2 emissions including the emissions produced by the generation of electricity to be used by EVs and other vehicles
*2

Reducing total CO2 emissions calculated based on the fuel efficiency (notified value) of all SUBARU automobiles sold across the world in 2050 by 90% or more relative to 2010 levels. (aggregate amount basis). Changes in the sales quantity due to changes in the market environment shall be taken into consideration, while minor changes in running distance shall not.
*3

Refers to the technology used to foster the use of electricity for EVs, HEVs, and others.
*4

Excluding models supplied by OEMs.
*5

BEV: Battery electric vehicle
Progress in reorganizing the domestic production system in line with the expansion and acceleration of EV development
Vehicle electrification is rapidly advancing in the global market. To adapt to this significant change, SUBARU is strategically reorganizing its domestic production system. We are targeting around 2025 for the commencement of BEV production at our Yajima Plant. By the end of 2026, we plan to offer a lineup of four SUVs, including the already released Solterra, all embodying the SUBARU Difference. Starting from 2027, we will add a dedicated BEV production line at the Oizumi Plant and initiate assessments for production in the United States. We will strive to establish a highly efficient and flexible production framework, and by the end of 2028, we will further enhance business viability by adding four more BEV models to our lineup. We are building a production system that allows us to flexibly adjust the production ratio of BEVs, hybrid vehicles, and ICE vehicles in response to market trends. This enables us to develop products and create a production system centered on the principles of flexibility and scalability so that we can rapidly expand production as we gain a clearer understanding of future demand. We project global factory production capacity of approximately 1.2 million units, including the BEV production line we are considering in the United States.
We believe that the key to promoting SUBARU's electrification strategy lies in providing product value and environmental value that aligns with customer expectations, while continuously assessing evolving requirements, preferences, and values. This encompasses not only responding to market shifts and changes to environmental regulations on the path to a decarbonized society but also nurturing the longstanding customer relationships that the SUBARU Group holds dear. Based on this concept, SUBARU will continue to develop products that satisfy customers and bring them happiness. We will also continue to develop a flexible production system that incorporates the state of the market environment.