Why It Is Important to Us
Having reflected on the previous lack of awareness of societal norms in the execution of our duties, flaws in our internal rules, and the inadequate understanding of laws and regulations relevant to our operations, Subaru is keenly aware of the need to change ways of thinking and completely change the culture. Subaru will dedicate the whole of the Subaru Group to promoting initiatives focused on compliance as a priority, with the aim of ensuring that Subaru resonates with and inspires trust in our customers and all other stakeholders.
Initiatives to change each individual's awareness and actions, and create an organization open to new ideas
Highly Effective "Compliance + α" Initiative
To raise the effectiveness of compliance, Subaru is uncovering each department's compliance issues, promoting the "Think Compliance" initiative for drafting and executing response plans, and striving to instill self-sustaining initiatives. To do this, we are creating thorough communication in workplaces that comes from an awareness of issues raised by all persons regardless of their positions and the wide ability to notice when something is wrong based on diversity.
In addition to actions that come from the existing compliance mindset of obeying laws and regulations, we are striving to instill sincere conduct based on social norms and ethics and making assertive, voluntary actions that come from an integrity mindset in executives and employees through education.
Furthermore, to promote future activities with the entire group, we have formulated and are enforcing a universal Compliance Policy for the group, and are sharing information.
Providing Information and Conducting Enlightenment Campaigns with the In-house Magazine, "Shuho"
October of every year is Compliance Month, and in order to raise compliance awareness, we conduct enlightenment campaigns and compliance training through in-house methods. We included a special feature page in the October 2019 edition of the Subaru in-house magazine, "Shuho." It featured a message from the President, saying that "change your thinking, have courage and raise your voice," and "change your thinking, listen to other's voices with sincerity." Also, it introduced examples of efforts to change the entire group's corporate culture, providing information and enlightenment education on issues that are closely related to employees' everyday work in order to raise awareness and change behavior regarding compliance.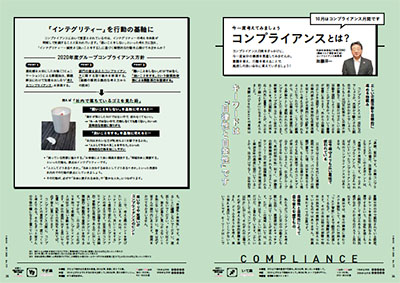 Openly Exchanging Opinions in the Compliance Roundtable
In order to instill compliance, initiatives that are rooted in each respective workplace are critical. As part of those efforts, the head of the Compliance Committee, an organization that promotes compliance across the entire group, and the company employees of a workplace hold the Compliance Roundtable. During the Roundtable, the Committee head visits the workplace of each department and has a face-to-face meeting with a small group of around 10 employees, such as section or subsection managers. InFYE2020, meetings were carried out at the Manufacturing Division, Engineering Division, Purchasing Division, Cost Planning and Management Division and Aerospace Company, with a total of 138 people in attendance. We will effectively use the open opinions we received directly from these employees who gathered at the workplace in our efforts to continuously improve compliance activities.
Executives Themselves Speak with Employees in the Compliance Lecture
In the Compliance Lecture, executives other than the head of the Compliance Committee express their stance and thinking regarding compliance. In FYE2020, for the second year continuing on from FYE2019, we accepted participants from all ranks or positions so that any employee can raise their understanding and awareness of compliance. A total of 16 executives from all offices delivered lectures, and a total of 3,476 employees attended. After the lecture, we took a questionnaire involving all participants. We gathered a great deal of valuable opinions from the employees, such as their thoughts on the lecture and their views on the corporate culture.
For a sincere attitude toward compliance to take root in Subaru's corporate culture, it is important to create a workplace where all employees communicate their true opinions openly, listen to each other with sincerity, and arrive at a conclusion together. We will continue promoting compliance efforts as we aim to "become a company that is more open to new ideas and where people can say what they want."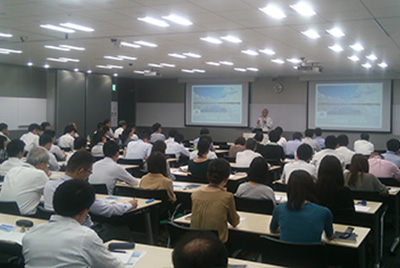 Voice: Comments by Participants
Because the lecture was easy to understand with the speaker's own experiences and examples that were familiar to us, I was motivated to reflect on myself.
I was reminded that communication is important to become a company that is more open to new ideas and where people can say what they want. I want to help build mutual respect and make it easy for superiors and workers to talk with each other.
There have been times when I was troubled, wondering, "should I consult with someone?" or "what should I say?" In the lecture, I learned to change my approach from strictly "reporting, contacting, and consulting" to "having a rough consultation (primary consultation)." It's going to make it much easier for me to share information with my superiors, and I want to get started right away.