This is based on presentations at the Subaru Technology Briefing held on January 20, 2020.
Human-oriented Car Making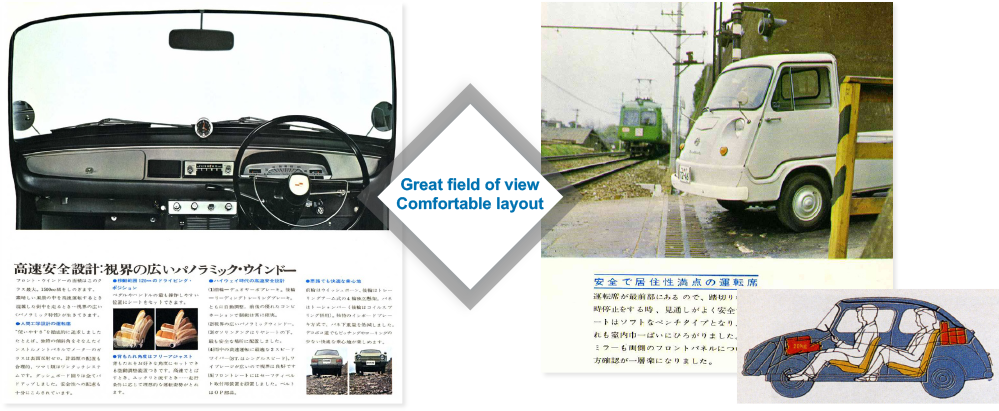 What is constant since the birth of Subaru is "human-oriented car making." The most important part of human-oriented car making is safety. And the keys to safety are visibility and packaging.
Subaru might not be the only company with "human-oriented car making", but we think Subaru sets itself apart with the level of its commitment, its prioritization in the design process. Human-oriented car making has always been a universal linchpin of how we think at Subaru, and it will always be.
The left photo shows the dashboard and windshield of the Subaru FF1000. The right photo shows the first-generation Sambar. We have long valued a wide field of view as the most essential element for drivers to drive safely. In the lower right is a concept drawing of the Subaru 360. It has a packaging that gives plenty of room. While securing a space to fit four adults for a journey, the size itself fits within the Japan's kei car (mini vehicle) size at that time.
New forms of value for cars
Subaru's dedication to enjoyment and peace of mind: progressing along with the times
Along with human-oriented car making, Subaru has constantly offered new forms of value for cars, through pioneering of new categories and creation of valuable technologies.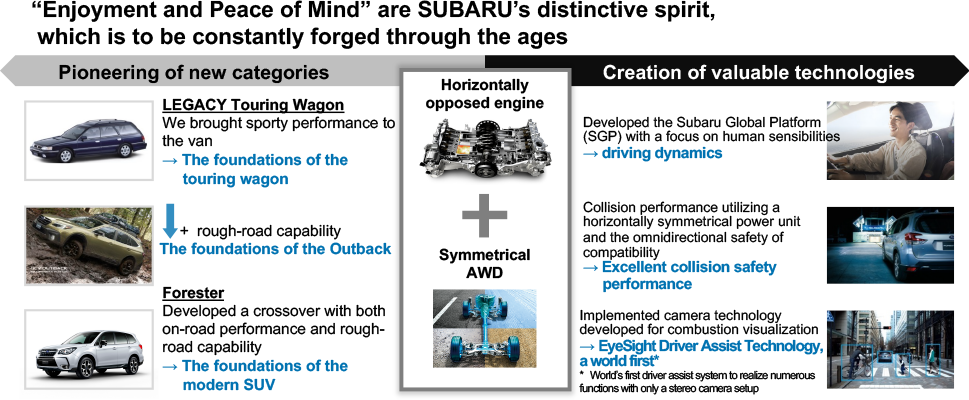 We have pioneered new categories. We created the touring wagon category by starting with the core Subaru technology of a horizontally-opposed "BOXER" engine and symmetrical AWD, combining the utility of a commercial van with sporty driving performance, and finishing it off with great ride comfort and fine cabin comfort. And we created the new crossover SUV category with the Outback and Forester, using the touring wagon as a base and making it even more rugged. Back then, cross-country SUVs with ladder frames were typical, but we went beyond rough-road capability to bring in on-road driving performance and ease of getting in and out as well. These models set the paradigm for the modern SUV.
We have also created valuable technologies, making use of our unique technical abilities to offer and provide our customers the technology they need. We developed the Subaru Global Platform with a focus on human sensibilities, using our unique technology to achieve excellent passive safety performances. And we began development of EyeSight in 1989 as Subaru's original technology applying techniques we developed to visualize engine combustion. In 1999, we launched it for the first time as a feature on our cars.
In this way, Subaru has continued to present unique technology to the world and create new forms of value for cars.
SUBARU GLOBAL PLATFORM
The Subaru Global Platform is the car body design philosophy Subaru launched with the Impreza in 2016. Its goals are fine driving dynamics, roomy dimensions with rational layout, and world-leading passive safety performances.

We have been working on driving dynamics with a focus on human sensibilities. Our indices include driving feel, quietness, and rigidity and shaking resistance. A platform is commonly thought of as primarily a way to share parts, but that is not the main objective of the Subaru Global Platform. Instead, it is to realize each performance at a high level. Since the platform's 2016 debut in the Impreza, we have gradually improved the platform with the Forester, the three-row Ascent sold in North America, and the Outback. The new Levorg released in Japan in 2020 represents the final form of the first step for the Subaru Global Platform. But that is not to say it will end here. The platform will continue to evolve toward future generations.
Safety as a value
Since its establishment, Subaru has kept the safety of its customers in mind when developing cars. Starting around the 1990s, the engineering department intensified its efforts with the slogan "world's best passive safety," and ever since then we have worked steadily to improve our performance. Back then, most people thought safety would not make money, but every now and then we would receive thank-you letters from our customers who said they had been involved in horrible accidents but were luckily saved because they were in Subaru vehicles. These messages encouraged us to address performance improvements.

Subaru consistently achieves excellent results safety assessments of each country. We believe that this safety performance plays a major role in our continued success in North America. That said, third-party evaluations are based on specified test methods, but Subaru also pays attention to how safe our cars are in the real- world road environments.
What makes Subaru different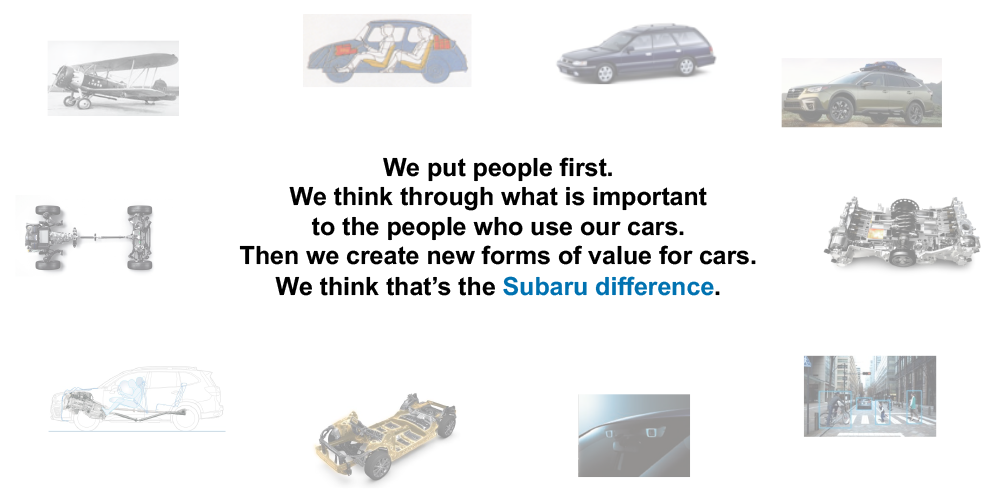 With our background of having an aircraft making DNA, Subaru puts people first and develops our ideas from all angles upon what is important for vehicle users. That is how Subaru produces the vehicles with essential functions and performance. It was to fulfill the need for a moving body to have a low center of gravity that we made the horizontally opposed "BOXER" engine. It was to let people drive with comfort in any road condition that we made the AWD system. It was to let people load up lots of luggage and have a fun to drive that we made the touring wagon. It was to realize go-anywhere capability that we developed the Outback and the Forester based on the touring wagon. It was to prevent accidents that we thought and thought to create EyeSight.
"We put people first. We think through what is important to the people who use our cars. Then we create new forms of value for cars."
We think that's the Subaru difference.