Our Approach
The SUBARU Group considers it very important for manufacturing companies to help realize a society where materials are recycled continuously and the sustainability of business is assured through recycling to maximize resource efficiency.
The SUBARU Group will help create a society that recycles with the goals of efficient resource recycling throughout the product life cycle, maintaining zero landfill at production bases in Japan and abroad, and taking the 3Rs—reduce, reuse, and recycle—to the next level.
SUBARU is also incorporating recyclability into its automobile design process to make effective use of limited resources throughout the automotive life cycle from raw material procurement to disposal.
Achievements and Initiatives
Raw Materials
SUBARU reuses remnant materials and scrap generated during the production of automobiles as well as end-of-life products that have been collected and other reusables as resources for materials, such as iron, aluminum, and plastics, which account for a large proportion of materials used in making an automobile. Through these efforts, we are promoting closed-loop recycling*1 to reduce natural resource consumption and waste generation.
*1

A method by which waste and scrap generated during production along with end-of-life products are recycled as materials for parts of the same quality and then reused to make products of the same kind.
Raw Materials Used in Automobiles in FYE March 2023
Recycling Method
Iron
564,051 tons
Delivered to dealers in the form of iron scrap for reuse
Aluminum
26,822 tons
Re-melted at plants and reused almost entirely
Plastics
23,195 tons
Crushed again at plants and reused partially
Recycling of aluminum chips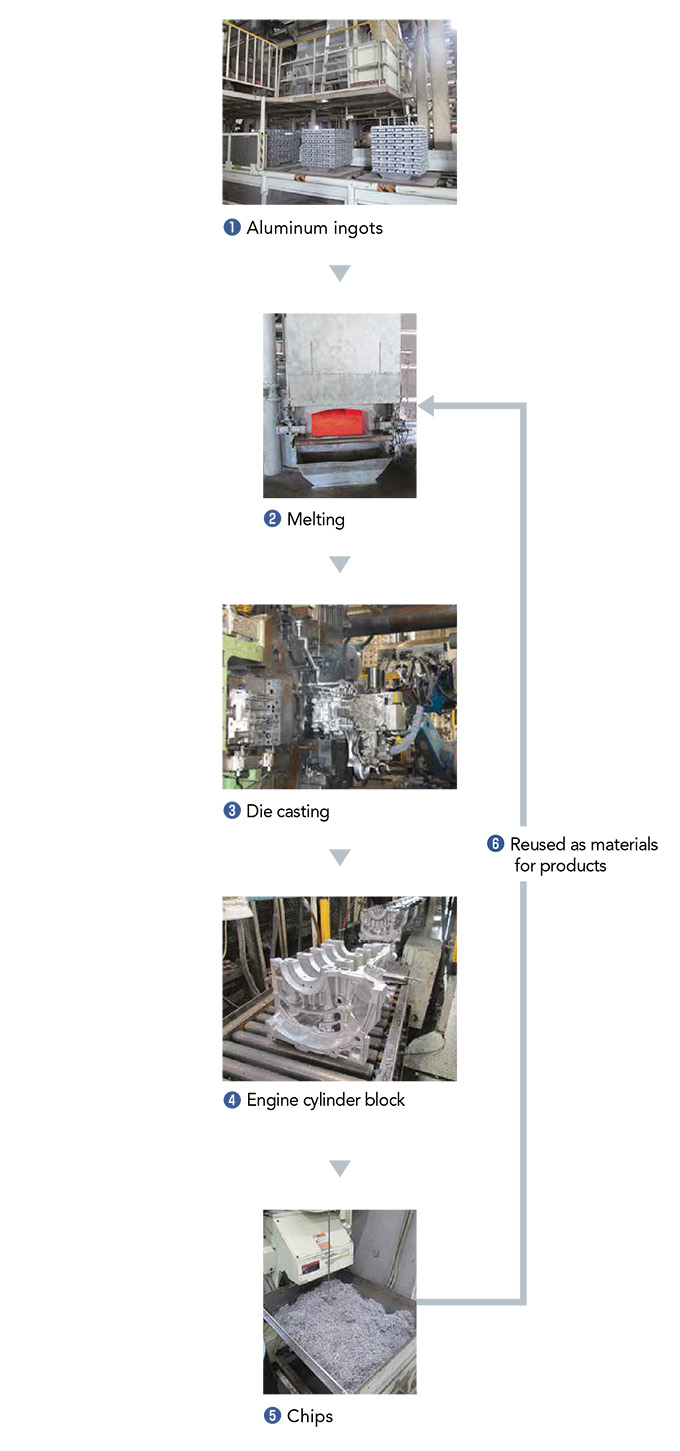 Initiatives and Results for Cyclical Use of Waste Plastic
In FYE March 2023, waste plastic accounted for 2.4% of the SUBARU Group's waste generation. Although the amount of waste plastic generated is a small percentage of total waste generated, SUBARU will work to improve the waste plastic recycling rate and actively pursue circular use of waste plastic, including considering a switch from thermal to material and chemical recycling methods.
FYE March 2023 SUBARU waste plastic recycling rate and recycling treatment breakdown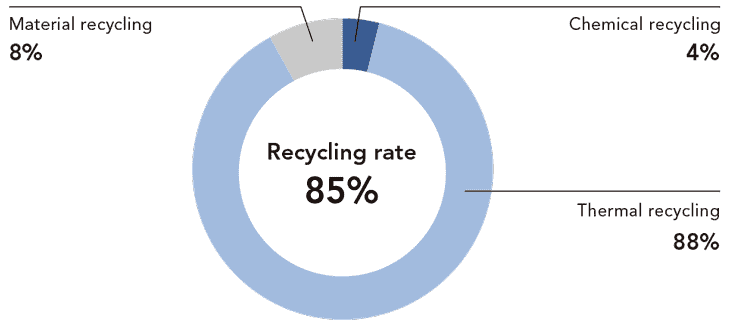 SUBARU:

Gunma Plant, Tokyo Office, Utsunomiya Plant, Handa Plant, Handa West Plant, Ebisu Subaru Building, Accessory Center, Subaru Training Center
Initiatives at the Aerospace Company
SUBARU has been studying the reuse of waste generated in the product manufacturing process from various angles. One example comes from a collaboration with SUBARU's Team SDA*1 Engineering, the team leading our entry in the Super Taikyu Series of races. Here, we have taken a carbon fiber bonnet, made of carbon fiber recycled from composite waste generated in aircraft parts manufacturing, using the bonnet in the SUBARU BRZ used in competition. This has reduced not only the vehicle's weight but also its environmental impact.
In addition, the development of a material using recycled carbon fiber that comes as close as possible to the material properties of the original carbon fiber and the construction of an optimal design method using recycled carbon fiber composite materials became the topic of joint collaboration between SUBARU and other institutions to achieve reuse in aircraft parts, which are subjected to more rigorous conditions. It resulted in a joint proposal, the research on the technology of continuous production of recycled carbon fiber and its application to aircraft, which was adopted as a New Energy and Industrial Technology Development Organization (NEDO) research program.
Going forward, SUBARU will continue working on initiatives to reduce its environmental burden and realize a sustainable society.
*1

SUBARU Driving Academy, a human resources development initiative to raise driving and evaluation skills of SUBARU engineers

Zero Emissions of Waste from Production
Waste generation in FYE March 2023 increased 22,323 tons year on year due to increased production volume as a result of production activities returning to normal. As waste is also an important resource, we have maintained zero emissions*2 of waste since FYE March 2015 through maximum recovery and recycling and proper treatment of waste generated. As part of its measures to deal with waste plastic, SUBARU has begun exploring waste plastic material recycling, including the reuse in automotive parts and other applications of reject bumpers from the manufacturing process.
*2

A system in which waste and by-products generated in one industry are utilized as resources by other industries, resulting in no waste discharge. This concept was proposed by the United Nations University in 1994.

*2

A system in which waste and by-products generated in one industry are utilized as resources by other industries, resulting in no waste discharge. This concept was proposed by the United Nations University in 1994.
Primary waste products and their recycled products
| Primary Waste Product | Primary Recycled Product |
| --- | --- |
| Wastewater treatment plant sludge | Raw material for cement |
| Paint sludge | Iron-making reducer |
| Waste plastics | Refuse paper and plastic fuel (RPF) (solid fuels, etc.) |
| Paper waste | Recycled paper, RPF, etc. |
Waste Generation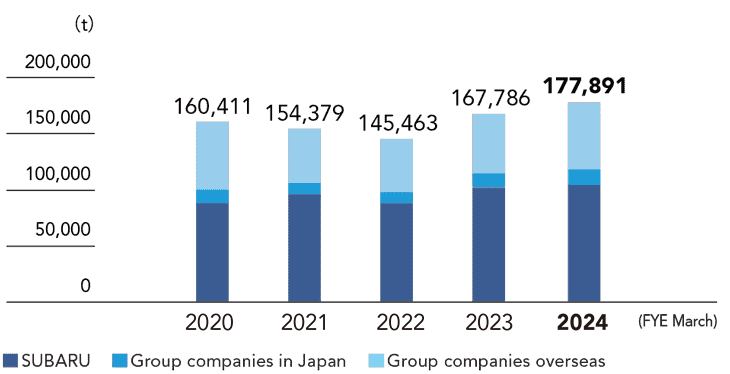 SUBARU:

Gunma Plant, Utsunomiya Plant, Handa Plant, Handa West Plant, Tokyo Office, Ebisu Subaru Building, Accessory Center, Subaru Training Center
Group companies in Japan:

Yusoki Kogyo K.K., Fuji Machinery Co., Ltd., Ichitan Co., Ltd., Kiryu Industrial Co., Ltd., Subaru Logistics Co., Ltd.
Overseas Group companies:

Subaru of Indiana Automotive, Inc., Subaru of America, Inc., Subaru Canada, Inc., Subaru Research & Development, Inc.
Amount of Waste Generated and Processed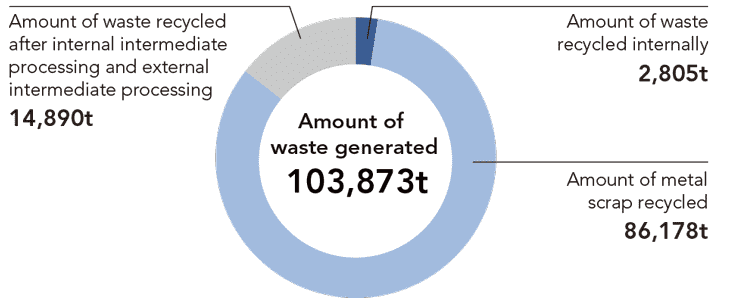 *

Waste is not disposed of in a landfill after external intermediate processing.
Logistics
Reuse of Packaging Materials
Subaru Logistics Co., Ltd., which handles packaging and transport for complete knockdown (CKD) parts of SUBARU automobiles, has been actively working on reducing its environmental impact, focusing on the reuse of packaging materials.
In FYE March 2023, the amount of packaging materials reused increased 8% year on year to 852 tons, a vehicle intensity of 2.8 kg. This was largely due to a 1.4% year-on-year increase in shipments of the Legacy, which has a high reusable material adoption rate.
2019
2020
2021
2022
2023
Amount reused
(t)
776
1,020
661
786
852
Intensity
(kg/vehicle)
2.1
2.8
2.4
2.7
2.8
Reduction of Wrapping Materials on Bumpers for U.S. Market
At Subaru of America, Inc., non-colored bumpers imported from Japan are re-wrapped for protection during transport within the U.S. In FYE March 2021, we have launched an initiative to remove the need for re-wrapping in the U.S. by applying high-strength wrapping material with high shape stability before export from Japan.
Promoting Environmentally Friendly Packaging Materials
The company's Parts Distribution Center is progressing with environmentally friendly initiatives on packaging materials and began exploring a range of measures in FYE March 2022, namely switching from cardboard to paper packaging for improved transport efficiency, use of packaging materials with 10% content of biomass plastic material, and switching from resin to cardboard pallets.
The Parts Distribution Center, has successfully eliminated plastic use and improved workability through the use of paper cushioning and packaging materials. We have begun studying the possibility of switching from wood to cardboard as a packaging material for large parts such as bumpers, engines, and transmissions, with cardboard to be adopted starting in FYE March 2024. In addition, from FYE March 2024, we are working to eliminate excessive quality in plastic packaging materials (e.g., eliminating, reducing size of, and adjusting thickness of materials) in order to eliminate plastic use. We are also promoting environmentally friendly initiatives in packaging materials.
Sales
Zero Emissions of Waste from SUBARU Dealers in Japan
Dealers in Japan are committed to the proper management of waste generated from their business activities and to recycling to achieve zero emissions in Japan. In FYE March 2023, these initiatives resulted in the collection of 27,303 used bumpers, 145,852 lead batteries (containing 1,974 tons of lead material), 5,171 kL of oil, and 207,932 tires.
Zero emission initiatives led by dealers, which work most closely with customers, are activities that will contribute more directly to environmental conservation in local communities. The initiatives are expected to help promote proper processing, recycling, and the effective use of resources.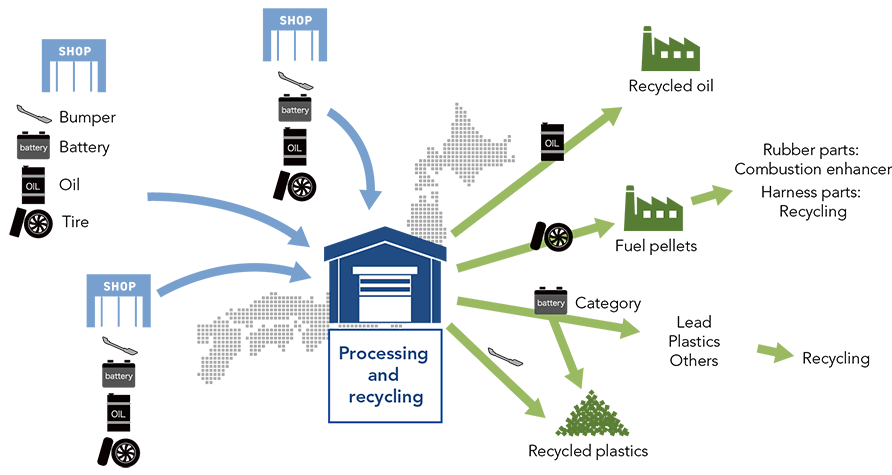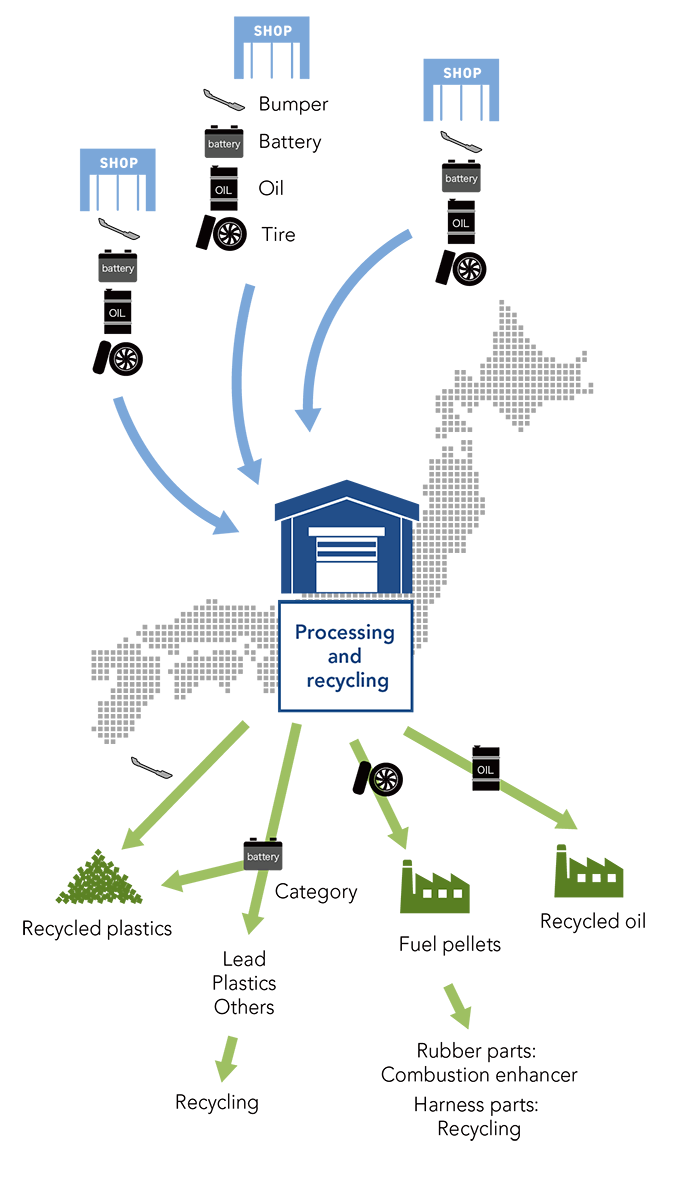 Recycling of used bumpers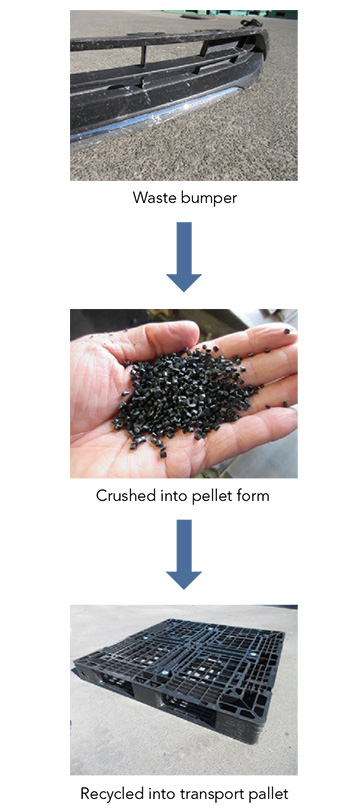 Recycling of Waste Oil
Waste oil generated at SUBARU dealers in Japan during oil changes is recycled as recycled fuel oil through SUBARU's zero waste emissions scheme. Flower farmers in Yamagata Prefecture grow beautiful poinsettia and cyclamen every year using this recycled fuel oil to heat their greenhouses.
Proper Processing of End-of-life Vehicles Based on Act on Recycling, etc. of End-of-Life Vehicles
Act on Recycling, etc. of End-of-Life Vehicles
Under the Act on Recycling, etc. of End-of-Life Vehicles of Japan, car manufacturers are required to fully recover and properly recycle automotive shredder residue (ASR), airbags, and chlorofluorocarbons (CFCs) from their end-of-life vehicles.
SUBARU has been promoting the smooth, proper, and efficient recycling of ASR by establishing, together with 13 other automakers and other companies, the Automobile shredder residue Recycling Promotion Team (ART).*3 We also ensure proper processing of airbags and CFCs through operations of Japan Auto Recycling Partnership Ltd., established jointly with Japanese automakers and importers.
*3

A team to promote the recycling of ASR, organized by 13 automobile manufacturers in December 2003. The team plans the smooth, proper, and efficient recycling of ASR, a waste product that is classified as one of the Parts Specified for Recycling as defined by the Act on Recycling, etc. of End-of-Life Vehicles and required to be recycled under the law.
Proper Processing of End-of-life Vehicles
SUBARU is participating and collaborating actively in the building of an automotive recycling system to reduce the environmental impact of end-of-life vehicles. SUBARU is also focusing on promoting the development of easy-to-recycle vehicles, and collaborates with its dealers nationwide by jointly operating an automotive recycling system aimed at promoting the proper processing and raising the recycling rate of ASR, airbags, and CFCs.
In FYE March 2023, the ASR recycling rate was 96.9%, achieving the legal target of 70% for FYE March 2016 and thereafter. The airbag recycling rate was 95.4%, exceeding the legal target of 85%, and all CFCs recovered were processed properly. Detailed information on the level of progress with these recycling initiatives and SUBARU's other activities based on the Act on Recycling, etc. of End-of-Life Vehicles is disclosed separately on the web page indicated below.
Automobile Recycling Process


Overseas
Use of Rebuilt Items
Toward realizing a recycling-oriented society, the SUBARU Group in the U.S. is promoting a way to reduce the environmental impact of replacing engines, transmissions, and other large parts that also eases the cost burden on customers. This is the use of rebuilt items,*4 made by salvaging reusable parts. Over the course of 10 years, this activity has resulted in a reduction of approximately 50,000 t-CO2.
*4

Repair parts such as engines, etc., for which consumable parts are replaced and usable parts are reused in accordance with inspection standards.
Distribution Centers (Subaru of America, Inc.)
Subaru of America, Inc.'s regional distribution centers use returnable containers to reduce the amount of cardboard and wood used when transporting parts.
Collaboration with TerraCycle®
(Subaru of America, Inc.)
Since 2018, Subaru of America, Inc. has partnered with U.S. recycling firm TerraCycle® to enable recycling in products where it is normally difficult, such as park benches and vases. The program is part of the SUBARU Loves the Earth" initiative aimed at improving waste recycling rates.
Under the TerraCycle® Zero Waste Box™ program, which promotes the recycling of a wide range of waste products, TerraCycle® Zero Waste Boxes™ have been distributed to SUBARU dealers in the U.S. to collect recyclables. Customers, employees, and community partner organizations are encouraged to deposit snack packages, used paper cups, and plastic containers.
In April 2022, TerraCycle® solutions were used for the New Jersey Pine Barrens Cleanup, recycling 812 pounds of trash over the course of two days.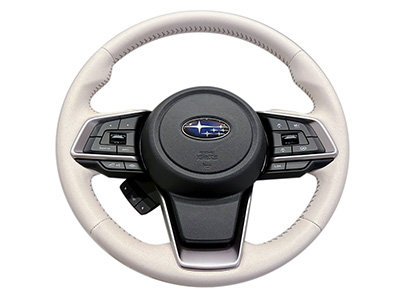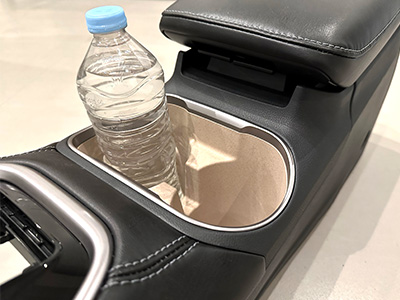 Zero Landfill Waste Joint Initiative in U.S. National Parks
(Subaru of America, Inc.)
Subaru of Indiana Automotive, Inc. (SIA), SUBARU's production base in the U.S., has achieved and maintains zero landfill waste status. Subaru of America, Inc. has been leveraging SIA's expertise to advance a joint initiative with suppliers, the National Parks Conservation Association, the National Park Service, and others since 2015 to reduce landfill waste generated from three national parks: Yosemite National Park (California), Denali National Park and Preserve (Alaska), and Grand Teton National Park (Wyoming). Subaru of America, Inc. received the Silver Halo Award and the Corporate Stewardship Award in 2020 in recognition of zero landfill initiatives in national parks. Since 2015, these activities have successfully saved more than 22.4 million pounds of garbage from landfills at the Denali National Park and Preserve, the Grand Teton National Park, and the Yosemite National Park, using them instead in recycling and composting.
E-waste (Subaru of America, Inc.)
One of Subaru of America, Inc.'s initiatives is to appropriate recycle e-waste (electronic and electrical waste) from employee homes. In its 2022 Earth Day event, it collected 1,988 pounds of e-waste that would otherwise be sent to landfills.
Sustainable Subaru Gear (Subaru of America, Inc.)
Subaru of America, Inc. works with Staples Corporate to provide environmentally friendly SUBARU-branded clothing and products for people and their pets, and helps reduce environmental impact by utilizing 100% recycled plastic bags and recyclable shipping boxes.
Zero landfill initiative at Subaru of Mississauga
Subaru Canada, Inc. is engaged in an initiative aimed at zero landfill in collaboration with local business U-PAK DISPOSALS. From April 1, 2022 to March 31, 2023, approximately 36,000 tons of landfill waste was diverted from landfill disposal to reuse, recycling, composting, or energy production through the Energy from Waste program.