Business Overview : Aerospace Company
Business Overview
Aerospace Company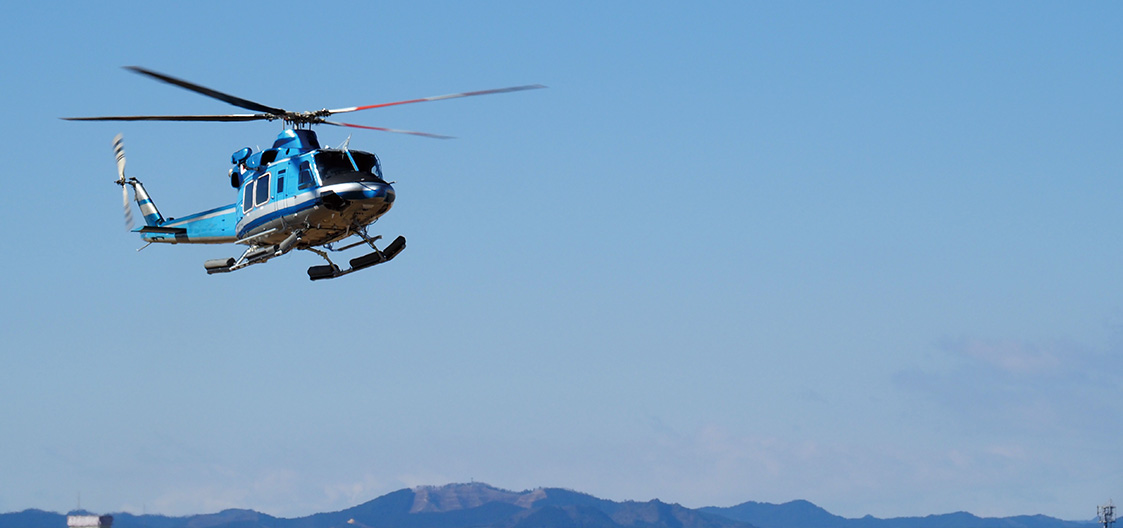 Subaru's roots trace back to 1917 and the Aircraft Research Laboratory, later to become Nakajima Aircraft. In the defense program, we develop, manufacture, maintain, repair, and provide technical support for products such as the UH-1J and UH-2 utility helicopters used by the Japan Ground Self-Defense Force (JGSDF) for disaster relief and other purposes, the T-5 and T-7 for supporting pilot training at the Japan Maritime Self-Defense Force and the Japan Air Self-Defense Force, more than 15 models of unmanned aerial vehicles, and flight simulators.
In the commercial program, we participate in many international joint development projects for Boeing. For the 777X, Boeing's large passenger airliner, we are responsible for the Center Wing and its integration with the main landing gear (MLG) wheel well, as well as MLG doors, Wing-to-Body Fairings (forward), and side-ofbody sections.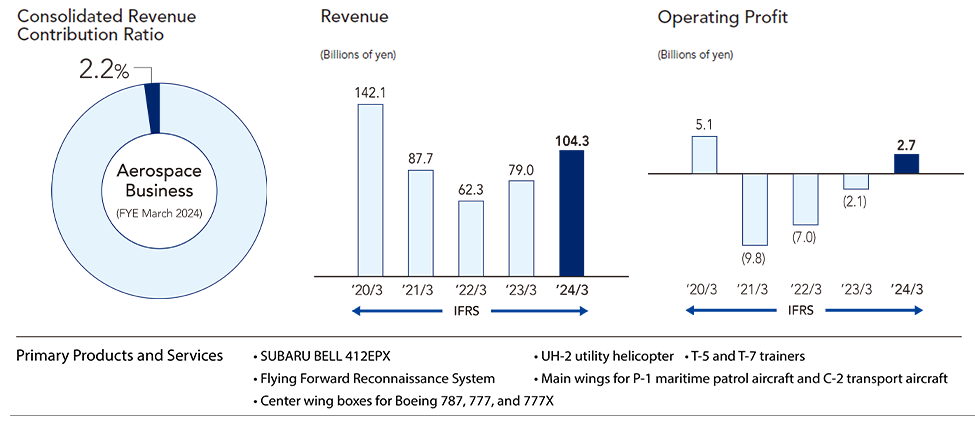 We will continue to refine our original, cutting-edge technologies cultivated over our corporate history by engaging in development and production of a wide variety of aircraft. Our latest helicopter, the Subaru BELL 412EPX (the base model for the JGSDF UH-2), was jointly developed through our alliance with U.S.-based Bell Textron. Production and sales are already underway. Subaru is currently working to produce and deliver the UH-2 utility helicopter used by the Japan Ground Self- Defense Force (JGSDF) and its commercial version, the Subaru BELL 412EPX. These represent a prime business for Subaru. We are also focusing our efforts on the unmanned aerial vehicle business, which leverages Subaru's technological strengths. Furthermore, toward the development of a mobility society, we will continue to take on greater challenges to develop into an aircraft manufacturer with a global presence, such as by participating in the New Energy and Industrial Technology Development Organization (NEDO)'s Drones and Robots for Ecologically Sustainable Societies project (DRESS project).
Overview of Center Wing Box and SUBARU's Technology
Since first participating in the Boeing passenger program in 1973, we have been involved in development and production as a key partner of Boeing for more than 40 years. Subaru manufactures the center wing box, the critical aircraft section where the right and left wings are attached to the front and rear fuselage sections. Since the center wing box contains the fuel, it needs to be incredibly strong and watertight. For these reasons, great accuracy and advanced assembly technologies are required for its manufacture, and Subaru is one of the few companies capable of making it. The Handa Plant, located in Aichi Prefecture and where center wing boxes are manufactured, is a global-level production center that produces these parts for the Boeing 777X as well as for the Boeing 777 large airliner, the Boeing 787 mid-size airliner, the Ministry of Defense's P-1 maritime patrol aircraft, and the C-2 transport aircraft.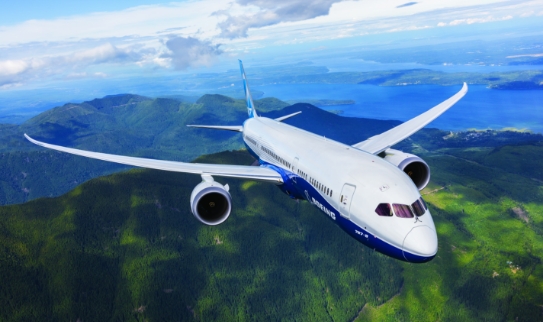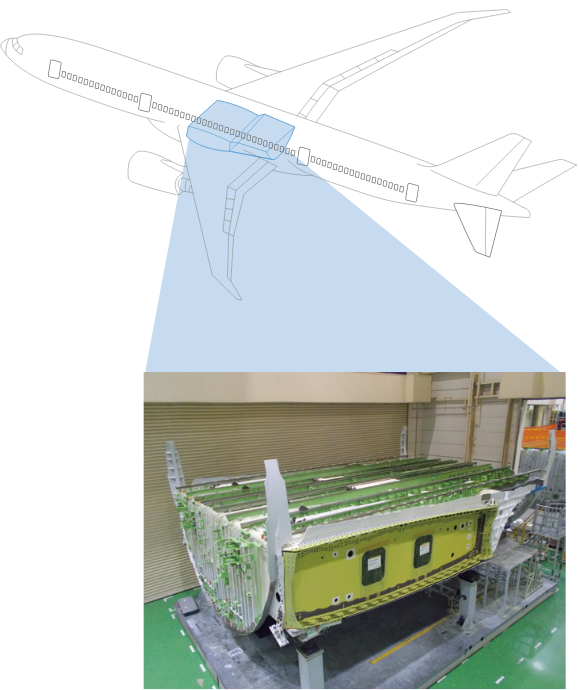 A center wing box (Handa Plant)