Quality: Aerospace Business
Our Approach
The Aerospace Company conducts SUBARU's aerospace business and its production activities are based on its policy of "Giving Safety and Quality Top Priority" in order to deliver "Enjoyment and Peace of Mind."
Quality Management System
Based on its policy of "Giving Safety and Quality Top Priority," the Aerospace Company has built and acts under the quality management system that conforms to the latest JIS Q 9100:2016 quality management system requirements for aviation, space and defense organizations.
In addition, it incorporated the Supplements to JIS Q 9100 (SJAC 9068) that are independently and jointly established by the Japanese aerospace and defense industries in order to prevent improper occurrences related to quality.
Quality Management Cycle
To realize products that prioritize safety and quality, the Aerospace Company undertakes quality assurance across various processes from specifying requirements in quality plans to tasks such as design, development, manufacturing, inspection, and testing. Regular project meetings are conducted for each process, typically on a monthly basis, where monitoring, analysis, and evaluation occur. The aim is to drive improvements that enhance customer satisfaction, and establish and maintain a robust quality management cycle. Additionally, the effectiveness of the quality management cycle is confirmed through regular Quality Meetings.
Quality Management Cycle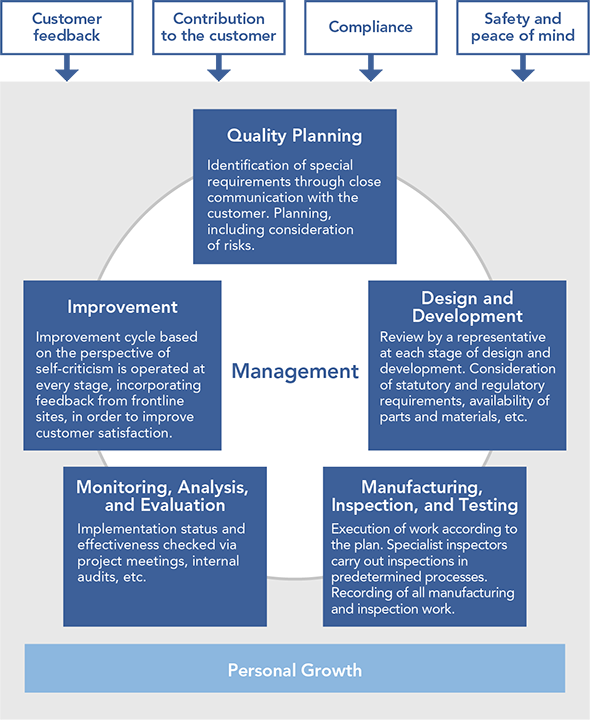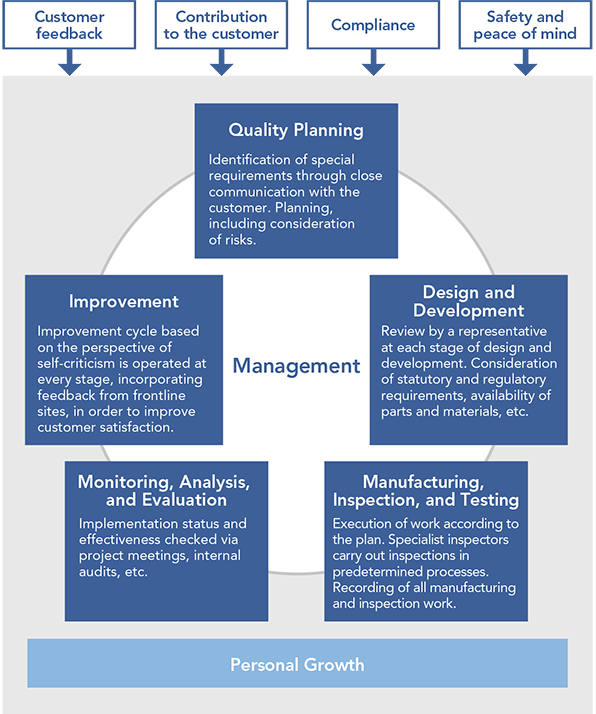 Management System
At SUBARU's Aerospace Company, the QMS Promotion Office maintains and promotes the quality management system (QMS), and also works on improving the system to enhance quality.
The Quality Assurance Department promotes the following quality assurance activities covering product manufacture, repair, sales, and service, and rolls them out to relevant company departments and suppliers.
Gather customer feedback
Identify quality-related issues
Investigate the root causes
Formulate measures to deal with them
Initiatives
Quality Meetings
The Aerospace Company routinely holds Quality Meetings to verify the adequacy of the quality management cycle. Drawing from analyses regarding product and operational processes from diverse perspectives, encompassing quality and external assessments in such areas as customer satisfaction and external audits, the Aerospace Company deliberates on changes to the Quality Management System (QMS), resource requirements, and strategies for addressing identified risks.
Inputs and Outputs in Quality Meetings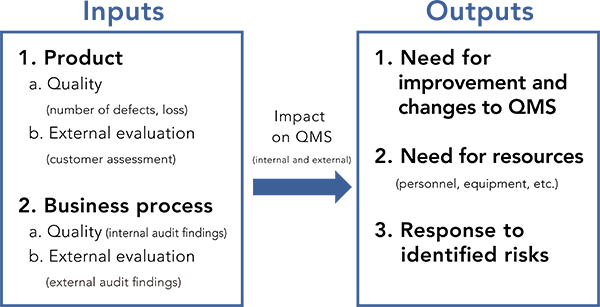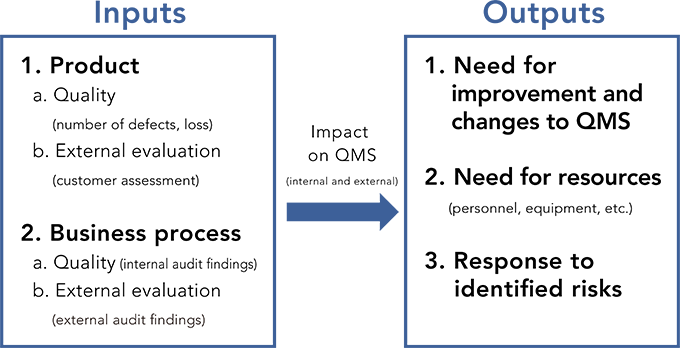 Quality Assurance Training
As part of employee training, we conduct "Quality Education" related to quality assurance for all employees or those involved in specific departmental tasks. In addition, we provide basic training and skills training for inspectors responsible for conducting product inspections.
Major Education Training Programs
Course Topic
Target
Frequency
Quality Education
Basic manners training for inspectors
Techno-school
Inspectors
Once a year
Quality refresher training
Mainly manufacturing employees
Twice a year
Human factor training
Mainly Employees in Civil Aeronautics Act-certified workplaces
Once a year
Aeronautical safety training
Mainly Employees in Civil Aeronautics Act-certified workplaces
Once a year
Education for employees in certified workplaces
Mainly Employees in Civil Aeronautics Act-certified workplaces
Once a year
QMS consolidation training
All employees
Twice a year
Basic Training for Inspectors
New accreditation/periodic renewal training
Inspectors
Upon accreditation / every three years
Skills enhancement training for inspectors
Inspectors
Once a month
Skills Training for Inspectors
Techno-school
Inspectors
Ten times a year
Four Rules Activity
To bring happiness to our customers, to carry out our social responsibilities, and to achieve growth, each member of the Aerospace Company remains aware of our work rules (procedures, basics). When we find that the rules are difficult to follow, unclear, or out of step with the times, we all work together to improve them, rather than leaving the burden to one person. Through this activity, we strive to increase the quality of our work.
The four rules
In the work you are doing today
Are there any rules (procedures, basics)?
Are you following the rules?
Is there any room for improvement?
Are you discussing with someone about workplace improvements?
Quality Month Events and and Improvement Initiatives
In the Aerospace Company, every November is designated as Quality Month, where we give awards to employees who have contributed to improving quality and pamphlets are distributed to educate all employees on quality.
With the aim of fostering a culture of employee creativity and improvement, we established improvement activity debriefing sessions and the Improvement Proposal System, where employees can propose improvements to their own or other departments throughout the year. This demonstrates our commitment to developing and implementing proactive improvements and evaluating their effectiveness.