SUBARU Group's Six Priority Areas for CSR TOPIC: Diversity
Basic Concepts, KPIs, and Relevant SDGs
Basic Concepts
KPIs
Relevant SDGs
The SUBARU Group's approach to promoting diversity has two key elements: offering products that respect diverse forms of market value, and respecting and reflecting the diverse values of all those who work for the SUBARU Group.

Double the number of female managers by 2025 compared to 2021.
The number of participants in career development training
Achieve the legally prescribed employment rate for persons with disabilities.
Achieve 100% in the reemployment rate of senior citizens wanting to work.
Why It Is Important to Us
Most companies today face social demand for diversity among their employees and diverse ways of working. SUBARU believes that continuing to offer products that contribute to increasing options for our customers and respecting diverse forms of market value will lead to sustainable growth for the company. Achieving this requires diversity of perspective among those who work for the SUBARU Group.
Diversity for SUBARU therefore has two key meanings: diversity in products and diversity of employees. While pursuing diversity in products, SUBARU will promote diversity among all those who work for the SUBARU Group.
Activities in the Six Priority Areas for CSR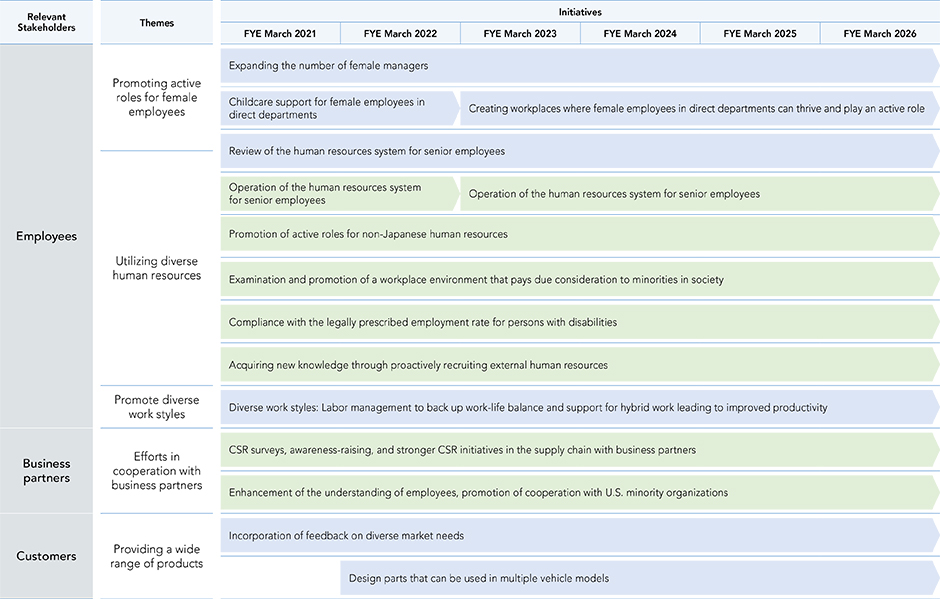 TOPICS
Employees and products: Two areas in which SUBARU pursues diversity
Diverse personalities of Group employees create diverse forms of market value that meet people's expectations
Employee diversity: Maximizing the individuality of each employee to drive ongoing growth in corporate value across the organization
In the SUBARU Group, we believe that diversity among employees is indispensable in order to deliver happiness to all by creating unique SUBARU value. Enhancing employee diversity not only encourages organizational innovation but also leads to decision-making and problem-solving that reflect diverse perspectives and values. This, in turn, enables us to continue providing higher value to our customers. In addition, we believe that when each diverse employee is able to showcase their individuality and strengths, it leads to improved employee engagement and, subsequently, enhances the productivity of the Group.
Based on these principles, the SUBARU Group is committed to creating a comfortable workplace environment where every employee can harness their unique qualities, encompassing aspects such as gender, nationality, culture, and lifestyle. This effort is aimed at fostering diversity among our workforce and unlocking their full potential.
At SUBARU, the Diversity Promotion Office within the Human Resources Department serves as the core organization dedicated to addressing various challenges to ensure the active participation of diverse talents, including women, people with disabilities, senior citizens, non-Japanese employees, and LGBTQ+ individuals. As KPIs, we have set targets such as doubling the number of female managers by 2025 compared to 2021 and achieving the legally prescribed employment rate for persons with disabilities. We are actively driving these initiatives while continuously evaluating progress and refining strategies for improvement.
SUBARU is actively pursuing a range of initiatives to empower women, which we consider of paramount importance. This includes supporting female employees in their pursuit of career development in their efforts to balance work and childcare as two key issues. We also provide health support to ensure that female employees can sustain their careers through various life events. Regarding support for career development, we place special emphasis on nurturing female managers. We have set a goal of doubling the number of female managers by 2025 compared to 2021. In FYE March 2023, we implemented various initiatives aimed at supporting female employees aspiring to become managers. These initiatives included the promotion of the Women's Leadership Program (WLP), which provides guidance and education tailored to each employee, organizing diverse training programs to help individuals shape their own career paths, and establishing a training system that includes dialogue sessions with female executives through an executive forum aimed at further enhancing the contributions of female managers. We have also worked to create a culture and workplace environment that promotes the active participation of women through initiatives such as unconscious bias training targeting managerial staff. As a result of these initiatives, as of April 2023, we have 31 women among the 1,095 managerial positions, representing an increase of approximately 1.3 times from the 24 female managers in 2021.
In accordance with the Human Resources Department Policy on Employment of People with Disabilities formulated in April 2023, we are striving to create an environment where such individuals can truly shine. Under this policy, we are working to improve understanding among employees to ensure that those with diverse personalities, regardless of whether they have disabilities, can work with peace of mind and excel in the workplace. This is achieved through training regarding the employment of persons with disabilities provided within SUBARU and our Group companies.
In FYE March 2023, our subsidiary SUBARU BLOOM Co., Ltd., the largest employer of people with disabilities in Gunma Prefecture, received recognition for its long-standing contributions with the Gunma Prefecture Governor's Award as an excellent company for employing people with disabilities. As of June 2023, SUBARU BLOOM has 82 employees with disabilities on its roster.
As a result of various initiatives, as of June 2023, the SUBARU Group has 328 employees with disabilities, and the percentage of employees with disabilities is 2.47%*.
*

Including the number of employees with disabilities at SUBARU's specified subsidiary company.
We will continue to maintain a business approach that considers employee diversity and, at the same time, further stimulate and harness the capabilities of our diverse workforce to strongly advance our goals of "monozukuri ("manufacturing") innovation" and "value creation" under our new management structure.
Diversity initiatives at Subaru of America, Inc.
Subaru of America, Inc. (SOA), SUBARU's U.S.-based sales subsidiary, is actively advancing initiatives centered around diversity, equity, inclusion, and belonging (DEIB). In FYE March 2023, SOA launched a curriculum focused on DEIB as part of its internal learning system, providing many employees with the opportunity to learn about the concepts. Under the theme of "culture," it provided a platform for employees to engage in cross-departmental dialogue, allowing them to share their individual experiences and identities.
The SUBARU Group will continue striving to create a comfortable work environment that respects the diversity of individuals in terms of gender, nationality, culture, lifestyle, and values, while taking into account the nature of each business and regional characteristics.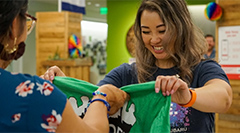 Product diversity: Responding to a wide range of customer needs by offering a variety of products with the SUBARU Difference
SUBARU has consistently developed and introduced unique vehicles that cater to a broad spectrum of customer needs. Throughout our long history of automotive development and production, we have always endeavored to deliver the unique SUBARU values that meet the diverse preferences and values of our customers. With this philosophy at the core, we have been advancing various initiatives aimed at achieving product diversity. SUBARU has garnered significant attention for its car manufacturing efforts that pursue diverse market values. These efforts include equipping the Solterra with a new All-Wheel Drive (AWD) system unique to BEVs that uses separate motors to drive the front and rear wheels in addition to the AWD control technology accumulated over the years. In addition, the WRX S4 successfully combines sportiness and comfort by refining our concept of Enjoyment and Peace of Mind, which we view as the value we provide to customers.
In particular, EyeSight, featuring SUBARU's proprietary technology, will now be equipped on manual transmission (MT) vehicles for the BRZ as a way to deliver the SUBARU Difference. EyeSight is SUBARU's original driver assistance system, the world's first to use only stereo cameras to provide pre-crash braking by detecting pedestrians, cyclists and motorcyclists, while also realizing adaptive cruise control. We believe that by ensuring the stable operation of the EyeSight system in MT vehicles, we can provide Enjoyment and Peace of Mind to an even larger number of customers.
Furthermore, as one of our endeavors to expand options for internal combustion engine utilization, we are participating in the Super Taikyu Series 2023 with race vehicles using carbon-neutral fuel. Through these multifaceted initiatives, we are striving to achieve motorization with reduced environmental impact.
Moving forward, we will remain agile in adapting to significant changes in the business environment while continuing to pursue SUBARU's unique approach to "monozukuri innovation" and "value creation". Through this commitment, we will continue to craft diverse product value infused with the SUBARU Difference that caters to individual needs.