Message from the President
The information in this report is primarily for the period from April 2016 to March 2017, but there is some information that is from outside this period.
The departments and titles etc. of the people introduced in this report are correct as of the time of writing.
Enhancing the Subaru brand through our business
In April 2017, we changed our name from Fuji Heavy Industries, Ltd. to Subaru Corporation. By unifying our company name with our brand, we hope to accelerate our efforts to further enhance the brand, enabling Subaru to grow into an attractive global brand in the automotive and aerospace industries.
In our mid-term management vision, we set a goal of becoming "not big in size, but a high-quality company with distinctive strengths" by 2020. To achieve this, we want to enhance the quality and added value not only of the products and services that we supply to our customers, but also of the company itself, through our business activities.
Combining the pursuit of enjoyment and peace of mind with consideration for the environment
When thinking about enhancing our brand, technology and products are the elements that are crucial in bringing this goal to fruition. The Subaru brand cannot be attractive without high quality. Our company started out developing aircraft; precisely because this is in our DNA, we set very stringent technical standards for safety. Our EyeSight-equipped vehicles have achieved excellent safety ratings both within Japan and overseas. For example, in the U.S., the Insurance Institute for Highway Safety (IIHS) awarded several Subaru models their TOP SAFETY PICK rating. Going forward, we plan to bring to fruition the ultimate evolution of our EyeSight driver assist system, in pursuit of even greater safety.
As a company positioned primarily in the automotive industry, addressing environmental problems — especially climate change — is a key theme for us. We have already announced plans to launch an EV in 2021. Customers often tell us that the handling of Subaru cars is what makes them appealing. We plan to do our part to tackle climate change while making the most of Subaru's unique qualities by making an EV that combines enjoyment with peace of mind. Within this context, we will leverage our alliance with Toyota Motor Corporation to launch a plug-in hybrid in the U.S. in 2018.
'The earth, the sky and nature' are Subaru's fields of business.
In April 2017, we revised our Environmental Policy, declaring that "'The earth, the sky and nature' are Subaru's fields of business." These words encapsulate our desire to take the greatest possible care of 'the earth, the sky and nature,' since they are the fields in which our automotive and aerospace businesses — the pillars of our enterprise — operate. We have launched the SUBARU Forest Project as one such initiative, which will begin with nature conservation activities in Subaru-owned forests. Going forward, the Subaru Group will undertake global environmental conservation activities with the concept, "'The earth, the sky and nature' are Subaru's fields of business."
A company living in harmony with communities and society
We have a strong desire to contribute to communities and society as a whole. Businesses in the automotive industry and manufacturing industry in general are sustained by countless people and local communities, including ancillary industries. This is why we put great importance to our relationships with local communities.
Since the United Nations adopted the Sustainable Development Goals (SDGs) in 2015, companies have faced growing calls to address a variety of global issues. We at Subaru are aware of the importance of meeting these expectations. We believe that both making safer products that impose less of a burden on the environment and incorporating the perspective of contributing to the community into our business activities will help to create a sustainable society. In the future, we will continue to value the importance of contributing to the local community, while stepping up our efforts to tackle safety and environmental issues through our business activities.
Developing systems and people to maintain a dynamic company
The recent expansion in our operations means that we enjoy greater social influence than before. As such, we are more conscious than ever of the need to enhance the quality of our company. Due to the growing importance of global business management and supervision relating to all aspects of our operations, we established the new Corporate Administration Division and reinforced collaboration between relevant divisions. We also set up the CSR & Environment Department to focus exclusively on addressing societal expectations regarding corporate social responsibility and the environment. These organizational changes will allow us to devote even greater energies to corporate governance, risk management, CSR, and the environment than previously, thereby enabling us to shift up a gear in our efforts to enhance the quality of the company as a whole.
In the area of human resource development, we attach particular importance to nurturing the younger generation. The question of whether we can become an attractive company — not only in financial terms, but in all our facets — will depend to a great extent on our personnel. Accordingly, we will cultivate talent capable of viewing things from a broad perspective as members of the senior executive team in the future. We will also continue striving to develop female managers and foster a corporate culture in which people feel able to engage in the unfettered exchange of opinions.
Based on our management philosophy of becoming a compelling company with strong market presence, we will seek to further our CSR activities through these initiatives, actively endeavoring to conserve the global environment and contribute to communities, in order to achieve a sustainable society.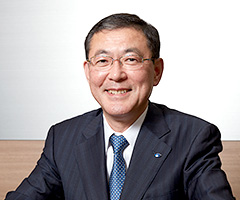 Yasuyuki Yoshinaga
President and CEO