Our Approach
The SUBARU Group strives to put the customer first in all business activities. SUBARU is promoting activities to reflect customer feedback in our products and services, so that customers continue to choose our brand for "Enjoyment and Peace of Mind."
In addition, we cooperate with overseas dealerships around the world in the areas of "human resource training at dealerships" and "supporting dealership operations," enabling them to provide uniformly high-level service that meets the needs of our customers.
Initiatives
Customer Consultation Service (Japan)
In order to be closer to our customers and sincerely address their inquiries and difficulties, we have enhanced the various methods to communicate with our customers, such as call centers and websites. Opinions, requests, and comments received from our customers are fed back to the relevant departments, and we use this feedback to improve the quality of our products and services, as well as to make proposals.
SUBARU Call (Japan)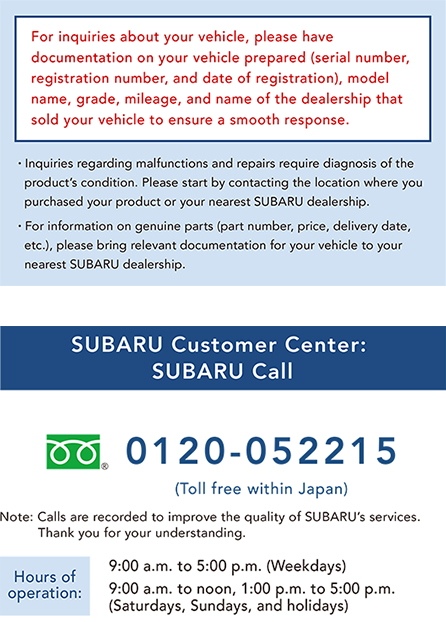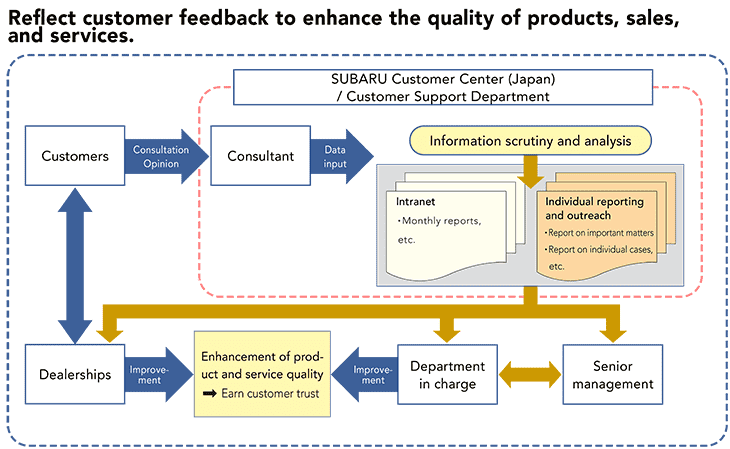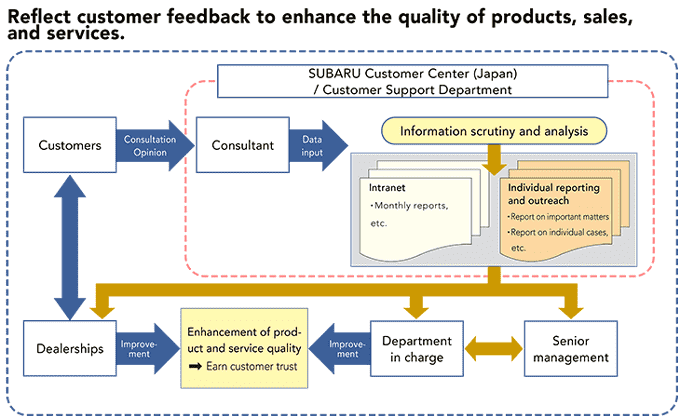 Breakdown by Type of Consultation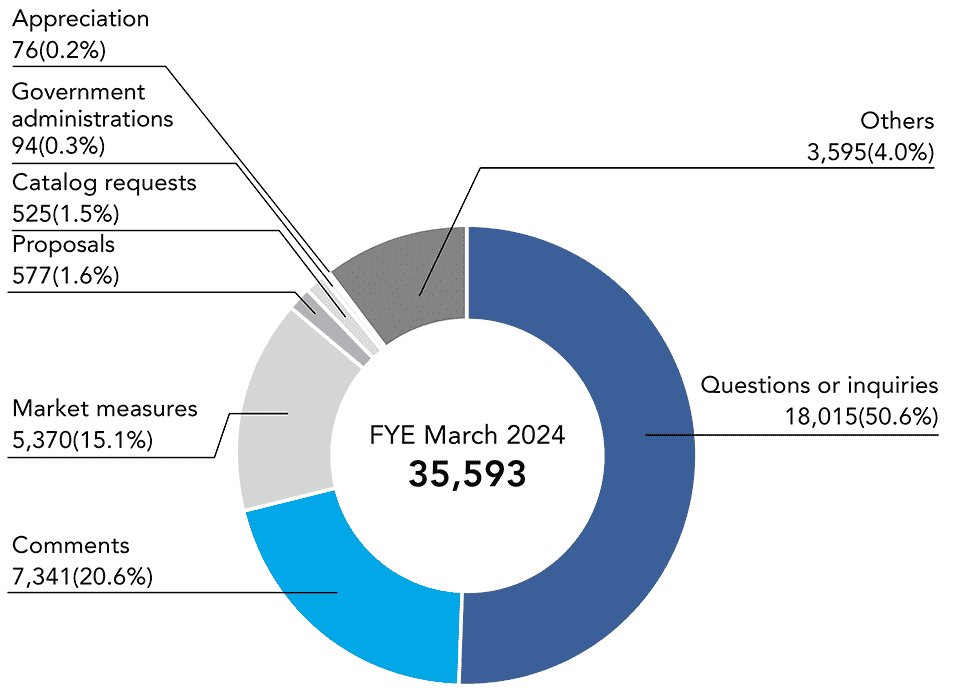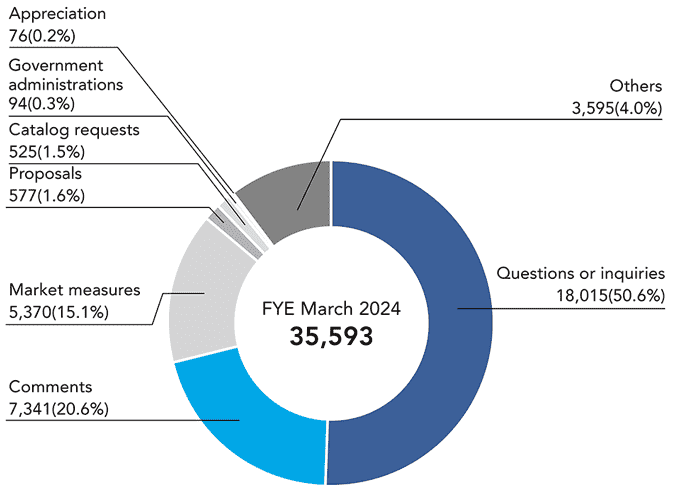 Note:

The method of calculation was changed in FYE March 2023.
Expanding inquiry channels (Japanese website only)
In July 2021, we updated the Q&A section under the Inquiries and Frequently Asked Questions page of the Japanese version of our official website in light of the recent increase in inquiries via the internet. To achieve even more convenience, we are working to regularly update the Q&A section and improve its searchability based on search status and data from inquiries received by our Customer Center.
As a result, page accesses have grown significantly compared to before the updates.
We introduced an automated response chatbot service in September 2022 as a system that will enable us to provide precise support for customer needs 24 hours a day, 365 days a year. We also initiated staffed chat support during the operating hours of our Customer Center in April 2023.
We will expand our contact points with customers through various inquiry channels as well as our information provision in support of self-resolution, utilizing these to improve customer satisfaction, develop new products, and provide services.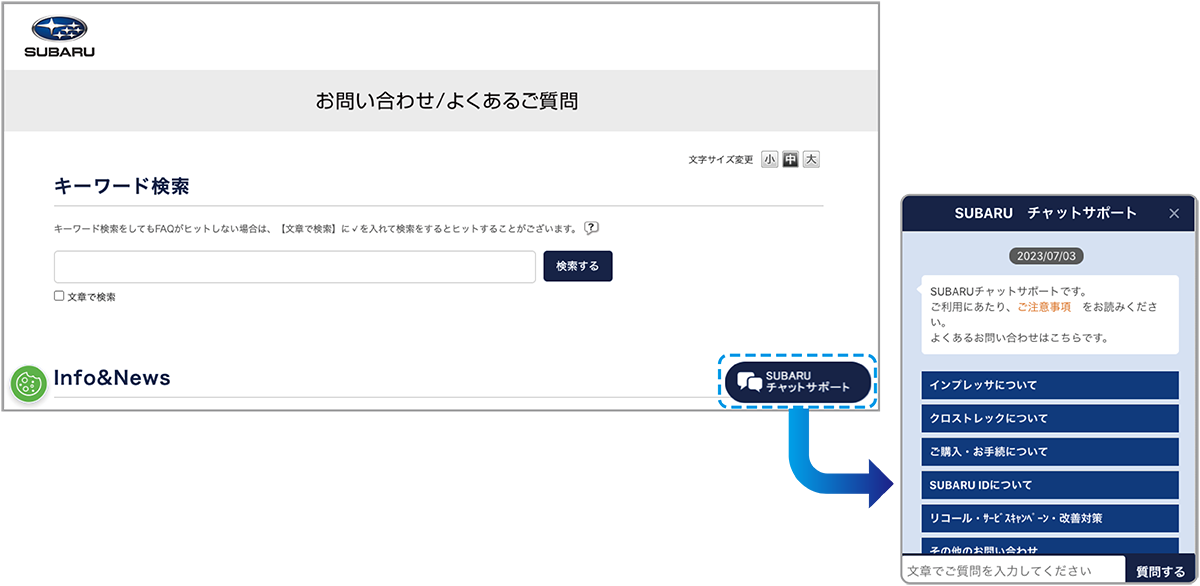 Chatbot service and the Q&A section under Inquiries and Frequently Asked Questions page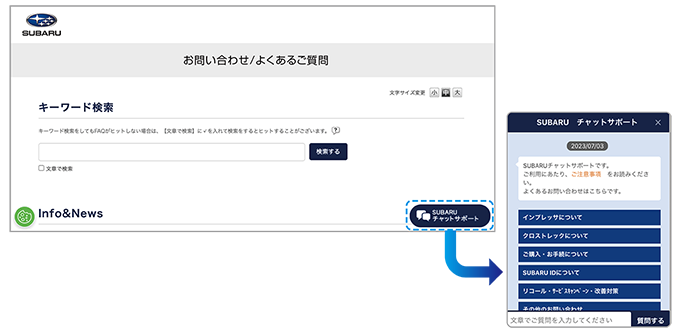 Chatbot service and the Q&A section under Inquiries and Frequently Asked Questions page
Gathering and Relaying Customer Feedback
Customer feedback received is published on our intranet for access by relevant departments. Customer feedback received not only in Japan but also at local dealerships in the U.S., SUBARU's largest market, is analyzed by the Customer Service Division in Japan and fed back internally for product and service development and quality improvement.
Customer Satisfaction Survey
Seeking to offer ever better service at our sales outlets, SUBARU conducts the SUBARU Customer Questionnaire directed at customers who bought a SUBARU vehicle at our dealerships. In order to take the customers' comments and requests learned from the survey results seriously, we have established a system in which our dealerships share those comments and requests so that they can respond to customer expectations, leading to improvements.
Customer Satisfaction Survey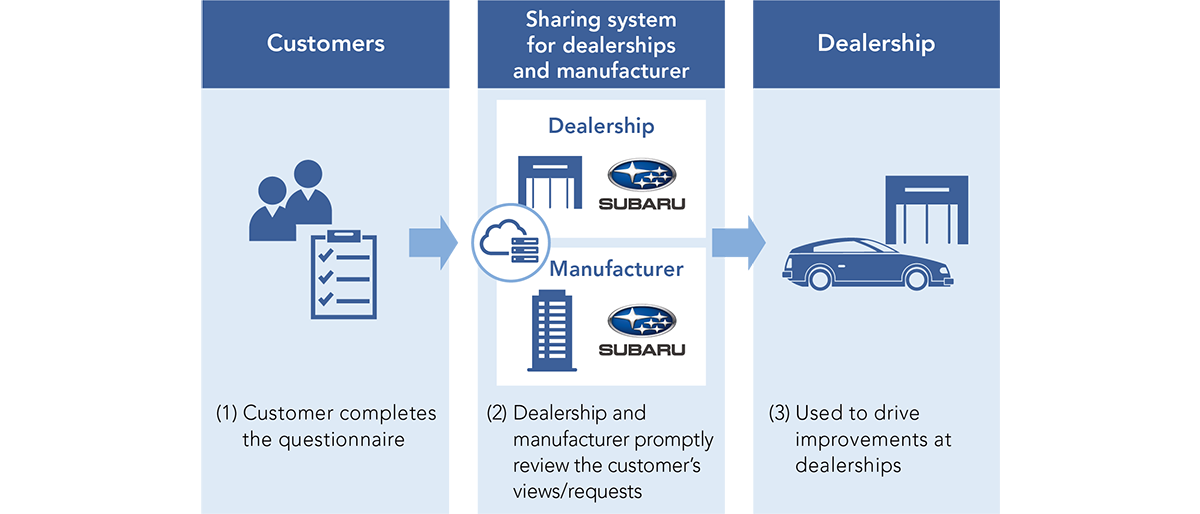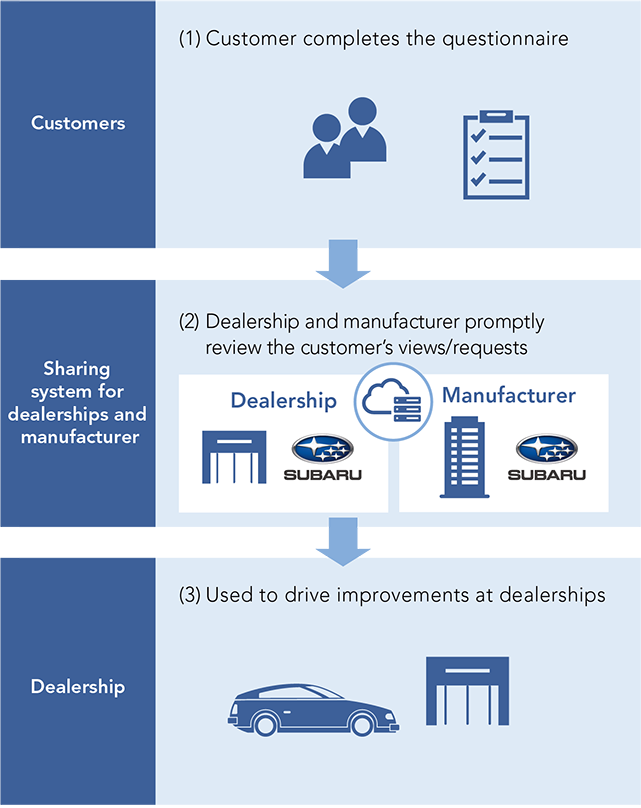 Note:

We started use of the sharing system in FYE March 2018.
Number of Valid Responses
In FYE March 2022, we once again received many opinions.
Number of Valid Responses
| | 2019 | 2020 | 2021 | 2022 | 2023 |
| --- | --- | --- | --- | --- | --- |
| Number of responses | 102,571 | 74,148 | 47,970 | 59,391 | 63,158 |
Evaluation of Achievements in FYE March 2023
We have expanded our survey to incorporate opinions from a broader segment of our customers, adopting a method to not only use evaluations of our achievements in FYE March 2021 and our new car owner surveys three and five years after the repurchase but also random samplings from customers who have purchased their vehicle six or more years previously. We received high ratings from around 80% of respondents, as well as a variety of opinions. SUBARU and SUBARU dealer views of our customers seriously and will work together on activities aimed at achieving further improvements.
Human Resource Training at Dealerships
We have established the Subaru Training Center, which is dedicated to training human resources at our dealerships in Japan and overseas. For dealerships in Japan, it provides training for managers, sales departments, and service departments. For overseas companies, it provides programs for service staff, meeting specific regional needs.
From FYE March 2023, this program is transforming into an online-focused learning system utilizing a learning management system*1.
Approximately 10,000 staff members from 44 SUBARU dealerships in Japan have registered for this learning management system, and as of the end of May 2023, they are able to study via more than 1,120 e-learning programs. We also combine e-learning with interactive web-based training to increase learning efficiency and maximize effectiveness.
*1

A learning management system is a system for the integrated management of learning material delivery, course history, performance, and other information necessary for implementing e-learning.
Number of Trainees (including training trips): Japan
2021
2022
2023
Managers, sales staff, service staff
644
876
2,094
Notes
Approximately one-quarter of the number of students before the COVID-19 pandemic due to training cancellations during the pandemic
Start of Online Training
STARS Sales Professional Certification Program (Japan)
To demonstrate that staff have the ability to propose "Enjoyment and Peace of Mind" to customers and support them, SUBARU has established STARS*2, a sales professional certification program.
*2

SUBARU Staff's Training and Rating System, which helps salespersons develop themselves through repeated Off-JT (study), OJT (practice), and qualification tests (challenge).
Sales STARS (as of March 2023)
To determine salespersons' certification levels, SUBARU runs tests covering areas such as knowledge, techniques, and customer service skills based on their performance on sales.
| Level 1 | Level 2 | Level 3 |
| --- | --- | --- |
| 58 | 760 | 1,202 |
Service STARS (as of April 2023)
For service staff, certification levels are determined based on the tests on service operation knowledge, customer service skills, and technical capabilities.
Front counter service levels
(persons)
Level S
Level A
Level B
Level C
44
1,100
1,025
4,909
Mechanical levels
(mechanics)
Level S
Level 1
Level 2
Level 3
Level 4
29
1,239
1,586
1,594
728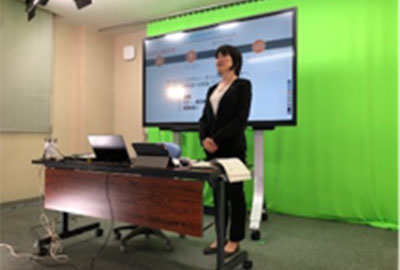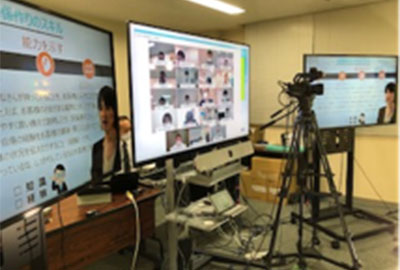 Service Staff Training (Overseas)
To improve the technical skills of service staff, we offer the Subaru Technical Education Program (STEP)*3 and use skill certification testing to motivate learning. SUBARU develops trainers who provide training to our service staff worldwide and trains service staff to be able to handle increasingly sophisticated automobile technology. We offer the STEP Trainer Training (STT)*4 and Advanced Technical Training (ATT)*5 programs for dealership trainers.
These technical training programs, in addition to on-site training for all SUBARU employees, offer online training, increasing opportunities for employee participation. Moreover, SUBARU assigns external trainers certified by us to countries with annual sales of at least 1,000 cars with the aim of further enhancing service.
*3

A technical training program that establishes three levels of mechanic engineering / technical skill and certifies them based on these levels. The three levels, from the beginner qualification, are Subaru Technician, Subaru Senior Technician, and Subaru Master Technician.
*4

A training program to develop certification trainers who will provide "STEP" training.
*5

A periodic training program held for the purpose of increasing the skills of certification trainers overseas. It provides education on topics such as new technology and high-level control technology.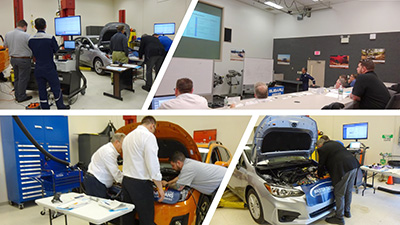 Status of Technical Training

| | Until FYE March 2021 | FYE March 2022 | FYE March 2023 | FYE March 2024 |
| --- | --- | --- | --- | --- |
| STT | Held a total of 23 sessions since 2011, providing STT training to 179 trainers in 29 countries | Not held in FYE March 2022 due to movement restrictions during the COVID-19 pandemic | Implemented twice for 24 trainers from eight countries in FYE March 2023 | To be held (twice) |
| ATT | Held a total of 15 sessions from April 2015 to March 2020, providing ATT training to a cumulative total of 206 certification trainers in 28 countries | Held the two EyeSight and e-BOXER programs online, providing ATT training to a cumulative total of 96 certification trainers in 28 countries | Started training for EyeSight, vehicle communication systems, and direct fuel injection system, and implemented for 57 trainers from 25 countries | To be held (twice) |
Developing service management managers (Japan)
Customer expectations on after-sales service are increasing by the year. In order to provide services that exceed expectations, SUBARU brings in the next generation of leaders from dealerships, developing them into human resources with a broader perspective through work experience at SUBARU.
In the SUBARU Service Management Manager Development Course, employees from dealerships are seconded to SUBARU for two years to learn SUBARU's approaches and working styles, helping to improve their management abilities.
Supporting Dealership Operations
Developing Malfunction Diagnostic Systems
With the computerization and intelligence of vehicles, the role of malfunction diagnostic equipment and service tools is becoming increasingly important. Proper repairs with proper diagnostics ensure customer safety, reduce the workload of mechanics, and reduce energy consumption. SUBARU is developing diagnostic equipment and related systems with this in mind.
Initiatives to Enhance Service Quality
Recognizing the cultural and environmental differences across countries and regions, SUBARU has established clear standards for service quality that it effectively communicates to local dealerships to ensure that customers receive consistent service no matter where they are.
Rapid Recall and Repair of Vehicles Subject to Repair
When a decision is made to implement a recall, we engage as the entire SUBARU Group. We have a system in place to ensure smoothness across the entire recall process, including notification to authorities, contacting customers, and repair.
In addition, we work closely with dealerships in each country to ensure that repairs are completed quickly and reliably by supplying repair parts in a timely manner.
In particular, SUBARU's recall progress related to the Takata airbag recall in the U.S. is among the highest in the industry.
SUBARU's Recall Action for Takata Airbags (Japanese version only)
Responding to Customer Needs in Diverse Markets
The SUBARU Group is introducing products tailored to each local environment in collaboration with local dealerships in all regions around the world. In South America and Asia, where demand for SUVs carrying several passengers is high, we have launched the Evoltis (U.S. market: Ascent). We have also introduced the Solterra BEV to markets such as Europe, where electrification is rapidly advancing.
Going forward, the Solterra will be gradually rolled out to other markets, such as Australia. Globally, we are planning to introduce an additional eight BEV models, including the Solterra, by the end of FYE March 2029, systematically introducing them to various regions while assessing customer needs in each market. We will continue to align with customer needs and contribute to achieving carbon neutrality in society.
Developing/Popularizing Welfare Vehicles
SUBARU aspires toward sharing the happiness and freedom of living through cars for everybody. As such, SUBARU is working to develop and increase the popularity of welfare vehicles so that people with physical handicaps and the elderly can travel by car in comfort and with peace of mind.
SUBARU started producing and selling welfare vehicles in 1980 and now they are well known as the "TRANSCARE series." It offers a wide range of options, from standardized cars to mini cars. SUBARU aims to develop vehicles that provide comfortable driving for both people who are in care and for care providers.
In FYE March 2021, we introduced Wing Seats with side airbags to the Forester. Going forward, we will continue to take action in a variety of areas so that we can provide even more "Enjoyment and Peace of Mind" to more of our customers.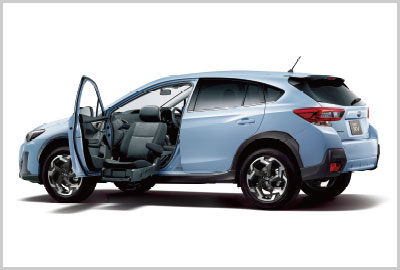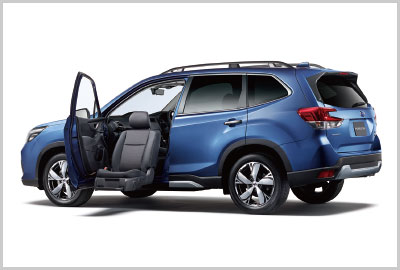 Initiatives for Customers in the Aerospace Business
In the aerospace business, we continue to swiftly resolve issues with customers after product delivery in order to maintain the continued operating condition of the aircraft we supply to the Japan Self-Defense Forces, Coast Guard, National Police Agency, and others. We periodically visit customers and take questionnaires in order to confirm the effectiveness of this initiative. The questionnaire covers items such as product quality, service, emergency response, and visitor response, evaluated on a five-step scale. In this questionnaire, we received high ratings from the Japan Self-Defense Forces, Coast Guard, and Metropolitan Police Department. Here, we are working to sincerely address customer opinions and further improve their satisfaction.
Also, SUBARU's maintenance staff involved in manufacturing visit the land, sea, and air units of the Japan Self-Defense Forces across Japan that use our products. They exchange information on use and maintenance, develop a better understanding of the operations, and communicate extensively, leading to the improvement of their work.
Going forward, we will move ahead with initiatives to understand customers' requests in detail and to earn customer satisfaction with SUBARU's products and services through maintenance and operations.
Questionnaire Evaluation Results
| | 2020 | 2021 | 2022 | 2023 |
| --- | --- | --- | --- | --- |
| Japan Self-Defense Forces | 3.9 | 4.0 | 4.0 | 3.7 |
| Coast Guard, Metropolitan Police Department, etc. | 3.6 | 4.2 | 3.1 | 3.8 |
Note:

We compile evaluations for each category from customers and rate them on a five-point scale.