Path to Further Growth
Subaru's vision:
Prospects for future business.
Overview of Mid-Term Management Vision "STEP"
Creating the Mid-Term Management Vision
In July of 2018, we formulated our mid-term management vision "STEP," with the goal of building trust and resonating with customers by providing "Enjoyment and Peace of Mind."

"STEP" is an acronym formed from the initial letters of Speed, Trust, Engagement, and Peace of Mind and Enjoyment, which are four important elements of the vision. The letter "T" is emphasized in the logo as Subaru considers trust to be the most important element of all. The name also expresses the Company's determination to take "steady, strong steps" before a future jump over social changes.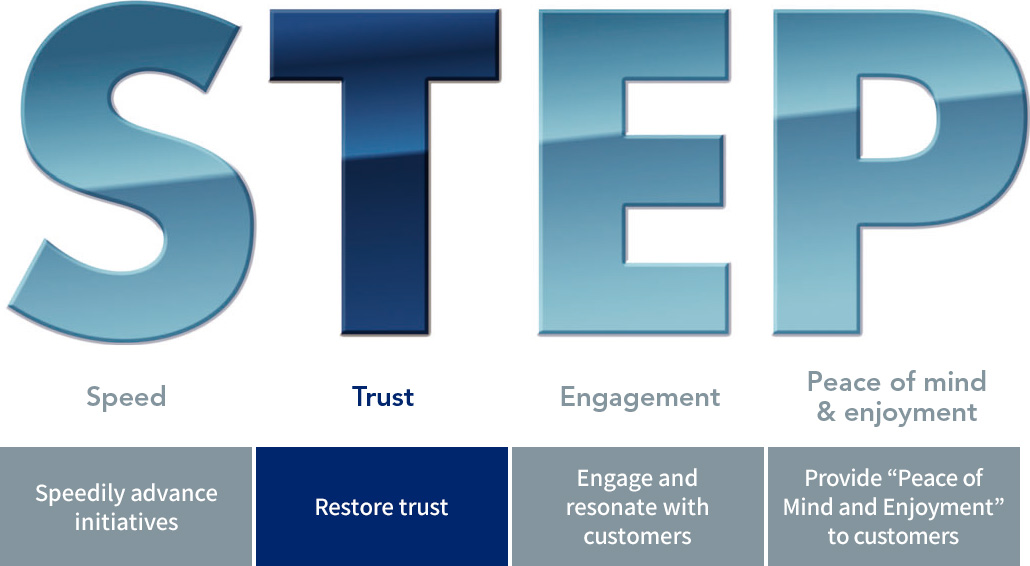 Concept and Timeline

Vision for 2025
Under its management philosophy of "aiming to be a compelling company with a strong market presence built upon its customer-first principle," Subaru sets out the following three visions for 2025 with a view toward its goal — from a company making things, to a company making people smile — that the company established at the 100th anniversary of its 1917 founding.

Market Strategy
In 2020, our sales in each market declined due to the impact of the spread of COVID-19, but in the U.S., our key market, Subaru's market share reached a new record of 4.2%. We are making steady progress toward the "STEP" target of 5% market share in the U.S.
Nine straight years of market share growth in the U.S.

Profit Direction and Capital Policy
We aim to maintain and expand our market share by advancing our added-value business model.
We will pursue a 5% market share in our key U.S. market.
We aim for an industry-leading operating margin (8%).
Capital expenditures and R&D expenditures will be steadily executed for initiatives aimed at enhancing the Subaru difference:

Next 3 years

Capital expenditures: 3.5%–4% of sales revenue (3.5%)*
R&D expenditures: 120 billion yen level/year (107.7 billion yen/year)*
* Figures in parentheses show the average of results for FYE March 2019–FYE March 2021

We aim for a ROE of at least 10% while ensuring net cash of two months' worth of revenue levels and a capital equity ratio of 50%.
Our stance on shareholder returns remains unchanged.


Positioning dividends as the main form of return to shareholders with emphasis on stable, continuous returns. Based on the performance-linked approach, dividend payments will be determined considering the business performance of each fiscal year, investment plans, and the business environment. (Consolidated payout ratio: 30% – 50%)
Conducting share repurchases flexibly in line with our cash flow.
Capital Policy
ROE
At least 10% (target)
Capital equity ratio
50% (minimum)
Net cash
Two months' worth of revenue levels (minimum)
Shareholder returns
Consolidated payout ratio
30 – 50%
Share repurchases
Conduct flexibly
Revenue status
We were unable to achieve our three-year goals that were set in July 2018 due to various performance factors. Although there were high-performing quarters, we feel that we still lack the capacity to overcome unforeseen circumstances such as controlling quality costs and handling semiconductor supply shortages throughout the year. The STEP initiatives are still a work in progress, and we will be accelerating our efforts to ensure solid performance.
Consolidated Operating Profit (based on IFRS)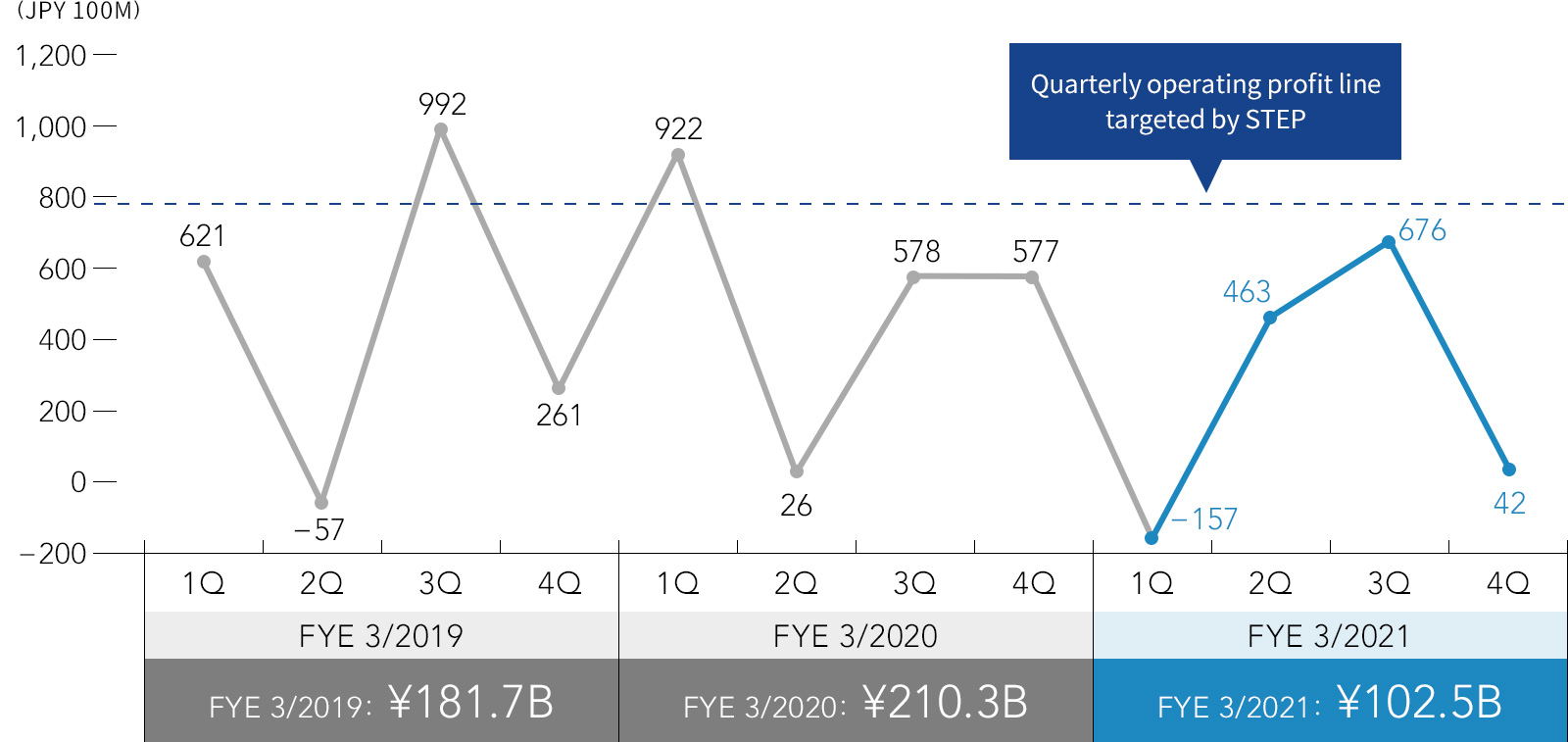 Priority initiatives and future direction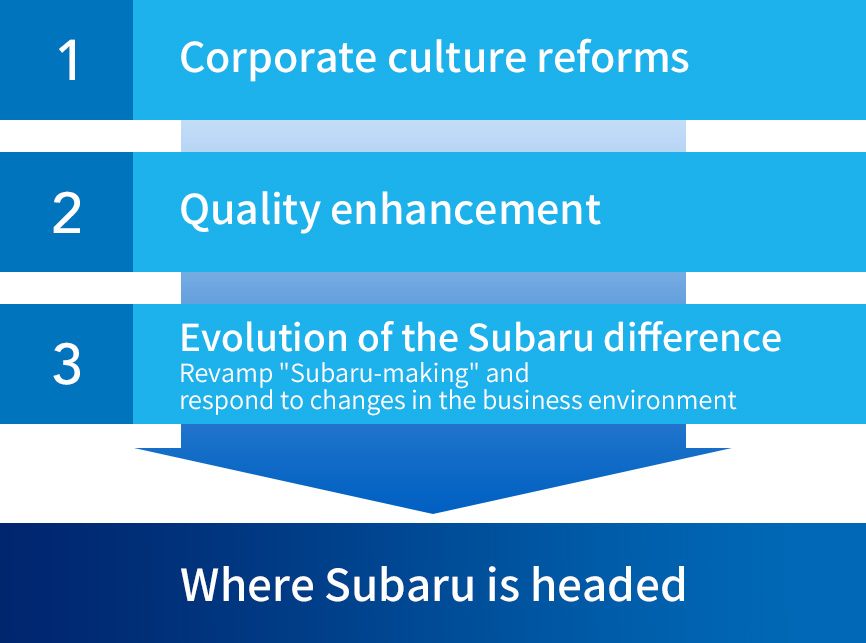 Toward 2025, We have been taking various initiatives primarily centered on "corporate culture reform," "Quality enhancement," and the "Make-a-Subaru project." These priority initiatives are progressing steadily. We have also been striving to evolve the "SUBARU difference" in the midst of a changing business environment through the "Make-a-Subaru" project ranging from quality to after-purchase service. We strongly feel the need to reaffirm the fact that the SUBARU brand exists because of our customers, and to face the new era while joining forces with them.
Toward the Realization of a Carbon-free Society
As the electrification of automobiles continues, Subaru will contribute to this carbon-free society by demonstrating the Subaru Difference through distinctiveness and technological innovation. Specifically, our plan is to make at least 40% of Subaru global sales be battery electric vehicles (BEVs) and hybrid electric vehicles (HEVs) by 2030. In addition, by the early 2030s, we aim to apply electric powertrain technology to all Subaru vehicles sold worldwide, and by 2050, we aim to reduce well-to-wheel*1 CO2 emissions by 90% or more*2 compared to 2010 levels.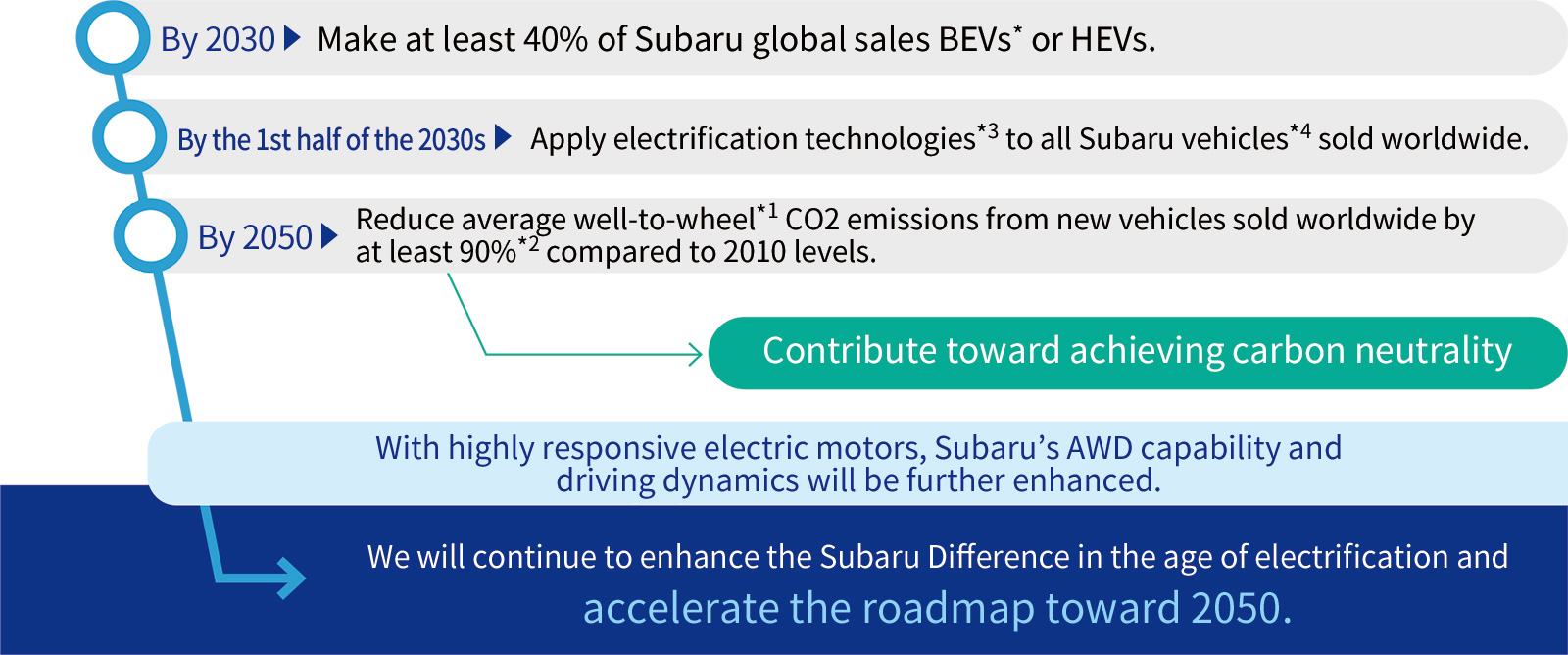 *

Battery electric vehicle
*1

Well-to-Wheel: Approach to calculating CO2 emissions including the emissions produced by the generation of electricity to be used by EVs and other vehicles.
*2

Reduce total CO2 emissions calculated based on the fuel efficiency (notified value) of all Subaru automobiles sold across the world by 90% or more relative to the 2010 levels in 2050. Changes in the sales quantity due to changes in the market environment shall be taken into consideration, while minor changes in running distance shall not.
*3

Refers to the technology used to foster the use of electricity for HEVs, HVs, and others.
*4

Excluding models supplied by OEMs.
Global rollout of Electric Vehicles (EVs)
SUBARU plans to launch SOLTERRA around the middle of 2022 as another step toward the era of the electric car. SUBARU's first global EV, SOLTERRA, is designed to be environmentally responsible. It utilizes the e-SUBARU Global Platform, a dedicated EV platform we jointly developed with Toyota, as well as the AWD technology we have developed for many years and Toyota's outstanding electrification technology, thus bringing together the strengths of both companies. An SUV with the unique appeal of an EV, SOLTERRA will launch in Japan, the U.S., Canada, Europe, China, and elsewhere as a new option in the SUBARU SUV lineup. SUBARU continues to develop and deliver products that meet societal needs and contribute to the environment through advanced technologies, thereby contributing to the protection of the global environment. We will continue to consider practical functions and customer preferences as we enhance our lineup in the markets we serve with environmentally friendly vehicles that are unique to SUBARU and that can deepen relationships with customers.