Product Features of Subaru
Product Features of Subaru
Subaru's distinctive strengths.
Advancing Technology of Subaru
Subaru has its own style that grows from its unique outlook on manufacturing. This is a strength of Subaru. This page introduces a few technologies that are bold representatives of the Subaru style.
1. No compromises on performance
Symmetrical AWD converts Subaru driving performance into tangible forms.
The most characteristic technology behind Subaru cars is symmetrical AWD (All-Wheel Drive). The name comes from its layout which comprises a vertically placed, horizontally opposed engine and a symmetrical drive-train. It realizes excellent weight balance from front to back and from side to side and outstanding levels of maneuverability and driving stability. It is because of the excellent driving performance brought by these unique technologies that it is said that driving performance is a distinctive advantage of Subaru.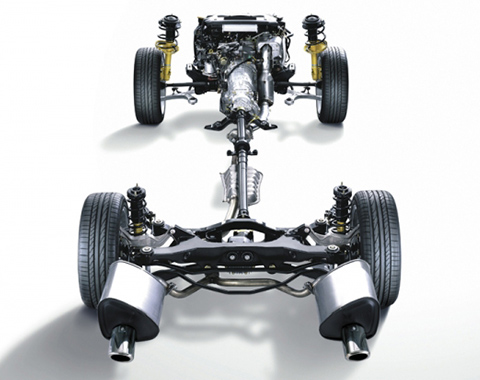 2. No compromises on safety
Highly evaluated Subaru's collision safety all over the world
We work to improve collision safety performance, to protect passengers and pedestrians in the event of a collision. Our work is highly evaluated in collision safety performance all over the world. We intend to continue making cars that embody our vision of "Safety drives Subaru design".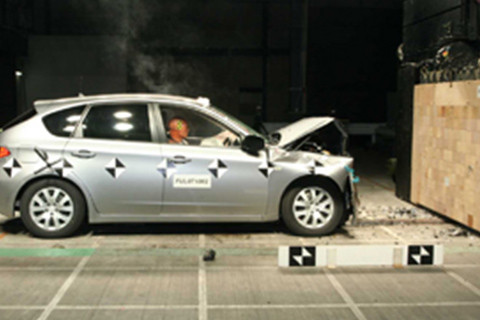 Top rating awards that Subaru received in the world's crash safety tests
2010
2011
2012
2013
2014
Japan
(JNCAP)
LEGACY
LEGACY, IMPREZA
LEGACY
LEGACY, LEVORG, FORESTER
U.S.
(IIHS)
All Models
LEGACY, OUTBACK, IMPREZA, XV, FORESTER, TRIBECA, BRZ
LEGACY, OUTBACK, FORESTER


* All models are equipped with EyeSight

LEGACY, OUTBACK, FORESTER, IMPREZA, XV


* All models are equipped with EyeSight

Europe
(Euro NCAP)
XV
FORESTER
OUTBACK
3. No compromises in safety
Advanced next-generation driving support system aims for "Cars that never crash into".
Tokyo, January 26, 2016 – Subaru, the manufacturer of Subaru automobiles, today released a survey of traffic accidents resulting in injury or death that involved Subaru vehicles sold in Japan between fiscal years 2010 and 2014. The survey reveals that vehicles equipped with the EyeSight* driver assist system had 80% fewer front-to-rear crashes (crashes into the vehicles in front) and 50% fewer accidents involving pedestrians, when measured in terms of accidents per 10,000 vehicles. Overall, Subaru vehicles equipped with the system had 60% fewer accidents than those without it.
The survey is based on data gathered by Subaru from the Institute for Traffic Accident Research and Data Analysis in Japan. The study contained 246,139 Subaru vehicles with EyeSight and 48,085 of those without it. The survey classifies accidents resulting in injury or death by accident type. Subaru plans to continue conducting the survey in the future.
All of Subaru's EyeSight-equipped models have received the top rating of Advanced Safety Vehicle-Plus (ASV+) in the Japan New Car Assessment Program (JNCAP) preventive safety performance assessment conducted by the Ministry of Land, Infrastructure, Transport and the National Agency for Automotive Safety & Victims' Aid.
The EyeSight's safety performance is highly rated by testing bodies and valued by customers in the world.
*

"EyeSight (ver.2)" as it is known on the Japanese market.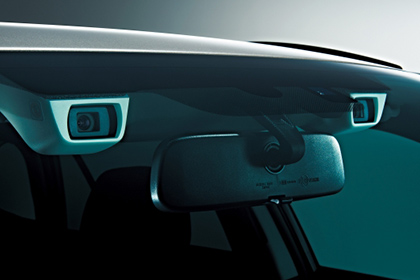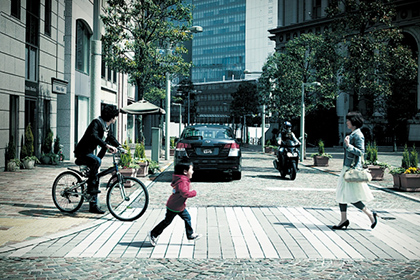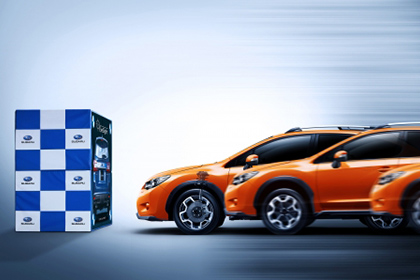 4. Environmental responsiveness
Horizontally opposed engine ensure compatibility between pleasant driving and environmental responsiveness.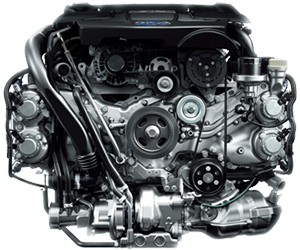 The horizontally opposed engine, equipped in the main Subaru models, has been a core technology supporting Subaru driving performance since the Subaru 1000, released in 1966. In 2010, its structure has been reviewed from the ground up and renovated into its third generation. While preserving the strengths of the horizontally opposed engine, such as light weight, compact volume, low center of gravity, and excellent vibration balance, we have achieved a high-level integration of improved environmental performance, including an approximately 10% improvement in fuel efficiency, and improved driving performance, including smooth acceleration at all ranges.
From March 2008, we have also been rolling out to Europe, for the first time in the world, the Legacy, Outback, Impreza, and Forester with a horizontally opposed diesel engine. Diesel engines are good for the environment because they have lower fuel consumption than gasoline engines and emit less carbon dioxide. Our diesel engine combines diesel's strong torque at low and medium speeds with the advantages of a horizontally opposed layout.
Then, in 2013, we introduced the Subaru XV Hybrid, the first hybrid by Subaru. A motor, high-voltage battery, and other parts required for a hybrid vehicle, are arranged for advantage of the low center of gravity and excellent weight distribution of the unique Subaru layout, achieving excellent driving performance. This hybrid model makes you feel how a Subaru is fun to drive, with its satisfying acceleration, through effective use of the motor to assist engine output, combined with high fuel efficiency. Only a Subaru could achieve this fusion of pleasant driving and environmental responsibility.
5. Aircraft manufacturing technology cultivated by history
Globally preeminent technology for aircraft with automatic takeoff and landing
There are a few automobile manufacturers who have their roots in aircraft manufacturing, but Subaru is the only major manufacturer that is still making aircraft. One aviation technology that Subaru has cultivated is automatic takeoff and landing flight technology. In 2002, we succeeded in automatic takeoff and landing test flights with a pilotless high-speed aircraft and a large pilotless helicopter. In 2003, we succeeded in Japan's first small-aircraft fully automatic takeoff and landing test flight.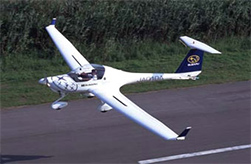 For More Information