Product Features of Subaru
Product Features of Subaru
Subaru's distinctive strengths.
The SUBARU Concept of All-Around Safety
We aim toward "zero fatal accidents*" in 2030
SUBARU pursues automobile safety performance from every perspective. We aim to eliminate fatal accidents involving SUBARU vehicles by 2030 by combining our existing four safety criteria of primary safety, active safety, preventive safety, and passive safety with the new concept of connected safety.
*

Fatal traffic accidents of SUBARU drivers/passengers and pedestrians/cyclists SUBARU cars collide with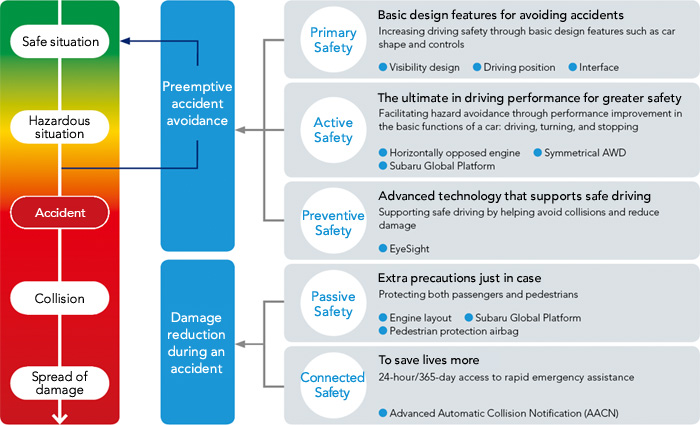 Safety Performance Recognized Worldwide
Subaru undergoes safety performance testing and assessment of public organizations in and out of Japan including JNCAP in Japan, IIHS*1 in the U.S., Euro NCAP*2 in Europe, and ANCAP*3 in Australia, and has gained the highest rank of assessment in most of them.
In FYE March 2021, the new Levorg won the JNCAP Five Star Vehicle Safety Performance 2020 Award, the highest rating in the Japan New Car Assessment Program (JNCAP).
*1

IIHS: The Insurance Institute for Highway Safety
*2

Euro NCAP: European New Car Assessment Programme, a safety information disclosure program for automobiles in Europe
*3

ANCAP: The Australasian New Car Assessment Program, a safety performance assessment program conducted since 1993 by an independent organization created by Australian and New Zealand transit authorities
SUBARU Core Technologies
Horizontally-Opposed Engine (Boxer engine)
Compact, low center of gravity
The horizontally opposed engine has pistons arranged symmetrically to the left and right of the crankshaft. Since the opposed pistons mutually cancel out engine vibrations, the engine can rotate smoothly, which reduces vibrations conveyed to the vehicle interior. The engine's low height and compact design contribute to low vehicle center of gravity. The stable attitude provides a high sense of security during driving.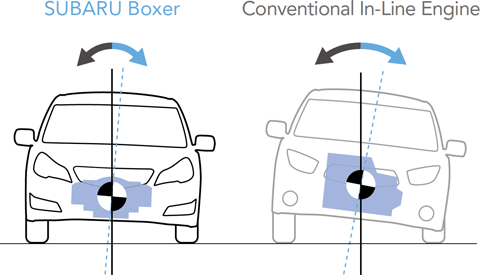 Symmetrical All-Wheel Drive (AWD)
Superior overall weight distribution
The combination of the low center of gravity provided by the horizontally opposed engine and superior longitudinal-transverse weight balance achieved by placing the transmission near the center of the vehicle maximizes all-wheel drive capability and delivers superb driving performance in various conditions. SUBARU has been committed to Symmetrical AWD as a core technology that drivers can depend on in every situation from day-to-day town use to high-speed highway driving.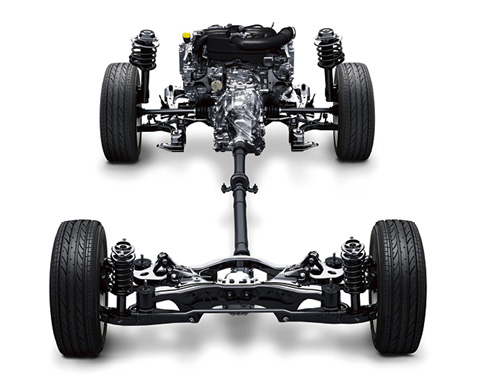 Subaru Global Platform
Balancing a high degree of both drive quality and passive safety performance
SUBARU is sequentially introducing the Subaru Global Platform, starting with the allnew Impreza launched in October 2016. The new vehicle platform substantially increases body and chassis rigidity and further lowers vehicle center of gravity, raising the level of active safety and passive safety and delivering responsive handling performance and a comfortable ride with reduced unpleasant vibration and noise.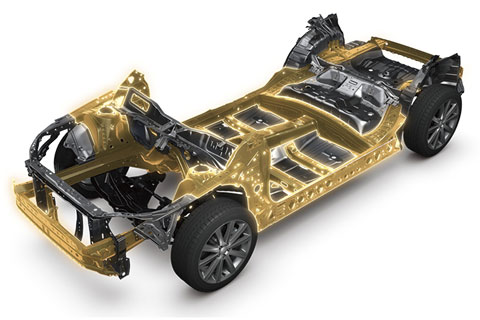 EyeSight Driver Assist System
Stereo cameras for advanced object recognition capabilities
By using two cameras positioned on the left and right like human eyes, the EyeSight driver assist system is able to detect vehicles and pedestrians ahead of the vehicle in three dimensions and to accurately determine the distance, shape, and velocity of each object. This preventive safety technology helps avoid accidents, minimizes damage, and reduces the burden on the driver. The next-generation EyeSight system installed in the 2020 SUBARU Levorg features redesigned stereo cameras that allow for expanded visibility, as well as 360-degree sensor capabilities from the four radar units located at the front and rear of the vehicle. This system contributes to safe driving in an even wider range of situations, including intersections. In addition, "EyeSight X" advanced driver assist system adopted in the new Levorg in Japan combines information from sources such as the GPS and QZSS "Michibiki" satellite systems with high-precision 3D map data, which extends driving support functions including lane change assist, slowing the vehicle before going into a curb, and hands-off driving assist in traffic congestion.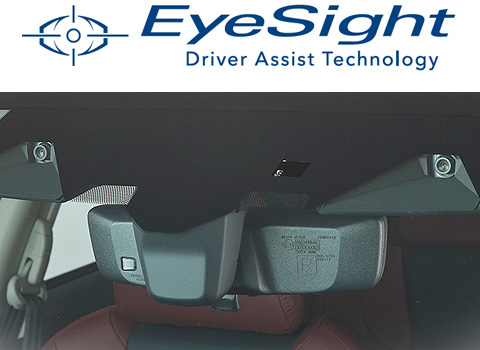 For More Information
Aerospace Company
Leveraging tradition and innovative technologies to develop and produce a wide variety of aircraft.
SUBARU's roots trace to 1917 and Aircraft Research Laboratory, later to become Nakajima Aircraft. The Aerospace Company, which has inherited Nakajima Aircraft's manufacturing technologies and spirit, leads Japan's aerospace industry and develops and produces a wide variety of aircraft.
In the defense program, we develop, manufacture, maintain, repair, and provide technical support for products such as the UH-1J utility helicopter used by the Japan Ground Self-Defense Force for disaster relief and other purposes, the new utility helicopter, the T-5 Maritime Self-Defense Force trainer, unmanned aerial vehicles (more than 15 models developed over a half century), and flight simulators. In the commercial program, we participate in many international joint development projects for Boeing. For the 777X, Boeing's newest large passenger airliner, we are responsible for the Center Wing and its integration with main landing gear (MLG) wheel well, as well as MLG doors and Wing-to-Body Fairings (forward). In addition, taking advantage of an alliance with Bell Textron, we jointly developed the SUBARU BELL 412EPX and have started sales.
By further refining our technologies through involvement in a wide variety of aircraft programs, we will continue to take on additional challenges for growing into an aircraft manufacturer with a global presence.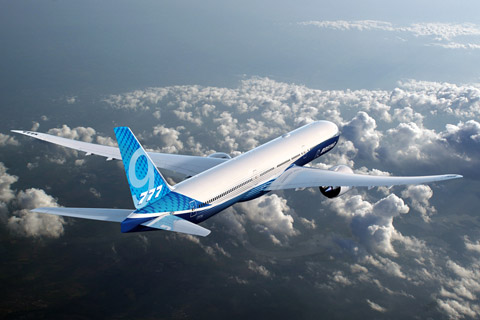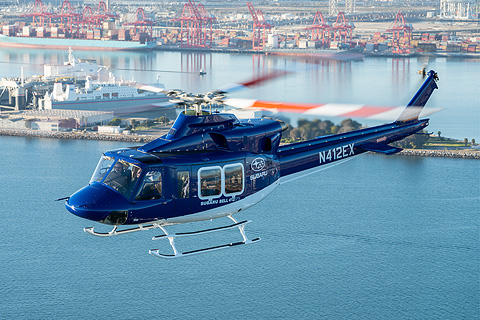 Overview of Center Wing Box and SUBARU's Technology
SUBARU's advanced technological capabilities continue to support the development and production of wings that have proven their worth in the world's skies for more than 40 years.
Since first participating in the Boeing passenger program in 1973, we have been involved in development and production as a key partner of Boeing for more than 40 years. We manufacture the center wing box, the critical aircraft section where the right and left wings are attached to the forward and aft fuselage sections. Since the center wing box contains the fuel, they must have high mechanical strength and high fluid tightness. For these reasons, great accuracy and advanced assembly technologies are required for its manufacture, and SUBARU is one of the few companies capable of making them. The Handa Plant, where center wing boxes are manufactured, is a global-level production center that produces these parts for the new Boeing 777X as well as for the Boeing 777 large airliner, the Boeing 787 mid-size airliner, the Ministry of Defense's P-1 maritime patrol aircraft, and the C-2 transport aircraft.
SUBARU's advanced technological capabilities are recognized worldwide. For example, we engage in development on the "Drop test for Simplified Evaluation of Non-symmetrically Distributed sonic boom" Project (D-SEND) together with Japan Aerospace Exploration Agency (JAXA).