Product Features of SUBARU
Product Features of SUBARU
Subaru's distinctive strengths.
Subaru's All-Around Safety philosophy
Starting from the development of the Subaru 360 more than 60 years ago, Subaru has continued to inherit and pass on the philosophy of giving top priority to safety, because customers entrust their lives to their cars. Even since the 1960s, when the world had not yet come to consider safety a major concern, we have been conducting our own collision safety tests, and today our cars are consistently rated among the best in safety evaluations in Japan and overseas. The basis of this is Subaru's All-Around Safety philosophy.
There are four aspects in Subaru's unique All-Around Safety philosophy: primary safety, driving safety, preventive safety, and passive safety.
"Primary safety" means factors such as excellent visibility and fatigue-avoiding packaging. "Driving safety" refers to accurate avoidance performance of objects on the roads and controllability after the avoidance. "Preventive safety" is performances to prevent accidents and to mitigate damages utilizing the features such as pre-collision braking of EyeSight. If an accident occurs even with these three-step measures, we protect passengers in "Passive safety" phase.
Third-party evaluations mainly focus on passive safety. Some are starting to cover preventive safety as well. But in Subaru, we consider all four safety aspects, and we think that is why we have lower fatal accident rate in the real world. Henceforth, we plan to continue to enhance our work in each of these four important areas, and to add connected safety. We aim to achieve our goal of zero fatal accidents by 2030 by utilizing AI technologies.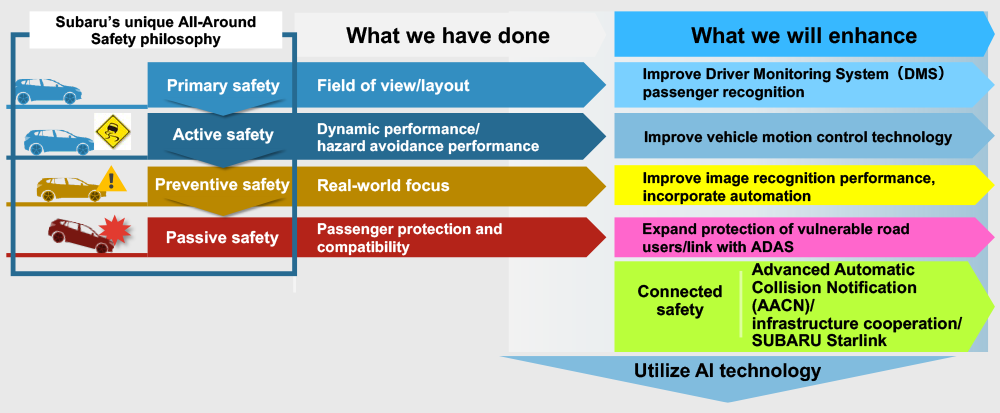 To achieve zero fatal traffic accidents by 2030, first of all, we seek a 65-percent reduction in fatal traffic accidents by enhancement of advanced driver-assistance systems (ADAS). For the remaining 35 percent, we plan to reduce extent of injuries of passengers through continual improvement of passive safety, a Subaru specialty. We also plan to save more lives with advanced automatic collision notification (AACN) using connected services. We expect the combination of these measures will lead us toward achieving zero fatal traffic accidents by 2030.
Fatal traffic accidents of SUBARU cars

(estimated from U.S. FARS data)

Safety Performance Recognized Worldwide
SUBARU undergoes safety performance testing and assessment of public organizations in and out of Japan including JNCAP in Japan, IIHS*1 in the U.S., and Euro NCAP*2 in Europe, and has gained the highest rank of assessment in most of them.
In FYE March 2023, the Solterra won the JNCAP Five Star Vehicle Safety Performance 2022 Award, the highest rating in the JNCAP. At the IIHS, as of May 2023, three of SUBARU's 2023MY (model year) vehicles had won the organization's 2023 TOP SAFETY PICK+ (TSP+) Award, and two vehicles had won its 2023 TSP Award. In addition, the Legacy, Outback, Ascent, Forester, WRX, BRZ, and Solterra received the highest rating of "Good" in the IIHS Seat Belt Reminder evaluation test, a program launched in March 2022. Euro NCAP gave the Solterra a five-star rating in its 2022 assessment.
*1

IIHS: Insurance Institute for Highway Safety
*2

Euro NCAP: European New Car Assessment Programme, a safety information disclosure program for automobiles in Europe.
Recent Awards
Assessed Automobiles
Assessment Organization
Assessment
Solterra
JNCAP, Japan
Vehicle Safety Performance
JNCAP Five Star Award 2022
2023 models of the Outback, Ascent, Solterra (built after October 2022)
(U.S.-specification
models only)
IIHS, U.S.
2023 TSP+ Award*
2023 models of the Legacy and Forester
(U.S.-specification
models only)
IIHS, U.S.
2023 TSP Award*
Solterra
Euro NCAP, Europe
2022 Five-star rating
Pursuit of car performance that values people's senses
In order to respond to the customer desire to drive further and longer, we have taken rigorous action to pursue a pleasant driving experience, high visibility, and ease of use in a way that values people's senses. We believe that it is important for the driver to have easy, unhindered control in any environment, and for us to provide Enjoyment and Peace of Mind to passengers as well.
In addition, we are striving to create automobiles that can be a partner to the rich lives of our customers by pursuing essential vehicle functions that will extend people's freedoms, like a comfortable space making mobility fun, and a spacious luggage compartment.

Evolving AWD technology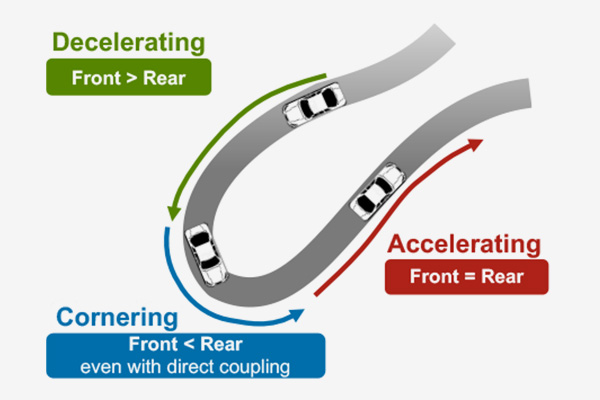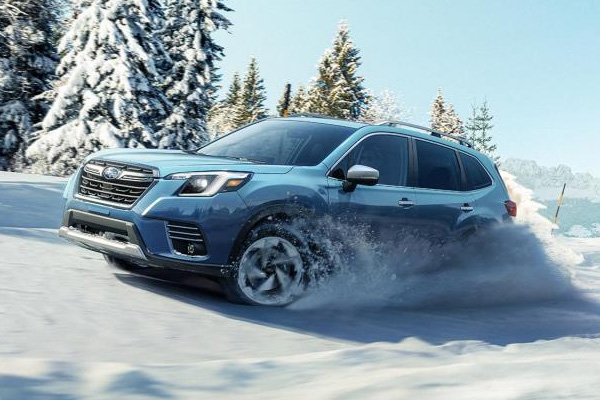 AWD has been the strength of Subaru for so many years, and we will evolve this further. There is a very complex relationship between AWD and driving performance. For example, the front- rear torque distribution is said to be 50:50 in direct-coupling AWD however, the front and rear tires have different rotational speeds in cornering, therefore the torque distribution changes depending on the cornering position. We have figured out that people who are used to driving Subaru cars are able to utilize the characteristics of Subaru AWD to make a turn safely and smoothly. Enjoyment and peace of mind would be enhanced further if everyone could drive our cars in this way. We are developing control technology to realize this.
Vehicle response speed and accuracy
Response speed makes a big difference in ease of driving, therefore Subaru has been putting a lot of effort into it. All of the components affect response speed, from steering and suspension to body and tires.
Besides response speed, we also need response accuracy. Vehicles are always required to respond the same ways as drivers input. If they do not, drivers will feel hard to drive since the vehicles go against the driver's intentions. Improve the accuracy of all parts and make driving more enjoyable.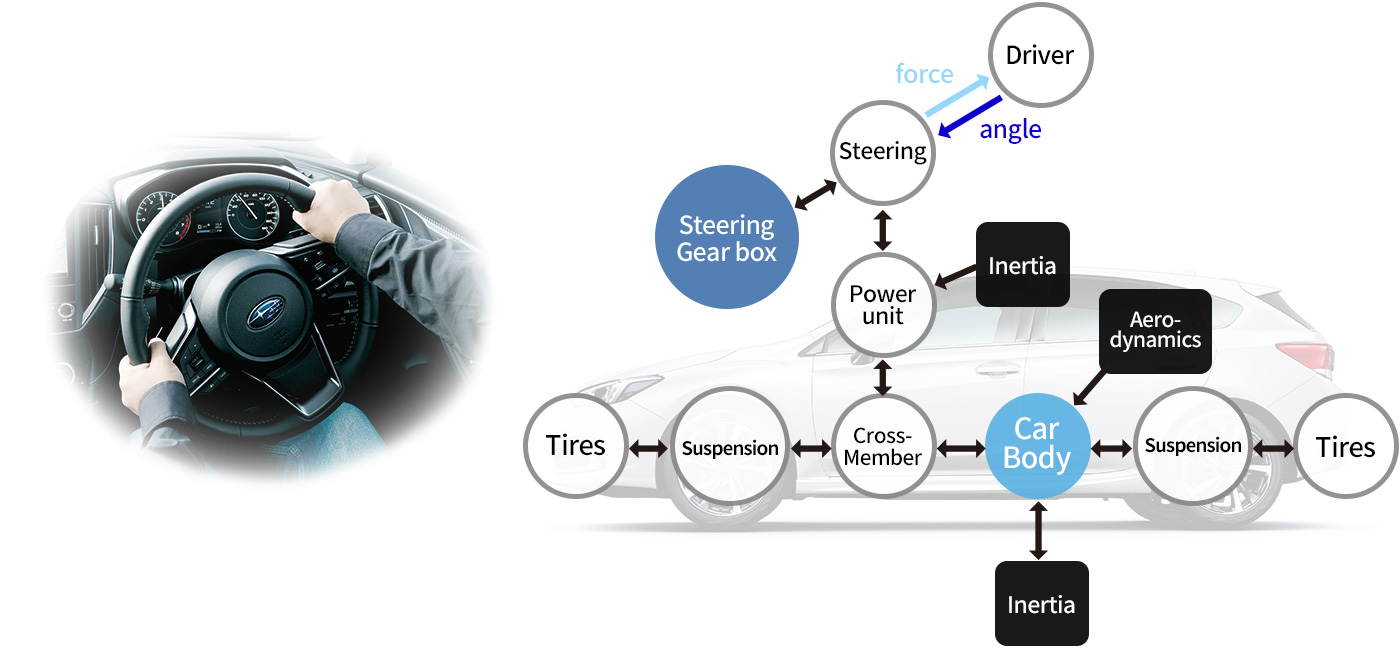 Subaru Driving Academy
Subaru does not have the job category of test drivers, who are dedicated to driving and evaluating developed vehicles, and evaluation of cars in the development stage is solely done by engineers.
By riding a car, they not only evaluate what is good or bad but also think theoretically what they felt while driving the car and incorporate it into the development. Subaru's strength lies in the fact that instead of split this process, the same employees work consistently on it.
At Subaru Driving Academy, we are working to develop human resources by systematizing programs that improve the driving skills and assessment skills during test driving.

Through the training, by going through the cycle of "drive", "feel", "consider", and "quantify" in a short period of time, the time spent on trial and error in development was reduced.
And, by spending a lot of time tuning cars with senses, it has become possible to finish the car so that it feels more Enjoyment and Peace of Mind.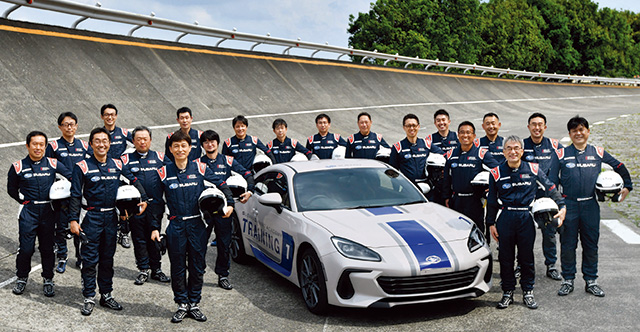 SUBARU Core Technologies
Subaru Global Platform
Balancing a high degree of both drive quality and passive safety performance
SUBARU is sequentially introducing the SUBARU Global Platform, starting with the Impreza launched in October 2016. The vehicle platform substantially increases body and chassis rigidity and further lowers vehicle center of gravity, raising the level of Active Safety and Passive Safety and delivering responsive handling performance and a comfortable ride with reduced unpleasant vibration and noise.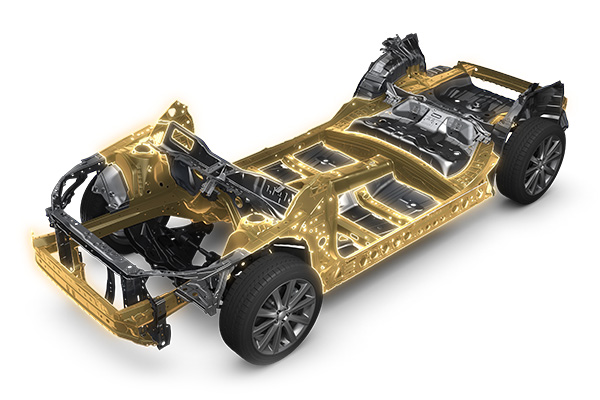 Symmetrical All-Wheel Drive (AWD)
Superior overall weight distribution
The combination of the low center of gravity provided by the horizontally opposed engine and superior longitudinal-transverse weight balance achieved by placing the transmission near the center of the vehicle maximizes all-wheel drive capability and delivers superb driving performance in various conditions. SUBARU has been committed to Symmetrical AWD as a core technology that drivers can depend on in every situation from day-to-day town use to high-speed highway driving.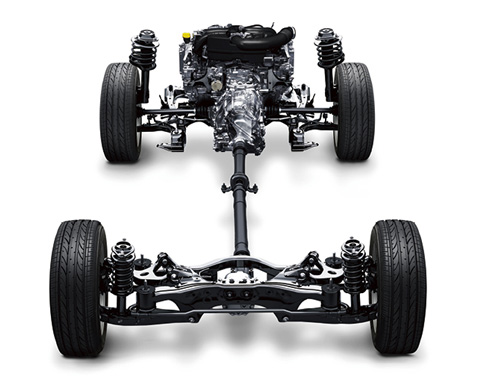 Horizontally-Opposed Engine (Boxer engine)
Compact, low center of gravity
The horizontally opposed engine has pistons arranged symmetrically to the left and right of the crankshaft. Since the opposed pistons mutually cancel out engine vibrations, the engine can rotate smoothly, which reduces vibrations conveyed to the vehicle interior. The engine's low height and compact design contribute to low vehicle center of gravity. The stable attitude provides a high sense of security during driving.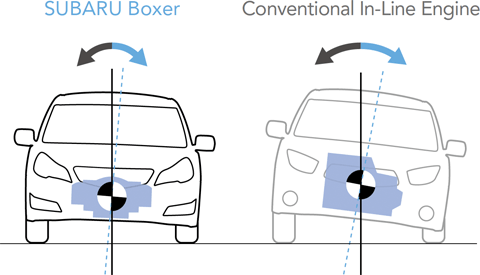 EyeSight Driver Assist System
Stereo cameras for advanced object recognition capabilities
By using two cameras positioned on the left and right like human eyes, the EyeSight driver assist system is able to detect vehicles and pedestrians ahead of the vehicle in three dimensions and to accurately determine the distance, shape, and velocity of each object. This preventive safety technology helps avoid accidents, minimizes damage, and reduces the burden on the driver. The next-generation EyeSight system installed in the 2020 SUBARU Levorg features redesigned stereo cameras that allow for expanded visibility, as well as 360-degree sensor capabilities from the four radar units located at the front and rear of the vehicle. This system contributes to safe driving in an even wider range of situations, including intersections. In addition, the EyeSight X advanced driver assist system adopted in the new Levorg in Japan combines information from sources such as the GPS and QZSS "Michibiki" satellite systems with high-precision 3D map data, which extends driving support functions including lane change assist, slowing the vehicle before going into a curb, and hands-off driving assist in traffic congestion. We provide the latest features that reduce the burden on the driver and allow for safer, more comfortable road travel, particularly on highways, while maintaining value for money.