Business performance
Past results and forecasts for the current fiscal year.
Business Performance of FYE 2019
Performance in FYE 2019
FYE 2018
FYE 2019
Increase / Decrease
Net sales
3,232.7
3,160.5
−72.2
Operating Income
379.4
195.5
−183.9
Ordinary Income
379.9
196.2
−183.7
Net Income
220.4
147.8
−72.5
Exchange Rates
¥111/US$
¥130/EURO
¥111/US$
¥129/EURO
−¥1/US$
¥0/EURO
Unit Sales Total
1,067
1,000
−67
Operating income declined 48.5% to 195.5 billion yen for factors such as an increase in quality-related expenses due to recall campaigns notified in November 2018 and a decrease in consolidated unit sales. Ordinary income decreased 48.3% to 196.2 billion yen. Net income attributable to owners of parent fell 32.9% to 147.8 billion yen.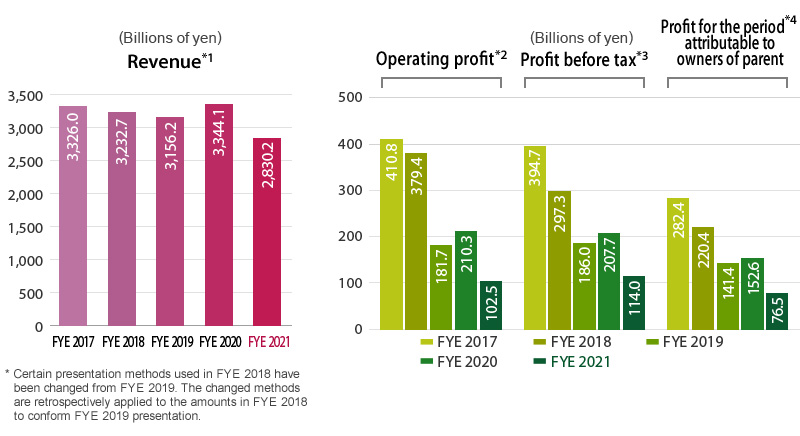 Consolidated Automobile Sales
In overseas markets, Subaru kept strong momentum on retail sales, as the newly-introduced Ascent led sales in Subaru's largest North American market. On the other hand, consolidated overseas unit sales fell 4.3% to 865,000 units, for reasons including decreased deliveries of the Forester before the launch of its fully-redesigned version in the first half of the year. Consolidated unit sales in Japan decreased 17.2% to 135,000 units, as sales of Impreza, SUBARU XV and Levorg declined, offsetting strong demand for the fully-redesigned Forester launched in July 2018. Consolidated global unit sales of Subaru vehicles decreased 6.3% to 1,000,000 units.
Business Plan of FYE 2020
(* Forecast as of May 10, 2019)
Projection of Consolidated Results for FYE 2020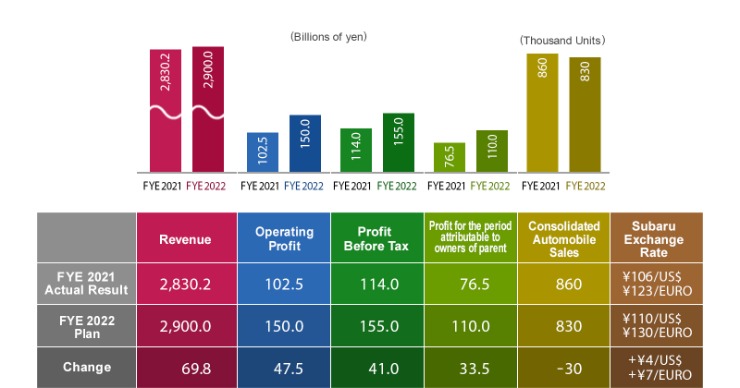 As the Company is voluntarily adopting International Financial Reporting Standards (IFRS) for its consolidated financial statements from the fiscal year ending March 2020, forecasts for FYE2020 are calculated based on IFRS.*1 Consolidated global unit sales are projected to be 1,058,000 vehicles*2 in prospect of growth mainly in the North American market. The Company projects revenue*3 of 3,310 billion yen, operating profit*4 of 260 billion yen, profit before tax*5 of 270 billion yen, and profit for the period attributable to owners of parent*6 of 210 billion yen.
*1

Percent changes from the previous year (FYE2018) for forecast figures are not stated, as results for the previous year are based on the Japanese generally accepted accounting principles (JGAAP).
*2

Under IFRS, revenue recognition timing for unit sales in Japan is on a delivery-to-customer basis, whereas it is on a vehicle registration basis under JGAAP.
*3

"Net sales" in JGAAP is stated as "revenue" in IFRS.
*4

"Operating income" in JGAAP is stated as "operating profit" in IFRS.
*5

"Income before income taxes" in JGAAP is stated as "profit before tax" in IFRS.
*6

"Net income attributable to owners of parent" in JGAAP is stated as "profit for the period attributable to owners of parent" in IFRS.