Return to Shareholders
Dividend information.
Return to Shareholders
The Company regards shareholder interests as an important management priority and applies a performance-linked approach based on continuous and stable dividend payment, by considering the business performance of each fiscal year, investment plans, and the business environment. In the mid-term management vision "STEP" announced in July 2018, we have set the following policies: (1) Position dividends as the main form of return to shareholders, with an emphasis on stable, continuous returns; and (2) Set annual dividend for the next three years (from year ended March 2019 to year through March 2021) at 144 yen per share, and conduct share repurchases flexibly depending on cash flow.
However, the ongoing global pandemic of COVID-19 is significantly impacting production, sales and other business activities of the Subaru Group. It is to our regret that we are announcing a change of the year-end dividend from the level projected most recently to 28 yen, which is the level we came to after comprehensively assessing the situation, including our future needs of funds.
As a result, the per-share dividend for FYE 2020 comes to 100 yen, including the interim dividend of 72 yen per share already distributed.
Year-end dividend payment for FYE 2020 is scheduled to start on June 24, 2020.
Dividend Payment Ratio, Dividend Yield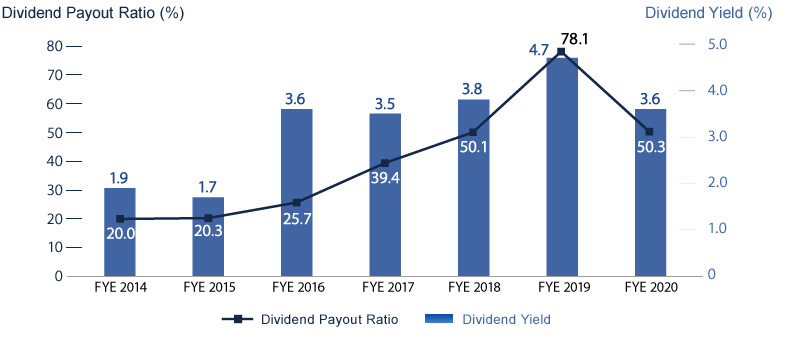 Dividend
FYE 2014
FYE 2015
FYE 2016
FYE 2017
FYE 2018
FYE 2019
FYE 2020
Dividend
Interim
20.0
31.0
72.0
72.0
72.0
72.0
72.0
End of Term
33.0
37.0
72.0
72.0
72.0
72.0
28.0
Dividend Yield
1.9
1.7
3.6
3.5
3.8
4.7
3.6
Dividend Payout Ratio
20.0
20.3
25.7
39.4
50.1
78.1
50.3
In response to the spread of COVID-19, we suspended plant operations in Japan (Gunma Plant) and overseas (plant in the U.S. at Subaru of Indiana Automotive, Inc.). We resumed operations on May 11, but plan to operate at adjusted levels of production for the time being. In terms of sales activity, many dealers in the mainstay U.S. market continue to face various restrictions.
We withhold release of consolidated earnings forecast for the fiscal year ending March 2021 as it remains uncertain at this point when the COVID-19 situation may be resolved, and it is difficult to reasonably estimate its impact on the Group's production, sales and other business activities. We plan to disclose estimated consolidated earnings and dividend payout forecast for the year ending March 2021, as soon as we can make calculations for them.
For More Information