Guide to Subaru

Aerospace Company
Aerospace Company
Leading the Market of Aerospace Industry and Being Involved in the Development and Production of Various Aircrafts
Toward Establishing a Strong Presence
Based in Utsunomiya City, Tochigi Prefecture, and Handa City, Aichi Prefecture, the Aerospace Company has been involved in the development and production of a wide range of aircraft. In the passenger aircraft sector, the company is building on experience gained in international joint development projects for the Boeing 767 and 777 as it uses carbon-fiber composites to develop and manufacture lightweight, high-strength center wing boxes for the Boeing 787 and manages their integration with the main landing gear well structure. In 2015 the company signed a formal agreement on participation in Boeing's next development project, the 777X, and, following on from the 777 and 787, will once again be responsible for the center wing box, a crucial element of aircraft structure.
Utilizing its original technologies for unmanned aerial vehicles, the company has developed an Unmanned Aircraft Research System and a Flying Forward Observation System for the Japanese Ministry of Defense (MOD) and worked on the development of unmanned supersonic aircraft for the Japan Aerospace Exploration Agency.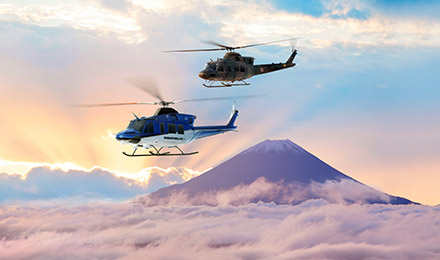 The Aerospace Company has also supplied a variety of fixed-wing aircraft to the MOD, including the T-1 (a trainer supplied to the Air Self-Defense Force that was the first jet developed and produced in postwar Japan), the T-7 (the primary trainer of the Air Self-Defense Force), and the T-5 (a trainer used by the Maritime Self-Defense Force).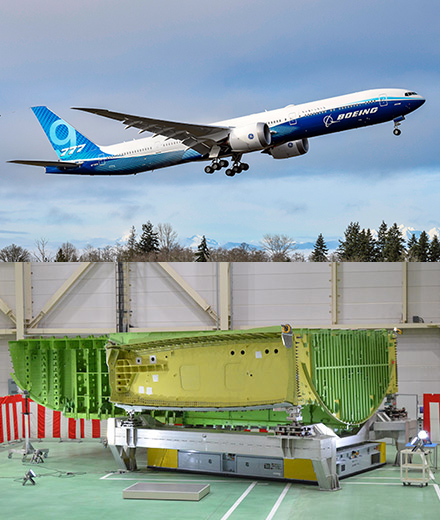 The company is Japan's only manufacturer of attack helicopters producing the AH-64D under license from Boeing. In 2015 the company won contract with MOD to develop the new UH-X utility helicopter for the Ground Self-Defense Force. It has a proven track record in many aspects of the helicopter business, including maintenance services for Japan Coast Guard and local government helicopters.
Leveraging the innovative and advanced technologies it has developed to date, the Aerospace Company will continue to generate new value in the aim of enhancing its global presence as an aircraft manufacturer.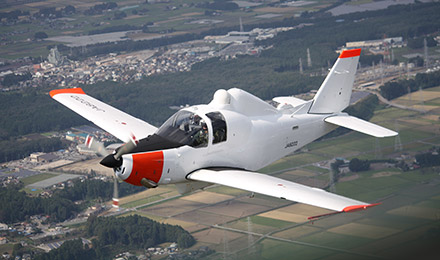 [Main products]
AH-64D attack helicopter/UH-1J utility helicopter/T-5 primary trainer/The unmanned utility vehicle/The center wing of Boeing 777/The center wing of Boeing 787