Orders for the New Subaru Levorg and WRX S4
More Than Double Their Targets in Japan
Tokyo, August 7, 2017 – Subaru Corporation today announced that orders for the new Subaru Levorg and WRX S4 in Japan have reached 5,234 units*1 and 1,024 units*1 respectively in one month after their releases on July 3, more than doubling their monthly sales targets. The upgraded EyeSight system including a new Touring Assist function has been fitted as standard equipment on new Levorg and WRX S4 models, further enhancing their safety performance.
*1. Number of orders made during the period from May 23, the start of pre-orders, through August 6.
The breakdown of the orders is as follows:
< By Trim: Levorg >
Displacement
Trim
Orders
1.6GT EyeSight
623
11.9%
1.6GT EyeSight S-style
486
9.3%
1.6L
1.6GT-S EyeSight
1,286
24.6%
1.6STI Sport EyeSight
1,305
24.9%
1.6L Total
3,700
70.7%
2.0GT-S EyeSight
412
7.9%
2.0L
2.0STI Sport EyeSight
1,122
21.4%
2.0L Total
1,534
29.3%

Levorg Total

5,234
< By Trim: WRX S4 >
Displacement
Trim
Orders
2.0L
2.0GT EyeSight
255
24.9%
2.0GT-S EyeSight
769
75.1%

WRX S4 Total

1,024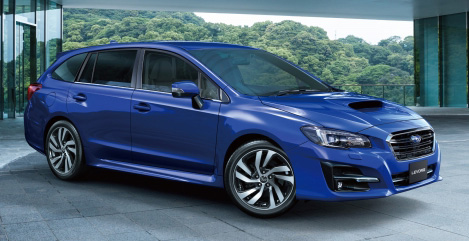 Levorg 2.0GT-S EyeSight
< By Exterior Color: Levorg >
| | |
| --- | --- |
| Exterior color | |
| Crystal White Pearl | 32.5% |
| Chrystal Black Silica | 16.9% |
| Dark Gray Metallic | 16.4% |
| Storm Gray Metallic | 9.4% |
| Ice Silver Metallic | 7.9% |
| Lapis Blue Pearl | 7.6% |
| WR Blue Pearl | 7.4% |
| Pure Red | 1.9% |
< By Exterior Color: WRX S4 >
| | |
| --- | --- |
| Exterior color | |
| Crystal White Pearl | 39.2% |
| Chrystal Black Silica | 20.4% |
| Dark Gray Metallic | 19.7% |
| Ice Silver Metallic | 9.5% |
| WR Blue Pearl | 8.9% |
| Pure Red | 2.3% |
###