February 12, 2004
Exhibition outlines of the 74th Geneva International Motor Show
  Fuji Heavy Industries Ltd. (FHI), a global manufacturer of transportation and aerospace-related products and the maker of Subaru automobiles, today announced that it will unveil its Subaru Legacy Sedan 3.0R spec.B (Prototype), and concept cars B9SC and R1e at the 74th Geneva International Motor Show to be held at Geneva, Switzerland.
  A press briefing is scheduled for Tuesday, March 2nd from 14:45 at the Subaru booth, where President Kyoji Takenaka, Advanced Design's Chief Designer Andreas Zapatinas will be present (Speeches will be delivered in English).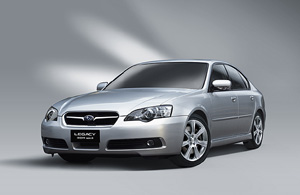 Legacy Sedan 3.0R spec.B
1.
Legacy Sedan 3.0R spec.B (Prototype)
 
The 3.0R Spec.B model is fitted with a 6-cylinder SUBARU BOXER Horizontally - Opposed engine with Active Valve Control System, and 6 speed manual transmission which used for Subaru Impreza WRX STi. Bilstein suspension (front is inverted struts), 215/45R18 tires, realized high quality driving performance and sporty feeling, the Legacy Sedan 3.0R spec.B is the vehicle with improved joy of driving.
 
2.
2. Concept cars
 
■ B9SC
 
Exhibited and well received at the Tokyo Motor Show, B9SC is a "scrambler" type automobile just like such kind of motorcycle had been existed and it means open air and on/off-road availability. The car's power train is called Sequential Series Hybrid Electric Vehicle (SSHEV) - a fusion of our own Symmetrical AWD system and the latest HEV technologies.
 
■ R1e
 
Exhibited at the Tokyo Motor Show, as a mobile tool that fits well with personal use in the urban life, the Subaru R1e features a 2 + 2 layout packaging. The Electric Vehicle (EV) power unit uses a high-performance battery and advanced power control technology with consideration given to the environment as well.
 
3.
Other vehicle exhibits ( * indicates public day only)
 
Legacy
:Station Wagon 3.0R, 2.5i, 2.0i *,Sedan 3.0R
 
Outback
:3.0R, 2.5i
 
Forester
:XT, X
 
Impreza
:Sedan WRX STi, WRX, Sports Wagon WRX, 1.6TS*
 
G3X Justy
:1.3, 1.5*

---
Copyright(C)FUJI HEAVY INDUSTRIES LTD,2000.ALL Rights Reserved.