Note: Since this section contains the CSR report issued in August 2016, it uses the former company name (Fuji Heavy Industries).
Summary of SUBARU MEETING 2016
DATE

Sunday, March 27, 2016, 10.00am - 4.00pm
Venue

Subaru Test & Development Center (SKC), Fuji Heavy Industries, Ltd.
Entry conditions

People who applied to a specially established site during the application period and were selected as winners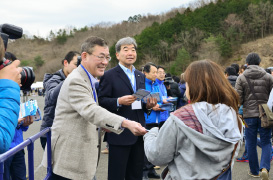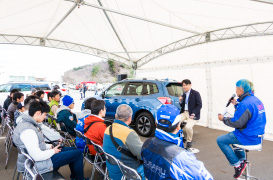 SUBARU FAN MEETING 2016 was held on Sunday, March 27, 2016 at the Subaru Test & Development Center (SKC) in Sano City, Tochigi Prefecture. It was the first time for the event, which attracted some 2,500 users.
The FHI Group has established a policy of "Enhancing the Subaru brand" in our Mid-Term Management Vision Prominence 2020, and we are working to build stronger ties with our fans as part of that.
The objective of the fan meeting was to deepen the ties between users and Subaru through unique SKC events such as the Subaru DNA Forum that provided interaction with development staff, the Owners' Meeting where the developers of each model (PGM) talked development secrets, and the High Speed Driving Experience.
Subaru DNA Forum Connecting Users and Development Staff with the Concept of Safety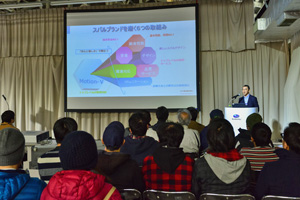 The Subaru DNA Forum had two parts. The first part was the Subaru DNA Presentation which discussed Subaru's history of commitment to fundamental performance and safety and the monozukuri (making things) spirit in our DNA, which has been handed down to automobile development today. Many users took part and listened with great interest.
The second part was the Subaru DNA Seminar, where booths were set up based on the five themes of 1.6l intelligent "DIT," the pleasure of driving, collision safety performance, EyeSight, and design concepts with a panel discussion. There was a lively exchange of opinions between development staff, mainly engineers, and users.
At every booth, we received many diverse opinions from the unique point of view of users in areas such as the approaches and positions of development staff and initiatives in development and testing.
Collision Safety Performance booth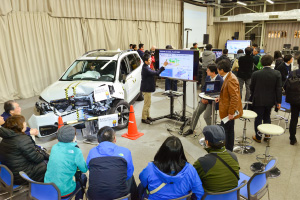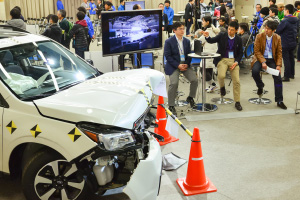 Used test vehicles and dummies to explain all the scenarios required in collision testing in order to save lives. Users experienced the rigor of collision testing.
EyeSight booth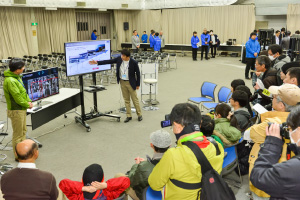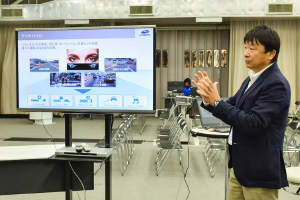 Displayed the whole booth shot by EyeSight on a screen.
Users found out directly how EyeSight actually recognizes objects.
Thank you to everyone who visited us.