Our Basic Approach and Policy to Procurement
In keeping with our Corporate Philosophy, the Subaru Group strives to procure high quality, environmentally friendly parts, materials, and equipment that offer excellent cost performance. To realize this goal, it is necessary for us to establish relationships with our business partners based on equality, trust, mutual benefit, and dedication to continuous improvement.
Fundamental Procurement Policy
Subaru has been promoting procurement activities under the following basic policy.
Compliance & Green Procurement
We engage in procurement activities in a way to harmonize man, society and the environment and conduct transactions paying due care to observe legal and societal rules and to protect the environment.
Establish Best Partnership
We establish "WIN-WIN" relationships with suppliers through transactions based on mutual trust under the doctrine of good faith.
Fair and Open Way of Selecting Suppliers
In selecting suppliers, the door is wide-open to all firms, domestic and overseas, for fair and equitable business to procure goods and services most excellent from six perspectives: quality, cost, delivery, technical development, management and environment.
Promotional System for Appropriate Business Practices and CSR Procurement
In the past, the procurement departments of Automotive Business, Aerospace Company, and Industrial Products Division have participated in the Purchasing Environmental Committee, striving to solve environmental issues in the area of procurement. In FY2012, the committee changed its name to the Purchasing Committee and expanded its mission to include the eight CSR action items of our company.
The policy of the Purchasing Committee is to facilitate fair procurement practices and encourage CSR at suppliers, thereby helping to ensure fair trade with business partners and cooperative CSR-based procurement throughout the supply chain.
Promoting Fair Trade
We have observed the laws and regulations related to procurement, including the Antimonopoly Act and the Act against Delay in Payment of Subcontract Proceeds, Etc., to Subcontractors.
Even for employees, we provide legal and regulatory training for those in charge of procurement and transmit alerts on our intranet to ensure that business is conducted properly.
Consultation service for promoting fair-trade (Japanese version only)PDF/164kB
Employee Training on Fair Trade in FY2017
Automotive Business
Reception training for transferees (15 employees)
Training session on Fair Trade Guidelines (107 employees)
Test to check understanding of Subcontract Act (141 employees)
Checks on carrying of Subcontract Act compliance cards: confirmed that all target employees were carrying the cards
Aerospace Company
Reception training for transferees (7 employees)
Procurement process training (156 employees)
Material Department EMS※ training (103 employees)
Briefings on progress status of purchasing reforms (168 employees)
Industrial Products Division
Reception training for new recruits (2 employees)
IMDS off-site training (1 employee)
CSR Guidelines for Suppliers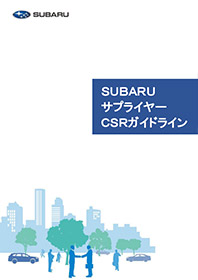 Based on the CSR Guidelines for Suppliers issued by Japan Automobile Manufacturers Association, Inc. (JAMA), we have created the SUBARU Supplier CSR Guidelines by incorporating our CSR policy for the business partners of SUBARU Automotive Business. We expect these guidelines will help our partners to conduct further CSR activities and expand such activities jointly with their own business partners.
2In FY2014, these guidelines were made company-wide including all suppliers of the Automotive Business, the Industrial Products Division and the Aerospace Company, and in FY2016, we revised the content to incorporate the non-use of raw materials that engender social problems, such as conflict minerals.※
We are also conducting supplier surveys related to conflict minerals.
Similarly, in FY2016, we revised the guidelines in the form of a joint edition with SIA, our local production plant in the U.S., confirming the integration of procurement policy.
Five Topics in the SUBARU Supplier CSR Guidelines
We promote our procurement activities based on the following basic approach.
(1) Safety and Quality
Providing products and services that meet consumer and customer needs
Providing appropriate information concerning products and services
Ensuring safety of products and services
Ensuring quality of products and services
(2) Human Rights and Labor Issues
Striving to avoid discrimination
Respecting human rights
Prohibiting child labor
Prohibiting forced labor
Non-use of raw materials that engender social problems
Compliance with the law on working hours
Practicing dialogue and consultation with employees
Ensuring a safe and healthy working environment
Providing human resource training
(3) Environment
Implementing environmental management
Reducing greenhouse gas emissions
Preventing air, water, and soil pollution
Saving resources and reducing waste
Managing chemical substances
Conservation of the eco system
(4) Compliance
Compliance with laws
Compliance with competition laws
Preventing corruption
Managing and protecting confidential information
Managing export trading
Protecting intellectual property
(5) Information Disclosure
Disclosing information to stakeholders
Basic Policy on Conflict Minerals
Some of the minerals (tin, tantalum, tungsten, and gold) produced in the Democratic Republic of the Congo and surrounding countries are said to provide a source of funding for armed insurgents engaged in the infringement of human rights and environmental destruction in the region. As there are concerns that they assist conflict, they are termed conflict minerals.
The Subaru Group has no intention of colluding in the infringement of human rights and environmental destruction by procuring and using conflict minerals. Going forward, we will address the issue of conflict minerals in partnership with our customers and suppliers as our social responsibility in procurement activities.
Communication with Partners
In an effort to share with partners our mid- to long-term management strategies and our sales, production and procurement policies, we have been hosting "Policy Briefings" every spring. We also periodically exchange information by participating in "Cooperation Meetings" comprised of our partners.
Once a year, we award those partners that have particularly contributed to technology and quality.