Environmental Communication
Environmental Communication
Subaru values the relations with all our stakeholders, and to become a trustworthy corporation that brings peace of mind to our stakeholders, we widely disseminate examples of our environmental conservation activities, environmental data, etc. in an easy-to-understand manner through various media, such as CSR reports and our website.
Exhibit at "EcoPro 2017-International Exhibition on Environment and Energy"

Our booth made of white birch trees of Bifuka Town where Subaru Forest Project was launched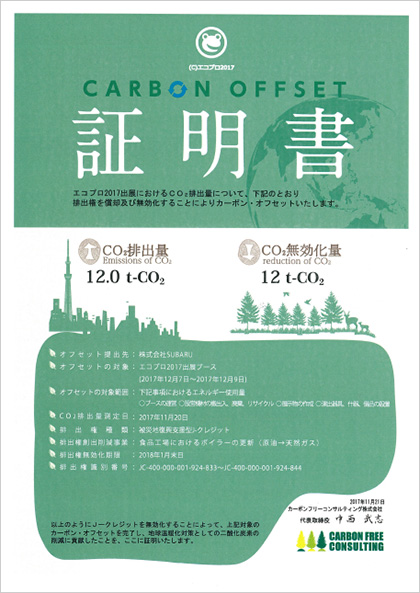 Carbon Offset Certificate
"EcoPro 2017-International Exhibition on Environment and Energy," the largest environmental exhibition in Japan was held in December 2017. Our exhibition booth featured the Subaru Forest made of white birch trees in Bifuka Town, Hokkaido, where we have the Subaru Test & Development Center Bifuka Proving Ground. We introduced Subaru Group's environmental initiatives, and more than 6,000 people visited the SUBARU booth in three days. Additionally, as an effort to reduce CO2 emissions, we participated in J-Credit Scheme for disaster area reconstruction support and had offset CO2 emissions by 12.0 t-CO2 resulting from exhibition.
Communication with Local Residents
At the Gunma Plant, we communicate daily with people in the community who live near the factories, dormitories, and corporate housing. Representatives of the factories visit local government representatives every month and exchange information about circumstance in the area and requests to our factories while introducing Subaru events.
In addition, once a year we open our factories for visits and explain the status of the Gunma Plant and our environmental initiatives so that visitors gain deeper understand of our activities.
Checking the Perimeter of our Factories for Odor, etc.
At the Gunma Plant, we check the perimeter of the factories on a daily basis because as a rule of thumb, the levels of odor, noise and the like are greatly different between the levels shown by the measuring instrument and how people actually feel. In addition, by setting up the consultation desk to hold a dialogue with local government representatives and holding factory tours, we closely communicate with neighboring residents, and improve production facilities as appropriate, based on their valuable feedback.
Factory Tour of the Gunma Plant
At the Gunma Plant, we invite elementary school children to utilize factory tours for their field trips. In FYE2018, 91,694 people, including the public, visited our factory. Also, in the SUBARU Visitor Center, we exhibit what is being recycled and what comes out of the recycling in the panel on the wall, which helps visitors to learn about recycling of automobiles.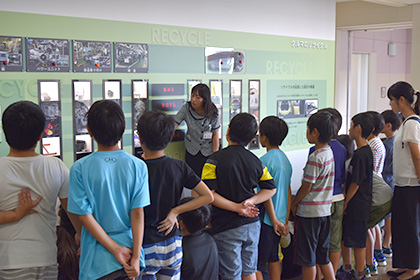 Area to learn about automobile recycling
Eco-Science Fair and Go Green Event 2017
The Fair and Go Green event is a single event of which Subaru of Indiana Automotive, Inc.(SIA) was the title sponsor. The event was held in April, 2017 at the Indiana State Museum, which is located in downtown Indianapolis. About 100 students attended, from elementary age through high school. All the science exhibits are designed around ways to improve our environment and lessen our carbon footprint. SIA made a presentation around our own environmental initiatives and also awarded a grant to a project SIA's judges thought was the most interesting and well-presented. This $3,000 grant went to the school and the student received a special plaque. SIA intends to continue the sponsorship.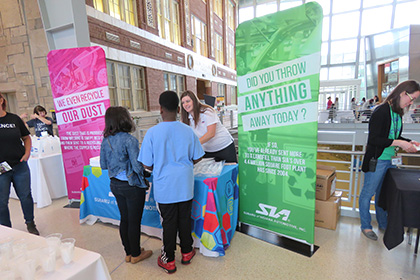 SIA booth introducing recycling activities