Our Approach to Biodiversity
Subaru Group recognizes the impact its business activities may have on biodiversity and also the importance of preserving biodiversity, and thus makes clear in its Environmental Principles that it strives to address environmental issues on a global scale including biodiversity through all its business activities.
In promoting biodiversity preservation, while referencing external initiatives such as the Guidelines for Private Sector Engagement in Biodiversity and the Declaration of Biodiversity: Guide to Action Policy by Keidanren, Federation of Economic Organizations, we are in the process of creating an active biodiversity preservation network through participation in the Private Sector Engagement in Biodiversity Partnership.
Subaru launched a working group in FYE March 2015 across all business sites, studied the relationship between our business activities and biodiversity, and then identified potential risks. After identifying the priority issues that we need to tackle first, we have formulated roadmaps and are steadily addressing and promoting them by the entire Subaru Group.
Domestic Initiatives
Subaru Forest Project
Subaru has launched the Subaru Forest Project initiative that directly links to the biodiversity conservation. Among various corporate activities, this is the one that embodies "coexistence with nature" of Subaru Environmental Policies.
Conservation of Forest within the Subaru Test & Development Center Bifuka Proving Ground, Hokkaido
Subaru launched development and conservation activities in June 2017, including tree-planting, forest-thinning and nature conservation programs, in a forest of 115 ha which Subaru Test & Development Center Bifuka Proving Ground owns in its site. Additionally, Subaru are seeking possibilities of forest development and specific activities in collaboration with local communities, such as with Bifuka-cho. In June 2018, we signed an "Agreement on Implementation of Forest Conservation Activities" with Bifuka-cho municipal govermmrnt, Hokkaido, Japan and a signing ceremony was held.
Outline of the agreement on the Implementation of Forest Conservation Activities
Gain Group Forest Certification*1 covering a wide area to exercise sustainable forestry practices for the common good in the aim of preserving the global environment.
Utilize the J-Credit Scheme*2 certified by the Japanese government to promote carbon sink measures through appropriate forest management.
Collaborate in the annual tree-planting event organized by Bifuka-cho as part of efforts to conserve forests, encourage planting, and promote tree-growing.
Support environmental improvements at Matsuyama Marsh*3, a local tourism resource.
Supply surplus timber from forest-thinning in forests owned by Subaru for use as fuel in wood-burning biomass boilers.
*1

"Group certification" enables several forest managers to form a group and obtain certification together rather than singly.
*2

"J-Credit System": Under the J-Credit Scheme, the government certifies the amount of greenhouse gas emissions (such as CO2) reduced or removed by sinks through efforts to introduce energy-saving devices and manage forests, as "credit." Credits created under the scheme can be used for various purposes, such as achieving the targets of low carbon society initiatives and carbon offset efforts.
*3

Matsuyama Marsh: Located 797m above sea level, Matsuyama Marsh is one of Japan's 500 most important wetlands and designated Nature Conservation Area in Hokkaido.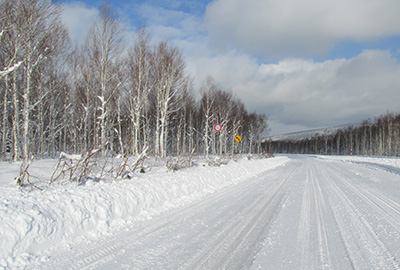 Subaru Friendship Forest Akagi: Gunma Prefectural Forest Park
Subaru obtained the naming rights of the Prefectural Forest Park in Gunma Prefecture where Subaru's automobile production plant is located. The name "Subaru Fureai Forest Akagi" will be used for 5 years from April 2018. Going forward, and will support conservation improvement activities of surrounding prefectural forests and hold and support environmental events in this park.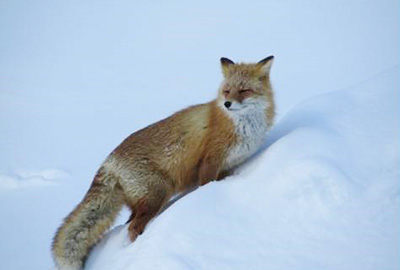 Subaru Forest Utsunomiya: Forest Park in Utsunomiya City, Tochigi Prefecture
Part of the municipal forest in the forest park in Utsunomiya City, Tochigi Prefecture, where the Aerospace Company of Subaru is located, is now called "Subaru Forest Utsunomiya," and in collaboration with Utsunomiya City, we will support forest conservation improvement activities there.
Related information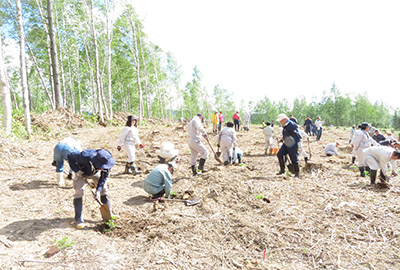 Activities for Preserving Rare Species
In the Tokoji temple in Kitamoto City, Saitama Prefecture, where our Industrial Products Co.,Ltd.is situated, there stands IshitoKabazakura (cherry tree), one of the five major cherry trees in Japan, designated as Japan's natural monument in 1922. Our Industrial Products Co.,Ltd.inherited the descendants of the tree in March 2003, and are carefully nurturing them at our site.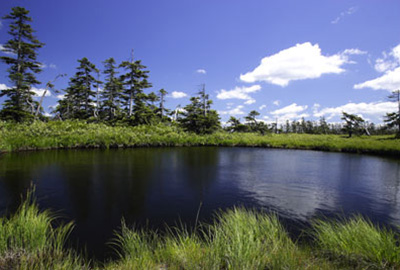 Initiatives with Careful Consideration to Biodiversity in Green Space
Based on the Ikimono Plus®*, a simple evaluation tool for biodiversity, the boundary areas of the north and east sides of the Tokyo Office were planted with East Asian beautyberry (callicarpa japonica) and bamboo-leaf oak (quercus myrsinifolia) that are grown around Musashino area, in consideration of biodiversity. Through this initiative, we are contributing to enriching the Musashino scenery of rich nature.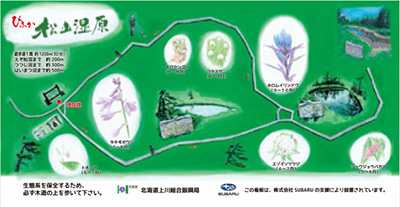 Flower Distribution Activities Contributing to Biodiversity Consideration
Gunma Plant promotes biodiversity contribution initiatives as part of activities carried out by Subaru Community Exchange Association.
Flower distribution activities
Three times a year, flower seedlings are distributed to member corporations of the Subaru Community Exchange Association. We changed the seedlings to the varieties that contribute to biodiversity in September 2015, and since then each corporation is promoting greening activities in consideration with biodiversity.
Elementary school flower bed contest
A flower bed contest is held for the elementary schools in Ota City and Oizumi Town. We have donated flower seedlings that contribute to biodiversity to the elementary schools to create flower beds since September 2015.
In FYE March 2018, there were 301 participants from 16 schools. We believe that the participants were able to have rich experiences such as having fun by raising flowers and making new discoveries through creating flower beds.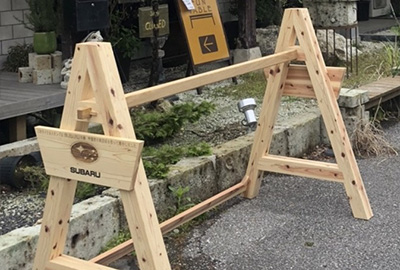 Overseas Initiatives
The SUBARU Forest ecology Conservation Project in China: "31 Forest Star Tours"
The Subaru of China Ltd. (SOC) established the "The SUBARU Ecology Conservation Forests Project" at the end of 2012 in collaboration with China Wildlife Conservation Society in China National Forestry Administration.
Since 2013, the SOC has established 31 Subaru Ecology Conservation Forests in nature reserves in 31 provinces in China, in collaboration with China Wildlife Conservation Society. By 2017, it was carried out "31 Forest Star Tours" events that aim at afforestation and rare species protection for five consecutive years. For those events, the SOC has regularly provided vehicles and needed goods. As a result, over 300,000 or so people in total have participated, with touring over 60 nature reserves throughout China making the total traveled distance over 60,000 km. Now, the 31 Forest Star Tours is widely recognized in China.
In China, the "Forests of China Public Interest Platform" (Forests of China) was established under the leadership of the government in 2014, promoting natural environment protection and forest ecology protection at national level. SOC has partnered with Forests of China in 2015 and has cooperated with their ecological conservation activities. Having been appreciated for its activities, SOC together with Forests of China received a "Letter of Appreciation" from the United Nations, and gained international recognition. In September 2017, the 13th Conference of the Parties (COP 13) to the United Nations Convention to Combat Desertification (UNCCD) was held in Ordos City, Inner Mongolia, and SOC participated in this conference by invitation of Forests of China.
SOC will continue to perform activities in harmony with the local natural environment and will promote initiatives to conserve biodiversity.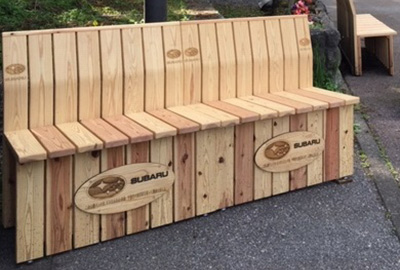 Initiatives Aiming at Coexistence with Nature
At Subaru of Indiana Automotive, Inc. (SIA), as a result of its ecology protection efforts such as to improve the area of anti-flood ponds within the plant and surrounding greenery to make local wildlife easy to inhabit, the SIA had been certified from the National Wildlife Foundation (NWF) in 2003 as an area that wildlife lives. This was the first certification as a U.S. automobile production plant
Wild Canadian wild geese, herons and American bald eagle the water field installed inside the circulation circuit of the test course on the north side of the factory as feeding and resting grounds and many wild deer inhabit the green area behind the recreation center. SIA still now maintains a factory surrounded by rich nature.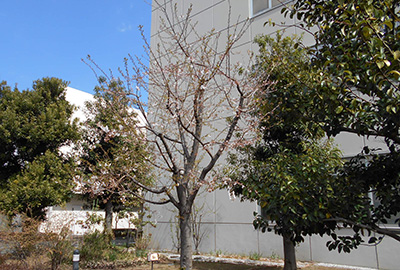 Supporting Activities to Establish Certified National Wildlife Habitats in the US
Subaru of America, Inc. (SOA) has worked in cooperation with NWF from 2016 to protect wildlife with "Subaru Loves the Earth" as its slogan. As of April 2017, 412 SUBARU dealers across the US have partnered with NWF and are cooperating in activities to establish Certified National Wildlife Habitats at local schools. Participating dealers have donated kit sets including NWF-designated feeding boxes, bird's nest boxes and bathing places, organic soils, watering tools, shovels, etc. to elementary schools and supported activities. As a result, by April 2017, 421 Certified National Wildlife Habitats were established.
In this activity, particular attention is paid to the monarch butterfly. The monarch butterfly is a butterfly mainly inhabiting North America, but in recent years the population has decreased significantly due to the disappearance of their habitats. In cooperation with the NWF protection program "Butterfly Heroes Program", SUBARU has provided 100,000 Butterfly Heroes Kits for the protection of 400,000 butterflies.
As part of the enlightenment activities, these activities are also communicated from dealers to customers in collaboration with NWF, which has become an opportunity for the customers to have interest in protecting the wildlife.