Note: Since this section contains the CSR report issued in August 2016, it uses the former company name (Fuji Heavy Industries).
All Domestic Dealers Obtain "Eco Action 21" Certification
In order to strengthen the environmental conservation efforts by Subaru domestic dealers, we have actively encouraged, as well as provided support for introducing the "Eco Action 21" environmental management system, created by the Ministry of the Environment based on ISO 14001.
Certification was first acquired by Tokyo Subaru Inc. in January 2009, and certification of all dealers and outlets in Japan were completed in March 2011. Since then we are striving to keep up our efforts. We are the only domestic automobile manufacturer to acquire Eco Action 21 certification for all companies, outlets, and offices.
We will continue to support the Subaru team with voluntary environmental conservation activities through Eco Action 21.
Zero Emission at Domestic Dealers
From April 2012, Subaru dealers began improving appropriate treatment activities for waste generated from their business activities to promote environmental conservation.
Collaboration and cooperation with a body of companies and industrial organizations are being carried out for resource recycling as well as a review of conventional treatment methods, leading to zero emission activities targeting resource recycling within Japan. Various activities are being developed, including recycling of used lead-acid batteries, waste oil, used tires, etc.
The result of these activities in FY2016 was that 1,197 tons of used lead-acid batteries, 4,944 kiloliters of used oil, and 194,191 used tires were collected and recycled.
We believe that the zero emission activities of dealers, who are closest to stakeholders, are environmental conservation activities closer to home. They are also able to provide a safe and secure environment, in addition to products, by promoting more effective use and appropriate processing through defining corporate responsibility and recycling resources.
Recycling Waste Oil
Waste oil generated at Subaru dealerships throughout Japan during oil changes is recycled as recycled fuel oil based on the zero emissions scheme created by Fuji Heavy Industries Ltd. Every year, farmers in Yamagata prefecture can grow beautiful poinsettia and cyclamen using this recycled fuel oil for heating greenhouses. These poinsettias were given to visitors to our event held on December 23, 2015, as a Christmas present.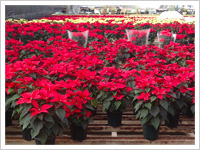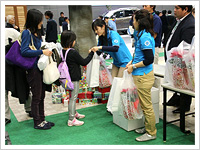 Recycling Used Tires
Used tires changed and collected at Subaru domestic dealers are crushed and made into rubber chips, which are then reused as fuel at plants such as power plant, paper making company(pulp) and iron factory,etc. In addition to this kind of thermal recovery, we have started to reuse these chips as paving materials. The used tires made into rubber chips are mixed in asphalt, or applied as an overlay of asphalt pavement. They can be used for parking lots, children's playgrounds, athletic fields, and sidewalks of hospitals/nursery homes, with varied blending ratios of chips depending on the use. We not only recycle the outer layer of the tires, but the entire rubber parts of those tires for pavement materials by sorting each part thoroughly, such as wires, rubber components, etc. We are the first car manufacturer to recycle all the rubber parts of a tire for pavement materials.