Our Approach to Recycling-based Society
The Subaru Group understands that constructing a recycling-based society is an important theme that is closely related to corporations in the manufacturing industry.
We aim to build a recycling-based society through having 100% automobile-to-automobile recycling to the extent possible considering the product life cycle, continuing to send zero landfill from domestic and foreign production plants to landfills, and aiming for a higher dimensional recycling.
Specifically, we put "resource recycling" as one of the themes of our Voluntary Plan for the Environment, which is the policy for environmental activities of the entire group, and we will steadily implement an environmental conservation voluntary action plan based on it.
Automobile Recycling Process
The Automobile Recycling Law calls for recycling of shredder dust, airbags, etc. and treating chlorofluorocarbons when an automobile has reached end-of-life. Under this law, most of end-of-life vehicles are treated properly in Japan and Japan's automobile recycling rate has reached 97.8% (Please see News Realease).
Promotion of Recycling Conscious Design
In order to use limited resources effectively, we promote recycling conscious design in automobile manufacturing.
Reducing Environmentally Hazardous Substances
We are also actively working on reducing the environmentally hazardous substances in automobiles.
We promote achieving the Japan Automobile Manufacturers Association (JAMA) reduction targets for cars in development, further reducing lead and mercury and using alternatives to environmentally hazardous substances such as brominated flame retardants.
Reduction Target and JAMA※s Voluntary Action Program
Substance
Target
(Implemented since)
Details of Reduction Efforts
Lead
Since Jan. 2006
Reduce the amount used per vehicle to less than 1/10 of 1996 levels
Mercury
Since Jan. 2005
Use prohibited, with a few exceptions (e.g., minute amounts in discharge headlights, and liquid crystal panels)
Cadmium
Since Jan. 2007
Use prohibited
Hexavalent Chromium
Since Jan. 2008
Use prohibited
Reducing VOCs in Vehicle Interiors
We are reviewing the components and adhesive agents used in vehicle interiors in order to reduce the use of volatile organic compounds (VOCs), such as formaldehyde and toluene, which are said to cause nose and throat irritation.
In the LEGACY, LEVORG, IMPREZA, FORESTER, EXIGA, and BRZ, we achieved the voluntary target by JAMA※ by reducing the concentration of the 13 substances defined by the Ministry of Health, Labor and Welfare to levels below the indoor concentration guideline values.
We will continue our efforts to reduce the levels of VOCs and such substances to further make the environment in vehicle interiors comfortable.
Processing of End-of-Life Vehicles (ELVs)
The Automobile Recycling Law enacted in 2005 obligates automobile manufacturers to fully remove and appropriately treat "Automotive Shredder Residue (ASR)," "Chlorofluorocarbons (CFCs)," and "Airbags."
The ASR recycling rate for FY2017 was 97.8%, already satisfying the FY2017 legal standard of 70%. In addition, we have been keeping our monthly record of zero landfill, which was first attained in May 2011.
As for airbags, we attained a recycling rate of 93.6%, exceeding the legal standard of 85%. Also, the entire amount of recovered CFCs has been appropriately treated.
Initiatives in Procurement
Initiatives in Production
Main Resources Invested in Automobile Manufacturing
In order to promote our environmental initiatives effectively and efficiently, we grasp the inputs and outputs in our business activities as well as overall of energy and resource consumption and environmental impact.
In addition, in order to realize a sustainable society in harmony with the environment through products and services, we take into consideration the environmental impact throughout the product lifecycle, from development, design to use and disposal, and strive to reduce our environmental impact comprehensively.
Overall Image of Subaru's Environmental Impact Concerning Automobiles [FY2017]
Initiatives for Waste Reduction at Plants
All Subaru manufacturing plants have maintained zero landfill for waste materials since FY2005.
Overview of Waste Generation and Processing in All Sites in FY2017
Note that no landfill waste was generated after external intermediate processing.
Primary Waste and Recycling Method
| Primary Waste | Primary Recycling Method |
| --- | --- |
| Wastewater treatment plant sludge | Raw materials for cement |
| Paint sludge | Reducing agents for steel |
| Waste plastics | RPF (solid fuels, etc.) |
| Paper waste | Recycled paper, RPF, etc. |
Initiatives in Distribution
Reuse of Packaging Materials
Subaru Logistics Co., Ltd., which handles packaging and transport for complete knockdown (CKD) parts of Subaru automobiles, has been carrying out activities to reduce environmental impact, focusing on the reuse of packaging materials.
The amount of reused packaging materials in FY2017 was 652.2 tons, 19% increase from the previous year. This was caused by the addition of the Impreza to the models produced in the United States and the increased production of the Legacy.
In addition, the amount of reused packaging material newly purchased was 15.3%, a 1.2 point reduction from the previous year. The cause for the reduction in new purchases was in sharing materials among car models and the reduction in damaged products.
We will continue to carry out environmental impact reduction activities by expanding the reuse of packaging materials.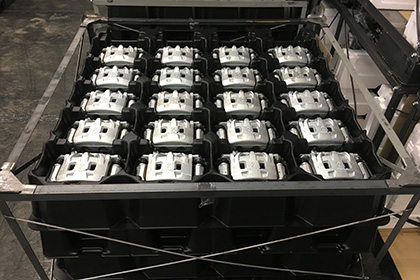 Plastic tray for calipers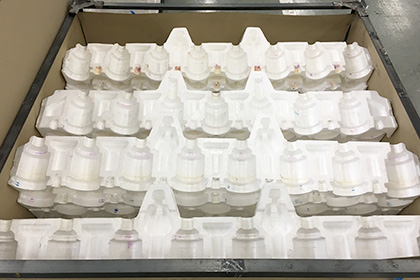 Foam for drive shafts
Initiatives for Sales
Zero Emission at Domestic Dealers
From April 2012, Subaru dealers began improving appropriate treatment activities for waste generated from their business activities to promote environmental conservation.
Collaboration and cooperation with a body of companies and industrial organizations are being carried out for resource recycling as well as a review of conventional treatment methods, leading to zero emission activities targeting resource recycling within Japan. Various activities are being developed, including recycling of used lead-acid batteries, waste oil, used tires, etc.
As the result of these activities in FY2017, 1,348 tons of used lead-acid batteries (208,231 used batteries), 5,290 kiloliters of used oil, and 197,902 used tires were collected and recycled.
We believe that the zero emission activities of dealers, who are closest to stakeholders, are environmental conservation activities closer to home. They are also able to provide a safe and secure environment, in addition to products, by promoting more effective use and appropriate processing through defining corporate responsibility and recycling resources.
Recycling Waste Oil
Waste oil generated at All Subaru domestic dealerships during oil changes is recycled as recycled fuel oil based on the zero emissions scheme created by us.
Every year, farmers in Yamagata prefecture can grow beautiful poinsettia and cyclamen using this recycled fuel oil for heating greenhouses.
These cyclamens were given to visitors to our event held in December 2016.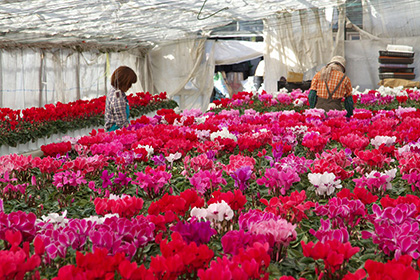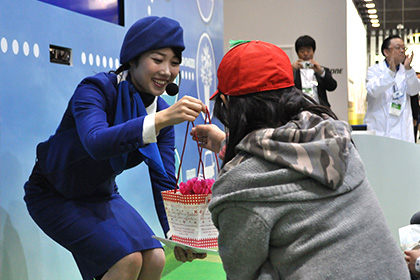 Recycling Used Tires
Used tires changed and collected at Subaru domestic dealers are crushed and made into rubber chips, which are then reused as fuel at plants such as power plant, paper making company(pulp) and iron factory,etc. In addition to this kind of thermal recovery, we have started to reuse these chips as paving materials. The used tires made into rubber chips are mixed in asphalt, or applied as an overlay of asphalt pavement. They can be used for parking lots, children's playgrounds, athletic fields, and sidewalks of hospitals/nursery homes, with varied blending ratios of chips depending on the use. We not only recycle the outer layer of the tires, but the entire rubber parts of those tires for pavement materials by sorting each part thoroughly, such as wires, rubber components, etc. We are the first car manufacturer to recycle all the rubber parts of a tire for pavement materials.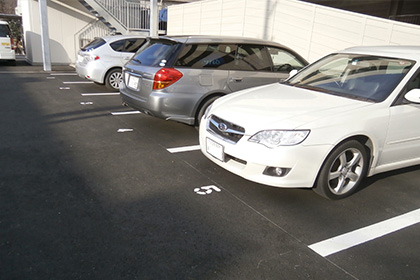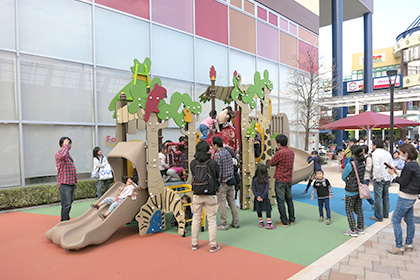 Initiatives for Offices
Dismantling facilities with consideration for the environment
- New construction method, the first in Japan, dramatically reduces environmental impact-
The demolition work performed from July 2016 to March 2017 to rebuild our Gunma Manufacturing Division West Building adopted a new construction method, the first in Japan, that minimized the impact on the surrounding environment with the cooperation of the construction company in charge of the work.
With this new construction method, there was virtually no vibration during demolition and noise transmitted to the site boundary was reduced to about 3/4 of that produced by conventional methods. In addition, the amount of dust was kept to below 10% of that produced by conventional methods.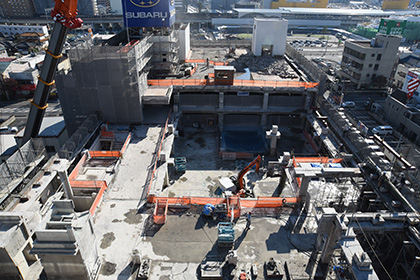 Overseas Initiatives
National Parks Zero Landfill Initiative
National Parks in the United States are a beloved natural resource, explored by millions every year. At Subaru, because we have such a strong connection to the outdoors we want to help protect and enhance our parks today and for future generations. That's why we are piloting a zero-waste initiative with the National Parks that borrows from our successful efforts to make our US manufacturing plant a zero-waste facility. This initiative is being piloted at three National Parks – Denali, Grand Teton and Yosemite – in partnership with the National Parks Conservation Association. Here, we are working to test various approaches to eliminate waste from our parks and then create best practices that can be applied, ideally, across the entire National Parks system.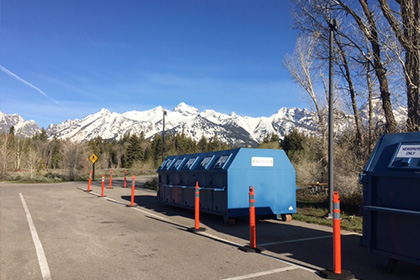 Recycling container at Grand Teton National Park. SOA has purchased new containers for visitor to deposit their recycling. In 2016 the Park increased their recycling rate by 2% and educated thousands of employees and visitors.