Initiatives for Distribution
Note: Since this section contains the CSR report issued in August 2016, it uses the former company name (Fuji Heavy Industries).
Reducing the Environmental Impact of Transporting Subaru Automobiles
During the transport of Subaru automobiles, we are contributing to reducing the environmental burden by promoting efficient transport, such as setting optimized transportation routes, promoting modal shifts, and improving loading efficiency.
In recent years, we have been able to reduce the amount of fuel use (improved fuel efficiency) and CO2 emissions from completed vehicle transportation by effectively using the improved Tokyo metropolitan highway network.
Also, we have flexibly responded to changes in the finished car model mix and to larger model types to be transported, have reviewed and improved loading and packing, and jointly transport finished vehicles with other companies in the same industry, in order to improve loading efficiency and reduce the number of shipments.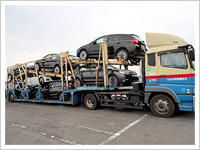 CO2 Emissions during Transport per Subaru Vehicle
Reuse of Packing Materials
Subaru Logistics Co., Ltd., which handles packaging and transport for complete knockdown (CKD) parts of Subaru automobiles, has been carrying out activities to reduce environmental impact, focusing on the reuse of packaging materials.
The amount of reused packaging material in FY2016 was 549.6 tons, an increase of 105% over the previous year, and the ratio of newly purchased reused packaging materials was 16.5%, a 0.3 point increase from the previous year.
As a result of this improvement in logistics, we received the "Logistics Grand Prize" at the "All Japan Logistics Case Convention 2015" sponsored by the Japan Institute of Logistics Systems.
We will continue to carry out environmental impact reduction activities by expanding the reuse of packaging materials.