Plant and Office Initiatives
Note: Since this section contains the CSR report issued in August 2016, it uses the former company name (Fuji Heavy Industries).
Main Input Resources and Emission Matters in Automobile Manufacturing
We are a transportation machine manufacturer focusing on manufacturing and selling automobiles.
Automobiles have become a convenient and comfortable mode of transportation that are indispensable for our lifestyles. On the other hand, automobiles consume limited global resources and emit CO2, which causes global warming. We recognize these two sides to the automobile, and based on this recognition we believe that we must work toward an "affluent automobile society."
We believe that it is our responsibility to work towards a fusion of global environmental support (major improvement in fuel efficiency) with the benefits of automobiles (comfortable ride, convenience, reliability) by considering the impact on the environment and reducing the environmental burden throughout the entire life cycle of our automobiles, including development, production, use, disposal, and recycling.
Our Overall Environmental Burden from Automobiles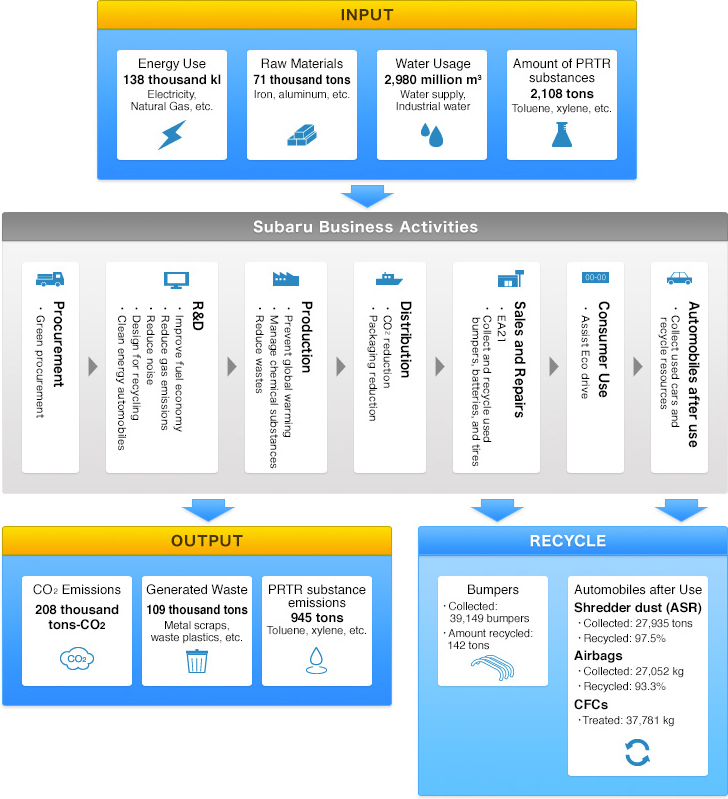 Note:

These are the main environmental impacts arising from our automobile manufacturing, sales, etc. In addition to this, we carry out LCA and Scope 3 calculations.
Global Warming Prevention Activities
We promote global warming prevention activities by continuing various initiatives to reduce CO2 emissions such as installing energy conserving equipment, improving productivity, etc.
The 5th Voluntary Plan for the Environment called for 48% reduction in CO2 emissions per unit of sales in FY2016 from FY2007, which was achieved.
Waste Reduction
All our manufacturing plants in Japan and abroad have maintained zero land fille for waste materials since FY2005.
Summary of Total Waste Generated and Treated in FY2016 for All Business Offices and Automobile Manufacturing (Gunma Manufacturing Division)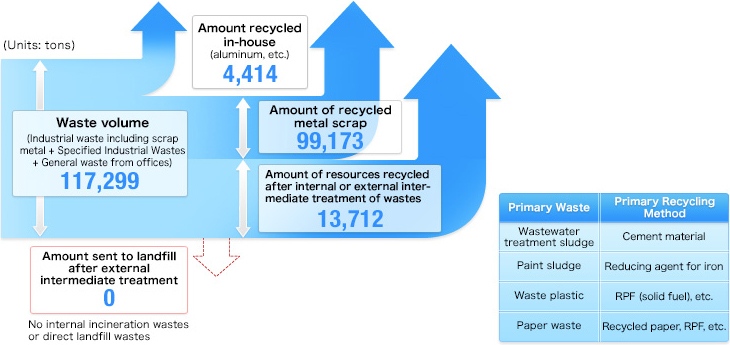 VOC Reduction
The amount of volatile organic compounds (VOCs) emitted from the automobile coating process was 48.1g/m² in FY2016, down 47.4% from FY2000 levels.
We continue to decrease the use of cleaning thinners and increase the recovery of used thinner, as well as (partially) converting to water-based coating.
Prevention of Soil and Underground Water Pollution
We have voluntarily performed soil and groundwater tests at our facilities since 1998, and implemented purification measures and groundwater monitoring as required.
Since the 2003 Soil Contamination Countermeasures Act came into effect, we have been filing reports and conducting tests in accordance with the law.
Status of Storage and Management of PCB Wastes
We properly store polychlorinated biphenyl (PCB) waste materials in accordance with the law.
In FY2016, appropriate treatment of trace PCB wastes (transformer and condenser) from the Utsunomiya Manufacturing Divisions was performed.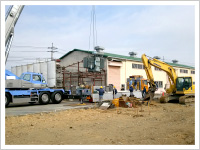 Eco Initiatives at Ebisu Subaru Building Head Office
The Ebisu Subaru Building received the CASBEE (Comprehensive Assessment System for Built Environment Efficiency) "S Rank" in February 2015. CASBEE is a system headed by the Ministry of Land, Infrastructure and Transport that comprehensively and fairly evaluates the quality of buildings, including environmental considerations such as energy conservation and use of materials and equipment that have a low impact on the environment, as well as consideration toward indoor comfort and landscape.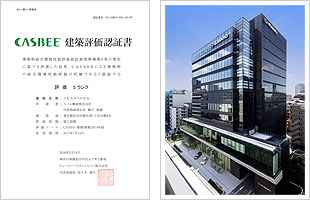 Introduction of Renewable Energy
The Tokyo Office installed a solar power system with two 10 kw and one 5 kw generators on the office roof and one 2 kw generator at the gatehouse. The system generates 33,807 kwh annually to cover some of the power needs of the Tokyo Office.
Also, a 420 kw rated output (enough for about 100 homes) solar power system was installed in Kiryu, Gunma Prefecture as an electric power seller in 2014, and a business to generate and sell 427,706 kwh annually was started.