Our Approach to Climate Change
Subaru's business requires much energy at the production stage and also at the stage when Subaru products are used, and most of the energy we use currently depends on fossil fuels. Governments such as Japan, the United States, Canada, Australia, Europe and China, which are the main markets of Subaru, have established automobile fuel efficiency regulations and CO2 emission regulations, which directly and continuously impact our use of energy. Similarly, the energy consumed by factories and others in the process of production is affected by the Energy Conservation Law and others.
In order to contribute to the realization of the 2°C Scenario, Subaru revised in April 2017 for the first time in about seven years the "Environmental Policy," which is the basis of our principles. The revised Environmental Policy declares that we tackle climate change from a medium- to long-term perspective in order to achieve sustainable growth of Subaru and society. Based on this policy, we announced specific targets to achieve in the New Mid-Term Management Vision "STEP" announced in July 2018 and the business report in the same year. We have begun formulating striving towards these goals.
As part of our efforts, we announced that we aim to reduce our direct CO2 emissions (Scope 1 and 2) by 30% on a total emissions volume basis by FYE 2031 (compared with FYE 2017). We have also announced the direction of our efforts towards low carbonization of Subaru products, such as electrification of our products, in the New Mid-Term Management Vision "STEP."
Risks and Opportunities Related to Climate Change
At Subaru, we believe that introduction and strengthening of environmental regulations for products are the major risks in the business environment. For example, demands to improve fuel consumption such as exhaust gas regulations and the CAFE standard (Corporate Average Fuel Economy Standard) and introduction and strengthening of standards related to percentage of units sold to sales of next generation environment-friendly vehicles including EVs (e.g. ZEV regulations) are some examples.
Subaru's automobile sales volume in Japan, the US, Europe, etc., where these regulations are being strengthened, accounts for 80% or more of the total, and there is a possibility that the loss of revenue opportunities and the cost increase may be affected if we do not comply with regulations.
On the other hand, AWD, which is a major strategic vehicle 90% of which Subaru is introducing to the market, has a great opportunity to cope with recent climate change, compared to FW and FR automobiles of 2WD. The main reason for this is that traveling stability unique to AWD is very good compared to 2WD on rough road after torrential rain and snowy road surface due to heavy snowfall. There is a possibility that the recognition that it is a automobile that can run safely and with peace of mind expands and leads to an increase in sales opportunities.
Greenhouse Gas Emissions Related to Subaru Group
Greenhouse Gas Emissions in the Supply Chain
Greenhouse gas emissions in the supply chain for FYE2018 were 29.25 million t-CO2.
Subaru participated in the Ministry of the Environment "Support for Calculating Supply Chain Greenhouse Gas Emissions toward an Environmental Information Disclosure Infrastructure," and received assistance from NTT Data Institute of Management Consulting, Inc. in Scope 3 calculations. We will continue to promote identifying and managing GHG emissions.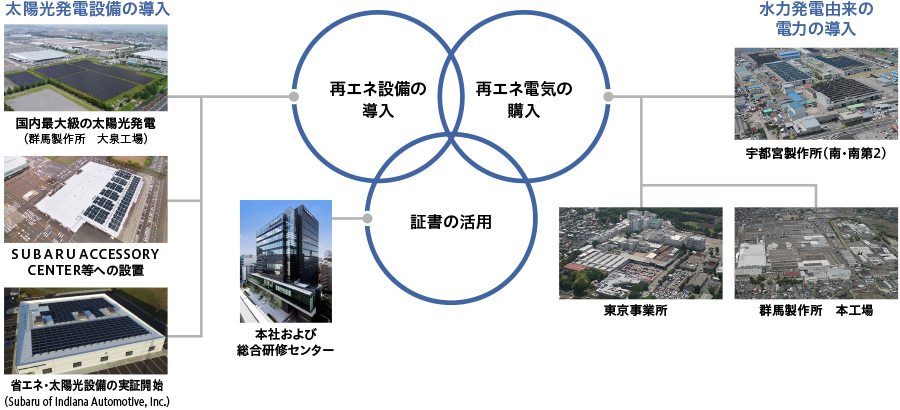 CO2 Emissions (Scope 1, Scope 2)
CO2 Emissions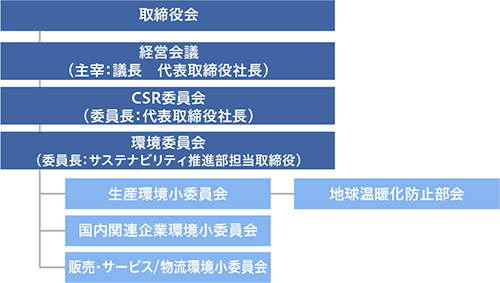 Targeted
companies

Subaru
Corporation

Domestic
Group
Companies:

Yusoki Kogyo K.K., Fuji Machinery Co., Ltd., Ichitan Co., Ltd., Kiryu Industrial Co., Ltd., Subaru Logistics Co., Ltd., Industrial Products Co., Ltd., Subaru dealerships

Overseas
Group
Companies:

Subaru of Indiana Automotive, Inc., Subaru of America, Inc., Subaru of Canada, Inc., Subaru Research & Development, Inc.
CO2 Emissions (Scope 3)
Scope 3 Breakdown
Division
Category
Greenhouse Gas Emissions (t-CO2)
Calculation Scope, etc.
Upstream
1
Purchased goods and services
7,251,192
Domestic and overseas
2
Capital goods
463,638
Domestic and overseas
3
Fuel and energy related activities not included in Scopes 1 or 2
81,818
Domestic and overseas
4
Transportation and delivery (upstream)
1,252,378
Domestic and overseas
5
Waste generated in operations
28,776
Domestic and overseas
6
Business travel
4,361
Domestic and overseas
7
Employee commuting
11,766
Domestic and overseas
8
Leased assets (upstream)
-
N/A
Downstream
9
Transportation and delivery (downstream)
-
N/A
10
Processing of sold products
4,200
Domestic and overseas
11
Use of sold products
18,806,767
Domestic and overseas
12
End-of-life treatment of sold products
593,463
Domestic and overseas
13
Leased assets (downstream)
-
N/A
14
Franchises
56,056
Domestic and overseas
15
Investments
-
N/A
Initiatives in Production
Based on the Act on the Rational Use of Energy, Subaru has set the mid- and long-term targets and has been making efforts to reduce CO2 by quantitatively replacing equipment and devices such as lighting with energy-conserving equipment.
Energy Conservation Initiatives
Introduction of cogeneration system
A gas cogeneration system was installed in the Subaru Training Facility in December 2015 to use energy more effectively.
By making use of the cleanness of city gas as the fuel for gas cogeneration and by effective utilization of waste heat, we have the effect of reducing CO2 emissions by approximately one-third compared with conventional systems.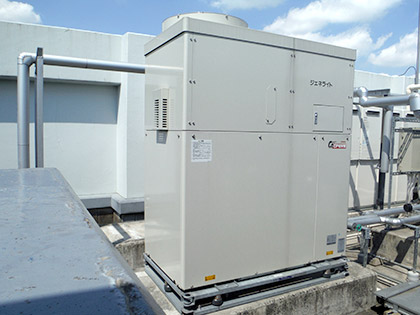 Cogeneration system installed in the Subaru Training Facility
Installed latest energy-saving equipment
In the automobile painting process, it is necessary to repeat "warm up" and "cool down," which requires much energy. Thus at the Yajima Plant of GunmaPlant, we introduced a highly efficient heat source system centered on the heat pump in 2018 and efficiently produce hot and cold heat compared to conventional technology (individual heat source system).
With these improvements, we will continue work on energy conservation and reduction of CO2 emissions.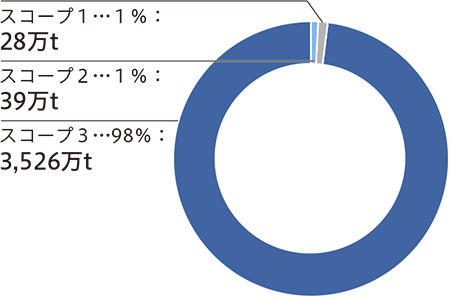 Initiatives in Distribution
Reducing the Environmental Impact of Transport of Subaru Automobiles
Subaru will review the transport of Subaru automobile from time to time, and establish optimal standard transport routes, promote modal shift, change the composition of completed automobile model to be transported, improve loading efficiency by flexibly responding to larger automobile size, and introduce digital tachograph that contribute to energy saving. We will continue its efforts to reduce environmental impact by promoting efficient transportation.
In recent years, we have been able to reduce the amount of fuel use (improved fuel efficiency) and CO2 emissions from completed automobile transportation by effectively using the improved Tokyo metropolitan highway network.
In FYE 2018, CO2 emissions during transport per Subaru automobile decreased by 8.3% compared with the target of 1% reduction from FYE 2007 level. We will continue its efforts to work on further reduce CO2 emissions.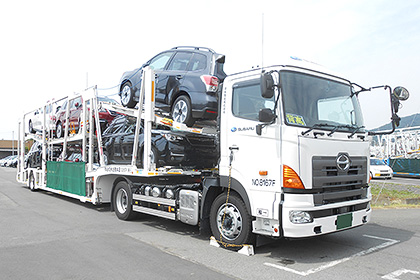 Reducing Environmental Impact on Exports of Subaru Automobile Overseas Production Parts
Introduction of round use
Round use is to convert empty maritime containers used for import into exports without returning them to the port, by directly transporting from importers to exporters, or by utilizing neighboring inland container depots. It is a mechanism to reduce the empty container transport from the port. Subaru Logistics Co., Ltd., which exports overseas production parts of Subaru automobiles, introduced this initiative in July 2017 and will continue to reduce CO2 emissions.
Concept of Container Round Use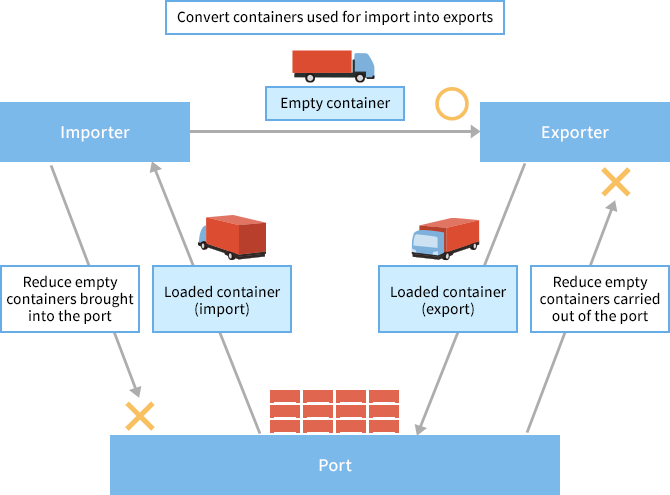 Improvement of container filling rate
Subaru Logistics Co., Ltd., (SLCO) which handles packaging and transport of complete knockdown (CKD)* parts of Subaru automobiles has been carrying out activities to improve container filling ratio to reduce unnecessary space inside containers by improving packaging such as through slimming of and reducing weight of packaging material. As a result, the filling rate (weight) in FYE 2018 reached 98.4%, and the filling rate (volume) improved to 88.3%. SLCO will continue to improve the container filling rate and work on improving transport efficiency and reducing CO2 emissions.
Changes in Container Filling Rate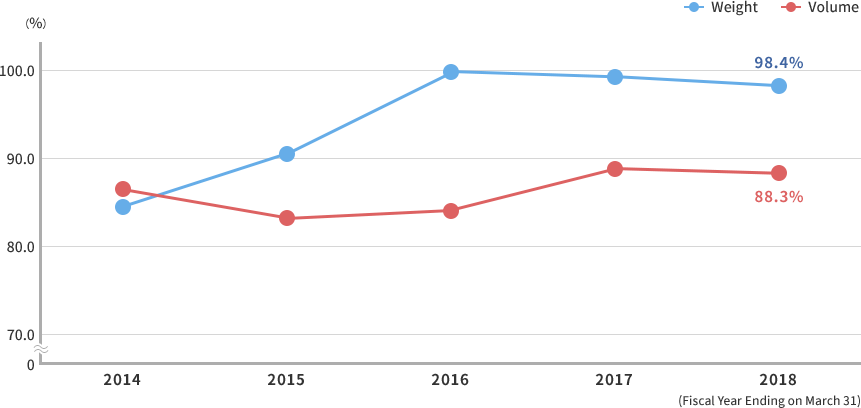 Optimizing parts supply
Subaru had established four domestic area parts centers between October 2013 and October 2016 with the goal of making part supply more efficient.
By consolidating the parts warehouses that had been scattered among the 44 Subaru domestic dealerships throughout Japan into four centers and reviewing the transport routes from there, CO2 emissions during transport were reduced by 64.8% in FYE2017 from the FYE2013 level.
Introduction of natural gas vehicles
Subaru of Indiana Automotive, Inc. (SIA), the US production base of Subaru automobiles, in cooperation with Venture Logistics, a company in charge of parts delivery, is proceeding with the introduction of natural gas vehicles.
Compressed natural gas (CNG) has a lower environmental impact than diesel fuel and is superior in terms of cost efficiency and reliability. One significant hurdle to CNG was that there were no supply stations for natural gas close by. SIA financed the Venture Logistics with CNG truck installation fee of more than $ 1 million in 2014 and established a natural gas stand at the SIA property site to promote the introduction. As a result of introducing CNG fleet trucks, 1,097 tons of CO2 emissions per day were eliminated (corresponding to 85% of emissions before the introduction). Energy costs were also reduced by a total of $389,136 compared to using diesel fuel.
Initiatives in Sales
Energy Conservation Initiatives in Domestic Dealerships
In order to reduce greenhouse gas emissions, Subaru Domestic dealerships are sequentially switching to LED lights and high-efficient type air conditioners at the timing of renovation.
Initiatives in Offices
Introduction of Environmentally Advanced Building
The New West Building in Gunma Plant completed in April 2016 had introduced various environmental technologies for reducing environmental impacts. Solar power panels generate 20kW of energy, and solar heat from solar heat collection panels is used to provide hot water for the kitchens. In addition, a new-generation lighting system combining individual address type control and image sensing type human sensor is introduced in the high-efficiency LED lighting. The air conditioning uses high-efficiency air-cooled heat pump chillers.
It has also introduced low-emissivity glazed window glass with high heat shielding and heat insulating properties, and a cool heat trench that takes outside air from a ventilation tower through an underground isolation layer to pre-cool or preheat the air and supplies to each floor. The building plans also introduced several innovations such as providing balconies to create a solar radiation shielding effect while creating rest areas, contributing to both energy conservation and a comfortable working environment without relying only on machinery.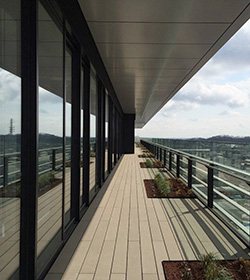 The new headquarters building and training center of Subaru of America, Inc. (SOA), completed in April 2018, is designed with consideration for the environmental impact based on the LEED (Leadership in Energy & Environmental Design) certification system (Environmental Performance Evaluation System operated by US Green Building Council). SOA plan to promoting activities with the aim of acquiring LEED certification next fiscal year.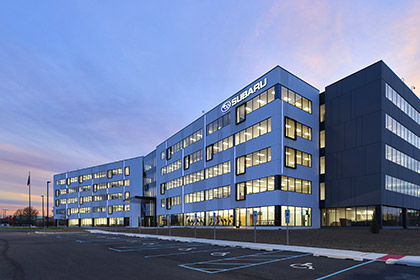 Basic Concept regarding Energy
Based on the Law Concerning the Act on the Rational Use, etc. of Energy, we are working on energy conservation through switching facilities and equipment including lighting equipment and through use of renewable energy.
Energy Consumption
Energy consumption in FYE2018 increased by 6,841 ㎘ from the previous year.
The main reason for this is an increase in the production volume of automobiles. We will continue aiming for further energy conservation by introducing the latest energy-saving equipment and renewable energy.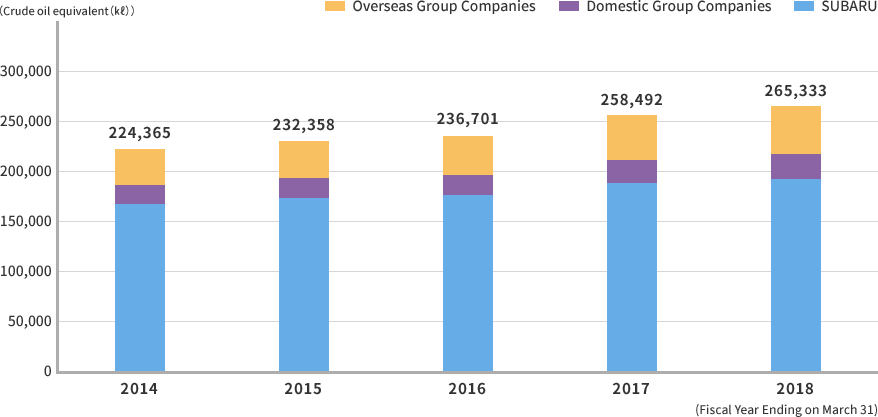 ​Target
companies

Subaru
Corporation

Domestic
Group
Companies:

Yusoki Kogyo K.K., Fuji Machinery Co., Ltd., Ichitan Co., Ltd., Kiryu Industrial Co., Ltd., Subaru Logistics Co., Ltd., Industrial Products Co., Ltd., Subaru dealerships

Overseas
Group
Companies:

Subaru of Indiana Automotive, Inc., Subaru of America, Inc., Subaru of Canada, Inc., Subaru Research & Development, Inc.

Subaru Corporation: Calculated based on the notification of the Energy Conservation Law.
Related information
Introduction of Renewable Energy
Subaru installed solar power system facilities at the Subaru Research and Experiment Center building constructed in FYE 2018 and the Oizumi Plant of Fuji Machinery Co., Ltd. Utilization of renewable energy such as solar power system is becoming an increasingly important option as an energy source that does not emit CO2. It is also effective for securing stable supply by diversifying energy sources. At the Gunma Oizumi Plant, we are planning to reduce CO2 emissions of about 2,370 tons of CO2 per year by installing the Japan's largest-scale solar power generation system (for an annual output of 5,000 MWh/year).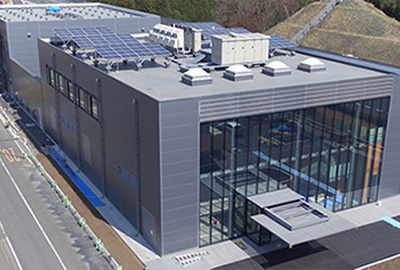 Subaru Research And Experiment Center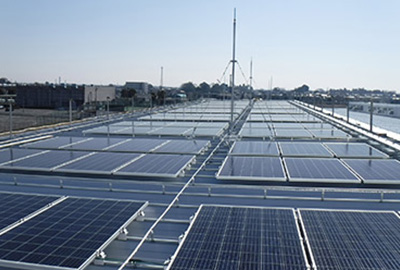 Oizumi Plant of Fuji Machinery Co., Ltd.
In the Tokyo Office, two 10kw solar power generation systems in December 2009 and March 2014 and one 5kw facility in January 2014 on the main office building roof, one 2kw system in March 2014 in the guardhouse, and one 2.7kw facility in 2016 in the special high-voltage substation were introduced. We now generate 33,809.7 kWh per year, and effectively utilize it as part of the electric power of the Tokyo Office.
In 2014, we introduced solar power system with a rated output of 420 kw (corresponding to 100 detached houses) as a power distribution project in Kiryu City, Gunma Prefecture, and we started a project to generate and sell electricity of 427,706 kWh per year.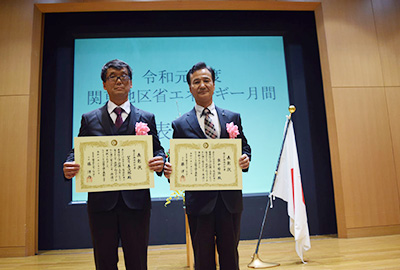 Solar power generation system with the output corresponding to the use by 100 detached houses.
Establishment of Environmentally Conscious Parts center and Training Center
Subaru of America, Inc.'s Parts and Training Center in Florence, New Jersey opened in June 2013 has awarded LEED certification for environmentally conscious buildings. This facility has a solar power generation system with 1 MW power generation capacity is installed on the rooftop, and a new server with about half the power consumption compared to the conventional one is being introduced.
In FYE2018, SOA switched the lighting fixtures to LED light bulbs, reducing the total electricity consumption by 13.13%.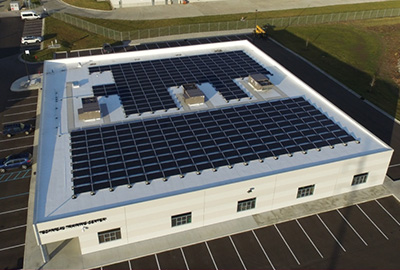 1 MW Power Generation Facility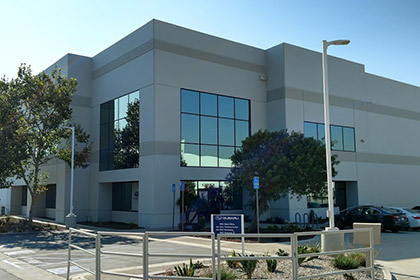 Parts and Training Center in Florence
Introduction of Micro-Hydroelectric Power Generation System using circulating water
In January 2014, the Tokyo Office installed micro-hydroelectric power generation system (2.9 kW) as an energy recovery system using cooling circulating water at some of its research facilities, and its system is now generating about 13,000 kWh of electricity per year (corresponds to electricity use of three households). This system installs water wheel which rotates with the water's head to generate electricity. Power generated by this system is used for circulating water pump.
Introduction of "Tochigi Furusato Denki" Program