Environmentally Friendly Automobiles
Our Approach to Environmentally Friendly Automobiles
Subaru recognizes the importance of reducing CO2 emissions, which is said to be a factor of global warming. Aiming for compatibility between "protection of the global environment" and "Enjoyment and Peace of Mind," we are pursuing to develop environmentally friendly products unique to Subaru with advanced technology that considers the life cycle of vehicles, from mining of raw materials to manufacturing, transportation, use, and disposal. We aim for providing our customers with trustworthy, highly utility automobiles that meet a variety of uses of our customers and that can be used for a long time.
Initiatives for Improving Fuel Economy
Subaru thinks how we achieve ultimate fuel efficiency – the environmental performance of products – is important in order to reduce CO2 emissions, which is said to be a factor of global warming.
We will continue to improve the performance of electricity management of gasoline engines. Furthermore, since vehicle weight is expected to increase due to compliance to strengthened safety and environmental regulations and to product improvements, we will strive to make the automobiles lightweight by rationalizing the structure, reviewing materials, and integrating functions. In addition, we will improve the performance of Subaru Global Platform*, deploy it horizontally to other models, and steadily improve the fuel efficiency of existing gasoline- engine vehicles.
"SUBARU XV" released in May 2017 is equipped with a new direct injection engine and an improved continuously variable transmission (CVT), thereby improving drivability and fuel consumption performance. From the ease of operation, wasteful operation of the accelerator has decreased, and actual fuel efficiency has improved.
"Legacy" currently on sale has partially adopted reinforced high tensile steel instead of steel plate commonly used, achieving both weight reduction and strength. Rationalization of the body reinforcement material is also realized by attaching the engine not to the body but to the cradle-shaped frame. By precisely reviewing the body structure, we have realized a lightweight body while increasing the rigidity balance and collision safety that create stability of driving.

Legacy's lightweight body that achieved both weight reduction and strength
Expanding Electric Vehicle Lineup
We will expand our lineup of SUV type EVs that have excellent capability and loadability distinctive to Subaru as well as new electric vehicles that achieve both improved fuel efficiency and sports performance utilizing motors.
Regarding electrification, we intend to concentrate our technologies in creating electric vehicles distinctive to Subaru while actively promoting collaboration with others in areas of ​​base technology development and standardization.
New model "Forester"*1 launched in July 2018 and "SUBARU XV"*1 released in October 2018 adopt a newly developed power unit "e-BOXER"*2 that combines horizontally-opposed engine and electrification technology. Equipped with 2.0L direct-injection engine with increased efficiency, the combination of the compact, high performance motor and battery as well as "Lineatronic"*3 pursuing improved fuel efficiency enables high driving performance for any driving scene. For example, by using "ECO Cruise Control" function, Subaru's environmental technology realizes the new dimension of driving and driving control, such as maximizing utilization of the motor assist and regenerative braking and making more fuel-efficient follow-up run possible.
*1

Adopted in Advance grade.
*2

"e-BOXER" is a generic term used for "horizontally-opposed engine + electrification technology" that not only realizes enjoyment of driving that is traditional of Subaru but also considers the environment.
*3

Lineatronic: New generation CVT "automatic transmission" with vertically placed chain.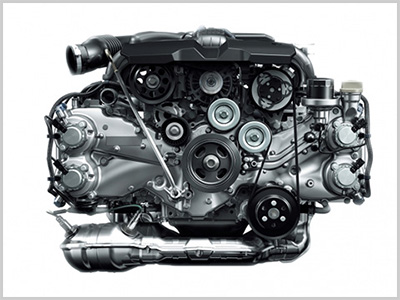 e-BOXER: Newly developed power unit
In addition, we are planning to launch plug-In hybrid vehicle(PHEV) based on "CrossTrek" (Japanese name: SUBARU XV) in the US market in accordance with regulations on fuel efficiency of countries around the world that will become even more severe in the future as well as Zero Emission Vehicle (ZEV) regulation of the US. We also plan to sell electric vehicle (EV) at the global level aiming for 2021. To achieve Japan's FYE2021 Fuel Efficiency Standards, we intend to expand the introduction of electric vehicles and newly developed "Downsizing Turbo Engine."
Going forward, with utility and customer preferences in mind, we will promote the development and lineup of electric vehicles and will gradually increase the proportion of eco-friendly vehicles and will enhance each market.
Clean Gas Emissions
Improvement and Popularization of Certified Low Emission Vehicles
All Subaru vehicles equipped with Natural Aspiration (NA) engines are certified by the Japanese Ministry of Land, Infrastructure, Transport and Tourism to have achieved a 75% reduction from the regulatory values specified in the 2005 emissions standards, and the numbers of vehicles achieving the 75% reduction have remained in the higher 90% range of the total production quantity since FYE2013. Additionally, all vehicles we produce are certified Ultra Low Emission Vehicles (U-LEV) achieving a 50% reduction from the regulatory values specified in the 2005 emissions standards.
Percentage of Low Emission Gasoline-powered Passenger Vehicles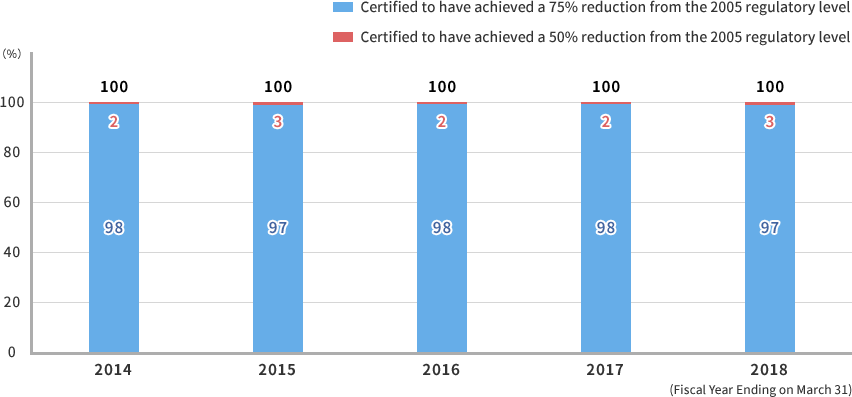 Reducing Environmentally Hazardous Substances
Subaru is also actively working on reducing the environmentally hazardous substances in automobiles.
We promote achieving the Japan Automobile Manufacturers Association (JAMA) reduction targets for automobiles in development, further reducing lead and mercury and using alternatives to environmentally hazardous substances such as brominated flame retardants.
Reduction Targets of JAMAs Voluntary Action Program and Achievement Status
Substance
Target
Subaru's achievement
Lead
Implemented in Jan. 2006.
Reduce the amount used per vehicle to less than 1/10 of 1996 levels.
All models achieved the target
(Target achievement still continuing since Jan. 2006.)
Mercury
Use prohibited since Jan. 2005, with the following exceptions.
(The following parts used for traffic safety are excluded.)
(1) Liquid crystal panels for navigation, etc.
(2) Combination meter
(3) Discharge lamp
(4) Interior lighting
All models achieved the target
(Target achievement still continuing since Jan. 2005.)
Hexavalent Chromium
Use prohibited since Jan. 2008.
All models achieved the target
(Target achievement still continuing since Jan. 2008.)
Cadmium
Use prohibited since Jan. 2007
All models achieved the target
(Target achievement still continuing since Jan. 2007.)
Reducing VOCs in Vehicle Interiors
Subaru is reviewing the components and adhesive agents used in vehicle interiors in order to reduce the use of volatile organic compounds (VOCs), such as formaldehyde and toluene, which are said to cause nose and throat irritation.
In the LEGACY, LEVORG, IMPREZA, FORESTER, and BRZ, we achieved the voluntary target by JAMA* by reducing the concentration of the 13 substances defined by the Ministry of Health, Labor and Welfare to levels below the indoor concentration guideline values. We will continue our efforts to reduce the levels of VOCs to further make the environment in vehicle interiors comfortable.