Occupational Health and Safety
Our Approach to Occupational Health and Safety
In line with the Corporate Philosophy, Subaru considers occupational health and safety to be a critical responsibility of management. Our Health and Safety Philosophy is "Subaru makes health and safety the first priority in all of our work." Based on this philosophy, all managers and employees work to ensure health and safety in their workplaces while continuously striving to make working environments more pleasant and comfortable for all.
Group companies in Japan and overseas each establish occupational health and safety policies in accordance with their business content, regional characteristics, and the laws and regulations of each area, and promote initiatives based on these policies.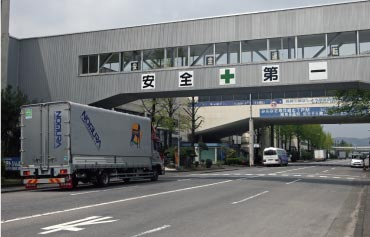 Health and Safety Management System
Subaru established the Central Health and Safety Committee composed of an equal number of members (8 each) from the company and the labor union for the purpose of preventing employee accidents and diseases and improving the working environment. The committee has one chairperson elected from the company and one vice-chairperson elected from the labor union.
The Central Health and Safety Committee engages in extensive discussion on themes that include the basic policy concerning occupational health and safety, investigations into the causes of industrial accidents and diseases and countermeasures to them, improvement of the working environment, health and safety education, road safety, fire prevention and other topics.
In addition, Site Health and Safety Committee has been set up at each business site to deliberate on the policies issued by the Central Health and Safety Committee as well as basic items and new issues regarding health and safety of each site. Furthermore, Health and Safety Committees at plants, departments and sections are set up as sub-organizations whenever necessary.
Health and Safety Organization Chart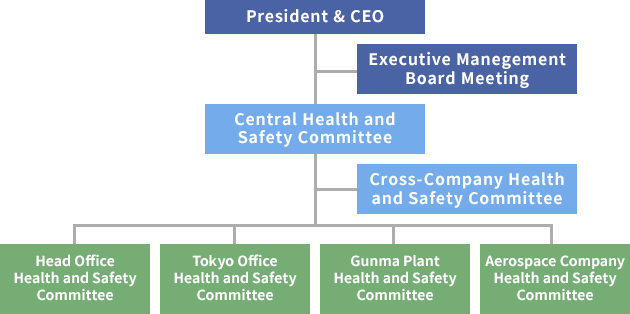 Health and Safety Activities
At the start of each fiscal year, each of our business sites conducts Health and Safety Kickoff Meeting that aims to raise awareness about preventing industrial accidents, road safety, and health management. With the ultimate goal of zero disaster and accidents for the year, the general manager of each site talks to workplace leaders about the health and safety policies and initiatives for the fiscal year so that everyone participates in activities as one united team.
Health and Safety Kickoff Meeting
Every April, Safety and Health Kick-off Meeting is held at each of our business sites. At the meeting, activity targets and plans for each business site are announced so that employees can maintain constant awareness of disaster and accident prevention during daily work and make efforts toward achieving those goals.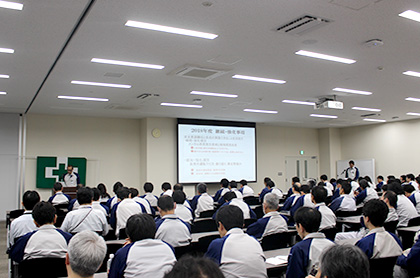 Work Related Accidents
There were 14 work related accidents (of those, 1 resulting in lost time from work) in FYE2018, which was the least number of accidents ever. The overall accident frequency rate for Subaru was 0.37.
Work Related Accident Prevention Activity
1. Wearing of the safety declaration badge
In order to raise their safety awareness, all employees of Subaru wear the safety declaration badge with the written phrase, "I will always check for safety before performing any action."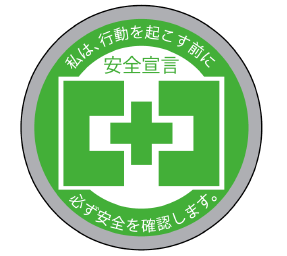 Occurrence of Work Related Accidents and Accident Frequency Rate (non-consolidated)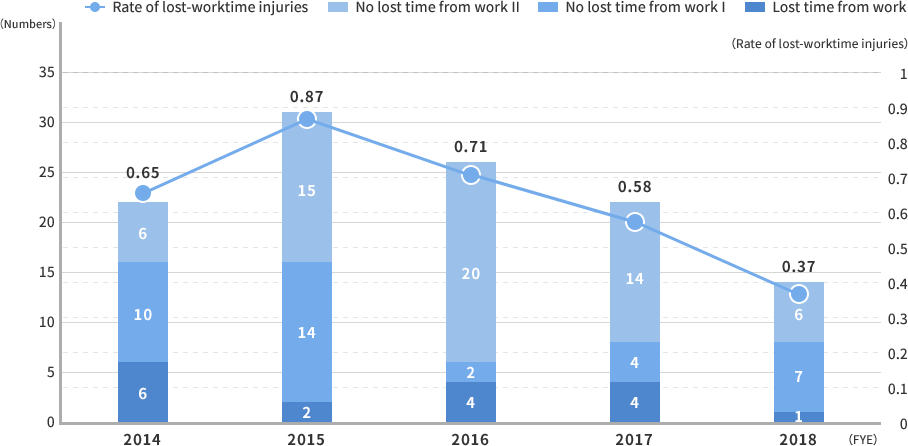 2. Pointing and calling promotion activity
To prevent mistakes and human errors, each business site promotes employees' pointing and calling practice at crosswalks in the premises and at work. All employees confirm their action by pointing to the left, right, and forward with their fingers, which is expected to improve their levels of awareness of safety behavior and safety confirmation.
3. Road safety support activities
In order to prevent all traffic accidents whether during work, commuting or private time, Subaru has been conducting driving aptitude tests that incorporate psychology and a program using driving recorders to identify employees' driving habits for all employees of the Automotive Business, where commuting by car is popular, and the Aerospace Company.
4. Our approach to health promotion
Subaru is aggressively promoting employee health management. Our approach is not only to prevent health problems, but also to systematically maintain and promote mental and physical health.
Since FYE2019, Health Promotion Subcommittee was established mainly with registered nurses and public health nurses as members to discuss the health of employees and reflect the outcome of the discussion in actual activities.
5. Commitment to Mental Health
Subaru works in cooperation with industrial physicians, clinical psychologists and health and safety personnel (public health nurses and registered nurses) of the Health Support Office to take mental health measures. Mental health workshops and the like for regular workers and managers are provided at each business site. Subaru has published the Mental Health Dealing Manual for Managers (in-house publication), and have introduced the Return to Work Program Scheme (trial return to work, gradual return to work), which is a system that enables smooth resumption of work after a period of absence, among other measures to create a work environment in which employees are able to work with peace of mind.
Moreover, based on the results of Stress Check being carried out since FYE2017, business sites with high risks are being identified and a program in which public health nurses exchange opinions with those at the identified sites. By continuing to commit ourselves to mental health initiatives, Subaru hopes to establish a Subaru-style efforts towards mental health.
Message from a Public Health Nurse
I want to be a nurse any employee can feel at ease to come and talk to.
Employees are the greatest asset for a company and "being able to work healthily and lively" will lead to growth and development of the company. Subaru supports health promotion so that each employee "can come to work healthily and leave work vigorously".
The most important is the mental care. In mental health measures, Subaru holds workshops with the aim of creating a workplace where employees can work and feel at ease. To this end, Subaru needs to carry out workplace improvement activities and also to create a system where employees themselves and those around them can recognize the stress they are feeling without delay.
Then comes the physical care. Gunma Plant with the greatest number of employees among all Subaru sites changed the time of employee health checkup from spring and summer to each employee's birth month. This led them to think more carefully about their health and to voluntarily visit doctors for the second checkup and health instruction, which improved their attitude towards their health and lifestyle.
My wish is for everyone to work in good health until their retirement. To this end, I will try to be a nurse who is always there for the employees so that they can come at any time and talk about their health.