Human Resource Development
Human Resource Development (HRD) Philosophy
We provide support for skill development through a variety of training programs centered on on-the-job training forms, aiming to develop highly engaged, autonomous employees, which are the human resources ideal based on our HRD Philosophy.
We promote initiatives at affiliated companies in Japan and overseas in accordance with the business content of each company and regional characteristics.
HRD Philosophy
We seek to realize the SUBARU human resources ideal of highly engaged and autonomous employees by helping employees develop the ability to identify and solve problems themselves.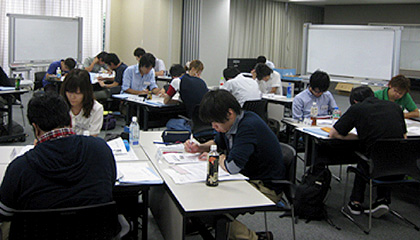 Establishing the Training System
We have established diverse grade-specific and skill-specific training programs. Among our grade-specific training programs, we offer the Startup Program for all employees who have risen to a higher level and some mid-career recruits. In FY2017, approximately 1,600 employees took and completed the training. With the goal of helping employees obtain and enhance business skills, we also offer training programs for each type of position within the company. We offer support for employees to attend business school.
With a view to accelerating our global HRD, in addition to various programs in Japan, we have also established programs to facilitate foreign language acquisition and training overseas.
Educational Organization Chart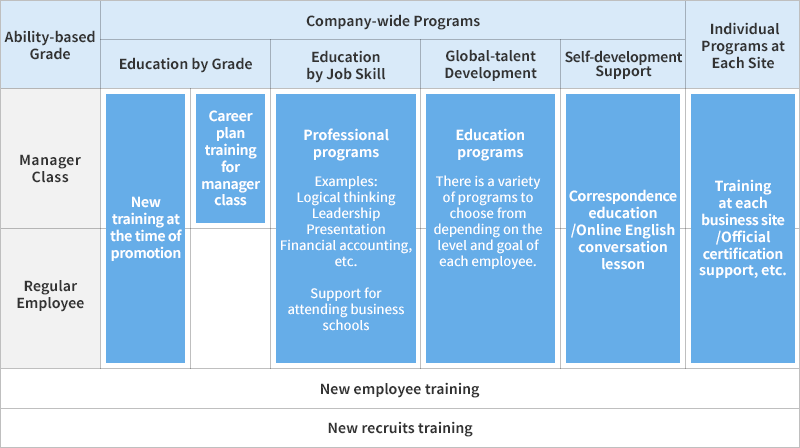 Initiatives to Transmit Skills
We opened the SUBARU Technical School (STS) in 2006 with the goal of training young technicians to become future leaders. By transmitting to the next generation technical expertise and work methods that are tailored to all skill levels and reflect the highest standards of safety and excellence, STS is helping to ensure the high quality of SUBARU products going forward.
We provide training that matches the skill levels of trainees, including new graduates to those in their mid-twenties. In FY2017, 641 employees took and completed the courses, bringing the cumulative total of successful trainees to 3,672.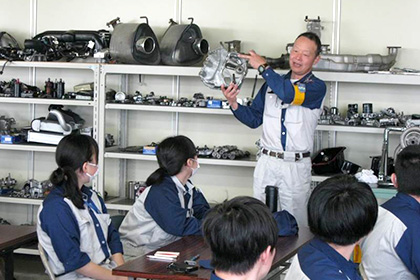 Comment from a Trainee
Aiming to Achieve "Customers Come First"
I have learned a great deal of essential knowledge that can be used immediately at work and skills that are difficult to acquire through textbooks only from highly experienced lecturers. I would like to make best of knowledge, skills and precious experience I gained through Subaru Technical School in building cars that customers can drive with peace of mind.
Ayumu katou, No. 3 Body Section, 2nd Production Department, Manufacturing Division
Fair Evaluations and Support for Development of Skills
Mechanisms for the upgrading of skills aimed at growth based on fair personnel evaluations are essential to develop the autonomous human resources that we are aiming for.
To this end, we position and utilize our personnel system which is made up of occupational skill certification programs, performance assessment system, goal management system, personnel rotations, and the education and training systems as a tool for the development of human resources. In addition to objectively evaluating job outcomes and performance levels for skills through the operation of the personnel system, supervisors and their subordinates share the challenges necessary for growth. Under the goal management system, all our employees have an interview with their supervisors three times a year (goal setting, interim confirmation, outcome confirmation).
Note that both men and women are treated properly and there is no gender gap in basic salary.