Human Resource Development (HRD)
Our Approach to Human Resource Development (HRD)
Subaru considers human resource development (HRD) as one of priorities, and positions and utilizes the personnel system, which consists of occupational skill certification programs, performance assessment system, goal management system, personnel rotations, and the education and training systems, as a tool for the development of human resources.
In addition, Subaru promotes initiatives at group companies in Japan and overseas in accordance with the business content of each company and regional characteristics.
Fair Evaluations and Support for Development of Skills
In addition to objectively evaluating job outcomes and performance levels for skills through the operation of the personnel system, supervisors and their subordinates share the challenges necessary for growth. Under the goal management system, all Subaru employees have an interview with their supervisors three times a year (goal setting, interim confirmation, outcome confirmation). Note that both men and women are treated properly and there is no gender gap in basic salary.
Establishing the Training System
Subaru offers the Startup Program for all employees who have risen to a higher grade and some mid-career recruits so that they can certainly fulfill the role of each grade specified in the occupational skill certification programs. Subaru conducts programs in which employees can develop through systematically learning and implementing/reviewing the skills and knowledge of problem solving in accordance with the roles required for each grade. In FYE2018, approximately 1,800 employees took and completed the training.
In addition to the grade-specific training programs, Subaru offers training programs to develop a wide range of skills in accordance with each employee's issues and business needs in order to help employees themselves grow with high motivation. In the skill-specific training programs, Subaru conducts professional programs with the goal of helping employees obtain and enhance business skills, and offer support for employees to attend business schools. With a view to accelerating our global HRD, through conducting various programs, mainly focusing on improving language skills, Subaru is developing human resources who can work globally.
Education and Training System Chart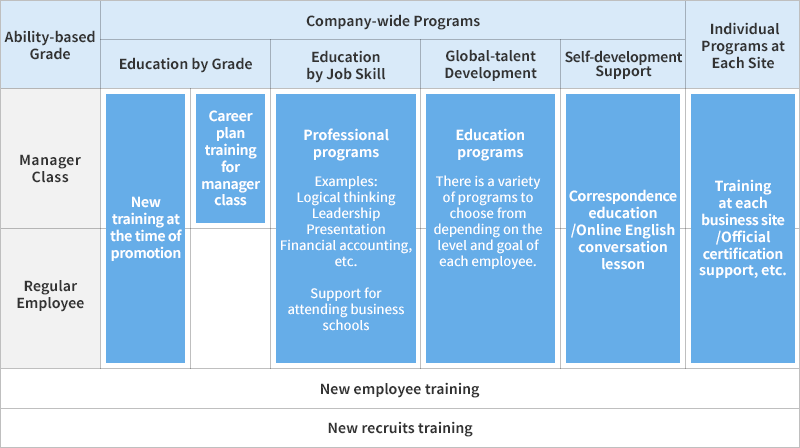 Initiatives to Transmit Skills
Subaru opened the Subaru Technical School (STS) in 2006 with the goal of training young technicians to become future leaders. By transmitting to the next generation technical expertise and work methods that are tailored to all skill levels and reflect the highest standards of safety and excellence, Subaru ensures to offer high quality products going forward.
Subaru provides training that matches the skill levels of trainees, including new graduates to those in their mid-twenties. In FYE2018, 624 employees took and completed the courses, bringing the cumulative total of successful trainees to 4,296.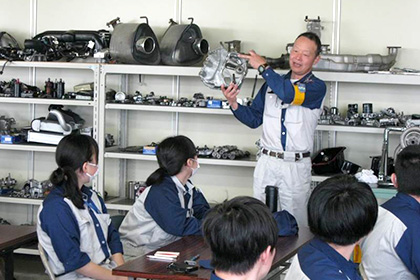 Comment from a Trainee
Aiming to Achieve "Customers Come First"
The lecturers taught us, unskilled trainees, with patience and eagerness, and I have learned essential knowledge and skills that can be used immediately at work. I would like to make good use of knowledge and skills I gained through Subaru Technical School, making further efforts as an employee of Subaru with tradition, and aim to build cars that customers can drive with peace of mind.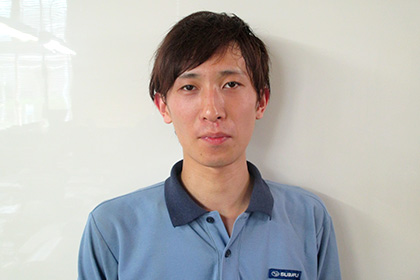 TOPICS
The 55th National Skills Competition
Subaru Won the First Gold Medal in the Automobile Sheet Metal Category
What is the National Skills Competition?
The National Skills Competition is a competition in which young skilled workers compete their skills with each other. It is held for the purpose of giving young skilled workers of the next generation a goal to strive for. In addition, it offers opportunities for appealing the importance of and raising social respect towards skills, including providing young people in the region of the competition venue to gain opportunities to become closely acquainted with excellent skills. More than 1,300 young skilled workers from all over Japan attended and competed, and the champion in each category is selected as a member of the national team attending the World Skills Competition (held every other year, in odd-numbered years).
Comment from a Winner
One of my seniors from high school was active as a competitor of the National Skills Competition at Subaru. My challenge to the Competition was inspired by him. I was pleased to win a gold medal this time and be able to appeal Subaru's skills to the world. Lecturers and instructors taught me not only the skills but also behavior, remarks, attitudes as an independent adult and a member of society. I would like to reflect their instructions in the future as well.
"Heart, skills, and body" is indispensable to the challenge in the Competition. It's not easy, but if you can overcome it, you'll discover a new person in yourself. More importantly, there is unlimited potential in the world of monozukuri (manufacturing). You can make anything with a single idea. Of course, while it is important to learn skills and knowledge, I think that knowing the pleasure of monozukuri is the starting point.