Our Approach to Health Promotion
We are aggressively promoting employee health management. Our approach is not only to prevent health problems, but also to systematically maintain and promote mental and physical health.
Specifically, we are working to prevent diseases and administer healthcare by assigning staff at each division for health checkups and specialized health guidance (e.g. remedies to avoid metabolic syndrome, exercise guidance, mental healthcare, and nutritional guidance), individual health consultations to those diagnosed with a cautionary concern in a medical checkup, counseling and other healthcare services.
Comments from a Public Health Nurse
Supporting health promotion as a friendly face
For employees to be able to work with healthy bodies and minds is the source of a company's vitality as well as an asset.In terms of support for employees to be healthy, mental health measures are mentioned first. We not only promote self-care through workshops and so on but also the creation of a workplace in which employees care for each other.
In the area of health guidance, we naturally provide support and build systems to prevent lifestyle diseases and so that people receiving treatment can also be healthy, and we sometimes adjust menus in the employee canteen and the canteens in the dormitories for unmarried workers as well as sending letters to the families of employees about lifestyle improvements.
Health is something that you manage yourself, but family support and the environment are also important. We try to provide support that is closely matched to the individual, including the background of employees, and are committed to always being a friendly face for employees.Going forward, we will also continue providing support that enables employees to be healthy in their work as well as spend a healthy retirement.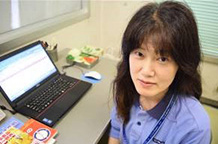 Commitment to Mental Health
We work in cooperation with industrial physicians, clinical psychologists and health and safety staff (public health nurses and nurses) attached to the Health Support Office to conduct mental health measures. Mental health workshops and the like for regular workers and managers are provided at each division. In FY2013, we created the Mental Health Dealing Manual for Managers in-house booklet, and since FY2014 have introduced the Return to Work Program Schemes (trial return to work, gradual return to work), a system that enables smooth resumption of work after a period of absence, among other measures to create a work environment in which employees are able to work with peace of mind.
Moreover, based on the results of Stress Check carried out in FY2017, we will further strive to improve our work environment.