Our Approach to Customer Satisfaction Activities
The Subaru Group strives to put customers first in all business activities. Subaru strives to promote customer satisfaction activities across the Group, particularly at dealerships, so that customers continue to choose our brand for "Enjoyment and Peace of Mind," with the aim of achieving our new Mid-term Management Vision "STEP."
Establishment of SUBARU Recall Inquiry Line
Subaru established the SUBARU Recall Inquiry Line in November 2016 independent of the traditional toll-free number to specifically handle recall inquiries such as the airbag recall problem.
Subaru responds to our customers under a simple code of conduct: "accurate, prompt, appropriate, equitable, fair, and courteous" aiming to provide "Enjoyment and Peace of Mind". Also, the valuable comments, requests and guidance received from customers are passed on to the relevant departments to be reflected in making future improvements in quality and product, proposals, and after-sales services.
SUBARU Recall Inquiry Line
0120-412215
Subaru is open to the following inquiries.
Inquiry/question regarding recalls
Office Hours (Japan Time)

9:00am - 5:00pm (Weekdays/Weekends, Holidays)
The Number of Inquiries from Customers
34,725 inquiries (April 2017-March 2018)
Establishment of SUBARU Customer Center
To receive enquiries, conduct consultations and handle requests and comments from our customers, Subaru has established the SUBARU Customer Center. Subaru responds to our customers under a simple code of conduct: "accurate, prompt, appropriate, equitable, fair, and courteous" aiming to provide "Enjoyment and Peace of Mind." The valuable comments and requests received from customers are passed on to the relevant departments so that suggestions can be reflected in making future improvements and in product planning, quality, sales, and after-sales services.
Subaru Call
0120-052215
Please contact SUBARU Customer Center if you have any inquiries as below.
1. Opinion/Comment
2. Information (Catalog, dealership, address change, etc.)
3. Inquiry/Request for assistance
Office Hours

9:00am - 5:00pm (Weekdays)*
9:00am - 12:00am / 1:00pm - 5:00pm (Weekends, and public holidays)

Trends in the Number of Inquiries from Customers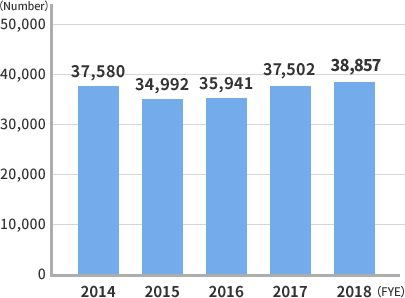 Breakdown of the Number of Requests for Assistance from Customers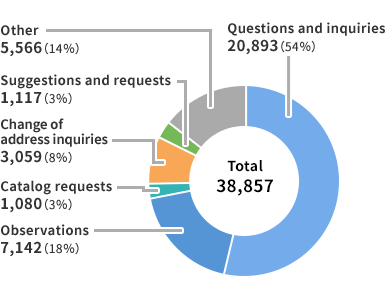 In the light of cases of improper conduct of final vehicle inspection at our Gunma Manufacturing Division, Subaru has increased the number of operators at the SUBARU Customer Center so that Subaru can seriously listen to as many customers' voices as possible.
Customer Satisfaction Survey
Changes Made to Subaru Customer Questionnaire in FYE2018
In order to be the brand that is chosen by customers by offering "Enjoyment and Peace of Mind," Subaru conducts Subaru Customer Questionnaire directed at customers who bought a vehicle at one of our dealers. Taking the comments and requests of customers learned from the survey results seriously, Subaru continuously make improvements at each of our dealers.
Since FYE2018, to assess the effectiveness of our efforts to raise customers' loyalty towards Subaru, Subaru has used the following rating (maximum 200 points) as the criterion: score of customer's level of satisfaction to the attitudes of our dealerships (maximum 100 points) + score of customer's level of trust (maximum 100 points)
FYE2018 Results
<Number of valid responses>
FYE2018 107,350/year
​FYE2017 98,127/year
FYE2016 95,324/year
<FYE2018 Total Royalty Points>
[New car] Customers one year after the purchase: 176.1P (176P)
[New car] Customers 3 years and 5 years after the purchase: 171.2P (171P)
[Used car] Customers one year after the purchase: 170.8P (170P)
*1

The points in parentheses shows the target values.
*2

Target values are established based on the previous year's Subaru team's average.
<Evaluation of FYE2018 Results>
All surveys showed the results exceeding our target values. The Subaru Automotive Business as a whole will continue to work on improvement activities so that each one of our customers think "Let's choose Subaru again."
Examples of Main Improvements Based on Customer Opinions and Requests
In addition to our usual activities in which Subaru provides feedback on customer opinions and requests obtained from past Subaru Questionnaires to Subaru dealers and related divisions paving the way to enhancements in products, quality, sales and after-sales service, Subaru is prioritizing activities that include making customers comfortable in showrooms.
To promote these activities, Subaru provides support such as human resource development and deployment of best practices from other dealerships. Subaru also actively promotes the refurbishment of showrooms and service garages. In other words, Subaru is promoting increased customer satisfaction from both aspects of facilities and management so that Subaru can expand customer satisfaction activities suited to the Subaru's product characteristics.
<Dealerships>
Information displays on use of in-store equipment
Enhancement of kids' areas (installation of counter to keep watch on children, increased variety of toys, ensuring safety)
Set up of free drinks, expansion of drinks menu
Increased amenity goods in bathrooms, etc.
<Automotive Business>
Development of Wi-Fi environment infrastructure and introduction of Subaru Wi-Fi at all Subaru dealerships
Introduction of digital books and Subaru original amenity goods at some dealerships to make waiting-time more enjoyable.
Training Human Resources at Dealerships to Deliver "Enjoyment and Peace of Mind"
With the vision of "Having Customers Say 'Let's Choose SUBARU Again' through Our Customer Service", SUBARU Academy* is dedicated to training human resources that can provide "Enjoyment and Peace of Mind" to customers.
For trainings in Japan, Subaru develops and provides trainings that meet the fast environmental change in sales and services. For overseas service staff, Subaru provides curriculums that meet specific regional needs.
Organizational Structure of SUBARU Academy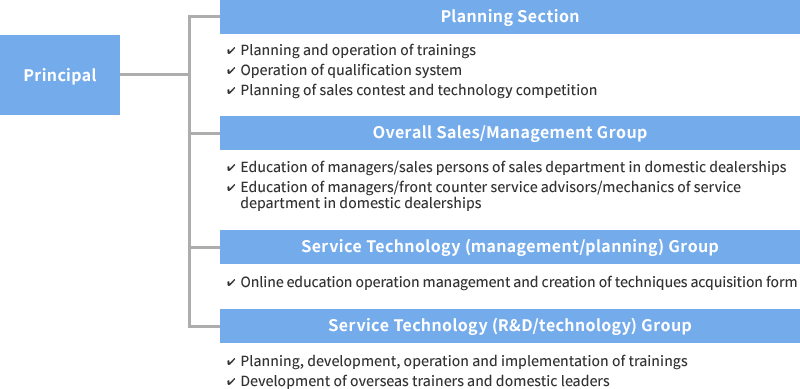 No. of educational program participants (including training during business trips)

| | FYE2018 |
| --- | --- |
| Manager/sales staff | 3,195 |
| Service staff | 1,776 |
| Total | 4,971 |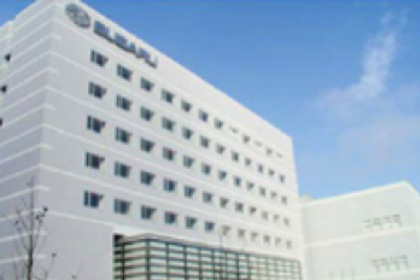 STARS Sales Professional Certification Program
Subaru established the Subaru Staff's Training and Rating System (STARS)*, a sales professional certification program, based on stringent standards as recognition of the staff with the ability to propose and support customers with "Enjoyment and Peace of Mind."
To determine salespersons' certification levels, Subaru runs tests covering areas such as knowledge, techniques, and customer service skills based on their performance on sales, etc.
As of March 2018: Sales STARS Level 1 – 55 salespeople, Level 2 – 650 salespeople, Level 3 – 1,275 salespeople
For the service staff, the certification levels are determined based on the tests on service operation knowledge, customer service skills, and technical capabilities.
As of April 2018: Service STARS
Mechanical levels: Level S – 17 mechanics, Level 1 – 911 mechanics, Level 2 – 1,108 mechanics, Level 3 – 1,027 mechanics, Level 4 – 339 mechanics
Front counter service levels: Level S – 9 persons, Level 1 – 282 persons, Level 2 – 554 persons.
Our goal is for 5% of all salespeople to achieve Level 1, 15% to achieve Level 2, and 60% to achieve Level 3 by 2020. Subaru is promoting initiatives so that at least 60% of all service advisors will achieve Level 1 or Level 2 by 2018.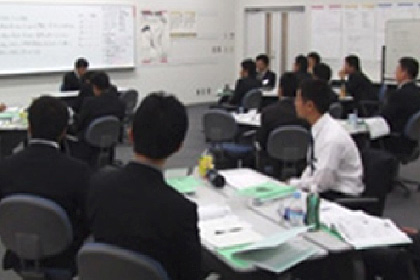 International CS Initiatives
With the goal of distributors achieving uniformly high after-sales service through dealers around the world so that SUBARU customers can drive with peace of mind, the Customer Service Division works to enhance their educational systems and overall structures.
Subaru is building a corporate structure that can deliver customers service that meets their needs while ensuring that our distributors and dealers worldwide offer service worthy of Subaru's "Confidence in Motion."
Technical Training
Improving the technical skills of our service staff is essential to delivering service that gives our customers peace of mind. To this end, Subaru offers the Advanced Technical Training (ATT) and STEP Trainer Training (STT) as technical training curriculums to develop trainers who provide training to our service staff worldwide and to train service staff to be able to handle increasingly sophisticated automobile technology. In addition, Subaru works to improve technical capabilities by using skill certification testing to provide motivation for learning.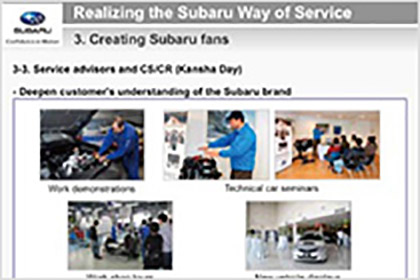 Starting in FYE2017, Subaru plans to increase the technical training that our employees run at overseas distributors in addition to utilizing affiliated colleges in five countries around the world. Moreover, Subaru assigned external trainers certified by us to countries with annual sales of at least 1,000 cars with the aim of further enhancing service.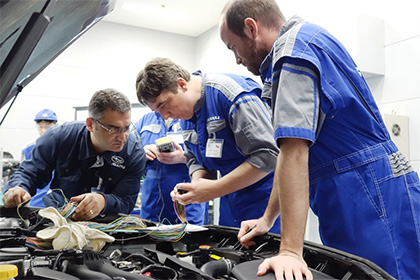 Organizational Reinforcement
The Customer Service Division works in partnership with distributors outside Japan to improve their technical and customer service skills so that customers continue to choose Subaru.
Recall operation that is increasing in number in recent years is an important issue for the Subaru Group. Identifying the laws and regulations and status of recall operations of each market, Subaru shall provide support to enhance the recall operation rates.
Subaru also provides overseas distributors with necessary facilities and systems so that they can readily introduce vehicles equipped with new technologies.
To carry out these activities, close communication is also necessary. Subaru holds conferences in Japan that bring together overseas distributors from eight leading countries (most recently in June 2018 and November 2017), and also seek close communication through regional meetings in North America, Europe, Central and South America, Oceania, China, Southeast Asia, etc. with the aim of speeding up the resolution of any issues. In FYE2018, Subaru held 18 regional meetings.
Subaru also holds trainings for high-level technical skills necessary for repairs in markets in the US, Australia, Europe, Chile, etc.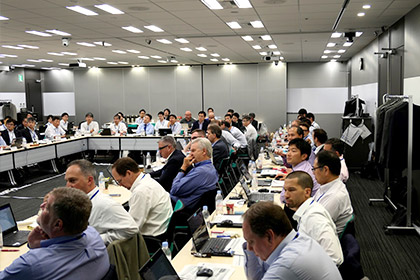 Efforts at the Aerospace Company
Organizational Reinforcement
The Aerospace Company, regarding aircrafts delivered to Japan's Self Defense Force among other customers, conducts various questionnaires in addition to regular customer visits to ascertain customers' needs in detail and to raise customer satisfaction towards Subaru's products and services through maintenance and operation.
In the questionnaire results, Subaru received the score of 4.0 (best score is 5.0) for the overall rating (product quality, service skill, emergency response, service visits, etc.), which was 0.3 higher than that of the previous year. Subaru will continue to work on to further enhance customer satisfaction by continuing our improvement activities from the perspective of customers.
Subaru's maintenance personnel involved in production also visit forces to deepen and improve mutual understanding of operations with customers who actually engage in maintenance.