Social Contribution Policy
Gratitude for the Local Communities
Subaru Group's social contribution has focused on our responsibility as a manufacturer of transportation machinery and on having the communities in which we operate be happy with our presence. We also incorporate in our social contribution policy our hope to have social contribution take root in our corporate culture and to sincerely carry out such activities.
Social Contribution Policy
We contribute to the development of science and technology and automobile culture and to the promotion of road safety.
We contribute to the fostering of human resources who understand the pleasure, importance and preciousness of creative manufacturing.
We contribute to the development of the communities in which we operate.
We support each other in contributing to society as good citizens.
System for Promoting Social Contribution Activities
Subaru established the Social Contribution Committee in FYE2013 as a body to actively promote and continue social contribution activities leveraging its technology and expertise.
The Social Contribution Committee, based on the organizational restructuring in April, 2017, assigned Director in charge of CSR & Environment Department as its chairperson, and established its secretariat in CSR & Environment Department (newly established). In order to further energize its activities, four priority areas have been selected, namely "activity in the community," "the environment," "traffic safety," "sports and culture." The Committee meets every six months to compile results of its activities and issues deriving from them for improvement and revitalization of those activities. Subaru will develop social contribution activities befitting the idea of "from being a company making things, to a company making people smile," and fulfill our social responsibilities as a company.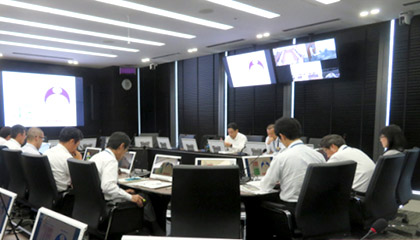 Social Contribution Committee Organization Chart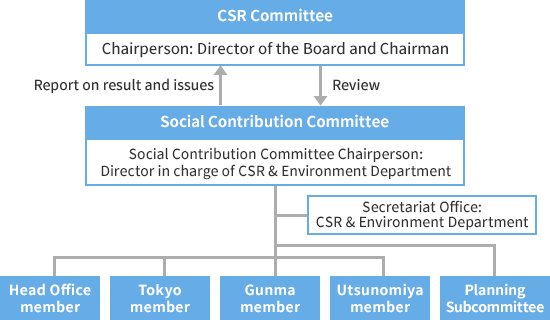 Social Contribution Initiatives
Activity in the Community
Participation in cleanup activities in Ebisu area (Head Office)
Subaru and its Group company employees in Ebisu area periodically conduct cleanup activities organized by Shibuya-ku and cleanup activities around Ebisu station held by Subaru. Our steady efforts were recognized and we were presented with a letter of appreciation from Shibuya-ku as a "clean town development supporter." This award is given to individuals and companies that contribute to the promotion of local clean-and-beautify activities.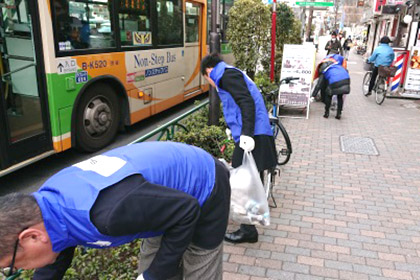 Implementation of clean campaign activities (Utsunomiya Plant)
Subaru periodically conducts clean-and-beautify your neighborhood activities by employees in the vicinity of our offices and plants.
In FYE2018, a total of 350 employees took part in these activities. Subaru plans to continue these local clean-and-beautify activities.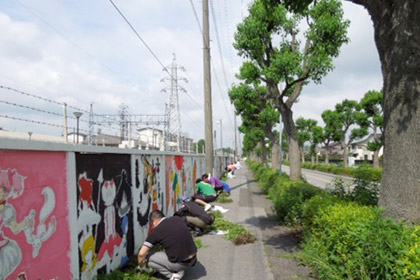 Participation in local government's garbage pickup activity (Subaru Canada, Inc.)
The City of Mississauga calls for a 20-minute cleanup to local corporations on Earth Day every year. Subaru Canada, Inc. (SCI) endorsed this initiative 13 years ago, and in FYE2018 there were 15 employees participating in this initiative. In addition, Mississauga allocates a road to local corporations to manage its beautification and implement cleanup activities three times a year. SCI also endorses this initiative.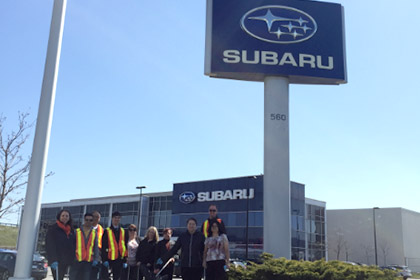 SCI employees participating in Earth Day event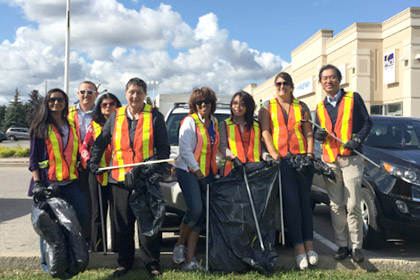 SCI employees participating in a cleanup activity
Reconstruction support sale held (Head Office)
With participation of organizations in Iwate, Miyagi, Fukushima, Kumamoto, and Oita Prefectures, Subaru held a reconstruction support sale for Subaru Group employees in Ebisu area and companies having offices in the Ebisu Subaru Building. This event was intended to sell local products for the purpose of expanding sales channels, and to enhance tourism and show charm of each region.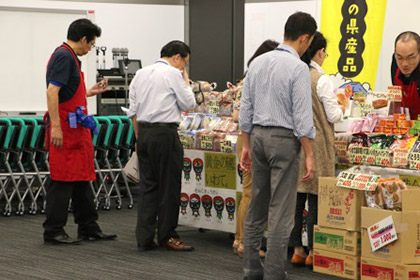 Sponsoring Ebisu bon dance festival (Head Office)
The Ebisu Bon Dance Festival started soon after the end of war, with the hope of restoration and reconstruction of the town of Shibuya. It became a summer feature lasting for 60 years, attracting 60,000 visitors in two days. Subaru sponsors this festival as a major contribution to the community.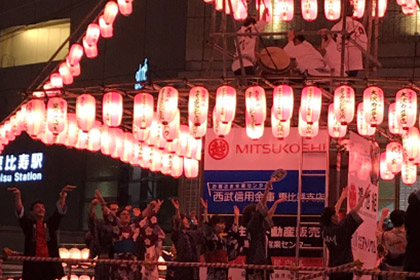 Participation in Ota summer festival and corporate mikoshi (Portable Shrine) parade (Gunma Plant)
The Ota Summer Festival was held for two days in August. On the second day, some 1,000 employees joined the corporate mikoshi parade (employees of the Main Plant at the north venue and employees of Yajima Plant at the south venue). It was a beautiful day, and local residents fully enjoyed the enthusiasm and energy of Subaru.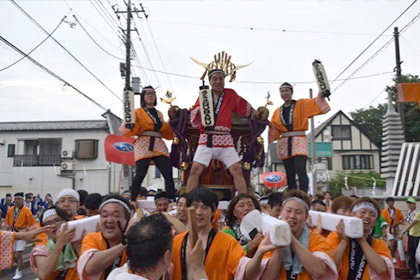 Participation in Oizumi Festival and adult mikoshi (Portable Shrine) parade (Gunma Plant)
The 45th Oizumi Festival was held for two days in July, and some 600 employees of Oizumi Plant participated in the adult mikoshi parade on the first day. It was a memorable year for both Oizumi Town for marking its 60th anniversary of its founding and Subaru for participating in the festival as Subaru Corporation for the first time. Local residents fully enjoyed the enthusiasm and energy of Subaru.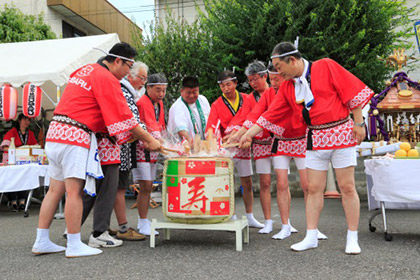 Kagami-biraki (opening of sake barrel) cerebrating the 60th anniversary of the birth of Oizumi Town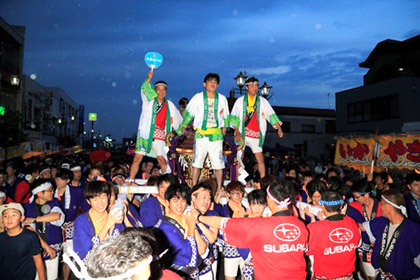 Subaru employees carrying the mikoshi
Summer Festival held (Tokyo Office)
Starting with a parade by the Samba Club from the neighboring International Christian University, the Summer Festival featured various fun events including the annual lottery and presents for children, which were popular among visitors with children. Subaru was able to mingle with a great many people from the community again this year.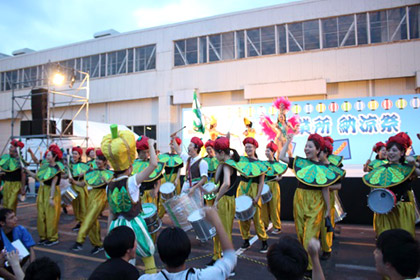 Sponsoring of Summer Evening Bon Dance Festival (Utsunomiya Plant)
A grand Summer Evening Bon Dance Festival was held with participation of some 1,000 people, including those from local residents' associations, women's associations, children's clubs and affiliated companies. Being held for the first time in 1984, the festival marked the 31th time in 2017. It is an event that makes a major contribution to the community.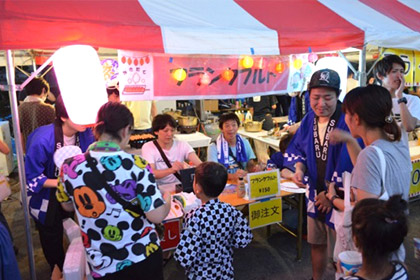 Toronto Subaru Club HyperMeeting held (Subaru Canada, Inc.)
In July 2017, Subaru Canada, Inc. welcomed the Toronto Subaru Club and enthusiasts from all over the Greater Toronto Area to our headquarters for the 14th Annual HyperMeeting. This year over 1,400 attendees came out to share their pride of Subaru ownership, showcase their vehicles and enjoy a day of family-friendly fun. With a complimentary BBQ and events for children, the event was once again a huge success. As in previous years the proceeds of the event will go to Ronald McDonald House Charities Toronto, and this year Subaru is pleased to announce that the event raised a grand total of $10,000, which includes Subaru Canada's dollar-for-dollar match of funds raised by the Toronto Subaru Club. As one of the largest events of its kind held at a corporate head office in Canada, HyperMeeting gives us a chance to give back to the community as well as a unique opportunity to connect with some of Subaru's most ardent enthusiasts.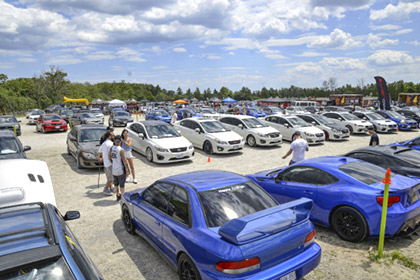 Monozukuri Class at Kids Engineers Event held by Society of Automotive Engineers of Japan, Inc.
In August 2017, Kids Engineers Event was held at Portmesse Nagoya, the International Exhibition Hall. Subaru participated in this event as "Monozukuri Class" in collaboration with Subaru Techno Corporation. At the event, Subaru made models that can easily switch between four wheel drive and two wheel drive, and after completion, Subaru demonstrated how easily a four wheel drive model climb a hill or stairs that the two wheel drive model cannot. About 140 elementary school children had fun participating in making models with us.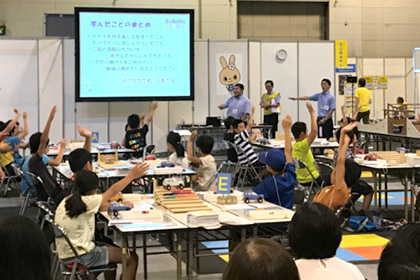 Learning about the difference between four and two wheel drives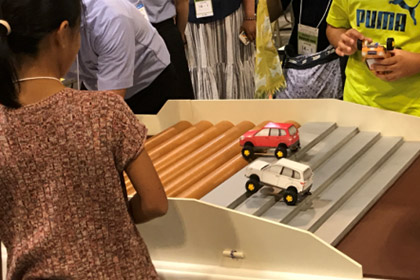 Experiment to see the difference between four and two wheel drives
Mitaka Monozukuri Class held (Tokyo Office)
In December 2017, as a cooperative endeavor with Mitaka City Lifelong Learning Center, Subaru and Subaru Techno Corporation together in collaboration held a Monozukuri Class for elementary school children. About 30 students in 4th, 5th, and 6th grades in Mitaka City participated, and made model cars. It was a fun learning opportunity for them to run the cars they made.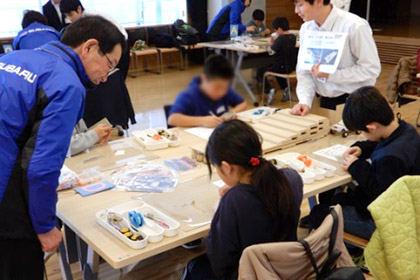 Making model cars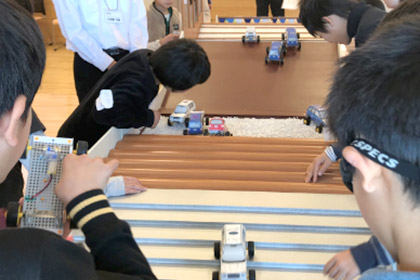 Running test of model cars they made
Participation in the 8th Ota Town Teachers Trade Fair (Gunma Plant)
In November 2017, the 8th Ota Town Teachers Trade Fair organized by the Ota Town Teachers Trade Fair Promotion Association was held in Ota municipal Watauchi Elementary School, and Gunma Plant participated in the fair. At our booth, some 200 visitors created their own key chains with Subaru marque, and children who are to become future leaders of monozukuri had fun learning.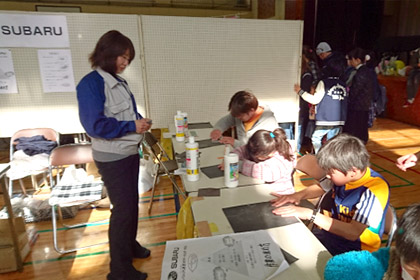 Accepting Tours at SUBARU Visitor Center
Opened to the public in July 2003, the SUBARU Visitor Center welcomes people visiting the Yajima Plant for plant tours, etc. Inside the center, visitors can view historic Subaru models and cars that set world records, as well as learn more about Subaru's unique technologies and environmental initiatives. In FYE2018, 91,694 people visited the facility.
For detailed information on the Visitor Center, please refer to the link below.
https://www.subaru.co.jp/csr/factory-tour/ (Japanese version only)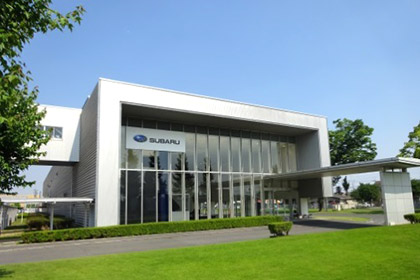 SUBARU Visitor Center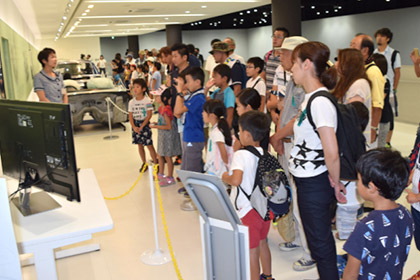 Tours at SUBARU Visitor Center
The Environment
Launch of Subaru Forest Project
In June 2017, Subaru launched an initiative to conserve forest and protect biodiversity in a wide area covering Subaru Forest and its surrounding.
In Bifuka Town, Hokkaido, Subaru carries out conservation and maintenance efforts such as afforestation and thinning in the forest of about 100 ha that Subaru owns in the site of Subaru Test & Development Center Bifuka. In addition to collaborating with Bifuka Town, where the Center is located, Subaru also carries out activities in collaboration with Gunma and Utsunomiya, areas that are also very close to Subaru.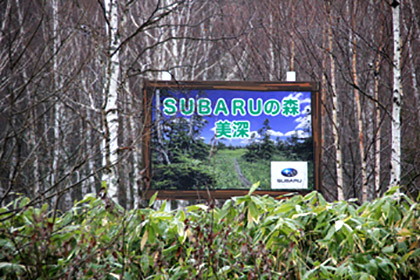 Subaru Forest Bifuka (Hokkaido)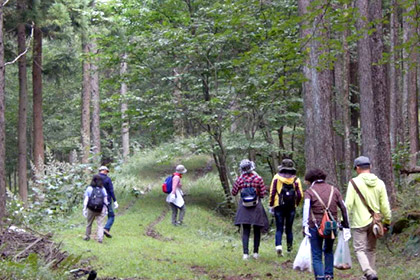 Subaru Friendship Forest Akagi (Gunma)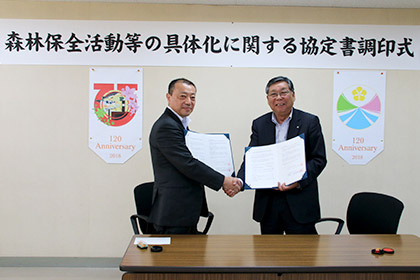 Signing ceremony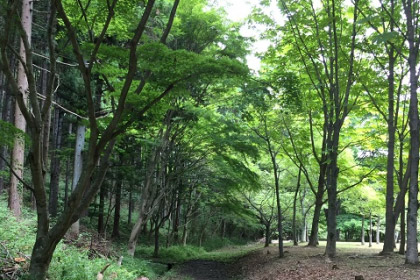 Subaru Forest Utsunomiya (Tochigi)
Cooperating in the environment beautification initiative around Mt. Fuji
In September 2017, Mt. Fuji Beautification Foundation held a cleanup activity from its 5th station to 6th station, in which Subaru employees also took part. Subaru has been providing funds to support the foundation's activities, which are used for the beautification of areas around Mt. Fuji. In FYE2018, as part of Subaru Forest initiative, Subaru made and donated nine bicycle stands using the thinned wood from Bifuka Town, Hokkaido, to the Public Corporation Fuji Toll Road Management Office that manages the Fuji Subaru Line.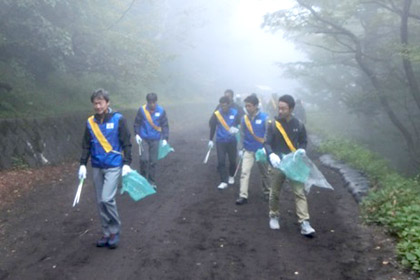 Cleanup activity (Mt. Fuji's 5th station)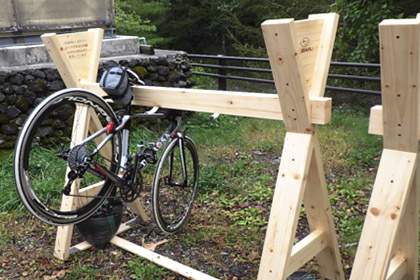 Bicycle stand made with thinned wood
The SUBARU Forest Ecology Conservation Project in China: "31 Forest Star Tours" (Subaru of China, Ltd.)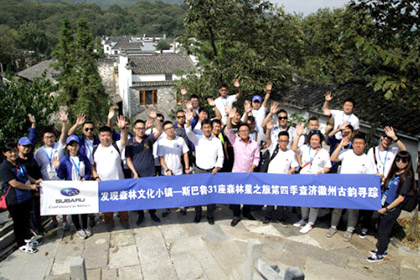 SOC employees participating in the forest conservation activity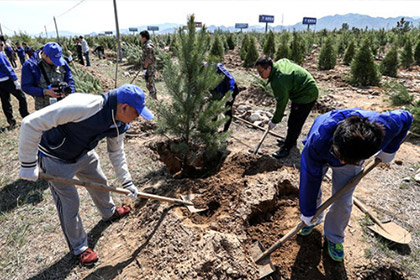 Afforestation activity
School visits to teach environmental issues (Utsunomiya Plant)
At the Aerospace Company, school visits have been conducted since FYE2007 to raise children's interest in the field of aerospace so that it becomes an option in the selection of occupation. In this initiative, Subaru employees become lecturers and visit elementary schools in Handa City and Utsunomiya City to talk about and do experiments with materials used in airplanes. It is intended to teach children about the mechanism of global warming and ways to prevent it. A total of 15,641 students from 228 schools in Utsunomiya and Handa have participated since FYE2007, and it has become an initiative rooted in the community.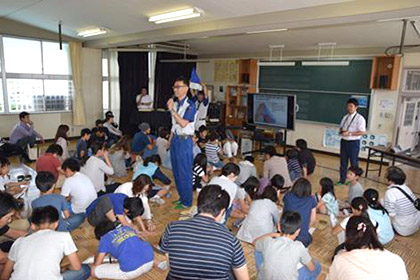 Donation to greening activity (Utsunomiya Plant)
Subaru has donated to Greening Promotion Committee of Tochigi and Aichi Prefecture a total of 5,610,000 yen collected from everyone working at the Aerospace Company. This initiative that started in the year 2000 has marked its 18th year this year. In FYE2008 it had received the Director General of the Agriculture and Forestry Agency Award, and in FYE2018 Director of Greening Promotion Committee Award for the third time.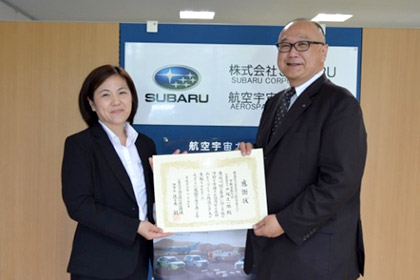 Received a letter of appreciation from Gunma Prefecture for Corporate FURUSATO Tax Payment
In March 2018, as a company paying a huge amount of tax under the Corporate FURUSATO Tax Payment system, Subaru received a letter of appreciation from the governor of Gunma Prefecture. This system is intended for corporations to support local governments in rural areas revitalize through donations. Subaru has donated 100 million yen to Gunma Prefecture for the projects of environmental protection of Oze and of nature and environment education.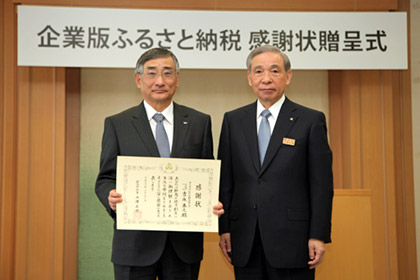 Traffic Safety
Traffic safety talk and plant tour (Gunma Plant)
Subaru Community Exchange Association held a traffic safety talk and plant tour in February 2018 at the Yajima Plant, and had about 120 people from the Oizumi South district participate. In the talk, it was explained that 97% of traffic accidents is caused by drivers and that 75.5% of them is due to erroneous recognition. It was an opportunity for participants to once again raise awareness towards safe driving.
In the plant tour, participants visited Yajima Plant and the Visitor Center to have a close look at Subaru's monozukuri.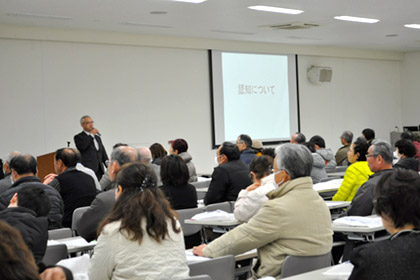 Traffic safety talk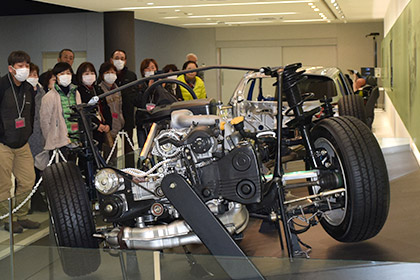 Tours at Visitor Center
Track-and-field team participating in the "Relay Race to Connect Lives," a traffic safety PR activity in town (Gunma Plant)
In September 2017, athletes of the track-and-field team were assigned to Ota Police Station's One Day Chief of Police and participated in the Relay Race to Connect Lives.
In the opening ceremony, one of the athletes spoke to the audience, "while Subaru is running, there are times when Subaru encounters dangerous situations. When you walk at night, please make sure to wear a reflector."
A total of 75 volunteers, Ota police officers, and track-and-field team members participated in this event to distribute traffic safety flyer and reflectors to local residents.
After the event, the team received an appreciation letter from Ota Police Station.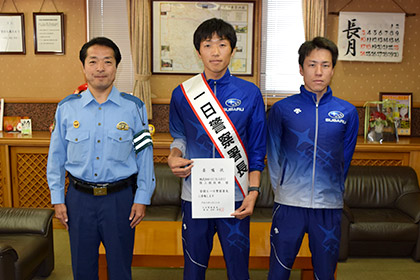 Letter of Appreciation from Ota Police Station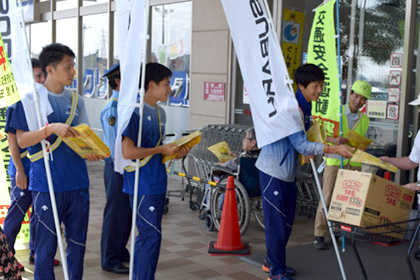 Distributing traffic safety flyer and reflectors
Implementation of traffic safety guidance (Utsunomiya Plant)
As an initiative to call for traffic safety of local children and for improving the employees' traffic manners, Subaru provided traffic safety guidance on streets near the Utsunomiya Plant during commuting hours. As there are many different streets along which children commute to school in the vicinity of the plant, Subaru carried out the guidance twice in April when new pupils start school and in September when pupils might become less careful after the summer vacation.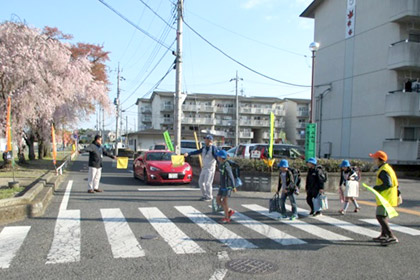 Traffic safety awareness raising activity
Subaru has started operation of the Subaru Kids website for children in order to raise awareness of children regarding traffic safety. Also for employees, each work site carries out traffic safety awareness raising activities before long vacations. They are intended to aggressively make the employees become aware of being a member of traffic society.
Sports and Culture
Subaru baseball team and track-and-field team instruct children as coaches
In October 2017, Subaru baseball team held a baseball class in Yajima Ground. This was held as a sub-prize to the champion team (Niragawa Nishi West Giant) in the Subaru Cup, a baseball tournament in Ota City. On that day, Subaru team played a game with the champion team and taught children that baseball is both difficult and fun. The Subaru team also coaches children in Musashino district in Utsunomiya.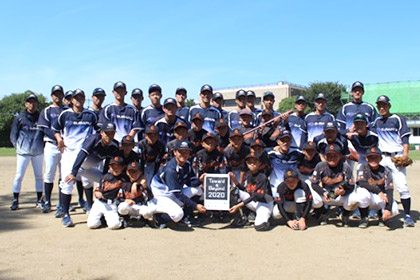 Subaru Cup champion team and Subaru baseball team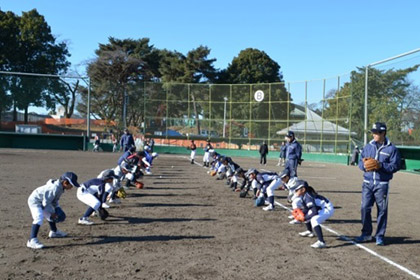 Boys baseball class in Utsunomiya district
In March 2018, the "Friendship Class to gather and meet Subaru athletes" was sponsored by the Gunma Children's Health Development Team at Gunma Kids' Country and our track-and-field team participated as lecturers. More than 60 elementary and junior high school students participated in the event. On the day, despite cloudy and cold weather, they ran with full energy. This year, Subaru taught students not only in the local area but also at the training camp (Monbetsu, Hokkaido).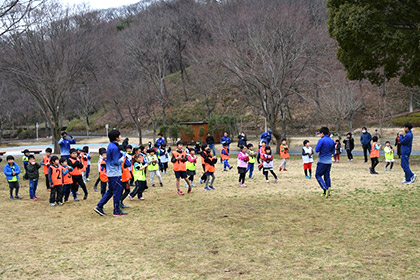 Friendship Class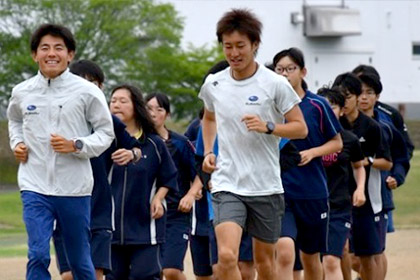 A practice meet with track-and-field club members of Monbetsu Junior High School
The 15th Gunma Prefecture Children's Rubber-ball Baseball Game for Subaru Flag held
There participated 20 teams consisting of children in 6th grade from elementary schools in Gunma Prefecture. During the months of October and November 2017, the Gunma Prefecture Children's Rubber-ball Baseball Game for Subaru Flag sponsored by our company was held, and Kiryu Mokusei Team and Maebashi All Star Team competed in the final game. Both teams received a commemorating medal from Subaru.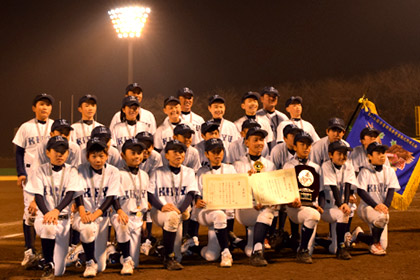 The champion Kiryu Mokusei Team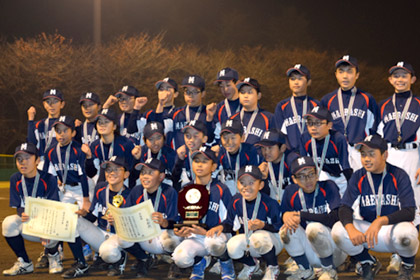 Maebashi All Star Team, second place team
Subaru track-and-field team participates in the New Year Ekiden
On January 1, 2018, the New Year Ekiden race was held in Gunma Prefecture. The Subaru track-and-field club participated in the meet for the 18th time in a row, and among 37 teams coming from all over Japan to compete, the Subaru team ran in 5 hours 2 minutes 55 seconds and came in 22nd place.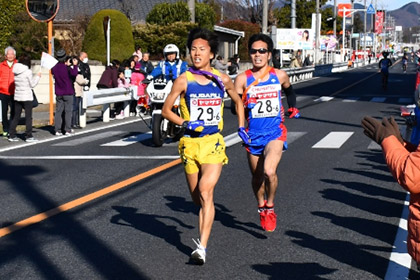 Subaru team athlete running in Gunma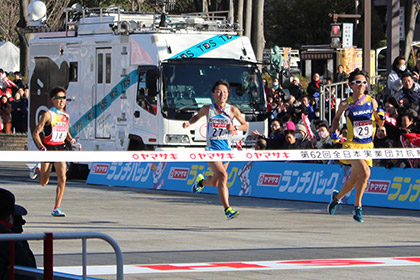 Subaru team finishing in 22nd place
Subaru CASA Cycling Challenge held (Subaru of Indiana Automotive, Inc.)
Subaru of Indiana Automotive, Inc. (SIA) has used its test course to hold a 24-hour cycling event since FYE2012. The entry fee and donations collected from individuals and groups are donated to CASA for Kids Fund, an organization that helps children suffering from child abuse and abandonment of childcare to become independent.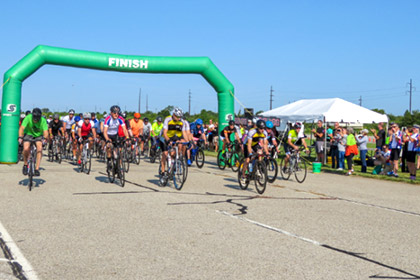 Running/walking event Subaru Color 5K held (Subaru of Indiana Automotive, Inc.)
Subaru of Indiana Automotive, Inc. in collaboration with Special Olympics Indiana, an international sports organization offering daily sports programs and competitions as a place of presentation of achievements with the aim of people with intellectual developmental disabilities becoming independent and participating in society, has held a running/walking event since FYE2016. In the event held in June 2017, more than $43,000 donation was collected.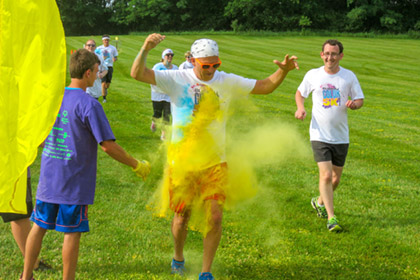 Cooperating in the 65th Friendship Concert (Gunma Plant)
Subaru Community Exchange Association held its 65th Friendship Concert in the Big Hall of the Oizumi Town Culture Village in December 2017. About 600 people of all ages enjoyed concert and various donations they brought including towels, soaps and money are donated to different social welfare facilities through a social welfare council.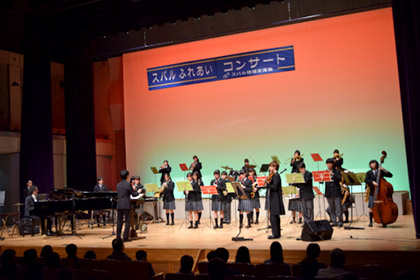 Cooperation in the Gunma Prefectural Museum of History's 94th Special Exhibition "Lives of Showa Era and Subaru" (Gunma Plant)
The 94th Special Exhibition "Lives of Showa Era and Subaru" was held at Gunma Prefectural Museum of History during December 2017 and February 2018. Materials on Nakajima Airplane, the root of Subaru, were exhibited. In the interview recording of the former employees who engaged in the manufacturing of Subaru EyeSight, design, platform and engines, heart and spirit of people in monozukuri were introduced. During the exhibition, various workshops and events were held and Subaru did a workshop to create a key chain with Subaru marque with deburring file, which was enjoyed by many visitors.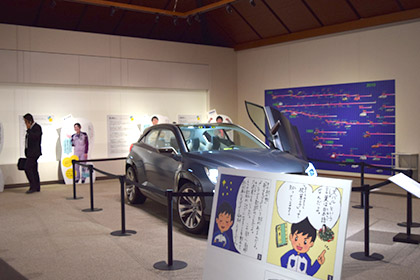 Sponsoring Matazo Kayama Exhibition (Head Office)
From April to May 2018, Subaru held "Re Matazo Exhibition" in the EBiS303, an event hall in the Ebisu Subaru Building. Subaru Kohsan Co., Ltd. and Subaru sponsored the exhibition, and approximately 17,000 visitors enjoyed the splendid culture and art.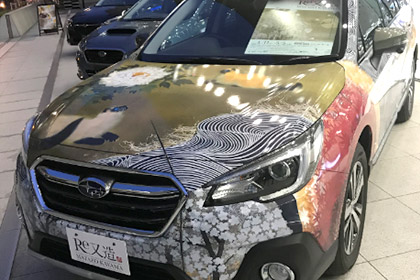 Subaru automobile wrapped with the work of Mr. Kayama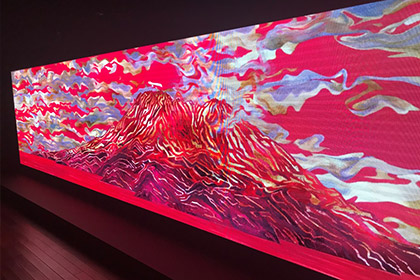 Work of Mr. Kayama fusing digital arts
Subaru's historical automobiles exhibited in various events
SUBARU maintains its vintage vehicles as a technical heritage. For many people to have the opportunity to see those historic cars and to feel the history of Subaru, Subaru exhibits them at various events.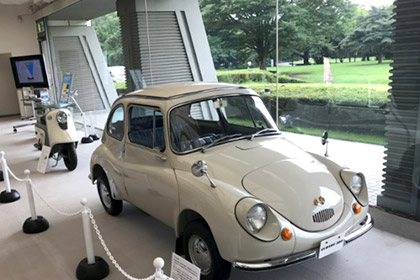 Exhibiting Subaru 360 and Rabbit Scooter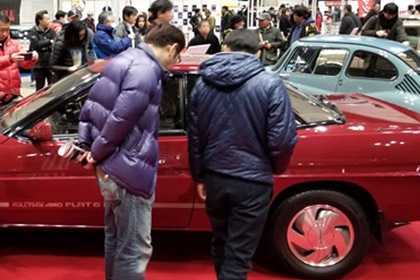 Exhibition of historic automobiles
Donation and volunteer activities
Subaru's social contribution policy states that "Subaru supports each other in contributing to society as good citizens." This is intended for employees to positively hold social contribution consciousness, which in turn leads social contribution to take root in our company-wide culture.
As a concrete initiative to this end, Subaru commends employees who actively contribute to the community and society through volunteering. This commendation system started in 2006, and in the 13th ceremony that took place in June 2018, one employee received the commendation.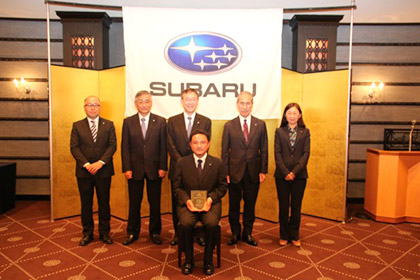 Implementation of Love Promise Activities (Subaru of America, Inc.)
Summary of program: The Subaru culture at the United States headquarters is guided by a set of behaviors and values that Subaru calls The Love Promise: Six Stars to Guide Us. It compliments a similar program involving all Subaru US-based retailers. One aspect of the program involves giving back, and Subaru employees participated in Subaru-organized volunteer activities to construct and renovate residential buildings in Camden, New Jersey, donating about 588 hours. As Love Promise is part of our culture, Subaru expects the number of activities and hours to increase.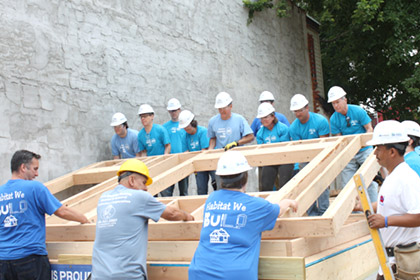 SOA employees participating in volunteer activities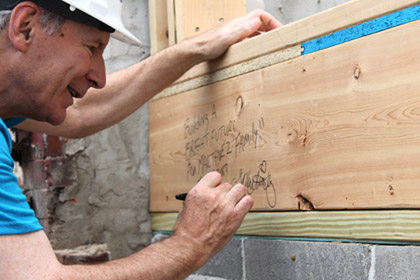 SOA's CEO writing a message of hope
Donating 76,000 science books in collaboration with US Science Promotion Association (Subaru of America, Inc.)
Subaru of America, Inc. (SOA) has donated 76,000 science books to schools in collaboration with US Science Promotion Association under the Subaru Loves Learning Program. Employees of SOA delivered over 3,000 books to 13 public schools in Camden, New Jersey.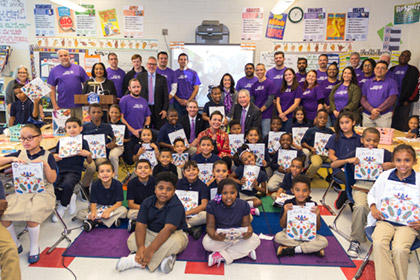 Children receiving books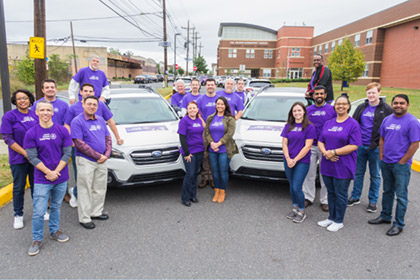 SOA employees delivering books to schools
Support for the west Japan heavy rain disasters stricken area
In July 2018, Subaru has donated 10 million yen to support the disaster stricken area through Japan Red Cross.
Also Subaru's affiliated company, Fuji Jukou House Corporation, donated about 40 container houses produced by the company.
United Way Pledge Drive (Subaru of Indiana Automotive, Inc.)
Subaru of Indiana Automotive, Inc. (SIA) has held a pledge drive since 1998 for associates to pledge donations from their paychecks to United Way, a nonprofit organization focused on providing basic needs for those in need. In FYE2018, our drive collected $763,079.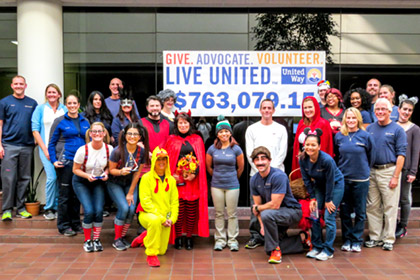 Donations through the Japan Business Society of Detroit (Subaru Research & Development, Inc.)
Subaru Research & Development, Inc. (SRD) has funded local high schools since 2010 through donations to the Japan Business Society of Detroit (JBSD). The JBSD donated funds are used as scholarship for US students to study abroad and for Japanese foreign students to attend school. They are also donated to Japanese schools in Indiana State. The amount added up to $7,365 in FYE2018.