Social Contribution Policy
Gratitude for the Local Communities
Subaru Group's social contribution has focused on our responsibility as a manufacturer of transportation machinery and on having the communities in which we operate be happy with our presence. We also inroporate in our social contribution policy our hope to have social contribution take root in our corporate culture and to sincerely carry out such activities.
Social Contribution Policy
We contribute to the development of science and technology and automobile culture and to the promotion of road safety.
We contribute to the fostering of human resources who understand the pleasure, importance and preciousness of creative manufacturing.
We contribute to the development of the communities in which we operate.
We support each other in contributing to society as good citizens.
System for Promoting Social Contribution Activities
Subaru Group established the Social Contribution Committee in 2012 as a body to actively promote and continue social contribution activities leveraging our technology and expertise.
The Social Contribution Committee is, based on the organizational restructuring in FY2018, assigned the chairperson to the head of Corporate Admnistration Division and also changed its secretariat from General Administration Department to CSR & Environment Department (newly established), in order to further energize its activities.
The Committee meets every six months to compile activity results and issues and reports the findings to the CSR Committee. Our President, who also serves as the chairperson of the CSR Committee, evaluates the reports, and the Social Contribution Committee strives to make further improvements accordingly.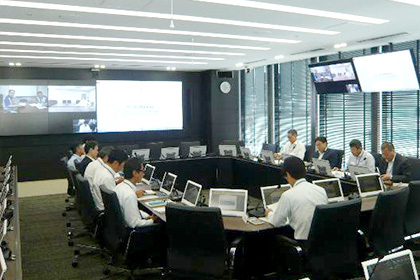 Social Contribution Committee Organization Chart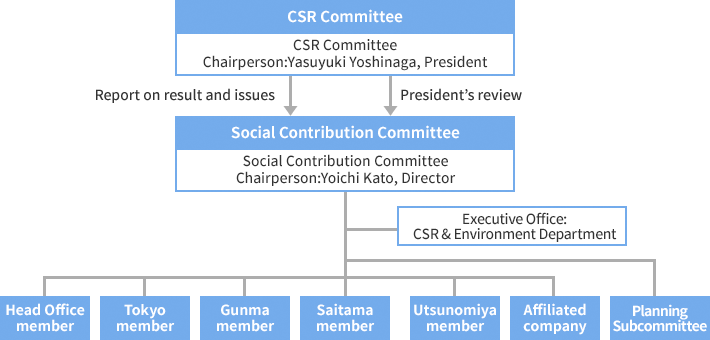 Social Contribution Initiatives
Efforts in Japan
Development of Automobile Culture and Road Safety
Holding the Subaru Road Safety Workshop
We have held the Subaru Road Safety Workshop at our Factory Appreciation Festival for the lower grades of elementary school children. After watching a picture card video about road safety, children experience the danger of entering the driver's blind spot using a real car and learn the use of turn signals. In FY2017, the festival was held at the dealership for the first time. The event will continue to be held and expanded.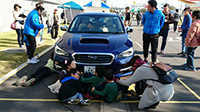 Traffic Safety Guidance (Utsunomiya Manufacturing Division)
As part of employee activities to improve traffic manners, we provided traffic safety guidance on roads near the manufacturing division site during commuting hours. As there are many different roads along which children commute to school in the vicinity of the site, we carried out the activity twice yearly in April when new pupils start school and in September when pupils might be a little too carefree after the summer vacation.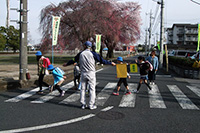 Ensure Traffic Safety for Neighborhood Children (Industrial Products Division)
Every morning, volunteer employees and security guards ensure traffic safety for the neighborhood children and watch over the routes to school. The road in front of the main gate for the Industrial Products Division is along a route to the nearby elementary school, and the activity not only provides traffic safety but also is meaningful in the prevention of crimes against children. Every year, this activity is recognized at the annual "Thank You Assembly" for the Nakamaru Higashi Elementary School in Kitamoto City and we receive the gratitude from nearby residents.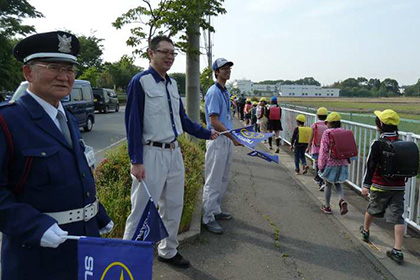 Safe Motorcycle Driving Class (Tokyo Office)
The Tokyo Office once again held the safe motorcycle driving class in 2016 in cooperation with Mitaka Police Department. Forty participants, including those from outside the company, received instruction from police motorcyclists and instructors, and participated enthusiastically to improve their driving techniques.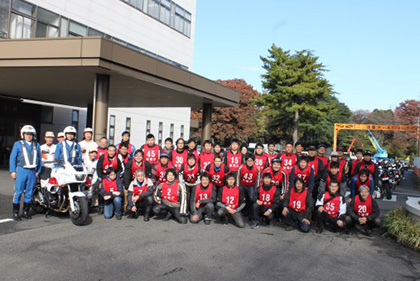 SUBARU Visitor Center (Gunma Manufacturing Division)
Opened to the public on July 15, 2003, the Subaru Visitor Center welcomes people who visit the Yajima Plant for tours of the plant and other reasons. Inside the center, visitors can view historic SUBARU models and cars that set world records, as well as learn more about SUBARU's unique technologies and environmental initiatives. In FY2017, 88,909 people visited the facility.
For a Plant Tour application (10 to 200 people) and detailed information on the Visitor Center, please refer to the link below. (In Japanese only)
https://www.subaru.co.jp/csr/factory-tour/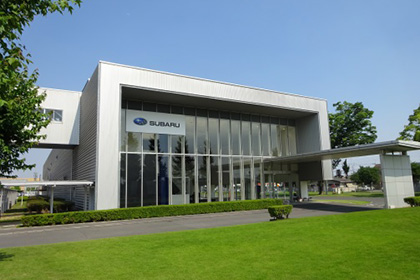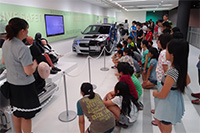 Activities to Raise Traffic Safety Awareness
We are operating the "Subaru Kids" website to promote awareness of traffic safety among children.
As a member of the traffic society we actively promote awareness among employees at each of our offices and plants by providing accident prevention meetings before long holiday seasons and other occasions.
"SUBARU Kids" site for children (In Japanese only)
http://www.subaru.co.jp/kids/
Making Things, Fostering Human Resources
Environmental Class Visits (Utsunomiya Manufacturing Division)
Since FY2007, the Utsunomiya Manufacturing Division has offered environmental class visits to local elementary schools to deepen pupils' understanding of the environment and aviation fields. Our employees visit schools as teachers to raise children's awareness about the mechanisms and prevention of global warming issues through lectures, experiments and hands-on experience of aircraft materials. At first, the visits targeted only the elementary school children in Utsunomiya City but since FY2014 the visits expanded to cover elementary and junior high schools in Handa City in Aichi Prefecture where our Handa Plant is located. Since FY2016, classes to teach the mechanisms of air flight were added. Through the experiments and actual experience, the visits aim to raise children's interest in the aviation field and to help children consider the field when choosing their jobs in the future.
In FY2017, the visits (including both environment and aviation visits) were held at 21 schools (1,254 students) in the Utsunomiya area and at 12 schools (679 students) in the Handa area.
Since the start of this activity in FY2007, the visits have taken place at a cumulative total of 205 schools (13, 936 students) in Utsunomiya and Handa areas, becoming firmly established in these areas.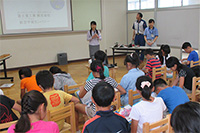 Participation in the "Machi no Sensei" Trade Fair (Gunma Manufacturing Division)
On December 4 (Sunday), the "Machi no Sensei" (town teachers) Trade Fair organized by the Ota Machi no Sensei Trade Fair Promotion Association was held and we participated in the fair. At our booth, visitors were able to experience finishing work for the plate that shapes the Subaru marque while deburring with sandpaper to create their own key chains. The venue was visited not only by children but also by many of their parents enjoying the event.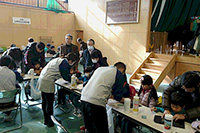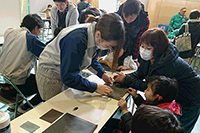 Cooperation in the "Factory tours to connect children with the community" (Industrial Products Division)
This cooperation started in FY2015 after the mayor of Kitamoto City and the Board of Education asked us the possibility of preparing "a factory tour for third graders in Kitamoto City who are receiving lessons on jobs and life using Saitama Manufacturing Division as lesson materials."
In FY2017, we welcomed 224 students from three schools in the city.
We received many questions beforehand from the students, who had studied the process up to making engines in textbooks, and comments after the tour from them saying that they want to actually do the work.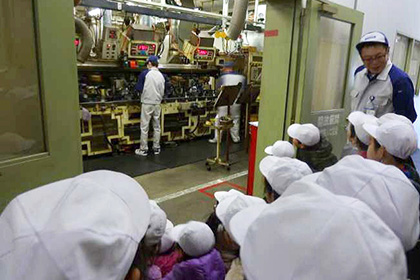 Manufacturing Workshop
We are sponsoring manufacturing workshops for children to experience the pleasure of creating through the joy of assembling parts, and then through experiencing running the created model car through a cross-country course.
Models that can easily switch between 4-wheel and 2-wheel drive were created, and experiments after completion responded to the intellectual curiosity of the children by explaining to children in an easy-to-understand manner why 4-wheel drive made it easy to climb hills or steps that 2-wheel drive could not.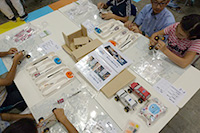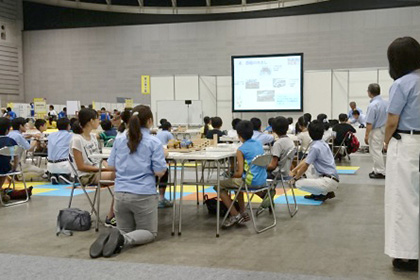 Community Contribution
Local Area Cleaning (Utsunomiya Manufacturing Division)
We periodically conduct clean-and-beautify your neighborhood activities by employees in the vicinity of each of our offices and plants. In FY2017, a cumulative total of approximately 4,800 employees, including 400 employees of Utsunomiya Manufacturing Division, took part in the activities. We plan to continue these local clean-and-beautify activities.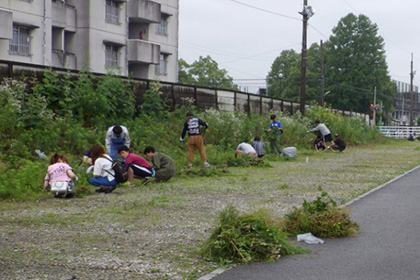 Friendship Festival (Utsunomiya Manufacturing Division)
In October 2016, we opened the South Plant in the Utsunomiya area to the public and held a Friendship Festival. Around 4,000 people took part, and we were able to deepen our exchange with local residents. As part of this, we carried out public relations activities for the CSR and environmental activities of the Utsunomiya Manufacturing Division in addition to distributing blueberry saplings in cooperation with Tochigi Environment and Green Promotion Organization in order to promote activities to expand the serenity of greenery.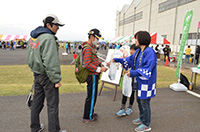 Sponsoring Summer Evening Bon Dance Festival (Utsunomiya Manufacturing Division)
A grand Summer Evening Bon Dance Festival was held with an attendance of some 1,000 people, including people from local residents' associations, women's associations, children's clubs and affiliated companies. This year marked the 30th time for the Bon Dance, which has been held since 1984, and it is an event that makes a major contribution to the community.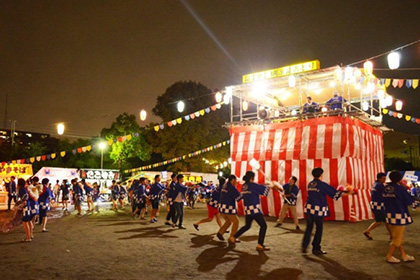 Participation in the Kanayama Cleanup Volunteer Activity (Gunma Manufacturing Division)
The Subaru Community Exchange Association sponsored the 21st Kanayama Cleanup Volunteer Activity. In heat reminiscent of early summer, volunteers from Ota City and the city's junior high schools took part in weeding around Kanayama Waterside Park and a cleanup in the area in cooperation with members of Subaru Community Exchange Association.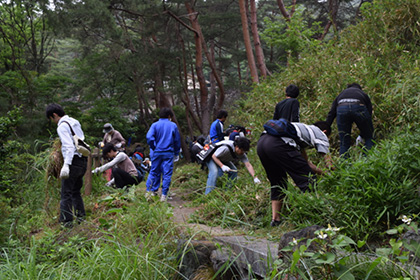 Participation in the Ota Festival and Oizumi Festival (Gunma Manufacturing Division)
A total of 1,500 employees participated in the mikoshi (portable shrine) parade. There was great excitement at each site. The spectators along the route could feel the excitement and Subaru presented a brave figure.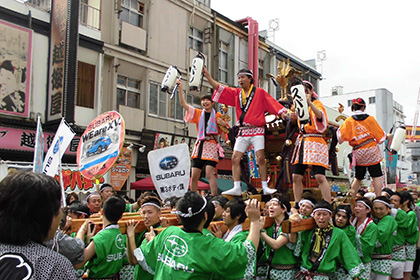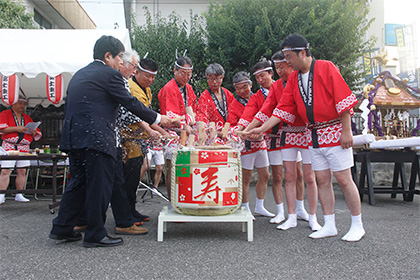 Subaru Appreciation Festival (Gunma Manufacturing Division)
The Subaru Appreciation Festival 2016 was held twice this year at the Yajima Plant and Oizumi Plant of Gunma Manufacturing Division. The event attracted around 30,000 visitors, including family members of our employees, local area residents, associated companies and others.
The festival staged various events, which included refreshment stands run by each workplace, a plant tour, and EyeSight experience.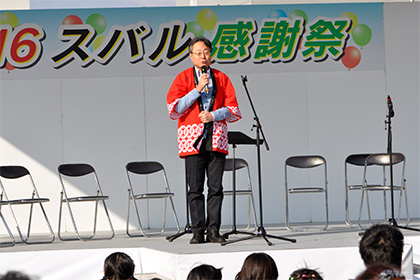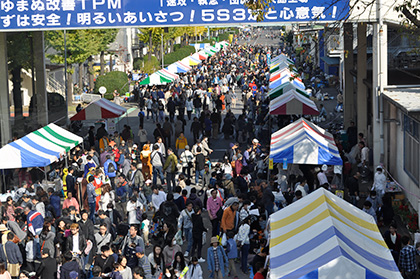 Collaboration for a workshop to gather and meet Subaru athletes (Gunma Manufacturing Division)
The "workshop to gather and meet Subaru athletes" was sponsored by the Gunma Children's Health Development Team at Gunma Kids' Country and our baseball team and track-and-field team participated as lecturers.
About 65 elementary and middle school students participated in the event and had an opportunity to learn the joy and foundation of sports from the top players in the country.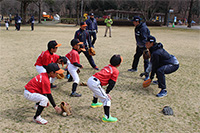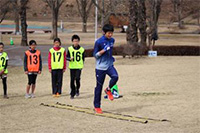 Participation in the Kitamoto City "Pikapika Kitamoto Omakase Program" (Industrial Products Division)
The Pikapika Kitamoto Omakase Program is a Kitamoto City's institution that compares public facilities, such as the roads and parks within Kitamoto city, to children and the residents and corporation employees as "foster parents" of these facilities. As such, beautification projects such as cleaning and cutting grass are performed regularly as volunteer projects. The Industrial Products Division has participated in this institution since it began in 2003 and has performed beautification and cleaning of the roads and promenades once every month around the factory. In FY2017, a total of 692 employees participated.
In addition, the achievement of our activities was recognized by Kitamoto City and we were awarded the "Kitamoto City Good Conduct Award" by the Kitamoto City Mayor in November 2014.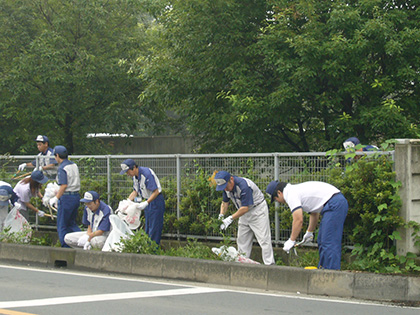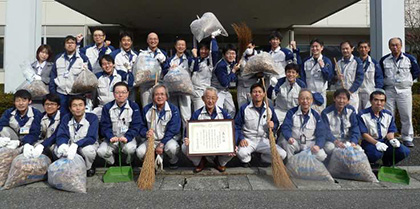 Participation in "Machikado Green Day" in Chuo Ward, Tokyo (Industrial Products Division)
We took part in Machikado Green Day (Greening the Streets Day) beginning in FY2017. We participate in Machikado Green Day, a volunteer cleanup activity of Chuo ward, Tokyo, by having employees working at the Tokyo Office of the Industrial Products Division volunteer once a month during lunch time to clean sidewalks and parks around the office. In the first year of FY2017, a total of 141 employees participated.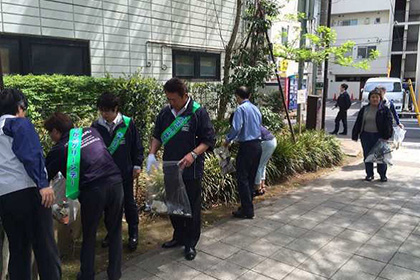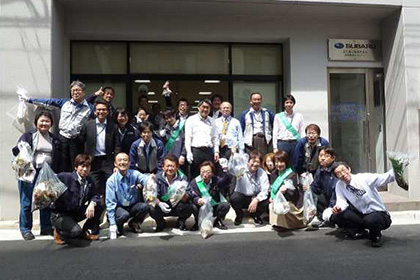 Summer Festival (Tokyo Office)
Starting with a parade by the Samba Club from the neighboring International Christian University, the Summer Festival featured fun events including the annual lottery and presents for children, which were popular among visitors accompanied by children, and we were able to mingle with a great many people from the local area again this year.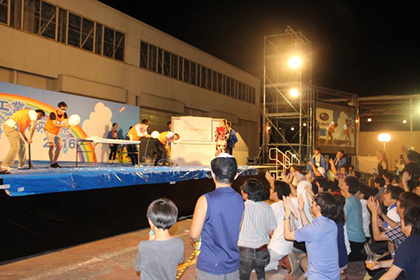 Naming Rights of Mitaka City Sports Center Acquired (Tokyo Office)
In 2017, Fuji Heavy Industries, Inc., with its Tokyo Office located in Mitaka City, welcomed the 100th anniversary of its founding and changed its name to Subaru Corporation in April of the same year. The "Subaru General Sports Center" opened, with the wish that the city residents to be more familiar with our company and with our wish for residents to be active/nurture and stay healthy by gathering at this facility and becoming united through sports, following the meaning of Subaru (subaru = consolidate in Japanese) to "gather" and to "unite."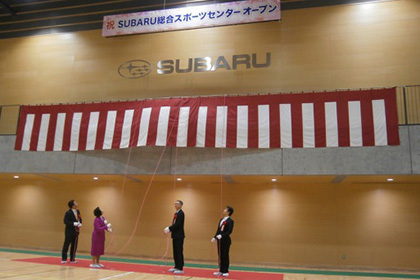 Supporting Activities to Maintain the Environment
Cooperating in environmental maintenance activities around the Fuji Subaru Line
Subaru employees participated in the cleanup of Mt. Fuji, sponsored by the Mt. Fuji Beautification Foundation, by beautifying the route from the 5th Station to the 6th Station. We have continued to contribute funding for the activities of the Foundation, which has been useful for environmental activities around Mt. Fuji.
In FY2017, we have donated a second patrol car and caps worn by staff during patrol to the Yamanashi Prefecture Road Corporation that operates the Fuji Subaru Line, and they are being useful in traffic safety and environmental protection activities of the Subaru Line.
Flower Distribution and Hosting Elementary School Flower Bed Contest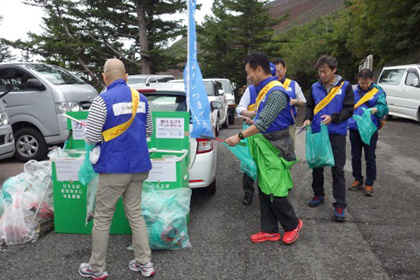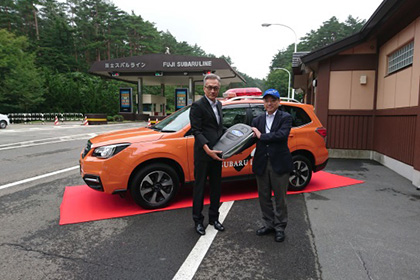 Support of Volunteer Activities
The social contribution policy sets forth clearly the participation of each employee in social action programs as a citizen. The policy is intended to make employees conscious of the need for their proactive social contributions so that a culture to do something for society remains firmly rooted in the entire company.
As a specific example, an award system to honor employees who contribute to the community and society by actively volunteering was established in 2006. This award was established in 2006, and at the 12th Award Ceremony in June 2017, we commended one employee.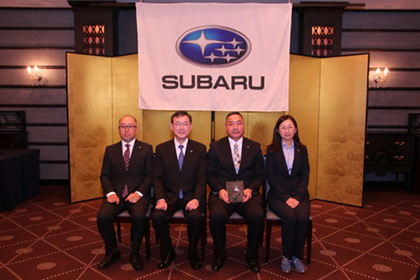 Overseas Initiatives
Subaru of America, Inc. Initiatives
Subaru Employees Celebrate Love Promise
Summary of program: The Subaru culture at the United States headquarters is guided by a set of behaviors and values that we call The Love Promise: Six Stars to Guide Us. It compliments a similar program involving all Subaru US-based retailers. One aspect of the program involves giving back, and during the last fiscal year ending March 2017, Subaru employees participated in more than 115 Subaru-organized volunteer activities, donating about 5,000 hours. As Love Promise is part of our culture, we expect the number of activities and hours to increase.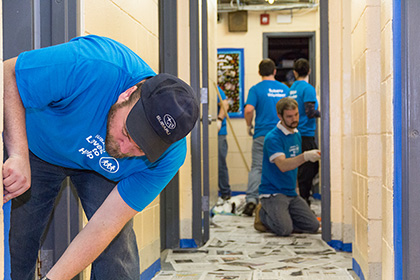 Subaru of Indiana Automotive, Inc. Initiatives
United Way Pledge Drive
SIA holds a pledge drive each year for Associates to pledge donations from their paychecks to United Way, a nonprofit organization focused on providing basic needs for those in need. This year our drive collected $752,131.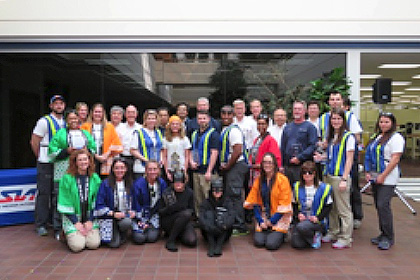 Subaru Canada, Inc. Initiatives
Participation in Local Government Garbage Pickup Event
In Mississauga, a call for a 20-minute cleanup is given to local corporations every Earth Day. Subaru Canada, Inc. (SCI) endorsed this initiative twelve years ago and in FY2017, there were 15 employees who participated. In addition, Mississauga allocates roads to local corporations to manage beautification and perform zero road-side waste activities. SCI also endorses these initiatives, and picks up garbage along 2.5 kilometers around the site three times a year.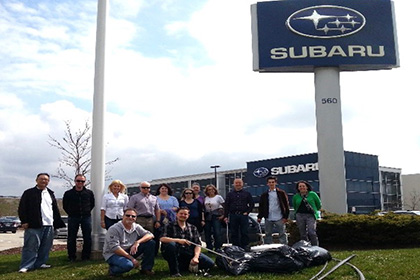 Toronto Subaru Club HyperMeeting
On August 14, we welcomed the Toronto Subaru Club and enthusiasts from all over the Greater Toronto Area to our headquarters for the 13th Annual HyperMeeting. This year over 1,300 attendees came out to share their pride of Subaru ownership, showcase their vehicles and enjoy a day of family-friendly fun. With a complimentary BBQ and snow cones, musical entertainment and the ever-popular Kid's Zone, the event was once again a huge success. As in previous years the proceeds of the event will go to Ronald McDonald House Charities Toronto, and this year we are pleased to announce that the event raised a grand total of $37,000, which includes Subaru Canada's dollar-for-dollar match of funds raised by the Toronto Subaru Club. As one of the largest events of its kind held at a corporate head office in Canada, HyperMeeting gives us a chance to give back to the community as well as a unique opportunity to connect with some of Subaru's most ardent enthusiasts.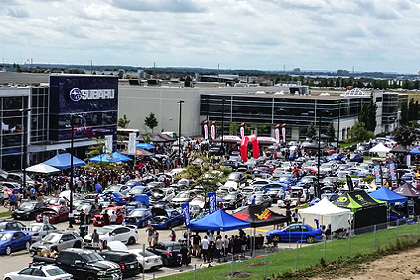 Subaru of China, Ltd. Initiatives
Subaru Research & Development, Inc. Initiatives
Donations through the Japan Business Society of Detroit and the Japanese Business Association of Southern California
Subaru Research & Development, Inc. (SRD) supports various social activities through donations to the Japan Business Society of Detroit (JBSD). In FY2017, a total of $2,290 was donated to the Japanese Art Exhibit at the Detroit Institute of Arts and in association with activities of JBSD. In addition, $500 was donated to support public schools in southern California through cooperation with the Charity Golf Event of the JBA Foundation, the non-profit organization associated with the Japanese Business Association of Southern California (JBA).