Overview: Subaru's Basic Approach to Climate Change and Specific Initiatives to Tackle the Problem
Our Approach to Climate Change
As the earth, the sky and nature are Subaru's fields of business, we regard nature's bounty as essential.
Characterized by increasingly frequent and devastating abnormal weather events, climate change is a threat to all of humanity. Reducing anthropogenic greenhouse gases (referred to below as "CO2" for the sake of convenience), which have been pinpointed as the cause of climate change, is a crucial task that will ensure the sustainable growth of both Subaru and society as a whole.
Based on this approach, the Subaru Group aims not only to increase the environmental performance of our products, but also to protect the global environment throughout the automobile life cycle, from extracting raw materials to manufacturing, transport, and use, right through to disposal. In this way, the Subaru Group will contribute to achieving the Paris Agreement's goal of keeping the increase in global average temperature to well below 2℃ above pre-industrial levels, adopted in 2015.
Product Initiatives
Subaru believes that finding ways to improve fuel economy, which is a measure of our products' environmental performance, is key to reducing emissions of CO2, which is said to be one of the causes of global warming. While continuing to further improve the fuel economy of our gasoline engine vehicles, Subaru will strive to reduce CO2 emissions by expanding our range of electric vehicles (EVs) and furthering the development of EVs to take account of the increasingly stringent fuel efficiency regulations being imposed by various countries.
One example of improved fuel economy in our gasoline engine vehicles can be found in the Forester launched in July 2018, which achieved the class-top level of fuel economy performance in the small SUV class. The Forester has been equipped with a newly developed 2.5 L direct injection engine, which achieves increased fuel efficiency through the use of a more aerodynamic body, a higher compression ratio, and the active valve control system (AVCS) on the exhaust side. The All-New Outback and Legacy due for launch in the U.S. in fall 2019 is also equipped with same gasoline engine, with further improvements in fuel economy provided through its use in combination with an improved continuously variable transmission (CVT).
At the same time, the Forester*1 launched to expand Subaru's lineup of EVs is equipped with the new e-Boxer*2 power unit, which combines a horizontally opposed boxer engine with electric technology and which has already established its reputation in the Subaru XV. In December 2018, Subaru began accepting orders in the U.S. for our very own plug-in hybrid, the Crosstrek Hybrid, which leverages Toyota Motor Corporation's knowledge of hybrid vehicle technology. Subaru will continue to expand and develop our range of hybrid vehicles into the 2020s by blending the electric technology that we have cultivated over the years with Subaru's unique qualities.
*1

Adopted in Advance grade.
*2

"e-BOXER" is a generic term used for "horizontally-opposed engine + electrification technology" which offers Subaru's characteristic driving enjoyment, as well as being environmentally friendly.
To ensure that Subaru is ready when the age of EVs gets underway in earnest, we announced an agreement with Toyota, with which Subaru is in alliance, in June 2019 for the joint development of both a platform dedicated to battery electric vehicles (BEVs) for midsize and large passenger vehicles, and a C-segment-class BEV SUV model. By bringing together both companies' strengths—such as the electrification technology that Toyota is employing to bring together other companies that share its aspirations and the all-wheel drive (AWD) technology that Subaru has built up over the years—we are taking up the challenge of creating attractive products with appeal that only BEVs can offer, aiming for launch in the first half of the 2020s.
Initiatives at the Production Stage
Subaru's direct CO2 emissions (Scope 1 & 2) are minimal in comparison to the total emissions, including Scope 3 emissions. However, in our Environmental Policy, Subaru has set ourselves the challenge of protecting the environment throughout the value chain, so we believe that taking the initiative in efforts to reduce direct CO2 emissions will help to enhance activities by the Subaru Group as a whole.
Accordingly, we have set ourselves the target of reducing our direct CO2 emissions (Scope 1 & 2) to 30% below FYE2017 levels on a total emissions volume basis by FYE2031. Furthermore, we will bring forward a part of our program to tackling climate change, which is an issue that brooks no delay. As such, we aim to achieve a reduction of approximately 20,000 t-CO2—equivalent to around 3% of annual emissions, by FYE2021 through the introduction of renewable energy, among other measures.
Related information
Community partnership: The Subaru Forest Project
Subaru is dedicating considerable energies to the conservation of forests, which are carbon sinks, in order to conserve local natural capital.
More specifically, we are working to conserve local forests by expanding the Subaru Forest Project, concluding agreements with local governments in Gunma Prefecture, Utsunomiya City in Tochigi Prefecture, and Bifuka-cho in Hokkaido, which are communities with strong links to Subaru's business.
Related information
Background: Key Risks and Opportunities Related to Climate Change
Approach to Risks and Opportunities
If no steps were taken to address climate change, Subaru's markets such as Japan and North America would be severely impacted and Subaru would be unable to continue doing business. Subaru has set a long-term target of keeping the temperature increase to "well below 2℃," as specified in the Paris Agreement, and has analyzed the short- to medium-term scenarios for achieving this goal, taking into account various factors.
In the case of our products, keeping in mind the fuel economy regulations set by the governments of countries where Subaru does business, we have examined a range of scenarios that comprehensively take into account the scenarios for electrification drawn up by the IEA and relevant governments, the progress of electrification in the automotive markets and the development of social infrastructure, technology that can withstand actual consumer use, the need to secure appropriate profits, and progress in achieving low-carbon/zero-carbon outcomes in upstream and downstream of product processes.
Looking at production, Subaru has set the FYE2031 target with reference to Japan's Nationally Determined Contribution (NDC); the stable supply and price of low-carbon energy in Japan and the U.S.; and progress in the energy mix promoted by governments, along with carbon pricing. While making energy conservation activities the cornerstone of our efforts, Subaru is currently formulating the Subaru Environmental Action Plan, which takes into account the installation of energy-saving equipment and the introduction of renewable energy.
[Main Risks Identified]*1
Relating to products
(1) If Subaru does not abide by fuel economy regulations in Japan, the U.S., Europe, and China, we could incur additional costs or losses via negative incentives, such as fines or non-penal fines for violating laws and regulations, and costs associated with purchasing credits. Opportunities to sell Subaru products could also be limited if we do not meet certain fuel economy standards.
(2) A sudden shift toward electrification at a stage when EVs do not yet meet customer needs could not only give rise to unnecessary development costs and a decline in customer satisfaction, thereby leading to unexpected losses and reduced sales opportunities, but also stall progress in electrifying Subaru products.
(3) Ensuring profitability while pursuing low-carbon/zero-carbon outcomes at every stage, from procurement to use and disposal, is crucial in electrification. If Subaru's initiatives do not cover the whole of the value chain from upstream to downstream, we might not be able to achieve its objectives throughout the product life cycle.
(4) Subaru regards electrification as a trend that will progress steadily from a medium- to long-term perspective and there is a possibility that EVs will suddenly permeate the market at some stage. Our product sales opportunities might be seriously impacted if we have not prepared appropriate technologies and products at that point.
Relating to production phase
(1) If Subaru continues to use energy from fossil fuels, we could incur rising costs, due not only to geopolitical factors associated with petroleum and the like, but also to government carbon taxes and regulations on emission quotas.
(2) Subaru believes that renewable energy will become mainstream in the medium to long term. However, cost and stable supply remain challenges at this stage, so cost-effectiveness must also be considered.
Relating to business management in general
(1) Failure to implement adequate initiatives to achieve low-carbon/zero-carbon outcomes could harm Subaru's brand value and negatively impact the company's ability to hire personnel and sales. Capital costs could also rise, due to difficulty in securing financing from investors in the medium to long term.
(2) Some say that the current Nationally Determined Contributions under the Paris Agreement are not enough to achieve the "well below 2℃" target, so if countries adopt more stringent targets, Subaru's business could be severely affected.
[Main Opportunities Identified]*1
(1) If efforts to make products more environmentally friendly advance appropriately and global efforts to adapt to and mitigate climate change progress, Subaru will be able to maintain our main markets and receive even greater support for the safe and reliable products that are Subaru's strong point, even in the face of the extreme weather conditions that cannot, to some extent, be avoided in certain parts of the world. This has the potential to expand business opportunities, for example, creating new markets.
(2) Meeting expectations around climate change could increase Subaru's brand value, thereby generating positive effects on the company's sales and ability to hire personnel. This could make it easier to secure financing from investors in the medium to long term, thereby reducing capital costs.*2
(3) By transitioning to renewable energy, while still taking cost-effectiveness into account, Subaru could be freed from the risk of price fluctuations inherent in energy derived from fossil fuels, thereby preventing future cost increases.
*1

The risks and opportunities described above are based on past facts and currently available information and may change significantly due to such factors as future economic trends and the business environment facing Subaru.
*2

The content represents an opportunity for SUBARU products to contribute to climate change adaptation and is not expecting degradation of climate change.
SUBARU regard initiatives to tackle the global challenge of climate change as one of the most important of these and will continue to contribute to the Paris Agreement's goal.
Systems: Governance Structure Relating to Climate Change
Subaru has established the Environment Committee to contribute to the sustainable growth of both society and the company, and to conserve the global environment. As well as discussing targets and measures in a broad and medium- to long-term perspectives that meet the environmental standards required by future societies, the committee evaluates progress in implementing and achieving these.
The Environmental Committee is chaired by the Corporate Executive Vice President and Representative Director in charge of the Sustainability Promotion Department.
Details of discussions by the Environment Committee are reported to the CSR Committee. There is also a system for raising/reporting matters to the Executive Management Board and Board of Directors if necessary.
Governance Structure Relating to Climate Change 
☆Companies participate in the domestic affiliated company meeting
*Group certification
KPIs: Where We Want to Go
Subaru aims to reduce our direct CO2 emissions (Scope 1 & 2) to 30% below FYE2017 levels on a total emissions volume basis by FYE2031.
As a first step toward this target, Subaru is moving forward with initiatives aimed at achieving a reduction of approximately 20,000 t-CO2/year, by FYE2021, which will equate to around 3% of the annual emissions.
<Breakdown of efforts for CO2 emissions reduction by FYE2021>
Starting year
Efforts
CO2 reduction
FYE 2019
1
Introduction of zero-CO2-emission electricity at South Plant and 2nd South Plant of Aerospace Company's Utsunomiya manufacturing site
5,400t-CO2
2
Utilization of the Green Power certification / Green Heat certification program at Head Office in Ebisu and the Subaru Training Center in Hachioji
1,000t-CO2
FYE 2020
3
Installation of captive-consumption solar power system at Gunma Oizumi Plant'
2,600t-CO2
4
Installation of captive-consumption solar power system at Subaru Accessory Center and Kanta POI Center in Oizumi
330t-CO2
5
Introduction of zero-CO2-emission electricity at Main Plant in Gunma and Tokyo Office in Mitaka
10,200t-CO2
Efforts to achieve CO2 emissions reduction of 20,000 t-CO2

Performance
Greenhouse gas emissions in the supply chain for FYE2019 (Scope 1, 2 and 3) were 27.75 million t-CO2.
Subaru participated in the Ministry of the Environment "Support for Calculating Supply Chain Greenhouse Gas Emissions toward an Environmental Information Disclosure Infrastructure," and received assistance from NTT Data Institute of Management Consulting, Inc. in Scope 3 calculations. We will continue to promote identifying and managing GHG emissions.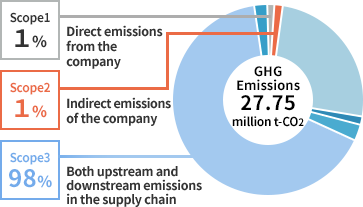 CO2 Emissions (Scope 1, Scope 2)
CO2 Emissions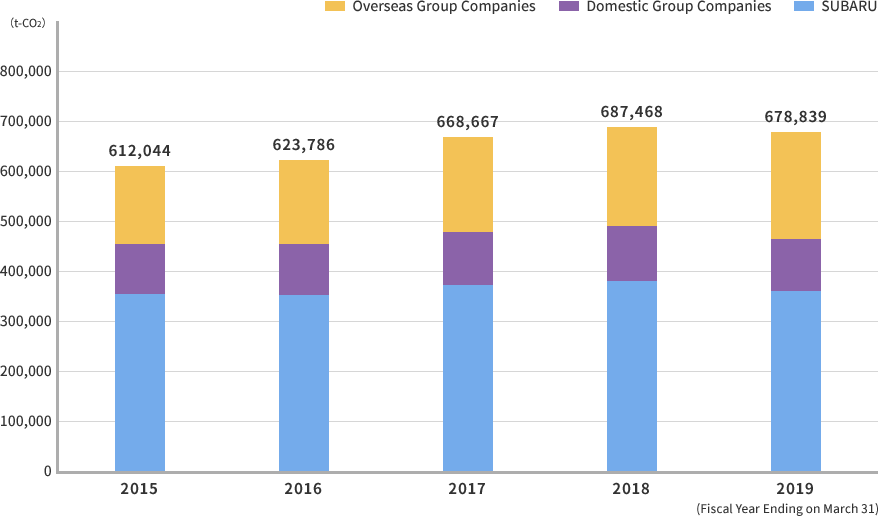 Targeted companies

Subaru Corporation


Domestic Group Companies: Yusoki Kogyo K.K., Fuji Machinery Co., Ltd., Ichitan Co., Ltd., Kiryu Industrial Co., Ltd., Subaru Logistics Co., Ltd., Industrial Products Co., Ltd., Subaru dealerships

Overseas Group Companies: Subaru of Indiana Automotive, Inc., Subaru of America, Inc., Subaru of Canada, Inc., Subaru Research & Development, Inc.
CO2 Emissions (Scope 3)
Scope 3 * Breakdown
Division
Category
Greenhouse Gas Emissions (t-CO2)
Calculation Scope, etc.
Upstream
1
Purchased goods and services
7,418,726
Domestic and overseas
2
Capital goods
372,211
Domestic and overseas
3
Fuel and energy related activities not included in Scopes 1 or 2
78,815
Domestic and overseas
4
Transportation and delivery (upstream)
1,162,964
Domestic and overseas
5
Waste generated in operations
28,361
Domestic and overseas
6
Business travel
4,446
Domestic and overseas
7
Employee commuting
11,996
Domestic and overseas
8
Leased assets (upstream)
-
N/A
Downstream
9
Transportation and delivery (downstream)
-
N/A
10
Processing of sold products
4,027
Domestic and overseas
11
Use of sold products
17,375,396
Domestic and overseas
12
End-of-life treatment of sold products
556,250
Domestic and overseas
13
Leased assets (downstream)
-
N/A
14
Franchises
53,531
Domestic and overseas
15
Investments
-
N/A
Initiatives in Production
Based on the Act on the Rational Use of Energy, Subaru has set the mid-term targets (the 6th Voluntary Plan for the Environment) and has been making efforts to quantitatively reduce CO2 by replacing equipment and devices such as lighting with energy-saving equipment.
Related information
Energy Conservation Initiatives
Installed latest energy-saving equipment
In the automobile painting process, it is necessary to repeat "warm up" and "cool down," which requires much energy. Thus at the Yajima Plant of Gunma Plant, we introduced a highly efficient heat source system centered on the heat pump in 2018 and efficiently produce hot and cold heat compared to conventional technology (individual heat source system).
As a result, in FYE2019, Subaru cut CO2 emissions by 2,221 t-CO2 (39 percent down compared with the individual heat source systems).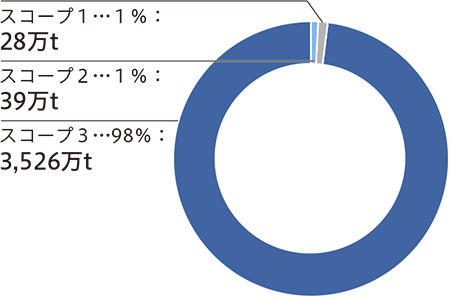 Updated cogeneration facilities
As 15 years had passed since the cogeneration facilities were first installed in Subaru's Gunma Plant, we updated these aging facilities.
(New facilities began operating in February 2019)
In updating the facilities, we chose a model with specifications that will make a greater contribution to energy conservation, taking into account the energy mix used at present.
Performance comparison of old and new facilities
(Old ⇒ New)


*The old system used a gas turbine with a variable heat to electricity ratio, while the new system uses a gas engine

Power generation output
4,200–6,190kW ⇒ 9,730kW
Volume of steam generated
3.0–9.4t/h ⇒ 5.2t/h
Power generation + Steam efficiency
49.8–80.9% ⇒ 63.5%
In the three months after it began operating, the reduction in CO2 emissions achieved by the new system was 1,532 t-CO2 compared with the old system.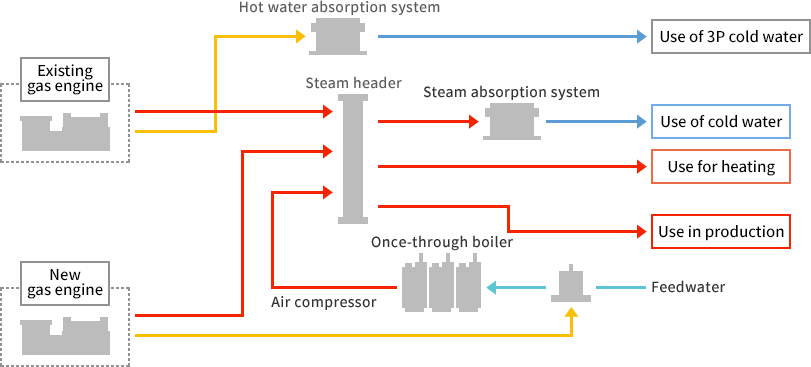 Subaru of Indiana Automotive, Inc. (overseas initiatives)
Replacement with the latest air compressor and dryer equipment cut electric power consumption by approximately 707,069 kWh.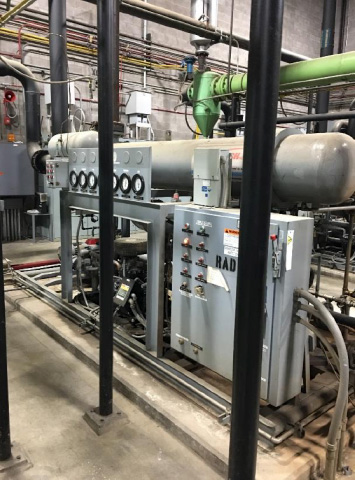 Some work processes were revised and the in-process compressed air knife process was eliminated, reducing electric power consumption by approximately 354,794 kWh.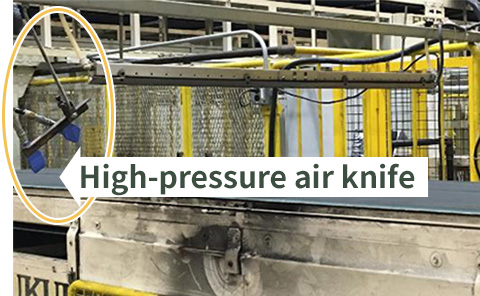 Initiatives in Distribution
Reducing Environmental Impact at Subaru
In accordance with the 6th Voluntary Plan for the Environment, the Subaru Group as a whole is working with our logistics companies and dealerships to cut CO2 emissions by promoting more efficient transportation of finished vehicles and export parts.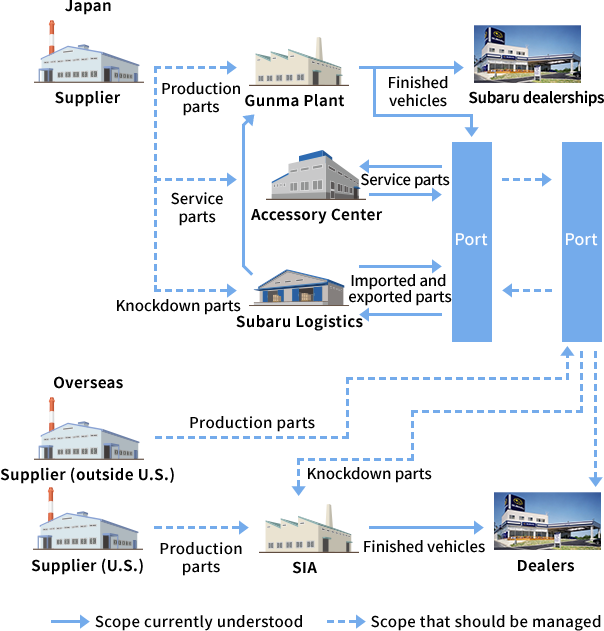 Initiatives in Transport of Finished Vehicles
Subaru is striving to reduce the environmental impact by ensuring more efficient transport of finished vehicles. The measures taken by the company include establishing optimal standard routes, changing the model composition of the finished vehicles being shipped, and adapting flexibly to bigger vehicles, as well as increasing loading efficiency, introducing digital tachographs*1 to promote energy conservation, and promoting modal shifts*2.
As a result of the consolidated and standardized transportation routes for finished vehicles, in FYE 2019, the CO2 emissions during transport per Subaru vehicle decreased by 5.8%, compared with a target of a 1% reduction per year from the FYE2007 level. Subaru will continue our efforts to achieve further reductions.
*1

This system automatically records journey information such as vehicle speed and driving time, and saves it to a memory card, etc. It is being introduced to manage driving in industries that involve the commercial operation of vehicles. As the system provides a clear visible record of such events as sudden acceleration and deceleration, fuel waste due to engine idling, and dangerous driving, it can help to increase awareness of safe driving and reduce fuel use.
*2

Switching the mode of cargo transport from truck freight to modes that impose less of an environmental impact, namely rail or sea freight.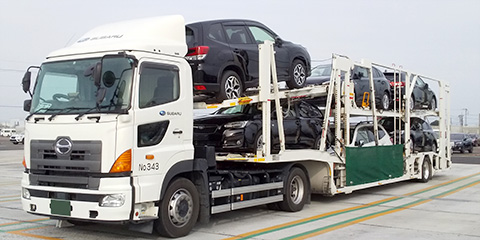 Initiatives Involving Exported Parts
Subaru is striving to reduce the company's environmental impact through efforts to achieve greater efficiency in transport, including establishing optimal container fill rates for the shipment of parts for export, the introduction of container round use*1, and the use of inland container depots*2.
Subaru Logistics Co., Ltd., which packages and ships parts for overseas production of Subaru vehicles, is engaged in an ongoing effort to improve the container fill rate by reducing wasted space in containers, such as the introduction of slimmer packages and lighter-weight packaging materials. Due to the introduction of a larger packaging specification for the Ascent produced in the U.S., the fill rate in FYE2019 fell 9.4% from the previous year to 78.9%
| | FYE2015 | FYE2016 | FYE2017 | FYE2018 | FYE2019 |
| --- | --- | --- | --- | --- | --- |
| Fill rate | 83.2% | 84.0% | 88.7% | 88.3% | 78.9% |
In July 2017, Subaru introduced round use of containers, thereby in FYE2019 achieving a reduction of 600 tons in CO2 emissions from the previous year.
Subaru will continue our efforts to achieve further reductions in CO2 by improving container fill rates and developing more efficient shipping routes.
*1

Round use involves an empty sea freight container that has been used for import being directly reused for export, without first being returned to the port. This reduces the shipment of empty containers from ports, as containers are transported directly from importers to exporters.
*2

A depot for the consolidation of container cargo located inland, to reduce the shipper's transport costs and facilitate more efficient transport through the revision of the overland portion of sea freight container transport systems.
Initiatives in Transportation Vehicles
Subaru of Indiana Automotive, Inc. (SIA), the US production base of Subaru automobiles, is in cooperation with Venture Logistics, a company in charge of parts delivery, and proceeding with the introduction of natural gas vehicles.
Compressed natural gas (CNG) has a lower environmental impact than diesel fuel and is superior in terms of cost efficiency and reliability. One significant hurdle to CNG was that there were no supply stations for natural gas close by. SIA financed the Venture Logistics with CNG truck installation fee of more than $ 1 million in 2014 and established a natural gas stand at the SIA property site to promote the introduction. As a result of introducing CNG fleet trucks, 1,097 tons of CO2 emissions per day were eliminated (corresponding to 85% of emissions before the introduction). Energy costs were also reduced by a total of $389,136 compared to using diesel fuel.
Initiatives in Sales
Energy Conservation Initiatives in Domestic Dealerships
In order to reduce greenhouse gas emissions, Subaru Domestic dealerships are sequentially switching to LED lights and high-efficient type air conditioners whenever the need to replace old equipment arises.
Initiatives in Plants
As global warming measures, Subaru is rolling out measures to curb rising temperatures within our plants by painting the roofs of some factories with thermal insulation paint, as well as installing insulation sheets, to limit radiant heat from sunlight.
In FYE2019, these measures were introduced at the Utsunomiya Plant and the Subaru Accessory Center, among other sites.
In addition, Subaru has begun switching to LED lighting at some sites, including affiliated companies, replacing approximately 5,000 fluorescent lamps with LED lamps. This has reduced CO2 emissions by around 660 t-CO2 per year.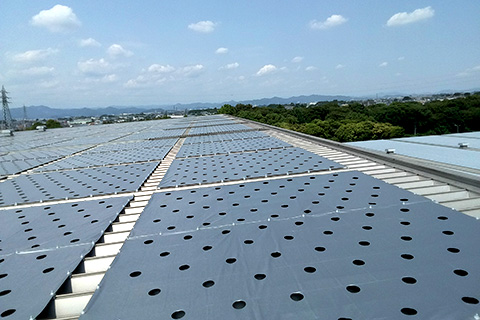 Initiatives in Offices
Use of Green Power Certificates
Subaru aims to achieve zero-CO2-emission offices at our headquarters at the Ebisu Subaru Building and the Subaru Training Center by purchasing Green Power Certificates and Green Heat Certificates in respect of the power and heat consumed by those offices.
Subaru achieved a reduction of approximately 1,000 t-CO2 in FYE2019, our first year of using this system.
Introduction of Environmentally Advanced Buildings
Use of Environmental Technologies to Reduce Environmental Impact (Gunma Plant)
The West Building in Gunma Plant completed in April 2016 had introduced various environmental technologies for reducing environmental impacts. Solar panels generate 20kW of energy. In addition, a new-generation lighting system combining individual address type control and image sensing type human sensor is introduced in the high-efficiency LED lighting. The air conditioning uses high-efficiency air-cooled heat pump chillers.
It has also introduced low-emissivity glazed window glass with high heat shielding and heat insulating properties, and a cool heat trench that takes outside air from a ventilation tower through an underground isolation layer to pre-cool or preheat the air and supplies to each floor. The building plans also introduced several innovations such as providing balconies to create a solar radiation shielding effect while creating rest areas, contributing to both energy conservation and a comfortable working environment without relying only on machinery.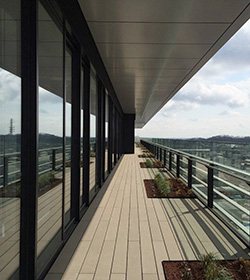 Initiatives Aimed at Obtaining LEED Certification (Subaru of America, Inc.)
The buildings housing the new headquarters and training center for Subaru of America, Inc. (SOA), whose construction in Camden, New Jersey was completed in April 2018, were designed with an eye to gaining LEED certification, which is awarded to buildings that take environmental impacts into consideration. In October 2018, the new headquarters building was awarded Silver certification, which indicates that it meets a higher standard than that required for basic certified level. An application for certification of the training center has also been submitted.
The LEED certification scheme aims to contribute to global environmental conservation by promoting the reduction of costs and resource use, and consideration for efforts to achieve positive effects on human health, as well as encouraging the introduction and use of clean, renewable energy. SOA launched a project dedicated to obtaining LEED certification. In March 2019, this project was recognized by the U.S. Green Building Council New Jersey Chapter as one of the most innovative green projects of 2019.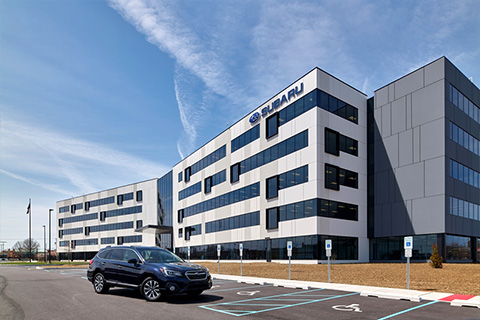 External Partnerships
Subaru is striving to address climate change through partnerships with suppliers, customers, and industry groups.
In our supplier selection and management mechanisms, Subaru has set out a code of conduct that incorporates key performance indicators (KPIs) for climate change concerning climate-related problems, and shares these at orientation sessions to ensure thorough adherence to them. In addition, environment-related accidents and defects have declined due to the voluntary acquisition of ISO14001 certification by suppliers. Subaru also builds and operates its own mechanisms to support the acquisition of Eco Action 21 certification by Tier 2 suppliers, if they so wish.
All of approximately 700 SUBARU dealerships in Japan have obtained Eco Action 21 certification, with ongoing environmental activities and compliance guaranteed through undergoing regular environmental audits. The Subaru Group is linked to each other via our own environmental report data system, which gives us access to environmental data (on the use of energy, CO2, and water, and the volume of waste generated), enabling Subaru to respond promptly in the event of any environment-related issues.
Subaru also shares a greenhouse gas (GHG) emission management system with 15 domestic dealerships that are non-consolidated subsidiaries. Subaru is implementing an engagement campaign to raise consumer awareness of the impact of climate change, and also exchanges views on GHG reduction methods and the effectiveness thereof through Eco Action 21 briefings and the Eco Action 21 data aggregation system.
Subaru is a member of the Japan Automobile Manufacturers Association's (JAMA) committee on climate change measures. In addition, the President and Corporate Executive Vice President of Subaru participate in the industry group's decision-making process as JAMA executives and the decisions taken by JAMA are reflected in Subaru's mid-term management vision STEP.
Basic Concept regarding Energy
Based on the Law Concerning the Act on the Rational Use, etc. of Energy, we are working on energy conservation through switching facilities and equipment including lighting equipment and through use of renewable energy.
We are working to replace the lighting in all buildings throughout the company with LEDs and other high-efficiency lighting by FYE2026, with the aim of conserving energy and reducing CO2. So far, Subaru has reduced annual electricity consumption by approximately 1,388,052 kWh by changing lighting in this way.
Energy Consumption
Energy consumption in FYE2019 increased by 6,691 ㎘ from the previous fiscal year.
Going forward, we will aim to reduce energy consumption by introducing the latest energy-saving equipment and renewable energy.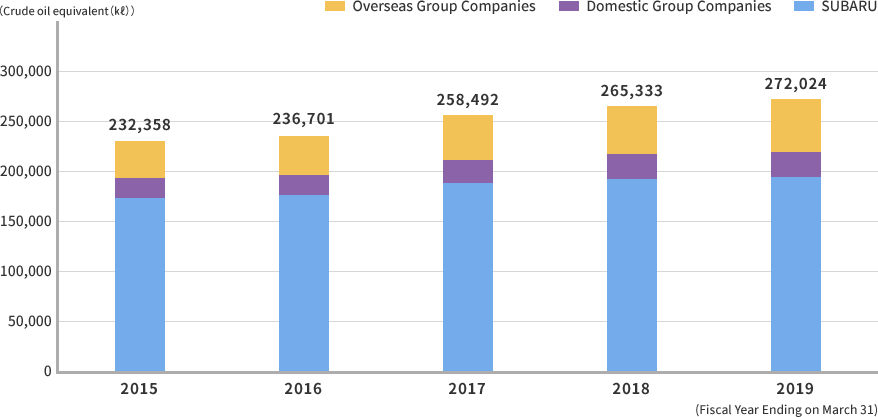 Targeted companies

Subaru Corporation


Domestic Group Companies: Yusoki Kogyo K.K., Fuji Machinery Co., Ltd., Ichitan Co., Ltd., Kiryu Industrial Co., Ltd., Subaru Logistics Co., Ltd., Industrial Products Co., Ltd., Subaru dealerships

Overseas Group Companies: Subaru of Indiana Automotive, Inc., Subaru of America, Inc., Subaru of Canada, Inc., Subaru Research & Development, Inc.

Subaru Corporation: Calculated based on the notification of the Energy Conservation Law.
Related information
Introduction of Renewable Energy
Subaru installed solar power system facilities at the Subaru Research and Experiment Center building and the Oizumi Plant of Fuji Machinery Co., Ltd in FYE2018. Utilization of renewable energy such as solar power system is becoming an increasingly important option as an energy source that does not emit CO2. It is also effective for securing stable supply by diversifying energy sources. At the Gunma Oizumi Plant, we are planning to reduce CO2 emissions of about 2,600 tons-CO2 in FYE2020 by installing the Japan's largest-scale solar power generation system (an annual approximate output of 5,000 MWh/year).
In addition, Subaru plans to steadily expand the introduction of the system facilities to the Subaru Accessory Center and the Kanto PDI Center.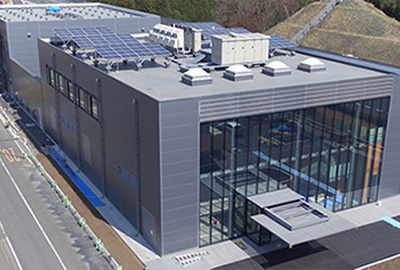 Subaru Research and Experiment Center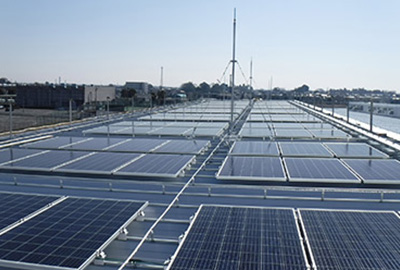 Oizumi Plant of Fuji Machinery Co., Ltd.
In the Tokyo Office, two 10kW solar power generation systems in December 2009 and March 2014 and one 5kW facility in January 2014 on the main office building roof, one 2kW system in March 2014 in the guardhouse, and one 2.7kW facility in 2016 in the special high-voltage substation were introduced. We now generate 33,809.7 kWh per year, and effectively utilize it as part of the electric power of the Tokyo Office.
In FYE2015, we introduced solar power system with a rated output of 420 kW (corresponding to 100 detached houses) in Kiryu City, Gunma Prefecture, and started a project to generate and sell electricity of 427,706 kWh per year.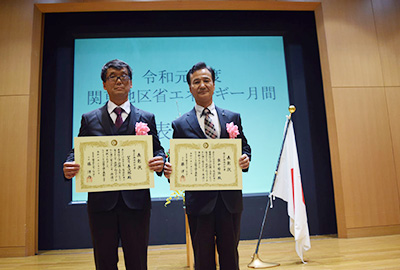 Solar power generation system with the output corresponding to the use by 100 detached houses.
Establishment of Environmentally Conscious Parts Center and Training Center
Subaru of America, Inc.'s Parts and Training Center in Florence, New Jersey, opened in June 2013, is equipped with a solar power generation system with 1 MW power generation capacity on the rooftop, and a new server with about half the power consumption compared to the conventional one.
In FYE2018, SOA switched the lighting fixtures to LED light bulbs, reducing the total electricity consumption by 13.13%.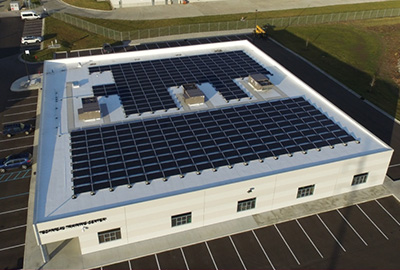 1 MW Power Generation Facility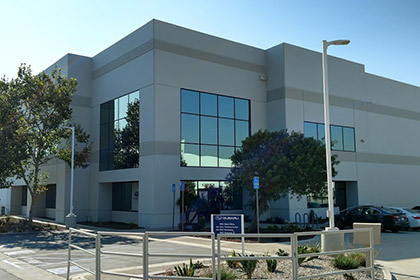 Parts and Training Center in Florence
In FYE2019, the Subaru Group generated 8,940 MWh of power using renewable energy and consumed 8,131 MWh.
Introduction of Aqua Premium Power from Zero-Carbon Hydroelectric Generation
Subaru will partially adopt the Aqua Premium electricity rate plan at the main plant in Gunma and the Tokyo Office. Under this price plan, the electricity supplied is derived solely from hydroelectric power generation, which emits no CO2. Subaru expects to achieve a reduction of approximately 10,000 t-CO2 in emissions (equivalent to 21 GWh of electricity generation annually) as a result.
Introduction of Micro-Hydroelectric Power Generation System using circulating water
In January 2014, the Tokyo Office installed micro-hydroelectric power generation system (2.9 kW) as an energy recovery system using cooling circulating water at some of its research facilities, and its system is now generating about 13,000 kWh of electricity per year (corresponds to electricity use of three households). This system installs water wheel which rotates with falling water to generate electricity. Power generated by this system is used for circulating water pump.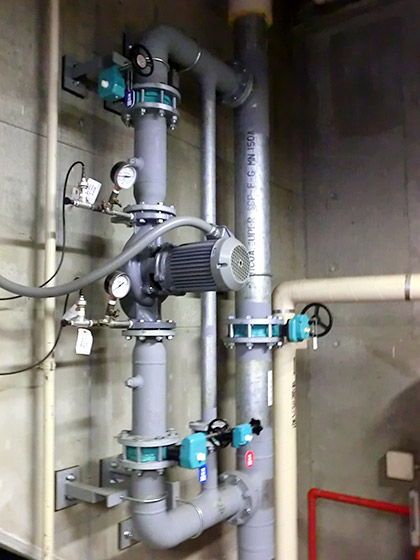 Tochigi Furusato Denki Program for Locally Produced and Consumed Electricity
In April 2018, Subaru's Aerospace Company adopted the Tochigi Furusato Denki program* in the South Plant and 2nd South Plant at our Utsunomiya manufacturing site (Utsunomiya City, Tochigi Prefecture). Under this initiative, which is Japan's first program for local production and local consumption of electricity, power generated by hydroelectric plants belonging to Tochigi Prefecture is supplied to the participating plants.
Through the introduction of this program, Subaru expects to achieve a reduction of approximately 5,400 t-CO2, equivalent to around 15% of its total annual CO2 emissions at the Subaru Aerospace Company's Utsunomiya Plant. Part of the electricity charges paid by Subaru via this program will be used for environmental protection initiatives in Tochigi Prefecture.