Our Approach to Making Safe Vehicles
Subaru conducted a survey of the number of personal accidents by Subaru vehicles sold within Japan from FY2011 to FY2015. The results showed that vehicles with the EyeSight Driver Assist Technology (version 2) had about 80% fewer rear-end collision accidents and about 50% fewer pedestrian accidents compared to vehicles without EyeSight per 10,000 vehicles, and about 60% fewer accidents in the survey overall.
For this survey, we based our independent calculations on data from the Institute for Traffic Accident Research and Data Analysis (ITARDA※). The occurrence of personal accidents for EyeSight (version 2) available models of Subaru vehicles that were sold in Japan from FY2011 to FY2015 (246,139 units had EyeSight (version 2) installed; 48,085 did not) were categorized in the survey.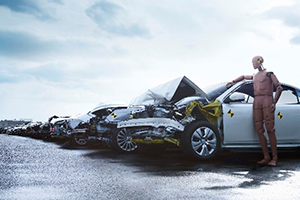 Thoughts on Primary Safety
We are continuing to evolve automobile safety technology on various fronts. However, the ideal is that no danger should be encountered, and the basis of this is correct judgment and operation by the driver.
Primary Safety is based on an approach that enhances safety through initial and basic design techniques for the automobile form and interface. To realize safe, concentrated driving without distraction, SUBARU pays meticulous attention to details of the instrument panel and seat design, including visibility design.
Thoughts on Active Safety
Active Safety is an approach to safety based on preventing accidents, assuming that accidents may occur. In the event of an accident, for safe avoidance it is important to maintain vehicle stability no different from normal, under a variety of weather and road conditions.
Based on the idea that the ultimate drive fosters safety, the exceptional fundamental performance delivered by our horizontally-opposed SUBARU BOXER engine and Symmetrical All-Wheel Drive are the basis for refinement of vehicle performance that enables users to drive with confidence in all kinds of environment and climate.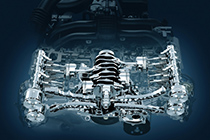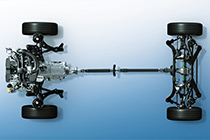 Thoughts on Pre-crash Safety
Pre-crash Safety is an approach that supports driver's driving operations and predicts hazards with the aim of helping reduce damage in the event of a collision.
We were quick to introduce the idea of pre-crash safety and have proceeded with development. EyeSight (Ver.2) adopts a stereo camera for judging conditions in front of the vehicle as well as linkage to the engine, transmission and brakes for hazard avoidance, and has been highly evaluated as an advanced driving support system. Moreover, in June 2014, in addition to substantially upgrading the stereo camera with a complete redesign, including its recognition performance, we launched the new model WRX and Levorg equipped with EyeSight (Ver.3) with added steering assist control. Legacy and Forester have also been equipped with EyeSight (Ver.3), and we are working to increase the models fitted with the system.
Also, Impreza that went through full model change in October last year and XV in April this year are equipped with EyeSight (ver.3).
Thoughts on Passive Safety
Passive Safety is an approach to safety technology that aims to minimize damage in the event of an accident.
We have promoted development considering safety in all aspects of a vehicle. With an original crash safety body featuring a new Ring-Shaped Reinforcement Frame Body Structure, and engine layout, etc., for mitigating collision impact on vehicle occupants, cabin occupants are, of course, protected. But we also consider collision with pedestrians in its safety system, for which it is highly acclaimed, not only in Japan but also throughout the world.
Furthermore, we have achieved greater passive safety capability by increasing the amount of energy absorbed at the time of impact by a factor of 1.4 over past systems with the next generation platform, the "Subaru Global Platform" introduced last year.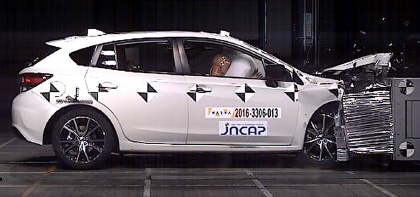 FY 2017 Car Assessment Results
We undergo safety performance testing and assessment of public organizations in and out of Japan including JNCAP※1 in Japan, IIHS※2 in the U.S., EuroNCAP※3 in Europe, and ANCAP※4 in Australia, and have gained the highest rank of assessment in most of them.
In FY2017, all evaluated automobile models received high scores in the "Pedestrian AEB Evaluation," a new evaluation started in the JNCAP preventive safety performance evaluation and, in continuation from FY2016, all evaluated automobile models received the highest score of "Preventive Safety Performance Evaluation (ASV++). In the same way, the Impreza and XV received the Grand Prize for the JNCAP Collision Safety Performance Evaluation awarded to the models receiving the highest scores ever by making major improvements in safety performance, such as by making pedestrian protective airbags standard.
※1

JNCAP:Japan New Car Assessment Program: testing and assessment of vehicle safety performance conducted by the Ministry of Land, Infrastructure, and Transport (MLIT) and the National Agency for Automotive Safety & Victims' Aid (NASVA).
※2

IIHS:Insurance Institute for Highway Safety.
※3

EuroNCAP:European New Car Assessment Programme: a program for publishing vehicle safety information conducted in Europe.
※4

ANCAP:ANCAP is an independent organization composed of the transportation authority of Australia and New Zealand that has been providing safety assessments since 1993.
FY2017 Commendations
Japan JNCAP
ASV++:

EyeSight-equipped Legacy, Levorg/WRX, Impreza/XV, Forester
Crash Safety Performance Assessment Five Star Award
Crash Safety Performance Assessment Award
Crash Safety Performance Assessment Special Prize



Europe EuroNCAP

U.S IIHS
2017 TOP SAFETY PICK+ Awards※

EyeSight/high luminance light-equipped Legacy, Outback, Forester, Impreza

Australia ANCAP
Levorg and Impreza: 5★ in 2016