Basic Concept and Policy
In the light of the cause and the background of cases of improper conduct involving final vehicle inspections revealed in FYE2018 at our company, Subaru is committed to building a company that does the right thing in the right way. Subaru views compliance to be a key responsibility of management and firmly believe that only through company-wide implementation of compliance can our business have a strong foundation. Subaru is striving to make every employee not merely comply with laws, regulations and internal rules required of us in our business activities but also engage exhaustively in fair and just corporate activities in accordance with morals, common sense, and norms of society, in order to regain trust of all our stakeholders including customers and those concerned.
Corporate Code of Conduct and Conduct Guidelines
Subaru has established a Corporate Code of Conduct and Conduct Guidelines as standards to help ensure its corporate activities to be in compliance with laws and regulations. In FYE2018, in order to further promote compliance as a group, Conduct Guidelines have been revised, and changes are explained in detail in the Compliance Manual given to all employees of the Subaru Group to help them maintain thorough compliance in their daily actions.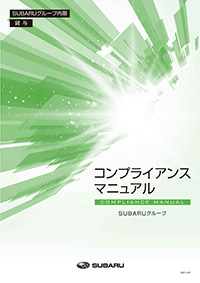 What is Corporate Code of Conduct?
The Corporate Code of Conduct stipulates the basic guidelines that all officers and employees should follow in relation to stakeholders, including customers, suppliers, shareholders, and society, based on Subaru's corporate philosophy.
What is Conduct Guidelines?
The Conduct Guidelines specifically stipulate the standards of conduct for all officers and employees in order to put the basic guidelines indicated in the Corporate Code of Conduct into practice in the course of their daily business activities.
Corporate Code of Conduct
We develop and provide creative products and services while paying sufficient attention to the environment and safety.
We respect the rights and characteristics of individuals.
We promote harmony with society and contribute to the prosperity of society.
We meet social norms and act honestly and fairly.
We maintain global perspective and aim to be in harmony with international society.
Compliance Regulations
Subaru established the Compliance Regulations in 2001 after approval of the board of directors. These regulations contain basic compliance policies, which provide for the system, organization, and operational methods related to corporate compliance. In FYE2018, Subaru checked and reviewed how these regulations have been operated since its establishment, identified a gap between the regulations and the actuality, and finally revised the regulations based on our findings after deliberating at Compliance Committee and gaining approval of board of directors.
Compliance System/Organization and Administration
The Compliance Committee, a company-wide committee, has been established to promote corporate compliance, and it conducts deliberations and discussions, renders determinations, and encourages the exchange of information on key compliance issues. Every year, each department plans its own compliance program, continuously and autonomously implementing compliance initiatives. With the occurrence of cases of improper conduct involving final vehicle inspections at Subaru, Chairman Yasuyuki Yoshinaga (*who was the President until June 22, 2018) is serving as the chair of the Compliance Committee in FYE2019, drastically reviewing compliance initiatives and ensuring their implementation.
Establishment of Compliance Office
Committed to never again repeat the same mistake Subaru made with the cases of improper conduct involving final vehicle inspections revealed in FYE2018, Subaru has established in FYE 2019 the Compliance Office as an independent entity to enhance our efforts towards company-wide compliance to laws and regulations. The Office serves as the Secretariat to the Compliance Committee, and is mainly in charge of the following:
Planning, designing, and implementing compliance promotion activities of the entire Subaru Group
Implementing compliance training, education, and in-house awareness raising activities for the entire Subaru Group, and operating Compliance Hotline, an internal reporting system of the Subaru Group that makes reporting easier for everyone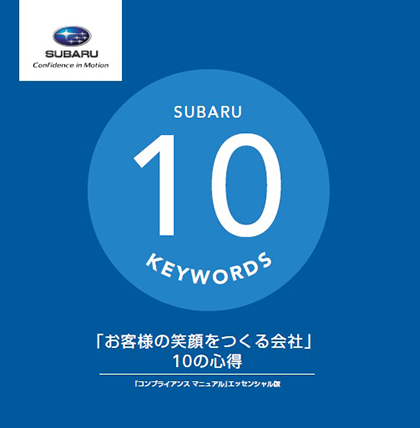 Compliance Hotline System
In addition to discussing with their supervisors any compliance issues they encounter, the Subaru Group employees and temporary employees have the option of using the Compliance Hotline and reporting issues directly to the Hotline Desk.
The Hotline Desk is located in the company, and after receiving information via mail, telephone, or email, employees assigned to the Hotline Desk research situations and take appropriate actions based on Subaru's internal rules. The names and departments of those making reports are kept strictly confidential unless their consent is given to prevent reprisals.
Since April 2008, an external specialist company has provided service to the Hotline Desk in the form of an outside service, allowing the Compliance Hotline to extend its hours and helping to ensure the confidentiality of the names and departments of those making reports. The result has been greater ease of use for those making use of the hotline.
The number of consultations to Compliance Hotline in FYE2018 was 163 and its breakdown is as follows. In order to respond to these issues, Subaru looks into the facts carefully with Legal Department General Manager (since FYE2019, Compliance Office Manager due to change in responsibilities) being mainly in charge of resolving problems as quickly as possible. Also, they are reported to the management or Compliance Committee as necessary to prevent recurrence.
Furthermore, to disseminate the existence of the hotline system, Subaru has distributed cards which display the workings of the system and the contact details for the hotlines to the Subaru Group employees while at the same time putting up posters in workplaces. In addition to including explanations of the services provided by the external specialist company on the posters, Subaru has posted the information on the in-house intranet screen.
Breakdown of Consultations to Compliance Hotline by Issue

| Theme | No. Reported |
| --- | --- |
| Work environment | 10 |
| Labor-related | 49 |
| Human relationship, harassment | 58 |
| Compliance, business violation, wrongful act | 46 |
Compliance Hotline (Flow from consultation to solution)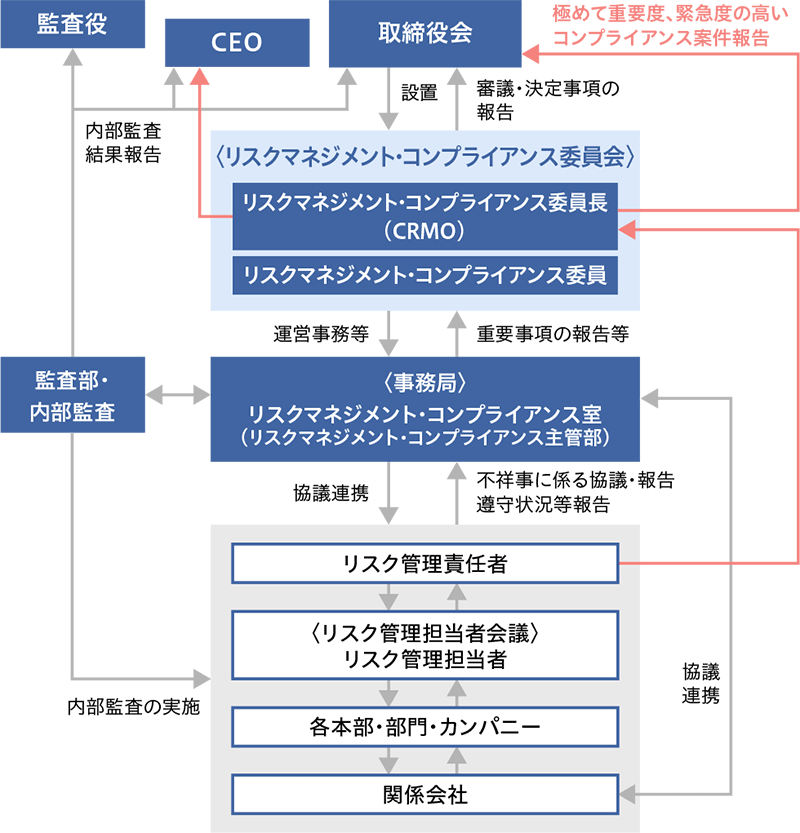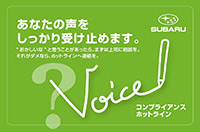 Compliance Activity Achievements
Compliance Training
Based on the belief that Subaru and all its group companies need to join forces and work in harmony to ensure thorough implementation of compliance, Subaru provides compliance training and practical legal training for employees of all group companies. This training is hosted by Subaru's Legal Department, Compliance Office (established in April 2018), and human resources/education departments. Also, each department or group company has their own unique education programs built into their compliance programs and complements the above trainings by holding study meetings on legal matters required in their jobs and compliance motivation training with personnel from Subaru Legal Department as lecturers.
In FYE2018, a total of about 4,500 persons participated in these trainings which Legal Department hosted or was involved in.
Subaru also prepares and provides various support tools, including those for Subaru, and those specifically intended for group companies and domestic Subaru dealers, to promote compliance in day-to-day operations. Urgent information is released on a timely basis in our "Compliance Information" to alert the entire group. In FYE2019, Subaru carried out Compliance Awareness Training for managers, including those from group companies, to share cases of and background to improper conduct involving final vehicle inspections at Subaru and to promote efforts never to let such improper conduct to happen at each sections. Going forward, Subaru plans to re-establish our operating rules firstly for those sections with high legal risks, and expand the scope of participants in the compliance trainings to implement continuous education of employees. Subaru has also distributed the Compliance Manual-Essential Version to all employees.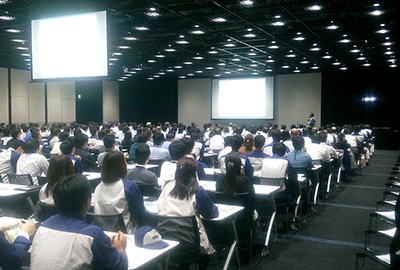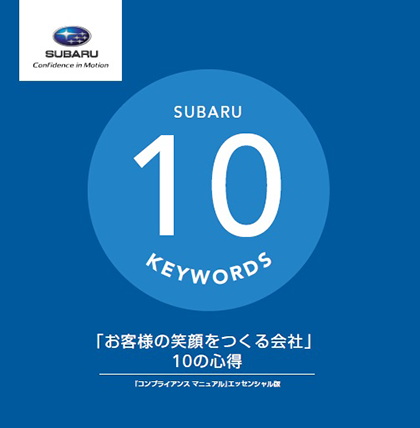 Anti-corruption Initiatives
Subaru has compiled the Anti-corruption Guidelines (in Japanese and English) to prevent corruption and distributed them to the entire Subaru Group including domestic and foreign affiliated companies. The in-house Compliance Manual for domestic and overseas Group companies describes the prohibition on bribery and completeness in fair trade.
In addition, the Anti-corruption Guidelines for China (with Chinese translation) that takes into consideration the social circumstances unique to China have also been established, distributed to the Chinese subsidiaries, and are now being stipulated as rules in those companies.